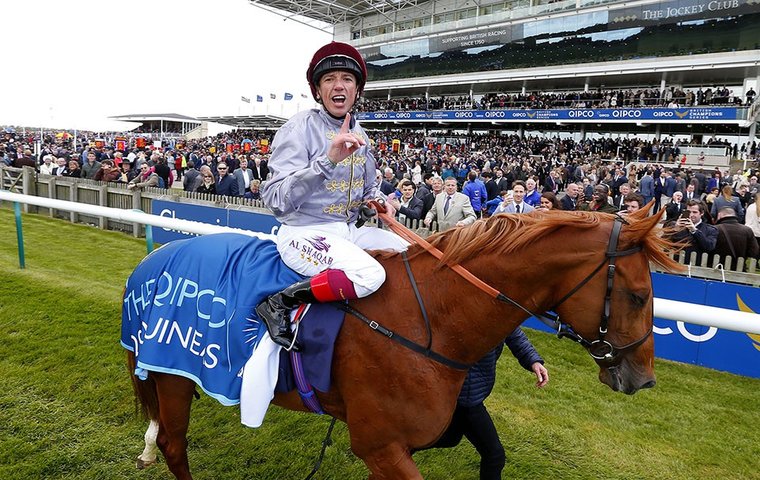 For all the financial clout and expertise within some of the larger breeding operations worldwide, the bloodstock world continues to operate with an endearing slither of mystery. Racehorse breeding remains considered in some quarters as an art, as it has done over the centuries. The process is drawn out and costs run high. Hopes run even higher and either hold true later in the cycle or fizzle out completely; no one really knows whether such investments will be vindicated until the horse reaches the track.

Thus, there was a certain satisfaction among aficionados in 2014 when Australia, the product of Epsom classic winners Galileo and Ouija Board, won the Epsom Derby, Irish Derby and Juddmonte International during a glittering 3-year-old season.
Yet, as his championship season was playing out, so too in America was that of California Chrome. Subsequently a $14.45 million earner, he cost just $10,000 to produce and was the first stakes winner within two generations of his pedigree, an aspect of his story that garnered the horse and his connections national media attention and an immense fan base.
It is the question that has engaged breeders for centuries: might this horse be faster than the others? And unusually for this day and age, the answer continues to elude the power of deep pockets.
Guesswork dwindling
But, in today's rapidly changing world, that element of guesswork is dwindling. The world's greater understanding of genetics grows more significant by the year, and that has naturally transcended into the Thoroughbred world, where a growing number of breeders, owners and trainers are using genetic testing to help unlock the puzzle.
The idea of using such an aid to breed racehorses was gaining momentum at the time of one of the most significant breakthroughs in the field, the discovery of the speed gene by Dr Emmeline Hill, publicly revealed in January 2010. An accompanying speed gene test was launched not long afterwards and was hailed at the time by trainer Jim Bolger as "without doubt the most important thing that has happened to breeding since it began over 300 years ago".
Hill identified three gene types based on muscle mass that could dictate a horse's optimum distance via a DNA test; a horse that tests as a C:C carries muscle mass more identifiable with a sprinter, a C:T suggests the horse in question is a middle-distance type while a T:T reading is attributable to a stayer.
Matters have proceeded swiftly since then. In December 2015, it was announced that Equinome, the company founded in 2009 by Hill and Bolger, had been acquired by equine nutrition company Plusvital, and today the company's work continues to gain great recognition for its work worldwide.
U.S. expansion
Today, its client base consists of leading stud farms as well as owners and trainers who are based in 20 different countries.
"Our largest market is currently Europe, followed by Australasia and then South Africa," says Plusvital's Sales Operations Manager, Celine McEniry. "However, we recently opened an office in Lexington, Kentucky, and we expect the U.S. market to be very strong for us this year."
A range of seven genetic tests are available, some of which are available to clients in various packages:
The Speed Gene test predicts optimum race distance and precocity potential, and boasts over 90 percent accuracy.

The Distance Plus test refines optimum race distance through analysis of approximately 50,000 genetic markers.

The Dirt vs Turf test identifies a horse's genetic preference for a given race surface.

The Elite Performance test identifies a horse's genetic probability of achieving elite racecourse and breeding success.

The Raced/Unraced Test identifies individuals with the greatest potential to have a racecourse start at two or three.

The Projected Height test helps to predict the expected mature height of young horses and breed more horses within your desired height range.

The Genomic Inbreeding score identifies the true level of inbreeding by analysing the number of duplicate genetic variants that have been inherited from the sire and dam.
"When the Speed Gene test was launched in 2010, we were analysing a single genetic marker and, at this moment in time, we are now analysing approximately 50,000 genetic markers," says McEniry. "We currently offer a suite of seven tests, primarily focused on performance-related traits, but we are developing a suite of health tests which we believe will provide our clients with additional valuable information."
Rapid advancements within the field have understandably attracted a growing curiosity from the racing world. While it would have been unheard of for genetic testing to impact a horse's career ten years ago, it hit the public conscious last May, when it was revealed that Al Shaqab Racing's 2,000 Guineas winner Galileo Gold had been tested as a C:C and therefore unlikely to prove as effective over the Derby trip. After some deliberation amid media scrutiny, connections ruled Galileo Gold out of Epsom and campaigned him for the rest of the season over a mile, the distance over which the son of Paco Boy went on to win the St. James's Palace Stakes and run second in the Sussex Stakes.
"There is definitely a shift within the industry, with people now being more open about using our technology," says McEniry. "The genetic information that Plusvital provides is not only scientific, but it's also objective. Therefore, it can be used to support bloodstock selection decisions."
Trusted methods
Support is the key word, with the data remaining at its most effective when used in conjunction with other trusted methods, such as pedigree and conformation evaluation.
"We would never recommend using genetics alone, however it can be used in harmony with traditional sections methods," adds McEniry. "Pedigree and genetics are essentially the same thing. When someone evaluates a pedigree, they are trying to determine the positive traits that the horse has inherited through their ancestors; we are essentially doing the same by evaluating the DNA make-up a horse. Pedigrees can offer a wealth of information about a horse; however there are plenty of occasions where pedigree can be misleading, and this is where genetics can unlock some of the mystery."
Take the brothers Lit De Justice and Colonel Collins, by El Gran Senor out of Kanmary, as an example. Lit De Justice won a Breeders' Cup Sprint on dirt while Colonel Collins ran third in the Derby on turf.
McEniry adds: "Genetics can be used to optimise a horse's opportunities, not only in breeding, but also in racing. For most owners, the window of opportunity can be brief, so any additional information to gain the edge is invaluable.
Growing acceptance
"We are experiencing growth from all sectors. In February, we launched a new genetic bundle called the Racing GenePak and it was developed specifically for horses in training. This bundle includes the Speed Gene Test, Distance Plus Test and Dirt v Turf Test (USA), which helps the trainer to refine the expected best race distance, as well as the surface preference of the individual."
The Speed Gene Test is priced at $350 while the Racing GenePak is available for $595.
The increasing interest in the role genetics has to play in racing has also gone hand in hand with a growing acceptance within the bloodstock sector, specifically within the stallion industry.
For instance, a selection of 24 stud farms around the world, including those based in Australia, South Africa, Japan, the U.S. and UK, have revealed via the Plusvital website how their stallions test as a Speed Gene Type. Between them, they account for 75 horses and include such Australian heavy weights as Widden Stud, which stands Sebring and Shamus Award, and Eliza Park International as well as the rosters belonging to the leading South African operations Klawverlei Stud and Summerhill Stud.
Interpreting results
In the UK, the test has been embraced by the Shropshire-based Bearstone Stud, home of Fountain Of Youth, Firebreak and Major Cadeaux. Similarly, in the U.S., Pin Oak Stud have chosen to display their test results in advertising the stallions Alternation and Broken Vow.
"We have tested stallions from all of the major racing jurisdictions, some of which are listed on our website," says McEniry. "Additionally, we have a number of leading stallion farms in the U.S., UK, Ireland, France and Germany who share the genetic results for their stallions upon request.
"We do not currently offer mating advice to our clients, but we do assist clients with the interpretation of individual results and also refer clients directly to stallion masters in order to get the individual results for their stallions.
"Breeding can be a challenge and market demands are strong, so breeding the desired type of horse more consistently can certainly help our commercial breeders get the desired result more often."
Such testing is also being used to assist in the stud career of the Dansili horse Albaasil, a smart performer for Sir Michael Stoute who stands under the management of Fiddes Racing at Moor End Stud in North Yorkshire. His first crop are yearlings.
Inherited traits
Albaasil has been tested as a C:T type. As part of the study, the dams of his first-crop foals were also tested to measure what genetic performance traits were inherited from the stallion.
The tests found that, as determined by the Elite Performance Test, Albaasil scored a Genomic Breeding Value score of Class 1 and upgraded the Elite Performance scores of 90 percent of his first crop. They also revealed that 90 percent of his first crop foals are believed to have inherited a superior combination of genes for racing as verified by their Genomic Race Value scores of Class 1 and 2.
In addition, 50 percent were classified as C:C types while the other 50 percent tested as C:T.
Such results obviously offer the option of becoming a powerful marketing tool to attract breeders.
"I was very keen to launch my first stallion in a new and different way," says Ritchie Fiddes, who owns seven of Albaasil's first crop and has sent another 11 mares to him this year. "We are very proud to be the first stud in the world to publicly release the genetic profiling results for our stallion and his entire first crop.
"By making Albaasil's genetic results available to all breeders, we are demonstrating that producing elite potential racehorses at an affordable price from any type of mare is possible and not purely reliant on luck."
As McEniry points outs, never has genetic testing for the Thoroughbred been so accessible. If used as a complement to more traditional selection methods, it naturally has much to offer. But you get the real sense that this is only the beginning. It will be fascinating to see how this area of the industry continues to develop.
CASE STUDY
Plusvital tested 227 horses based with three G1-winning trainers in Newmarket, 93 percent of whom had made a racecourse start and 75 percent were winners. Of that 75 percent, 17 percent had scored on their debut.
The data was released only earlier this year and provides an eye-opener as to the potential value of testing racehorses.
The results showed that:
42 percent of horses that tested as a C:C won first time out compared to 39 percent of C:Ts and 18 percent of T:Ts.
Horses that tested as C:Cs earned nine times more on average as 2yos (£16,805) than T:Ts (£1,769). They also achieved a greater average winning strike-rate of 28 percent.
However, T:Ts recorded a 3yo average earnings figure of £15,000, higher than both C:Cs and C:Ts. T:Ts also achieved an average strike-rate of 25 percent in their 3yo season, compared to 16 percent for C:Cs.
83 percent of C:Cs had a best racing distance of a mile or less while 85 percent of C:Ts proved to be most effective over seven to 12 furlongs.
While 46 percent of T:Ts were tried at less than a mile, only three percent won their best race at the distance. In fact, 93 percent of T:Ts had a best racing distance of ten furlongs and further.