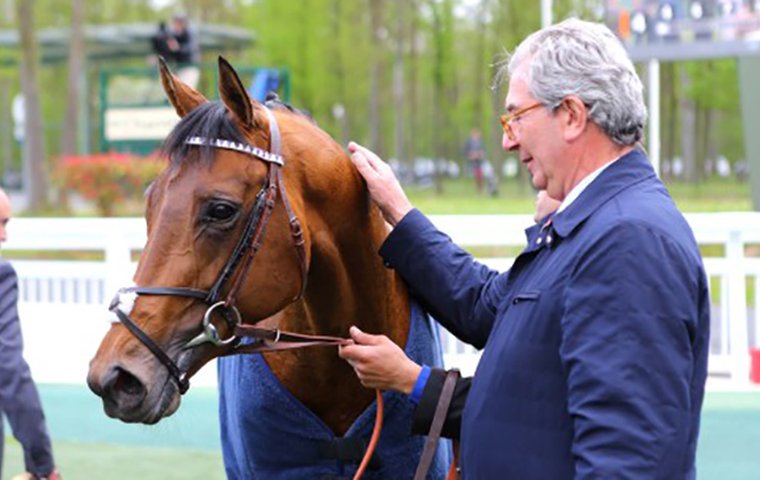 France was the country hardest hit by equine sickness in Europe in 2016. Despite a stellar year for Jean-Claude Rouget, many trainers suffered badly. Now, however, the signs are that the worst may be over. Certainly, recent results have shown that Andre Fabre's horses are much more competitive, although ironically Rouget himself has had problems this spring. Isabel Mathew investigated.

Jean-Claude Rouget described his devastation following an outbreak of EHV-1 at his Pau base last month as "the worst week of my life". In total, 57 horses were affected by the neurological form of herpes, which also resulted in two deaths.
In a sport where there is no such thing as zero risk, the French champion trainer's stable is not the only one to have been affected by the various strains of the virus in Europe, particularly France, over the past year. Other outbreaks may have been less catastrophic, but they have proved to be just as destructive to livelihoods that constantly hangs in the balance.
Andre Fabre may have won seven out of the Group races run so far in France this season, but rewind back to this time 12 months ago and things were beginning to take a very different course for him and several other trainers in Chantilly and its neighbouring areas.
"The virus that we had last spring was an extremely hard thing to quantify, and you just don't know what it is that really causes it," says the 27 times leading flat trainer, who, in contrast to the tally he has already recorded this year, registered just ten Group successes in France the whole of last season. Unsurprisingly, he yielded the title to his Pau rival.
Different theories
"This year I have changed a few things at the stables, like leaving the box doors open as well as giving the horses more auto-immune supplements," says Fabre. "The most important thing, however, is that you don't continue working them when they have a problem – this is fatal. As a result, I tried to give them a break last year, and now they are better."
Just one of Fabre's juveniles from 2016 who has shown no adverse signs is Al Shaqab's Al Wukair, who was a fine third to Churchill in Saturday's 2,000 Guineas at Newmarket after winning the G3 Prix Djebel at Maisons-Laffitte in April.
And his Derby possibles, the Galileo colt Waldgeist and Akihiro, a son of Deep Impact, ran respectably in very soft ground in the G2 Prix Greffulhe at Saint-Cloud yesterday behind the impressive Carlos Laffon-Parias-trained Recoletos, a son of Whipper.
Antony Clements, from leading vets Baker, McVeigh and Clements, explains, "It is almost impossible, except with a case like Jean-Claude Rouget's, to say what exactly causes a stable virus. There are many different theories, and we saw similar problems in Newmarket, Lambourn and Yorkshire last year, with evidence of rhino and some of the herpes viruses.
Criquette Head-Maarek's stable was another that suffered enormously in Chantilly in 2016, registering just eight winners throughout the season. She did, however, end the year on a high when sending out this Sunday's leading Poule d'Essai des Poulains contender National Defense to win the G1 Prix Jean-Luc Lagardere at Chantilly in October.
"It started in the spring with our horses running disappointingly having been working well on the gallops," says Head-Maarek, who is president of the French Trainers' Association. "Consequently, we then looked into the possible reasons for this, taking blood tests and nasal swabs. Through the results, we realised that the horses were showing elevated levels of the EHV-2 strain so decided to stop working all the horses for 15 days and leave them in their boxes.
Head-Maarek's vaccination mission
"I have always vaccinated my horses against EHV, which is why it was particularly hard. I am now working to make this mandatory within all the racing jurisdictions in the world, as I don't think it should be only the broodmares. Unfortunately, there have been problems in recent times with the production levels of the vaccine, and I think this has also made the problem more serious for other trainers."
She adds, "This virus affected my stable for six months, which is catastrophic for my owners, the trainer and of course the staff, whose wages in France are supplemented by racecourse earnings."
Clements says, "Horses are more likely to catch something in the spring for a number of reasons. At this time of year, the 2-year-olds are coming in from different places, and the horses are also starting to be put under more stress. You do expect them to get sick, but normally by now you would expect them to have got over that.
"What happened last year is that around April/May time the horses were just not getting through it, and it seemed to start in the older horses. It was very strange, and this is something that the Animal Health Trust is doing considerable research on. It is a very complicated subject."
He adds, "Almost every horse has been exposed to herpes, and it's like us having a common cold. You'll find it in their antibodies, but whether that means that this is what is causing them to be sick at the time is quite difficult to determine. A horse may also have other infections, and because their immunity is compromised, it can then cause them to start shedding herpes."
Fabre's theory
Head-Maarek echoes this. "The horses that were most affected with me were the older generation," she says. "While the 2-year-olds have got through it, I hardly have a single 3-year-old from last year that has come back into training. The majority of them all bled afterwards, despite having got over their problems."
While the specific causes of the viruses that affected so many trainers is still unknown, many, including Head-Maarek, believe that the virus was caused by a mild winter.
Fabre however has his own theory.
"I talked to human doctors about what we had in the stable, and they told me that it was not a question of temperature, as a virus can survive in temperatures up to -40 degrees, but sunlight. I counted that last winter, over a six-week period, we only had one day of sun. This is extremely important for the wellbeing of the horses, and to discourage the multiplication of viruses due to humidity," he says.
In Rouget's case, Clements outlines that the outbreak of EHV-1 cannot be put down to any particular cause either. "We see neurological herpes every year in little outbreaks of 2, 3, 4, or 5 horses, but it is something that is very rare. It is very frustrating because it is hard to deal with, being an airborne virus."
Positive news has recently come from Rouget's afflicted barn of colts. They are now back in exercise, while the rest of his string have continued to show their wellbeing in recent weeks, notably through Poule d'Essai des Poulains hope Brametot's impressive win in the G3 Prix de Fontainebleau at Chantilly last month.
With the major stables in Chantilly back on form and a good prognosis for Rouget, the second-half of the season could develop into an even more exciting one in France, not least with the return of last year's European champion 3-year-old colt, the Rouget-trained Almanzor.