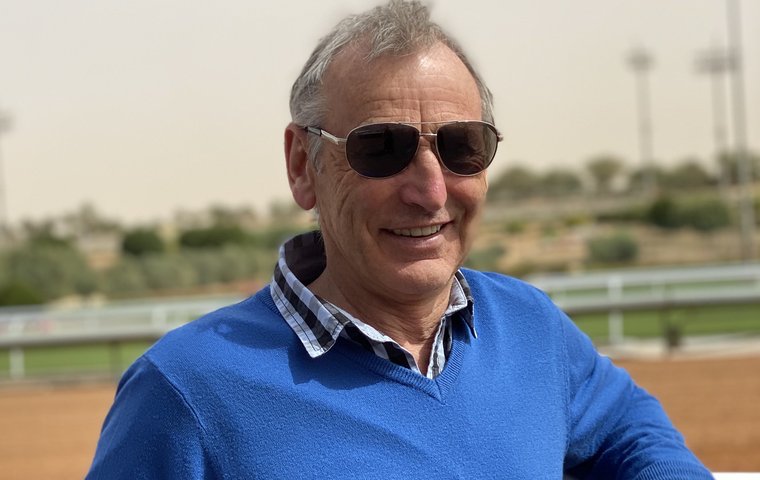 During a 15-year riding career, Cheltenham Gold Cup-winning jockey Phil Tuck was so superstitious he would salute magpies to avoid bad luck. He even called his house 'The Magpies'.

There are no magpies in Saudi Arabia, but, in his second career as a stipendiary steward, one of his roles has been to make the rules of racing black and white.
His efforts will be appreciated when the international racing community descends on the King Abdulaziz racetrack in Riyadh, which is to host the world's richest horse race, the $20 million Saudi Cup on February 29. As Saudi Arabia's only stewards' advisor, he performs all the normal functions of a stipe on an inquiry panel, as well as ensuring the rules meet internationally-recognised standards.
Tuck, 63, has been in post for over six years, having filled a variety of roles after calling time aged just 33 on a decorated riding career that included a famous triumph at Cheltenham in 1984 on Burrough Hill Lad (see video below).
"When I retired from riding in 1990, I worked as a starter for a year, then I was a stipe, then I went to Cyprus in 2008 as chairman of the stewards' panel," he says. "I was there for two and a half years. I came back to England in 2011 and was clerk of the course at Sedgefield for two and a half years. It was while I was at Sedgefield, and I always hoped I would get another overseas job, that I was approached by John Sanderson about coming out to Saudi. I came out in September 2013 and have been very happy here."
Tuck was given a clear brief, which he has accomplished despite, to his regret, not having gained complete command of the Arabic language.
He says, "My brief was to try to upgrade the rules and regulations to international standards, and I have been doing that for the last six and a half years.
"You wouldn't recognise the rule book I inherited from the rule book we have now. One of the biggest changes was that, in the front of the book, it said, 'these rules have been translated from Arabic to English and if there is a discrepancy Arabic will take precedence'. It now says the other way round because I know what I want to say.
"Thanks to the lovely people I work with, I have been allowed to make many changes. We now have proper body protectors, helmets and padded whips. The body protectors and helmets they used to use were terrible, paper thin, giving no protection whatsoever.
"I got in touch with Racetech in England, who shipped a load of protectors out, and now they all wear them. All the helmets are now to the accepted standard.
"Starting races out here used to be a problem. It would take ten minutes to load 18 horses. Now the average is two and a half minutes. I introduced gate testing so, when we get a field of unraced 2-year-olds, we know they have experience of going in the gate. All our interference rules are the same as other jurisdictions."
Local jockeys have taken more time to come to terms with new whip rules, according to Tuck. "It's been a big battle," he says. "They are a lovely bunch of lads, but they were all in the habit of hitting horses three or four times in quick succession. I've been at them for years, running seminars and showing films but just couldn't break them out of the habit until this year.
"Prince Bandar [Bin Khalid Al Faisal, the chairman of the Jockey Club of Saudi Arabia], because the Saudi Cup was coming up, felt we had to come along with the rest of the world. We brought in a restriction where you can use the whip ten times behind the saddle throughout the race.
"I ran a seminar in October, which Prince Bandar said they must attend or they would be suspended. It has been a great help to push this forward, and the riders have reacted extremely well."
'My greatest defeat'
Tuck lives with his wife on a western compound in Riyadh among other foreign nationals where he enjoys "probably a better social life than we did at home". He says, "You only get out what you put in. It's a great lifestyle."
It's a long way from winters in Britain, where he rode 423 winners and landed a hatful of big races as one of the leading jump-race riders in the north of England.
During a prolific period in 1986, he equalled Johnny Gilbert's record of riding ten consecutive winners.
However it's neither that achievement nor his Gold Cup triumph that he is first to recall, but a big race that he didn't win. "My greatest defeat, which is how I like to describe it, is finishing second in the Grand National in 1985 on Mr Snugfit, the year after the Gold Cup," he says.
"I was just heartbroken because I would have loved to have won the National. For me it was the ultimate test of horse and rider.
"If before the race someone had said you will finish second in the Grand National, I would have accepted it. But to lose in the way we did it was like Crisp and Richard Pitman. I led over the last until ten yards before the line, when Last Suspect came on the outside and beat me."
Tuck had an on-off association with Burrough Hill Lad, for whom first-choice rider was champion jockey John Francome
"Winning the Gold Cup was a wonderful day, but I didn't appreciate it at the time," he says. "I thought I had won a 3¼-mile chase round Cheltenham and it didn't really sink in as to what I had actually achieved until a while after."
Tuck, who had given up the mount on Burrough Hill Lad to Francome in the Welsh National to stay loyal to another trainer, reclaimed the mount at Cheltenham when Francome was claimed by Fred Winter for Brown Chamberlin.
Amazing winning streak
Two years later he was part of the powerful Gordon Richards set-up when he went on his ten-race winning streak. "I just happened to be in the right place at the right time," he says. "There was fast ground, not many runners and it was my first season with Gordon, so I couldn't have had a better start."
Tuck had endured a spell on the sidelines before he abruptly announced he was quitting the saddle after riding a winner in February 1990.
"I had a fall at Catterick and ended up with a liquid haematoma in my leg. The doctor told me I may lose part of the use of my leg. That made me think. Plus there was the fact I had split with Gordon and wasn't getting any decent rides and wasn't prepared to ride the bad ones to get back to the good ones. Also, if I am perfectly honest, while I don't think my bottle had gone, it was going.
"I went to Newcastle to ride Midland Glenn. I said to the starter, if this won I would pack it in. Ironically he beat one of Gordon's. I felt I had given the horse as good a ride as I could and I wanted to go out on a winner."
Exciting times
He believes he is part of a winning set-up in the Middle East, where Prince Bandar is hoping to turn his nation into a major horse racing jurisdiction.
"These are very exciting times," says Tuck. "To have a turf track in the middle of the desert is incredible. I know Dubai has had one for many years, but there it is very humid, here it is very dry. There are big plans, I believe, to improve Ta'if [the other Saudi racecourse - further east, in Mecca province], to possibly build a new track on a new site where the climate is a bit easier and possibly race all year round.
"The Saudi Cup is a massive step forward. Prince Bandar is incredible. He is a very articulate man who wants to push forward and improve standards across the board. The ambition is to move from a Part 3 country to a Part 2 to a Part 1. The way he is taking it forward, he is going to achieve that."