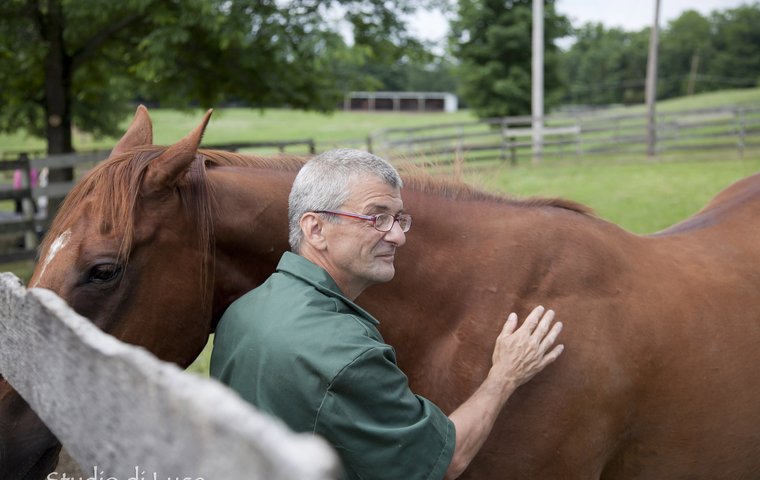 For many inmates, it's the same story - they were in the wrong place at the wrong time with the wrong people, got caught up in the party lifestyle, and made mistakes. And many Thoroughbreds leave the track for the same reasons - they got injured, weren't fast enough. However, with the help of the Thoroughbred Retirement Foundation's Second Chances program, both humans and horses get another shot.

Second Chances provides vocational training in horsemanship skills to inmates while giving retired racehorses a home. What started when one horse arrived at New York's Wallkill Correctional Facility in 1984 has now grown to nine correctional facilities in nine states offering the program.
Although the locations vary, the programs focus on the same underlying principles of horsemanship.
For most, inmates nearing their release must apply for the program and will receive a certificate of their skills on completion. In some instances, those running the program will help inmates find farm jobs after their release.
But each program's structure is slightly different. For example, the Second Chances program at Central Maryland Correctional Facility is part of the state's Public Safety Works program to give inmates nearing their release date work skills, while Virginia's James River Work Center and Indiana's Putnamville Correctional Facility's programs are based on material from Groom Elite, a national horse racing workforce educational program. Lowell Correctional Facility, the largest women's prison in the country, is the only women's prison where the Second Chances program is offered.
Careers after prison
However, what has made Second Chances successful is that inmates are learning more than what's offered in a typical classroom. For some inmates, the program helps teach a valuable set of skills for a career after prison, and for others, it's a form of equine therapy.
"Working with the horses gives [inmates] the opportunity to learn about themselves in a way that doesn't happen anywhere else in prison," Diana Pikulski, TRF's director of external affairs, said.
And, for the horses, it's a safe home after their careers on the track have ended. Currently, the TRF has about 1,000 horses in its care across the country.
"Every [horse] was raised with the chance and the hope that they were going to become a big successful racehorse and didn't make it or they had to be retired," Pikulski said.
"A lot of times [the inmates] can relate to the horse or the horse's situation - they broke down, they never won a race or we're never any good - so everybody has come to a place where they are equals."
Different backgrounds, same passion
Although the stories about how they ended up in prison are different, one thing remains the same: the love of the horse.
Kelly Esposito had never been around horses in her life, but when she befriended a woman during her time at Lowell Correctional Facility who was involved with Second Chances, she decided to give it a try, although she had some reservations about her age and abilities.
"I had never been around a horse in my life, and I was scared to death," Esposito, now 50, said. "I warmed up and became comfortable with the horses. The love that I got from them and their dependence on me, the way they would just wait at the gate for me … it was just amazing.
"You think of a racehorse and you think all they want to do is run, but they just want to be loved."
In her two and a half years in the program, she handled every horse on the Ocala, Florida, property and even became the go-to tractor driver for mowing the farm's 100-plus acres. Now that she's out of prison, she's set on turning what she learned into a career on a horse farm.
"I'm very grateful for that program because it changed my life entirely and my whole outlook," she said. "I don't know what would have resulted had I just been a part of general population and not given a chance to do something like this."
'Where my heart lies'
Second Chances was more than education for Esposito. She now has a second family from the people she befriended while working at the farm - including John Evans, the farm manager at Lowell and a recent recipient of the Thoroughbred Charities of America Award of Merit.
"We're kind of our own little society," she said of the three other women she met through Second Chances, who remain very close as they all adjust to life out of prison. "And Mr. Evans keeps us all close at hand."
Esposito's connections led to her having a job two days after she was released from prison. For now, she's working at a restaurant as she saves money to buy a car to eventually get back to her new-found passion, farm work. When she has a ride and free time, she makes it out to the Florida Horse Park to clean stalls.
"I stay connected to it because that's where my heart lies," she said. "I tried to learn as much as I could [in prison], and with that background, I feel confident that I'll get to where I want to be."
Similarly, William Douglas, a 50-year-old Army veteran, entered prison with no horse experience. After serving two years at Groveland Correctional Facility in New York for drug-related crimes, he was transferred to Wallkill Correctional Facility, where he decided to get involved with the Second Chances program due to his love of animals.
Dream job
"I love animals, so I ended up in the horse care program, and I aced it," Douglas said. "I mean, I was my instructor's right-hand man. I was teaching people when I was done."
But it wasn't all a cakewalk for Douglas. He said that he had to change his understanding of horses to make the lessons in the program click.
"I was scared when I first started the program," he recalled. "My instructor said to me, 'The horse is trying to figure out why you're so scared, he thinks there's something wrong.' And I stopped and thought about it, and I just started to calm down."
Douglas was released from prison last September, and now he's trying to get a job in a farm in New York. He says that right now his dream job would be to work with foals and younger horses, something that he never thought he would be doing if it weren't for Second Chances.
"Going through Second Chances gave me a second opportunity to figure out what I want to do with my life," he said. "And since I went through that program, I found a whole new career that I never dreamed I would be doing."
But not all inmates are like Douglas and Esposito. Some already know and love horses and that passion is what drives them to turn their lives around, and Bryan Beccia is one of them. Alcohol and drug problems led to the exercise rider being arrested in 2006, just a few years after he galloped 2001 Kentucky Derby winner Monarchos.
Good therapy
"The whole time [at the racetrack] I had problems with drugs and alcohol, and that's just part of the whole racetrack deal," Beccia said. "There's always a reason to party. Whether you win or you lose, there's always an excuse."
While serving a 25-year sentence, Beccia was eventually transferred to Blackburn Correctional Complex in Lexington, Kentucky, where he was eager to get involved with Second Chances.
"[The program] helped me a lot because all I know is horses," he said. "My life's work has been with racehorses. It was good therapy for me to get me through the situation I was going through and to get my life back on track."
Beccia's sentence was reduced and he was released from prison in 2011. He slowly got back to the track and got his license reinstated in 2012. A couple of years later, he galloped another Kentucky Derby runner, Ride On Curlin, who finished seventh in the 2014 Derby and second in the Preakness.
Although Beccia had connections and a life at the track before Second Chances, he says that the program sets up inmates for a career after they get out of prison regardless of their past.
"I understand you can't get a job in a lot of places because you're a convicted felon, but in our industry, we don't care what your background is as long as you can take care of your horses and you come to work everyday.
"This is basically a program that sets you up for a future when you get out, so you can get out."
Life on the outside
Landing a job after getting out of prison is one thing, but it's quite an accomplishment to just stay on the outside. With the largest prison population in the world and the country's recidivism rate at about 43 percent, going back to prison is a harsh reality for many in the U.S. And even graduates of the Second Chances program are not immune.
"With recidivism, there are so many reasons why people end up back in jail, some it's just because they're hungry and they're not making it on the outside," TRF's Pikulski said. "We give them an opportunity where they have a skill and might find a job. And we have pretty good job placement - it's easy in some areas and hard in others."
However, graduates of Second Chances are already ahead of those who didn't participate in education or training in prison. A RAND Corporation report from 2013 found that inmates who took part in educational programs or vocational training while in prison had 43 percent lower odds of returning to prison compared to those who didn't participate while in prison.
Additionally, the report found that employment rates were 13 percent higher among prisoners who took part in educational programs or training compared to those who didn't.
The Second Chances program at Lowell has seen similar success with its graduates. During the 16 years that the program has been in place, more than 120 women have graduated and only three have returned to prison. Recidivism rates on other Second Chances programs aren't available or publicized.
"There are some people who do come back and they come back to [Second Chances], but they are still much better off than when they started the first time and it's the second time around that does the trick," Pikulski said.
For some, all they need is a second chance.