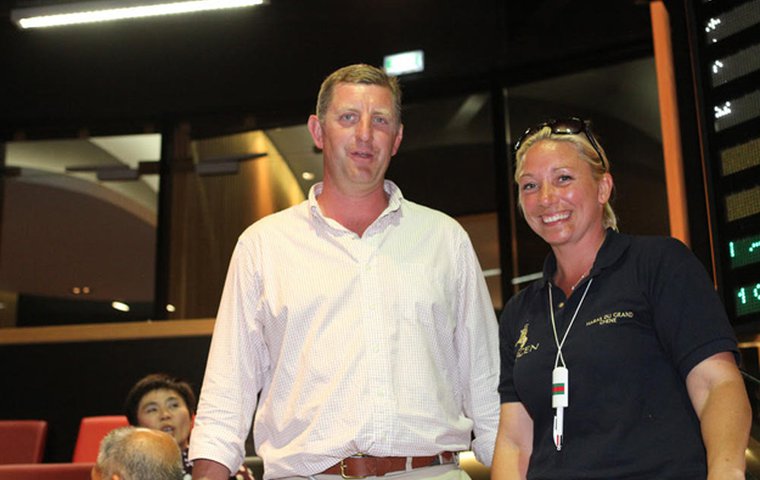 They've been a revelation since they went into business as consignors just seven years ago, starting from scratch from a new base in Normandy, France. Now horses from Etienne and Anna Drion and their Coulonces Consignment are among the most sought-after anywhere come sales time, and business is going from strength to strength, as Sally Ann Grassick found out.

The growth in popularity of sales consignors started some time ago in Ireland and England but this trend was slow to reach French soil. One of the first to make headlines at the French sales was Coulonces Consignment, which is headed by the married couple Etienne and Anna Drion.
Both brought up around horses but from very different backgrounds, the couple have featured in the top 10 consignors at the prestigious Arqana August Sale since they set up the operation in 2009.
Born in Ireland to French parents, Etienne is the son of former Aga Khan Studs manager Ghislain Drion. He gained valuable experience working for Coolmore in Ireland, Australia, Japan, and the U.S. as well as having stints with Vinery, trainer Christophe Clement, and Narvick International. He returned to France in 2008 to set up Haras du Grand Chene.
Anna meanwhile grew up competing in dressage and show jumping in her native Sweden before making a foray into buying and breeding racehorses with her parents Jan and Maja.
"We topped all the sales there pretty quickly so we decided to try it for real," Anna said. "Scandinavia is so small that we came to the conclusion that we needed to move further afield in order to expand. We moved to France around 2004 and bought Haras de Coulonces to run as a small family farm.
"We consigned just two yearlings in our first year in 2006, including the daughter of a mare we had brought from Sweden, who made €100,000.
"People started to ask me would I consider preparing and consigning yearlings for them, which was very rare at the time in France, and I quickly realised that our farm was too small to undertake the task commercially.
"I met Etienne and we quickly realised that we had similar ideas and goals. It all moved very quickly after that. We married in 2009, which was the same year that Le Havre, who my parents bred and we consigned when he made €100,000 as a yearling, won the Prix du Jockey Club, and we sold his half sister as a yearling for €500,000. What a year!
"We then purchased a sheep farm in Normandy with a house on 65 hectares in January 2010."
The Drions had to create their dream stud farm from scratch as their new purchase had no stables or fencing. They also set about recruiting a talented young team to work with them both at home and at the sales.
"I cannot say enough nice things about our team, which is headed by Charlotte and Anne-Lise," Anna said. "They are absolutely fantastic and it is in large part thanks to them that we have gone from one success to another since the beginning. The whole team love what they are doing and they have real passion about their work. They are as important to us as the clients that trust and support us.
"We are in the heart of horse country in Normandy, an hour from Deauville but just two hours from Paris. This means that it is easy for any of our clients to come and visit us, something we always encourage."
Coulonces Consignment was one of the first operations of its kind in France. Others have since followed in their footsteps.
"Many people thought it was impossible for such an operation to be successful here," Etienne said. "We took the example from the Castlebridge Consignment, and we were inspired by the success they have had over the years. We currently consign 100 to 120 horses a year, including yearlings, mares, and fillies in training. We decided early on not to sell foals or breeze-up horses as there are enough people doing that well already and we wanted to specialise in our area of expertise. You can't do it all, so we prefer to focus on doing our part well.
"Of the yearlings we consign, 95 percent are prepped at home. The two of us make a good team, and our talents balance each other out. I have built up a good client base from working around the world, and Anna is very good with the horses.
"It was essential that we both speak French and English as our clients are very international, ranging from all over Europe to Japan, Saudi Arabia, Australia, and the U.S. They include pinhookers, breeders to sell, and breeders to race alike."
Anna added: "Every yearling gets the individual and care attention it needs, both from us and from professional specialists. The most important thing for us is to create a racehorse. A healthy and happy horse is a beautiful horse in my opinion. We are dealing with very young horses, especially those going to the Arqana August Sale, so we are just there to look after them and get them to their future trainers with the best mind, body and mouth possible for them to become racehorses."
The operation has been especially successful with the yearlings it has consigned over the past few years, in particular at the Arqana August Sale in Deauville, where almost 40 percent of the yearlings presented have sold for six-figure sums.
The highlight of this sale for the team was selling a Dubawi filly out of Hit The Sky for €1.5 million in 2013. This year they will present 35 yearlings over the three days of the August Sale and the V.2 Sale, which is held the following day. The highlights of the draft include a well bred Teofilo filly (Lot 8) from Knocktoran Stud, who were previously responsible for the sales-topping Dubawi filly, an Invincible Spirit colt from the family of Moonlight Cloud (Lot 108) owned by Anna's parents' Team Hogdala, as well as yearlings by popular stallions such as Oasis Dream, Galileo, and Excelebration.
The benefits of breeding and racing in France are well known and, like many others, the Drions are fans of the French Thoroughbred industry.
"We are delighted to be based in France and the future looks very bright," Anna said. "There is a great industry here and the breeders' premiums are of course a big plus. The market is very focused on quality and there are some good stallions coming out of France at the moment so we are optimistic for the future."
And the future of Coulonces Consignment?
"We have reached the top level now and we are aiming to stay there and to be No. 1 at every sale. We know that's not easy and we are personally aware of the risks involved, which is something our clients appreciate.
"We have no financial backers so everything we have achieved so far has been through our hard work and the support of our clients. We would also like to expand our broodmare band from the dozen we have currently.
"The ultimate goal, the Holy Grail for us, would be to breed and sell an Arc winner. It isn't an easy ambition to have, but if it was everybody would be doing it."