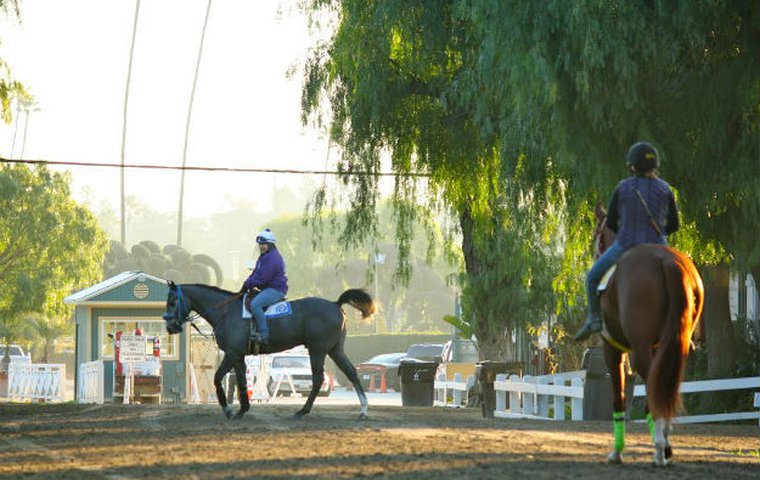 "I'm not saying it's gotten any better, and I'm not saying it's gotten any worse. But it's certainly trickier - there's a tremendous amount of uncertainty," said veteran trainer and California Thoroughbred Trainers president Jim Cassidy in his barn office at Santa Anita. The topic at hand was the fallout from Hollywood Park's closure two years ago, which marked the dawn of one of the most turbulent periods in California racing.



For, while the subsequent years may have ushered in a Californian Triple Crown winner, it has ushered out a worn and familiar pattern of life for so many for so long in the Golden State.
A little over a year after Hollywood Park heaved its last breath, a second deep knife-wound was inflicted when the nearby Fairplex racecourse closed its doors last February (a subsequent LA Times investigation raising questions of financial mismanagement at the facility).
To pick up the slack, Los Alamitos racecourse in Orange County grew in track size and stabling, while the San Luis Rey and Galway Downs training facilities 100 miles south of LA were given pricey facelifts. Still, stall space overall has been slashed, and some struggling horsemen have found themselves in the undesirable and costly position of running separate strings hours apart.
Stabling has been far from the only migraine-maker.
Hollywood Park's closure left a gaping six-month hole in the racing calendar, prompting much browbeating as to who gets what slice of the pie. Santa Anita has garnered the largest share, the number of race days there growing by 36 between 2013 and 2014. Del Mar, near San Diego, also stepped into the breach, introducing its first ever fall meet, in November. Los Alamitos opened its doors to Thoroughbred racing for the first time.
But California is a tale of two halves, and the southern portion isn't alone in its revisionism.
Threats that Golden Gate in the Bay Area of San Francisco might close if the racing calendar in Northern California wasn't reorganized, as was mooted in a California Horse Racing Board meeting last April, have thus far come to nothing. But negotiations are ongoing to close Pleasanton, also near San Francisco and one of the nation's oldest racetracks, for a period of months in the fall, raising the question: who has the space to welcome Pleasanton's evictees?
In this two-part series, a variety of figures within the industry give their views on how these recent changes have affected their jobs, businesses and niches within an industry that provides employment, directly or indirectly, to over 300,000 people in the state.
And, with what data is currently available, we have tried to put some of their observations and concerns into statistical context. What is painted is the picture of an industry still shaken in confidence by the aftershocks leading from Hollywood Park's closure but one still upbeat about where the road less travelled might eventually lead.
"Perhaps the market in California was over-saturated to begin with," said Hall of Fame trainer Richard Mandella one busy morning, staff buzzing to and from his office. "So, looking at it on a positive note, I'm hoping that, by racing at Santa Anita and Del Mar a little longer, you make two racetracks stronger by making one go away.
"Maybe that's better than all three weakening? That's what we were facing, all three struggling to survive. As for the future, I predict that there will be more horses coming in, and that racing will be stronger here. I really do."
Stabling crisis biggest challenge facing industry
Stabling, stabling, stabling. "That's without a doubt the biggest challenge for this facility and for we as an industry in southern California: the issue of how to resolve what we do about long-term stabling," said Keith Brackpool, chairman of the Stronach Group's West Coast Operations, when I spoke with him last May about what he saw as the main obstacles the industry faces. And it's not difficult to see why stabling should figure so brightly on his and many others' radars.
Between Hollywood Park and Fairplex, roughly 3,300 stalls were lost. Between Los Alamitos, San Luis Rey and Galway Downs, only 1,500 or so stalls have been added. Some 1,800 stalls have been nixed in Southern California alone, therefore, making the current jigsaw puzzle of allotting trainers sufficient stall space at their desired venue a task for Sisyphus.
And, with room at a premium as never before at Santa Anita, California's flagship racetrack, management has given priority to trainers — frequently those with greater fire-power — whose horses are running, and running regularly. Yet, concerted efforts have been made to shore up the shaky stabling situation - with mixed results, admittedly.
Five hundred additional stalls (along with three extra track furlongs, each worth around $500,000) were added to Los Alamitos. Attempts to nail down a long-term, potentially 10-year stabling contract there have thus far come to nothing, current negotiations going year-by-year.
A small portion of revenue is being channeled towards an auxiliary stabling fund to eventually purchase an industry-owned facility in Southern California – a project not expected to come to fruition for another 10 years. Offering more immediate reassurance to horsemen have been the facelifts that have surgically altered the Galway Downs and San Luis Rey Downs equine centers nearly 100 miles south of Los Angeles.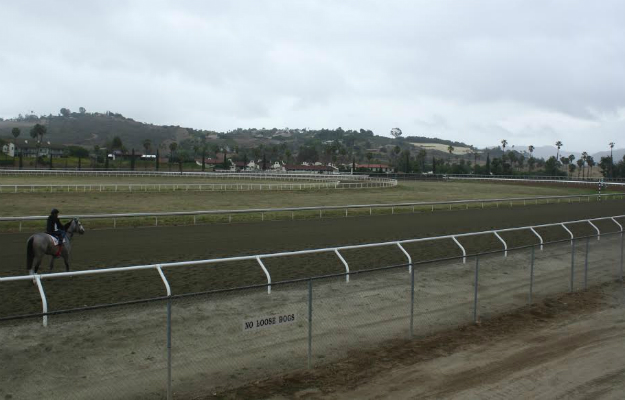 Galway Downs, a 242-acre equestrian center, now boasts room for 480 Thoroughbreds, with plans for more, a one-mile racetrack and a 5/8-mile training track.
Robert Kellerhouse, equestrian manager at Galway Downs, emphasized how "the local owners, Ken and Tina Smith, are here for the long haul". Racehorses (in any number) have been a relatively new addition to Galway Downs. Not so San Luis Rey Downs, less than 30 minutes north-east of Galway Downs, a more established overflow facility for SoCal trainers.
But San Luis Rey had long been in a state of decline, which is why owners the Stronach Group roped in Kevin Habell — former manager of Jenny Craig's Thoroughbred training center in Rancho Santa Fe — to turn the facility around in 2014.
"The roads were rutted and eroded, the paint was peeling off, the roofs and the gutters were falling in, the drains were busted," said Habell, now general manager at San Luis Rey, in a rain-threatened tour of the facility, during which he showed me an inventory of improvements Biblical in length.
The roads have been leveled, new bridle paths have been put in, the dilapidated 12-stall gate was renovated, a disused groundwater well was restored, the drainage system was fixed, roofs were repaired and the barns were given a new lick of paint. The lattice-work of trails have been brought up to date, fresh life was breathed back into the staff recreation center, the track was given a new surface, tractors and water trucks have been restored, new flowers and trees were planted, juniper shrubs swamping the swimming pool were torn out, new hay sheds were built, and the maintenance crew grew from 10 to 40.
"Once people come and see the place, they soon change their mind," Habell said, in reference to a continuing problem: the stigma of disrepair at San Luis Rey that has been hard to shake off.
But horsemen there speak of other cons and pros. Because Galway and San Luis Rey Downs are both a sizeable distance from LA and San Diego, finding enough experienced grooms, hot-walkers and exercise riders who live nearby, who are willing to commute or are able to make the move there, has been a noted challenge.
Still, because of its quiet seat in the heart of the Avocado Highway, San Luis Rey is a popular venue for horsemen seeking somewhere low-key to train their horses.
"The intense energy that is at Santa Anita of a morning, you don't get that at San Luis Rey," said trainer Dan Blacker, when I first spoke with him about starting his training business (as well as a young family) as the storm hit – a storm that, as a newcomer to the training ranks, he has bore the brunt of more than most. "It's crazy, when I look back on it."
Tough on the "little guys"
Blacker was stabled at Hollywood Park when he branched out on his own in 2011. When that track closed, Blacker shuffled his small string between Santa Anita and nearby Fairplex. Only, after heading to Del Mar for the 2014 summer meet, Blacker was denied enough stalls upon his return to Santa Anita, forcing him to divide his stable between Santa Anita and San Luis Rey Downs – a move that "crushed" him financially, he said.
"I did lose owners going to San Luis Rey. I lost a lot of money just keeping my business afloat, and I'm still in heavy debt because of that split."
Underpinning the problem has been a desire by many of his owners to be "where the action is", he said. "If I'm not [at Santa Anita] walking into the grandstand every day, shaking hands, I'd lose clients. When in the fall I was at San Luis Rey, people would call me and ask, 'we want to send you this 2-year-old. Where are you stabled right now?' I'd say, 'San Luis Rey', and they would be like, 'oh, ok, well that changes everything'."
Blacker hangs a figure of 25 percent to the amount of potential new horses he lost when stabled at San Luis Rey, while the sheer cost of cleaving a small barn in two had seen him sink into the red due to the costs of operating two stables.
"An extra employee costs around $4,000 a month. And, in my case, when I split the barn, you're talking about three more employees than normal. Bigger stables, you have more income coming in, and once you get to about 30 horses, a split string is do-able. But not for anything less than 30, though."
And what about those trainers essentially shut out of Santa Anita?
Anthony Saavedra — a graded stakes-winning trainer who admits he won't run horses "for the sake of running"— lives with his wife and two sons near Santa Anita. Saavedra was offered five stalls at Santa Anita. And the kicker? He has only seven horses in training. Splitting seven horses between facilities 100 miles apart wasn't a viable option, so he upped-sticks to San Luis Rey.
"I drive down here most days, but sometimes stay a night or two. It's a lot of wear and tear, let me tell you."
As a training center, San Luis Rey is a 'real quality' facility, he said. "I feel blessed to be able to train here. It's so tranquil - the horses do so much better here." But he agrees with Blacker's assessment that owners as a whole want their horses at Santa Anita, which has compromised his ability to grow and enhance the firepower of his stable.
"That's the number one issue: if you don't have stalls at Santa Anita, you don't rate," he said.
Others within the industry have a different take on the stabling crisis. "The race secretaries never had to be as diligent as they are now in a full barn area," said Joe Morris, who was still president of the Thoroughbred Owners of California (TOC) when we first spoke. "They were a little more relaxed, too relaxed," Morris said, at the time. "And now, the race secretaries need to be looking at what's coming in. If horses aren't fit for the circuit, if they're not racing here [at Santa Anita], then we shouldn't be letting them in."
Morris said he understood the predicament faced by Blacker and co - those smaller trainers with limited access to Santa Anita who struggle to hold onto owners. "Everybody wants to be where the show is, especially on race day, when it's more convenient."
Which is why, he said, they try to place a stall limit at 40 horses per trainer at the main tracks. The problem is, this 40-horse threshold isn't strictly enforced. As of the middle of January at Santa Anita, for example, seven trainers had stables larger than 40 and five trainers stables larger than 50, the ceiling capped at 55.
These large barns are a bone of contention in some quarters, including that of Jim Cassidy, who is concerned about the rise in prominence of what he terms the 'super trainer' – those who dwarf numerically the majority of outfits. "They've got hundreds of horses," he said. And at a time when greater emphasis is placed on stall space, these super trainers are squeezing out smaller operators in California, he added. "They can control racing, pretty much."
Cassidy sees this general trend at play: with shrinking horse numbers in California, and a handful of trainers consolidating their stable capacity, certain barns are dominating race entries, making races not only harder to fill but less desirable to punters also.
"These trainers, they'll have two or three horses for the same condition, but they're only going to run one," he said. "Horses aren't being spread out evenly anymore. The four or five horses that super trainers might have for one specific condition, if these same horses were with four or five different trainers, that race would fill. The sad thing is that they need the little guy to fill a race."
Only, the "little guys are disappearing", he added.
Re-writing the calendar
Discussions surrounding an overhaul of the racing calendar in both the north and south of California, are, like those involving stabling, ongoing and heated.
Last April, representatives from Golden Gate and the California Authority of Racing Fairs (which encompasses four fairground tracks in California), traded blows over how the dates should be spread between them. This year, at least, the northern calendar has remained largely unchanged, and Golden Gate remains open, despite threats to the contrary. Indeed, Golden Gate's standing in the north looks likely to strengthen if Pleasanton closes its doors during the fall, and horsemen are moved to temporary stabling at the Bay Area track, as has been proposed.
In his new guise as senior vice president of the Stronach Group's West Coast operations, Joe Morris said that the push to close Pleasanton for a few months is financially driven, for he said it costs $200,000 a month to keep the place open, with funding arriving in equal measure from both purse revenue and from Golden Gate. "[Therefore] it makes sense if we can offer stabling without paying for that auxiliary facility [at Pleasanton]," he said.
Not so fast, said Nick Coukos, Morris' replacement at the head of the TOC. "It's not just a dollar and cents issue at Pleasanton," he said. "There are people who live there, who are based near Pleasanton all year round, who we have to think about … we simply don't yet have enough information to make a decision about closing Pleasanton."
Still, a reordering of the racing calendar has reverberated through the industry in other ways.
Extending Santa Anita's racing calendar during the first half of the year has been a challenge of marketing and coordination "unique unto itself", Keith Brackpool said last May. "I'm not sure there's anywhere in the world where an A-rated track races for six straight months," he said. "It's been a challenge – how you create a new great spectacle every couple of weeks has been difficult."
And the onus of ensuring that the main stage for this spectacle is up to par has largely fallen onto the shoulders of one man.
"The turf course suffers from more racing, no doubt about that," admitted Dennis Moore, track superintendent at Santa Anita, Los Alamitos, Galway Downs and San Luis Rey. Indeed, since speaking with him, it has been announced that a completely new Bermuda turf course will be installed in June.
The dirt track at Santa Anita, in contrast, has fared better, said Moore. "[Dirt] tracks take more of a beating with training than with racing," he said, adding that the track material breaks down with natural attrition. So, as a preventive rather than a cure, the main track is "topped up" from a stockpile of ready-blended material. "We've started doing that, and it's something that tracks probably should be doing anyway," he said.
As for Del Mar, the greatest challenge has been to find the right marketing formula for their fall meet, said Joe Harper, president of the Del Mar Thoroughbred Club.
"This was not a meet we could market the same way we do the summer," he said. "It's hard to get people to park their yachts from Monaco here in the middle of winter, so all of a sudden your sex appeal goes down. I say we've got the ladies in turtle-necks here now, so we have to do things a little differently."
As he awaits the data from an "extensive and expensive" study, which will help identify the best way to market their fall program, Harper reads the results from the past two years for signs for optimism. "The money we offer is very good, and it's certainly very profitable. So, while some people have tried to characterize [the fall meet] as a disappointment, it's certainly not to anybody who knows the situation."
Still, the calendar in Southern California is far from a settled matter.
"I don't know how long Los Alamitos is going to be in this picture," Harper admitted. "So, if Los Al' goes, do we have a third meet at Del Mar? I think we need to look at what the calendar looks like in the best interest of racing, not just the best interests of the tracks."
Others feeling the pinch
The winds of change that have blown through the industry have left few unruffled.
When I spoke last year with Aaron Gryder, Dubai World Cup-winning rider and a long-time fixture of the California weighing room, he too was concerned that larger barns were squeezing the smaller operators.
A depleted pool of racetracks had also curbed his trade. "I used to be able to go to both Santa Anita and Hollywood Park to ride work in one morning, multiple times a week," said Gryder. "Now, realistically, you can only go to one track of a morning … It's affected me and my business, for sure."
Since then, Gryder has moved to New York, with a base at Aqueduct this winter, where he has found mounts for the likes of top trainers Todd Pletcher, Chad Brown and Rick Violette.
Changes to the Northern California circuit have hit struggling riders there, too – jocks like Barrington Harvey, 52, who said that he and some of his colleagues in the weighing room have found it hard to secure mounts when horse quality and field sizes are down.
"It's hurt my business big time," said Harvey. "Fields are down, and some trainers are running their better horses down south now."
The uncertainty hanging over Pleasanton is also causing headaches among the horsemen there, he said. "Oh sure, they've been real worried. Those little trainers with itty bitty horses, they've been there for decades."
Still, over the months in which these stories were gathered together, jittery concern has largely given way to guarded optimism. Uncertainty still exists, and perhaps the most frequently voiced worry hangs over the long-term futures of Santa Anita (owned by Frank Stronach, in his early 80s) and Los Alamitos (owned by Dr. Edward Allred, in his late 70s). But, as the shadow cast by Hollywood Park's closure continues to recede, less obscure seems to be the way forward for some.
"I've wanted to be a trainer for a long time, and I don't think I could have done it anywhere else," said Blacker, when we spoke on the most recent occasion.
"The purse money is well above average here. I come from a place [the U.K.] where we run for $5,000 maiden special weights, at best. So, to run for a $50-$60,000 maiden special weight is fantastic.
"Overall, globally, we do very well. And for me, as a young trainer, compared to the U.K., it's still easier to start here. You don't need a huge amount of money to get going. I love California and I love California racing, and I don't regret starting here at all."
The same applies to Jim Cassidy, who commented initially that it was "hard to stay positive" about the future of the sport.
"I'll tell you, I've thought about that," he admitted earlier this year. "I've had conversations with other people, and I believe that, without California racing, racing in this country is going to hurt, and hurt bad. One thing about racing in this country is that they need New York, they need Florida, and they need California."
At the California Authority of Racing Fairs meeting earlier this month, Stockton announced it will not race this September. Pleasanton will attempt to secure Stockton's dates from the CHRB, as reported in the FerndaleEnterprise.
So what are the answers?
In part two, coming soon, we crunch the numbers, and examine statistics that shine a light on whether a small number of powerful trainers are consolidating their influence on the industry in California. We have also given those voices included in this series the opportunity to suggest possible solutions to the main issues facing the sport in California.