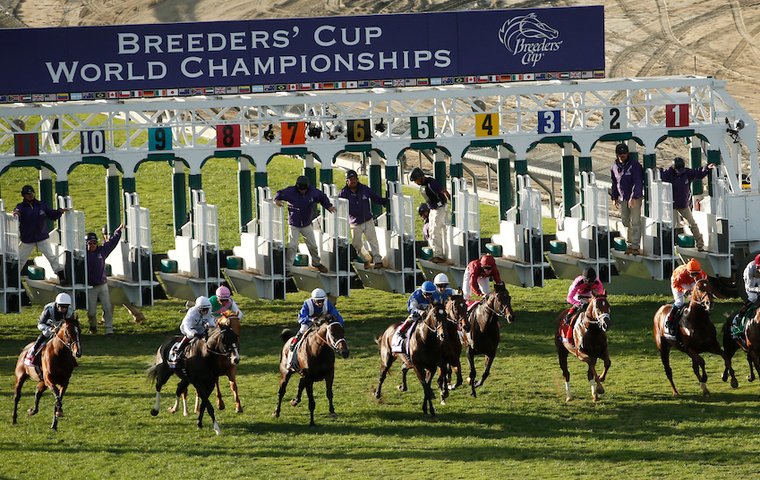 There is a quote most often attributed to Mark Twain that muses about the way everybody talks about the weather but no one does anything about it. These days someone can take those words, tinker with them a bit, and apply them to post positions.

People like to talk about post positions and complain about them, but what can be done about them?
What indeed?
"It's an ages-old problem," said Tom Robbins, Executive Vice President of Racing and Industry Relations at Del Mar, "and I don't know what the answer is. A lot of people talk about the fairness or unfairness of post positions draw, but in the long run what can you do? When you try to address a problem like this there are always unintended consequences that pop up and complicate things."
Robbins is hardly alone in that belief.
Pondering a solution
No one seems to have the one, surefire remedy that can solve all the problems stemming from a bad post, but that doesn't mean no one is pondering a solution.
Jeff Weiss, who owns Rosedown Racing, raised the issue of correcting the imbalance in posts prior to the Pegasus World Cup, a $12 million race at Gulfstream Park on Jan. 28 that showcased how the draw can have a pronounced influence on the outcome of a race – even the world's richest race.
Weiss, a stakeholder in the Pegasus who teamed with Zayat Stables to send out Prayer For Relief for a tenth-place finish from post two at 138-1 odds, says the racing industry needs to initiate more research and analysis in order to study the situation and make it more palatable.
"The problem with post positions is that they dictate too much about the race," Weiss said. "People are not into crap shoots, and what happens is that post position draws are more of a crap shoot. You can win or lose a race on them."
Sherman's view
Art Sherman, who trained California Chrome, will not argue.
Sherman's two-time Horse of the Year drew post 12 in a field of 12 for the Pegasus and called his horse's trip and ninth-place finish from the outside post "brutal".
"He had no chance at all," Sherman said. "I was told no-one won in two years from that post I drew."
Going into the Pegasus, the numbers staring in the face of the horses in the outside posts were daunting, to say the least. Horses breaking from post 12 at Gulfstream Park had one win in 18 tries prior to the G1 stakes, and horses in posts 10-12 combined for a 7-for-117 record.
Exacerbating matters, Sherman contends the outer portion of the racetrack was not harrowed properly for the Pegasus.
"It was brutal getting jammed out there and they didn't renovate that part of the track," said Sherman, whose horse came out of his final start with a filling in his right front knee. "Everything was manicured on the inside, not the outside. I thought that was the most unfair. They left it deep and cuppy when you broke out of there. From the nine to the 12 hole it was a different racetrack. The fairest thing would be to be limit it to eight horses at a mile and an eighth at Gulfstream because if you get post 12 you are in trouble."
'Just part of the game'
Tim Ritvo, the Chief Operating Officer for The Stronach Group, disagreed with Sherman's assessment of the racetrack for the Pegasus.
"We try to maintain the track equally all the time," Ritvo said. "We check the depths of the track and water both the inside and outside. I'm not sure of where [Sherman] came up with that, but the track was perfectly harrowed all the way around. We treated the whole surface during racing."
Perry Martin, the majority owner of the now-retired California Chrome, was more philosophical about the Pegasus, saying "Post positions are just part of the game. We have had our poor draws and always have a plan to overcome them. Sometimes it actually works!"
As for the distance of the Pegasus and that short run to the first turn, Ritvo said it would be discussed after July 1, when stakeholders had to sign on or drop out for next year's $16 million race. Among the possible solutions is a shift to a mile and three-sixteenths or mile and a quarter.
"There is consideration about changing the distance," Ritvo said. "After July 1, when everyone is in or out, we'll sit down and talk about those decisions."
Crown jewels
While the distance of the Pegasus can be altered without too much fuss, the same cannot be said of Gulfstream's other crown jewel, the $1 million Florida Derby, which is also contested at a mile and an eighth.
Earlier this year, the perils of breaking from an outside post in that race were vividly illustrated when Gunnevera, the 6-5 favorite, drew the outside post in a field of ten. At the break, jockey Javier Castellano, a four-time Eclipse Award winner, immediately guided Gunnevera to the rail to save ground. But what amounted to a left turn put Gunnevera in last after the opening quarter-mile and he could do no better than finish third to Always Dreaming, who broke from post four and tracked the pace-setting Three Rues before surging to a five-length victory.
"It wasn't easy," Castellano said with a laugh about his trip in the Florida Derby, while adding support for lengthening the Pegasus. "A mile and three-sixteenths would help, but I think Pegasus should be a mile and a quarter. The richest races in the world are at that distance. For other races, your post position can make things harder for your horse, but it's part of racing, you have to live with it. How is it going to change?"
Yes, again, how?
Starting a conversation
Weiss has no shortage of concepts that he believes can at least jump start a conversation on a complex issue. While races such as the Pegasus and Florida Derby illustrate the problem, ground loss is not the lone concern. At some tracks, the inside portion of the racetrack can be slow, giving horses on the outside an advantage. Also, most races are contested at tracks and distance where there's a relatively level playing field.
So, rather than invent a new starting gate, one of Weiss's main ideas consists of putting added weight on horses who get the prime post positions. He also believes the inside rail can be gradually moved out before the first turn to cut down on the amount of ground saved in a rail-hugging trip.
"They add weight in handicap races, so why not change the weight for outside posts? Maybe take away weight for outside posts or add weight to inside horses," Weiss said. "If you pull out the rail before the first turn, that can even the score. Maybe the starting gate can be slanted. My point is why not bring in some engineers to look at it? You never know what they'll find. Nobody wants to think about a major change like that, but years ago when McDonald's added drive-through windows only 51 percent of the owners wanted them.
"We have to do some testing to find out what works, but we need the motivation to do it and an organization that makes sure it happens. People think it's crazy to talk about it, but when they really think about it, they understand it. Everyone says they want to see something better."
Ritvo said he spoke with Weiss about his ideas and believed they deserve at least some consideration.
"Jeff and I talked and some of his ideas were good. Sometimes people come up with ideas that sound like they are off the wall when you first hear them, but then they take on a different look when you sit down and study them," Ritvo said. "When you have 12 guys you can come up with a lot of ideas. Some can be implemented and others have to be shelved for a while, but we take each of them seriously and we'll listen to them all because you never know what can spur some excitement."
Part of the puzzle
Other were quick to dismiss those suggestions. Martin Panza, the New York Racing Association's Senior Vice President of Racing Operations, had no love for adding or subtracting weight and believed moving the rail could lead to a dangerous situation when horses are squeezed together.
"To take weight off due to your post is a joke," Panza said. "It's all part of handicapping a race. Could Chrome overcome post 12 in the Pegasus? Horses might be 5-1 instead of 3-1 because of their post and that's part of the puzzle. Can they overcome the post? That's what makes horse racing unique. It's just racing luck and horses overcome that. Karakontie won the Breeders' Cup Mile at Santa Anita from post 14 [in 2014]. And maybe that's why he was 30-1. Part of the racing game is that a good horse will overcome an obstacle."
As much as a solution to the problem might be a task worthy of Don Quixote, there's a school of thought that putting some time and effort into research couldn't hurt.
"It's certainly something you want to take a look at, though I'm not sure of what the answer is," said Terry Finley, Founder, President and CEO of West Point Thoroughbreds. "Look at the National Football League. They have a committee to look at the rules and the game to see how it can be made better. There's no reason we shouldn't have the same thing in horse racing."
Inherent problem
While changing the dynamics of what happens on the racetrack may be problematic, tracks and racing organizations have other ways of combating the problem. Sherman said he would have preferred to have post positions in the Pegasus determined by career earnings or a point system, which is understandable considering that his horse and eventual winner Arrogate would have been assigned the two best posts. Yet he also knows the inherent problem in such a set-up.
"To be fair, I know there would be an uproar if they changed the format to help the favorites," Sherman said. "Problems with post positions have been going on for years and I don't know how to change it. There would be a lot of controversy if you change things. People will whine and cry like you've never seen."
Dora Delgado, Senior Vice President, Racing, Nominations and On-Site Operations for the Breeders' Cup, said her organization has studied different methods of assigning posts and has reached the conclusion that the status quo works best.
"We look at post positions from time to time, but not because we don't think the pill draw is fair," Delgado said. "The random draw seems to be the fairest way for people to get a post. Giving an advantage to a Breeders' Cup Challenge winner would not be as fair. Besides the Challenge winners, everyone is putting up the same entry fee so why should anyone get an advantage?
Lottery machine
"We've looked at it in terms of making it more exciting and dramatic. When we draw 13 races, it can be like watching paint dry at times so we've split it up with doing 11 races really fast and then slowed it down for the Classic and Distaff and made it more of a party atmosphere. In the past we used a lottery machine to drop the balls down and that really didn't improve the experience for anyone."
From 1998 through 2009, Churchill Downs allowed horsemen to pick their posts for the Kentucky Derby. Instead of the normal draw - when a horse's name is drawn and then a pill for its post is pulled - during those years a horse's name was drawn and its connections could pick any of the remaining posts.
The Kentucky Derby has its own array of post position woes as post one has produced just one winner since 1963 and posts 17-23 are combined 3 of 116.
"The Derby let trainers pick their post for several years and we look at different things, but we keep coming back to the pill draw," Delgado said. "We're certainly open to new ideas. We'd love to be able to add a little something to the draw, but we've backed off the idea of giving trainers with the highest point earners a further advantage by picking their post. It does seem to penalize horses at the bottom and trying to get 14 horses to run in a $6 million race like the Breeders' Cup Classic isn't as easy as you think it would be. So it's something we've looked at and backed off it."
Example of the Breeders' Cup
Much like what might happen to the Pegasus, changes in distance can alleviate some of the problems.
For the Breeders' Cup, which is held at different tracks, races often change in distance from year-to-year. For instance, the Breeders' Cup Turf Sprint was contested at 6½ furlongs last year at Santa Anita and at 5½ furlongs in 2015 at Keeneland. In November, it will shift to five furlongs at Del Mar.
The Breeders' Cup Filly and Mare Turf was run at a mile and a quarter in 2016 and a mile and three-sixteenths in 2015, but will be a mile and an eighth this year.
"We do not offer a mile and a quarter on the turf because it would start on the far turn. It's a fairness issue," Robbins said. "You want horses to be able to a gain a good position and not have them run eight wide around a turn. We work with Breeders' Cup to determine the best distances."
Robbins said the BC Dirt Mile could pose a problem for horses with an outside post, but believes using a longer run-up can help.
"We have standard runs-ups of 45 feet before actual timing starts. In the Dirt Mile it will be 200 feet and it gives us a little more of a run-up for horses on the first turn to negotiate the first turn so they are not six wide," Robbins said. "You don't want to say seven or eight seconds into a race that your horse has been eliminated. That's what you're trying to avoid.
Sinking feeling
"What's painful, especially in the Breeders' Cup, is if someone pays a high supplemental fee to run in the race and then, boom, they get post 14 in the Dirt Mile. It's unfortunate and that's the way it's always been looked at it in racing. It's luck of the draw and the only way for it to change is for someone to break out of the box and say here's how we're going to do it."
Under present conditions, in some cases that sinking feeling can set in way before the starting gates open.
"It definitely takes the wind out of your sails three or four days before the race when you get an awful post," said Finley, a part owner of Breaking Lucky, who was eighth from post ten in the Pegasus. "There's no doubt we do more analysis after a loss than a win and the situation definitely comes into play after the Pegasus. I was pretty happy when Chrome got 12. No one wanted 12."
In the Breeders' Cup, juvenile turf races at a one-mile distance can also create angst over the post position draw.
Weiss recalls fuming in 2013 when Bashart was a main contender for the Breeders' Cup Juvenile Turf at Santa Anita but drew the outside post in a field of 13 and was wide around both turns while finishing sixth.
"[When Bashart] drew the outside post, I wanted to go home. I looked up the stats and saw I had a two percent chance of winning," he said. "I'm in a million-dollar race and I just lost the race on a crap-shoot and that's bull. That's when I started thinking about and looking for ways to overcome it."
Tough assignment
La Coronel has emerged as one of the better turf 3-year-old fillies but she, too, faced a tough assignment in the Breeders' Cup. She was the tepid 4-1 favorite in last year's Breeders' Cup Juvenile Fillies Turf but landed post 14 in a field of 14 and wound up sixth after racing four wide around the first turn.
"We went off the favorite and it was a tough assignment," said John C. Oxley, who owns La Coronel. "But I'm a traditionalist. It has to be the luck of the draw. It would be odd to do anything else. You have to know your horse and sometimes you have to change your game plan. The luck of the draw is the way to go about it, but to adjust some distances makes some sense, too."
Though Del Mar and the Breeders' Cup pondered extending the distance of both juvenile races for 2-year-olds, they will remain at a mile - the same distance Hit It A Bomb covered when he won the 2015 BC Juvenile Turf at Keeneland despite breaking from post 14.
"Are they better off at a mile and a sixteenth being young horses, giving them more room and time?" Delgado said. "It's going to be something our racing and nominations committee will look at and see if there's a better distance. When we originally created those races and ran them at Churchill Downs, they had a real issue with running 14. It was too short a run and 12 was a safer number and it's something we look at with each track. It can be a tight turn for babies.
"I think we'll take a look at extending the juvenile turf races and discuss the pros and cons."
That pretty much goes without saying. When it comes to post positions, there will always be talk. But answers?
Mark Twain can fill you in on that.