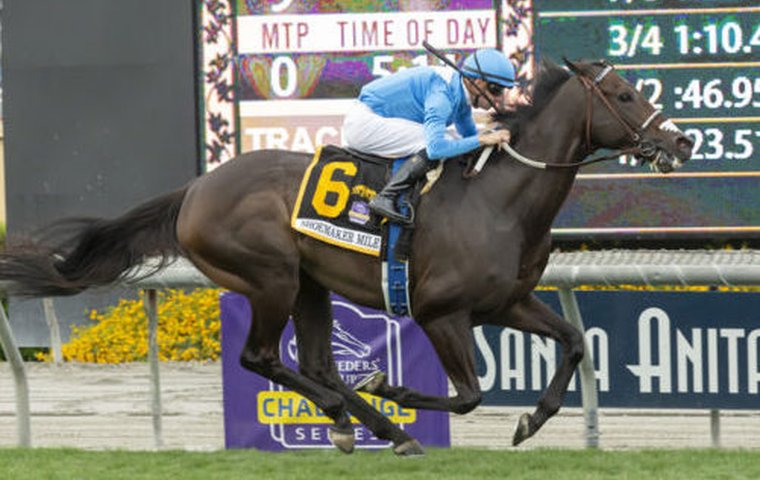 When the 7-year-old gelding Bolo crossed the wire first in the G1 Shoemaker Mile at Santa Anita in May, he struck a blow for the golden oldies in a world where the delinquencies of youth are still held firmly in its thrall.

That a 7-year-old is still performing at the highest level is a feat worth sitting up and taking notice of. In most cases, connections have admirably resisted the siren's call of the breeding shed. Injury, too, has been staved. Then comes the more elusive element of the equation – maintaining their competitive spirit.
Some trainers appear to be better than others at teasing out, year after year, the more sublime qualities of their ageing proteges. I spoke with a handful of such trainers on the U.S. West Coast. The following lightly edited remarks are from typically much longer conversations.
Two common themes emerged from their various recipes for success: Don't over-cook the turkey, and lashings of patience, patience, patience.
RICHARD MANDELLA
Yes, his resume lists champion 2- and 3-year-olds, but Mandella's name will forever be synonymous with a phalanx as long as your arm of Rip Van Winkle-like runners. Indeed, eight out of ten of his top-earning horses won G1 races at five and older. One of the them won a G1 at the age of nine - The Tin Man in the 2007 G1 Shoemaker Mile.
Flexibility …
RM: Horses change - just because something goes one way the first six months of their life, doesn't mean it'll be that way forever. They'll change, grow up. Their minds will be different, and you'd better change with them.
Sweat the details …
My main people have been here a long time. They know what I'm looking for: problems before they begin. That's the most important thing. Fix it before it starts, because when it gets out of hand, you can't fix it.
Some of the toughest ones are hardest to read because they won't show you they're tired, something's wrong, so you'd better look close. When you walk down the shed-row, sometimes they're holding a hand up saying 'I need to talk to you.' In horse terms, there are things you always look at - their hair, coat, if they're holding their weight good, eating good. Just watch if they're changing their personality. A horse that rests all day, suddenly not resting. Not yelling for his feed.
Spells …
Send them out for a spell? Oh yeah. Resting them here at the track doesn't always work. You can walk them, pony them, think you're being easy on them, but mentally they're not easy on themselves. So, you get them away from here where it's quiet, and they tend to let down and rest. A lot of the fillies, especially. Geldings too. I have luck getting them out of here after they run, like I used to do with Beholder.
[But with the likes of Gentleman, Siphon and Sandpit], they didn't need rest. Those were tough dudes. They ate good. Big healthy things. Those horses didn't need spelling, freshening. They were strong. Their minds were strong. Just a matter of having them right. But, you can still overdo it with any of them, no matter how tough they are.
JOHN SHIRREFFS
Tina Turner, Dame Maggie Smith, Zenyatta - three divas who have shown longevity and excellence in their respective fields far beyond the norm. At distilling those rarer qualities of his barn's older brigade, Shirreffs has proven more than adept, not just with the four-time Eclipse Award winner, but similarly with the likes of G1 winners Manistique, After Market and Starrer.
Don't over-train …
JS: With older horses you don't have to just keep them mentally in the game, you have to keep them physically in the game, so they want to do it. Everything's a biorhythm, so you have to know where you are with them. Are you on a down slope, are you on the up slope? Are you in a trough or are you in a peak? So, mostly it's just figuring your horse out, and how you can get their energies together at the same time a race comes.
There's a general outline you have in your mind, but then you have to tailor it to the specific needs of the horse. I always think back to people who are competing on the track, and they train really hard in the pre-season to get fit enough to run on the track. And then, after they're fit enough, the secret is to not over-train. If you over-train, then they become dull. And when the horse is dull, you have to start all over again.
Physical problems …
I think we underestimate how horses handle pain, and we as trainers need to be able to pick up on how horses are handling it. It could be muscle soreness. It could be the stress of training. We really have to be careful, in those regards, because a horse won't always point the foot for you. You really have to watch things.
Foundational work for later …
Because I worked so long on a Thoroughbred farm before I even started training, I realize horses generally like to get out and they like to move around. Hopefully, with the training you've given them when they're young, and the routine you've taught them, they'll also be okay with maybe jogging a little more when you need them to. Not routine. You know, maybe you say one day, 'I'll take them for a walk around the track, around the barn area,' just to do something different.
LEONARD POWELL
Age may be a fine conduit for improvement when it comes to extracts of the grape, but with athletes, the opposite is typically true, youth being the standard benchmark for excellence.
Powell's Soi Phet bucks that trend, winning his first stakes race at the ripe old age of seven, and winning his last at the age of ten. Having just run his last race at 11, Soi Phet will head to Old Friends in Kentucky.
Spend time with them …
LP: Trying to learn from experience, that's the main thing. Experience teaches you to not make the same mistake twice, but that's rarely the case. Older horses are horses that overcame all our mistakes. Hopefully, we learn from the mistakes we make from them and we don't repeat them. That's why I spend a lot of time at the barn. Monitoring their weight. Seeing them in their stall. Seeing their demeanor – that's the main thing. You just have to be there to watch them.
Don't over-train …
One of the worst mistakes with older horses is to over-train them. That's when they get hurt. You've got to know where the tipping point is – that's the secret. The same with when you campaign them – you get to know how much you can race them in a campaign.
Give them time off …
That's one of the problems in the U.S., we have year-round racing. There's always another race. And there's never a proper time to give a break to your horse until it's too late. And that's one of the things I love about Australia. There's a spring campaign and the autumn campaign, and the horses, no matter what, even if a horse wins by five lengths, they go on a spell for six weeks after that.
Six weeks is the right time [for a break]. They don't lose that much fitness. When you bring them back, you don't have to be as hard on them. And it's enough time for them to let down physically and mentally. Every-time you train and race, you cause microfractures, and if you don't take a small step back, then the body doesn't have time to catch up. And if they're turned out, you might not think they're doing anything, but they're still exercising quite a bit.
CARLA GAINES
In bringing Bolo back into training for one last hurrah, Gaines had her work cut out. His last run was back in August of 2017, after which he'd suffered a tendon injury which, though relatively minor, as Gaines puts it, 'you're never just a little bit pregnant.'
On top of that, he's a big long strapping horse, not far off 1,200 pounds. The sort of horse that needs treating with kid gloves. Despite this, it was Bolo and not any of his younger, race-fit competitors standing in the winner's circle after this May's G1 Shoemaker Mile.
Slow and steady …
CG: We had already developed a program in case we were going to bring him back. Once we got through his rehabilitation program, we waited, we scanned, we re-scanned. We went through so many weeks of a break-over walk. We would increase it for a while, then we would stop and not do anything for 30 days. It was his program – I had nothing to do with it. I just went by him.
It's hard to get a horse of that size with that type of injury fit over this type of deep, deep dirt surface. He's a big flat-footed horse, he likes a firm grass course. It was frustrating to say the least. So, we just did a lot of long slow exercises. Consistent long slow works. We did a lot of jogging – miles and miles and miles. But he's a good jogger, and he's a brilliant horse.
The unknown …
Watching him work, I was hoping he was wanting to run when the time came. You just can't really get a good true reading. Actually, any horse that you've had off for a year at least, and they get to a certain age, male or female, it's questionable if they're going to have the want anymore. But, I'm probably careful. We don't tend to train hard in the morning – that's just my style. I'd rather get them to the races.
Time, time, time …
The key in this business, you have to give them time when they need time. We have a horse shortage. We have an owner shortage. People now, they don't want to give the horses the time. But I've had owners who understand that over the years – they understand horse racing. They understand that horses need time off. I train a lot for breeders who have their own facilities. Their own farms. For someone who doesn't, it's costly.
JOHN SADLER
Accelerate's career was a masterclass in the art of the slow-burn. For four seasons, Sadler brought about incremental improvement in the son of Lookin At Lucky before his barnstorming performance in last year's Breeders' Cup Classic. With Catalina Cruiser, who ran away with his 5-year-old debut the G2 True North Stakes, could Sadler be at it again?
Plot out a campaign …
JS: You look at what's out there and look at the number of starts you want to make. You put a couple of different plans together. Know if you're going to run a certain amount of times, the key races you should point for. But you probably shouldn't run such a campaign that you try to do everything, so, all of a sudden, your horse is over the top. If you say your year ends at the Breeders' Cup, there's some built-in time off before you begin your campaign the next year.
If you look at what we did in California a long time ago, we used to look north to Seattle. Those horses that would run well there would be running eight, nine, ten-years-old, because they always had the winter off. They didn't race in the winter. Those horses would be in great form as older horses. You can't go non-stop forever.
Knowing when to stop …
There was a famous surgeon, and he was asked once, 'what makes you a great surgeon?' He said, 'I pick the right cases.' Meaning, he didn't take the guy who needed five stents, rather, he took the guy with a little blockage in his heart. That comes through experience - no question.
Good old fashioned horsemanship …
It's basically good management, good horsemanship – all of the time-old sayings are very true. You're going to be way more successful if you're proactive versus being reactive. If you see a little problem with a horse, stop on him early, it's going to pay you back on the other end. If you go on with a horse, it'll get to be a bigger problem, they may not come back as well. So, we try to look at them closely.
Train them as individuals …
Some horses aren't capable of going early, and if you force them to run before they're ready, you'll just get a bad result – probably not going to get an older horse. So, a lot of these older horses that I have, I was also patient with them at two and also into their 3-year-old year, depending on their needs.
RICK ARTHUR
With the topic of animal welfare and injury prevention such a hot-button issue in California at the moment, I posed the following question to the California Horse Racing Board equine medical director: how do trainers know when to call it a day?
RA: There are two major issues. One, is the horse physically sound and able to perform? And the other, is he still at a reasonable level of performance? Some of it is horsemanship and horse management. How much respect do you have for the horse? An 8-year-old is not an old horse. It's an old racehorse, but it's not an old horse.
The bottom line is, the longer a horse is with an individual trainer, the lower the risk of things like catastrophic injury. They know the horse better. They can evaluate the horse better. With all horses, you have to know when to woe and when to go. And, sometimes, horses are at the top of their game, sometimes they need a little rest, and sometimes you need to say stop. But at the end of the day, it boils down to horsemanship and patience.