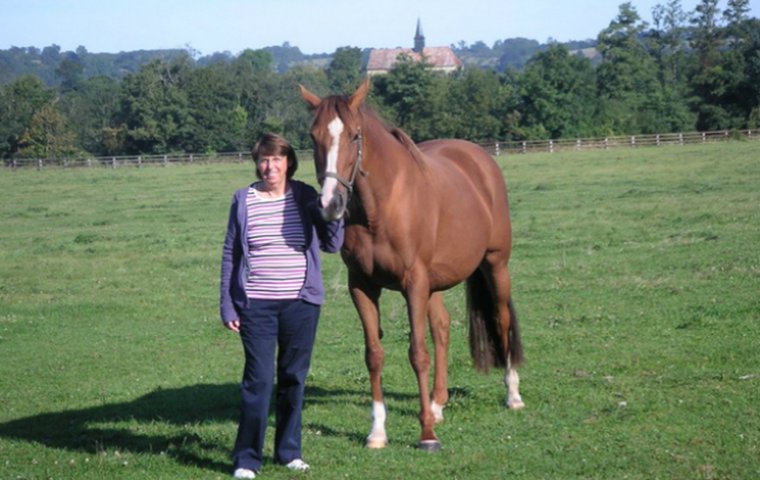 Even in France, with its generous prize money premiums for home-bred horses, it is hugely difficult for breeders to make ends meet. So what chance would someone from outside the sport -- no inside knowledge -- have if they decided to set up a small stud farm after working for nearly 30 years in an entirely unrelated industry?

Very little, you may think, but then Genevieve Neveux is no ordinary breeder of racehorses. She has brought a brilliant and accomplished business brain to the operation and is loving every minute of it.
Born and raised near Deauville, in Normandy, she has had a love affair with racehorses ever since she can remember. Her father was a "pedigree wizard," and she often went with him to the local studs and the Deauville sales. By the age of eight, she was becoming familiar with bloodlines.
Later she would ride out twice a week at the Maisons-Laffitte training centre in Paris, but then work took over and there was no time for horses. She intended to return to them at some stage, however.
Neveux has a Ph.D. in economics and an MBA, both obtained at the elite Paris Pantheon-Sorbonne University. In an extremely successful career since, she has been administrative director for Hewlett-Packard (where she worked from 1981 to 2000) and a senior partner with U.S. professional services giant Towers Perrin.
It may have had nothing to do with horseracing, but it put her on the right financial footing to be able to return to her first love, and 13 years ago (while she was working for Towers Perrin) she took the plunge and became a breeder of racehorses.
Perhaps it is no surprise that someone with such credentials has adapted so well to the business of running a stud farm, and has now even branched out to become an active partner in creating a successful racehorse syndicate.
She explained to John Gilmore how she went about it.
What were the main difficulties you experienced getting started?
"Starting this new venture from scratch and running it while at the same time pursuing a professional career at its peak -- in other words, having a very busy life outside horses, not seeing them as much as I wanted, and not having enough control at the time I was boarding them.
"But I learnt a lot during these first years, quickly understanding what was right or wrong, and above all what I liked or disliked as a way of handling horses and running the business.
"At the beginning, I was boarding my mares on a small farm not far from Haras Du Camp-Benard at Bonnebosq in the Calvados region of Normandy and would come and see them as often as I could. But this was not enough and, at the end of 2004, I bought my own place -- a 10-hectare farm at Monteille, Calvados, with no horse boxes. I soon hired an employee, built 15 boxes, and later purchased more land.
"When I initially bought the farm, I basically knew what I wanted to do, even if I had little experience, and I was able to set up things quickly and rather efficiently. That employee is still with us and manages the farm in a fairly autonomous way. He had to, as I was never there at the beginning, or for only short periods of time, but we would talk on the phone and I always knew what was going on.
"It's only for the past two or three years that I have been able to spend more time at the farm, having set up my own consultancy business [since leaving Towers Perrin], and I don't travel so much as before."
How much did it cost you to set up your stud farm, Elevage Le Lieu Fergant, at Monteille, in the Calvados region?
"The best part of €1 million in 2004, with the property itself €500,000. That included a large surface area of farm buildings, an old wooden panelled house, and 10 hectares of land. Additionally, I spent a further €400,000 on building 15 boxes, employee accommodation, and purchasing an extra 10 hectares.
"I have since added a further five boxes at a cost of €40,000 and we now have 20, including two foaling boxes. The first three mares cost around €50,000 and three subsequent ones around €35,000."
For a small breeder like yourself, it would appear impossible to make a living without an alternative source of income to finance it.
"That's right. I'm used to saying that 'I earn my money in Paris and spend it in Normandy, and it goes very fast.' I think this is more or less the case for all new breeders, unless you are lucky enough to breed a very good horse at the beginning and can cash in on it, or you inherit land and premises.
"I would say from experience when you are a small breeder it is much smarter to board your mares than buying a farm. On the other hand, the farm itself is now profitable, as we are now boarding five clients' mares, in addition to the six of mine."
What has been the strategy you have adopted concerning the type of broodmares you buy and the stallions you mate them with?
"I have always known that I could not afford performance, pedigree, and conformation, so I made the choice to select my mares based on pedigree and conformation. That's a bit frustrating, but you can't have it all, at least with the budget I had, taking into account the fact that I was spending a lot of money in the farm itself.
"Concerning the stallions, I study the matches using the available databases and try to replicate what has worked well, while staying in the proper range of price [for a given mare]. The covering fee is important and I am usually looking for stallions in the €3,000-€8,000 range.
"This year, I am using Alexandros [fee €3,000], Montmartre [€3,500], Cockney Rebel [€4,000], Whipper [€5,000], and Anodin [€7,500]. Last year I used Dabirsim in Germany [€9,000] and in the past Elusive City [€12,000].
"I am mostly looking at the bloodlines, in-breeding, and nicks before making a choice, having a preference for short- or middle-distance stallions, depending on the mare. The commercial factor is also something I take into consideration but it's often a guess for first- or second-crop stallions.
"I also learnt not to listen too much to the so-called experts -- they often have their own agendas and don't give their advice for "free." On the other hand, I always discuss the matches I am planning with friends or people I trust. That's a good way to build knowledge and experience."
What has been your average cost of getting a yearling to the sales? How has this worked out for you over the years, concerning the average sale price realised?
"Around €18,000 is the average cost per yearling, depending on the nomination, and more when I go abroad, which I don't do that much, mainly because I don't like my pregnant mares to travel.
"I have never sold at very high prices and, overall, I don't cover the costs, knowing that there are years when you cannot sell all your yearlings. But I'm able to deduct my deficit from my other income, which helps quite a bit.
"I may keep a filly for the purpose of breeding from her later. It may be a horse with a problem [that doesn't get sold], like a crib biter [they usually are hard to sell], or a horse who is late in his growth and would not be ready for the sales. I give them their best chance at running on the track and try to sell them later."
How important an impact has the French breeders' flat race premiums (14 percent of prize money) and owners' premiums (64 percent for races for 2-, 3-, and 4-year-olds, 43 percent for 5-year-olds and older) for French-breds in open races had on your business model?
"It's nice to get but you should not rely on that to be profitable. To me, it's like a bonus that rewards a good job, on top of the rest [mainly sales revenues and/or prize money for the horses you race yourself].
"I bred Kahyasola [Kahyasi - Isola d'Elba, by Diesis], G3 and listed placed at 2; soon after I started, while Pearl Swan [Gentlewave - Swanson, by Diesis], was a G2 winner over hurdles at Cheltenham in January 2012, though subsequently placed second for interference. Other than that, we've had several winners each year, but no big success."
With the French employment tax system being so high, and the statutory 35-hour week for a job that requires flexibility, what sort of extra strain does this put on a small breeder like yourself?
"I have just one full-time employee, Michel, who lives on the farm and does everything, plus part-time help from my niece, Claire, who fills in for him some weekends and when he is on vacation. Claire also takes care of the administrative side, which is a big help, especially now that we have boarding mares. The 35-hour week is not a problem. You just have to pay overtime above it.
"I am very lucky as Michel is very committed and quite flexible. He organizes his work week himself, based on needs, but things are sometimes done a bit outside normal time, especially during the breeding season."
I often see you at the racetrack and the Deauville sales. How important is this meeting racing people at these events to running your business?
"It's important to have a good network and you learn a lot talking to people, but it's also a pleasure to be at the races on big days. Being at the sales is a must for a breeder, whether you sell/buy or not."
Do you feel that the likes of French Racing and Breeding Committee (FRBC) and Arqana do enough to help small breeders?
"It's not typical of the FRBC's mission to help French breeders, whether they are big or small, but I think they do a good job promoting breeding and racing in France and making things easier for foreign owners and breeders who want to come to our country. There are more and more of them, by the way, thanks to our generous system, and the FRBC plays a significant role in it.
"This may help French farms of course, introducing them to prospective clients for example, but that's more a side effect. I must say that, in our case, we have much more demand for boarding mares than we can accept and we don't need anybody's help.
"On the other hand, the Syndicat des Eleveurs [French Breeders' Association] is the organization that helps and advises breeders on all sorts of questions, and they do a very good job.
"As for Arqana, they have a mission of their own, which is to maximize their turnover and compete with the other sales organizations in Europe. I must say they have done a pretty good job doing that these past years, and if it does not help us [small breeders] in a way, it does help the whole industry.
"Of course it's a bit frustrating when they fill their catalogue with horses coming from abroad, but it's also what the clients are asking for.
"Rather than complaining, I try to have the best yearlings I can in my category, making sure they take the best ones I have for a given sale or sales day.
"Now that Osarus [another French sales company] have grown and are making their own selection, it allows you to target the most appropriate sale for a given horse, and I must say it has worked quite well in the past few years for me.
"In a nutshell, they do their job the best they can, we do ours the best we can and, most of the time, it will be in the best interest of both parties."
You have recently branched out into syndicating racehorses. How did this come about, and how did you go about finding interested participants and selecting the horses to buy?
"It was an opportunistic move as two young friends who had planned that project for a while asked me to join them and I was happy to do it.
"We started last year and it went rather smoothly. We were able to set up the whole thing in a matter of months from creating the company and agreement by France-Galop.
"You just need to know what you have to do and be organized, with a good accountant and a good relationship with France Galop (who are very helpful when you ask them the right questions). Some previous experience in setting up and running a business is a plus.
"Other than that, finding participants was just a question of contacting our network and asking people to embark on the adventure, and it just took a few months to gather the number of participants we needed.
"I guess the combination of experience [myself] and young talent [Jerome Reynier, our trainer in Marseille, and Sebastian Le Forban, our agent], was convincing enough for all the people who joined us.
"Our business model is based on Jerome's ability to educate and train young horses, which means we are working with yearlings we buy at the sales, trying to run them early at 2 and hopefully win, and selling them on before the end of the year to start all over again.
"It worked quite well last year despite a problem we had selling our best horse, who had won three races and was stakes placed. The market for young flat horses is not very developed in France. We have to be aware of that and anticipate better in future."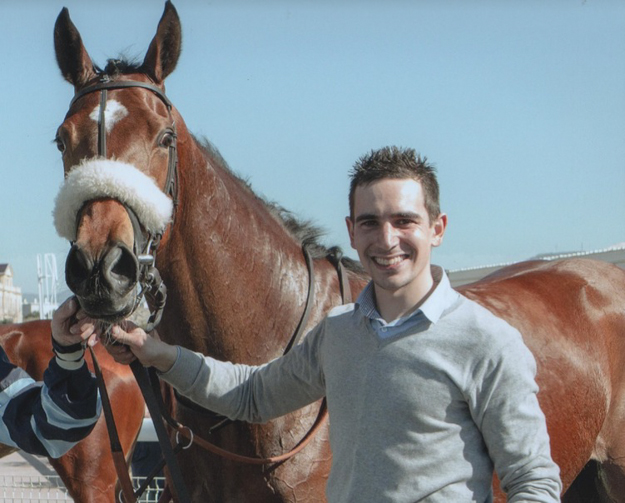 How many members do you have in the syndicate and how much does it cost to What is the overall record to date?
"The name of the syndicate is ITS Racing, and we have 14 members, who paid between €5,000 and €15,000 each when they enrolled [for a total of €150,000]. This covers everything for the first two years. We had four 2-year-olds running last year and all but one were winners or placed for a total of four wins and 16 places [from 24 races].
"Our best horse was Winter Springs [Stormy River - Hallen]. He won three races and was second in a listed race.
"Only one 2-year-old has run this year, and she was third in her second race over 1,000 metres, which is too short for her. The four others will make their debuts between May and July, if everything goes well."
You said a syndicate objective is to sell on 2-year-olds each season. Did this work out profitably last season?
"That worked out fine last season, but we bought back a winning filly in July [€55,000], which was probably a mistake and stakes-placed colt Winter Springs did not reach the reserve price in November, so we had to sell him privately. We still have the filly. She runs in handicaps and pays her training fees, but she will have to be sold within one or two months as we want to concentrate on the 2-year-olds."
Are you looking to increase membership or keep it limited?
"It will stay limited for the first two years. After that, we will decide if we stop the syndicate at the end of this year and take the profits, or continue with the same and add other participants."
In choosing your Marseille trainer, were the question of lower training fees and perhaps less tough competition down south than in the Paris region contributing factors, or were there other reasons?
"The two factors you mention are definitely a plus, although we also took the horses to Paris, Vichy, and Deauville tracks and met all sorts of competition there. But being in Marseille definitely helps.
"The most important factor was Jerome Reynier himself. He is a top trainer and the training centre in Calas is a great place to train horses. Jerome was born and raised in the south, his father owned racehorses and also a few broodmares in Normandy. He was mostly interested in breeding at the beginning and, as many young people, he worked for different studs in France and abroad before going to Ireland to follow the Irish National Stud's breeding course, and after that the Darley Flying Start program.
"He graduated from Darley in 2008 and worked as a bloodstock agent for a while before deciding to branch out and go into training. He applied for a trainer's license and got it in 2011, first as a private trainer and then as a public trainer in 2013.
"Claire, my niece, was studying at the Irish National Stud with him in 2006, and I first met him at their graduation. He showed a lot of interest in our little farm, where he boarded two mares for several years. We have stayed in contact ever since and, besides the syndicate's horses [five 2-year-olds and a 3-year-old that we kept from last year], he is also training the two horses I personally have in training."
What's the worst experience you have faced in this business -- and the best?
"I had an exceptionally good-looking yearling who broke a leg just before I was about to sell him. It was only my second crop and I was not ready for that. I was boarding my horses in a farm at the time and not everything was right there, even if they had no direct responsibility in the accident.
"That's when I decided to get my own place so that I would be able to do things my own way, whatever it took. I bought the farm four months later, which was the best thing that happened to me, and progressively turned it into a great place to breed horses, as small as it is, and also a great place to live."
Has there ever been any occasion where things got so bad you thought of giving it up?
"Never, even though I have had quite a few bad nights when there were problems."