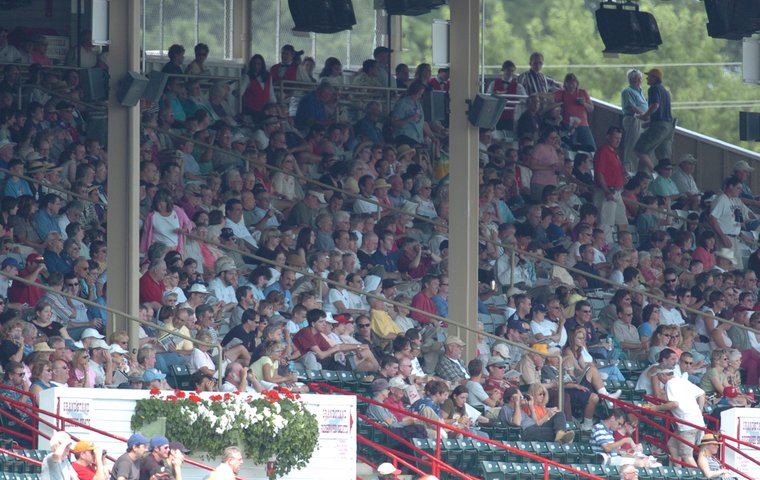 The New York Racing Association (NYRA) created a bit of a furor recently when news broke that it would not be issuing a 2019 calendar.

There were complaints on Twitter, which has turned griping into an art form, though in some ways it's understandable why it wasn't published.
One reason would seem to be that it's a promotional item and there's little for NYRA to promote about 2019 at this point in time. You see, NYRA has yet to settle on dates for its 2019 meets, which is a story with far-reaching implications for New York racing that extend far beyond the loss of a wall calendar for a year.
For the most part, the changes involve Belmont Park. Yet maybe not this year, but in a year's time, it may also impact Saratoga, and, judging by the response to a year without a calendar, that figures to create a tornado of outcry on social media – even though the Spa changes seem even more logical than the decision to scrap the calendar for a year.
Belmont renovation
To explain, NYRA is about to initiate a major renovation of Belmont Park that will coincide with the building of an arena for the National Hockey League's New York Islanders. Construction on the arena is expected to start in the spring and be completed in time for the start of the 2021-22 season.
That gives NYRA its timeframe to complete its remodeling of the building, grounds and racing surfaces at Belmont Park so that the complex is not subject to a marathon construction period. There's also the likelihood of a fourth racing surface, situated inside the existing three, and there's speculation it could be a synthetic surface.
It's a grandiose plan, but, according to several NYRA sources, it has yet to be finalized. There are still financial issues to be addressed, which will determine the scope and design of the work that must ultimately be approved by the NYRA board of directors and the Financial Oversight Board (FOB).
When everything will be announced is still shrouded in mystery, but there seems to be a favored framework for the construction. According to several sources, the project will consist of two phases, with a break for a summer meet at Belmont in 2020.
The reason for that structure is because of the Belmont Stakes. It cannot be shifted to Aqueduct because of the Resorts World casino occupying the grandstand, and there's little interest in reprising the 2½-turn Belmont Stakes of the 1960s when the Elmont, New York, track was closed from 1963 to 67 for its last reconstruction project. NYRA officials also view moving to Saratoga for the Belmont and a day or two of racing a logistical nightmare.
What this means is that possibly in 2019, and definitely in 2020, the Belmont fall meet will be shifted to Aqueduct.
As for Saratoga, the delay in the release of NYRA's 2019 race dates can be seen as an indication that NYRA is not champing at the bit to bring in the bulldozers as quickly as the Islanders. Under that scenario, with the work at Belmont pushed back until summer has come and gone, the 2019 Saratoga meet will probably open on its usual date and follow its normal 40-day, seven-weekend schedule.
Of course, 2020 is a different story. At that time, NYRA will no doubt be eager to reduce the strain on Aqueduct and will probably make the logical move to Saratoga at least a week earlier, sparking loud complaints from the purists.
Which does not make sense.
More popular than ever
Complaints about a longer Saratoga meet are understandable on some levels. Yet, if NYRA cuts back to a five-day week for much of the meet and the racing days stay roughly the same, the changes should be embraced, especially by fans.
There have already been some comments that Saratoga will lose its charm with a longer meet. But why? After all, it used to be a 24-day meet and there were some dire warnings about venturing outside of its August confines. Now it runs for 40 days from July through Labor Day and the meet is more popular than ever, which shows that more is not less when it comes to Saratoga.
And will an extra week or ten days change that? I don't think so. It will give more people more opportunities to visit the Spa and there's no downside in that, especially when you consider how weak the racing at Belmont Park can be between the end of the July 4 weekend and the start of Saratoga.
Frankly, I can't see why any fan would lose interest in going to Saratoga because of some extra days. There are reasons why some people may not want to go to Saratoga, but "the meet is too long" is definitely not top ten material on that front. You love something, but when you get more time to enjoy it, you sour on it? Really? What's the difference if opening day is July 12 instead of July 20? Is it any less fun on opening day because there are more days? Will any day actually be different because the meet takes longer to complete?
If anything, the extra days will give working class fans more options for locking in vacation days so they can spend a few days at the Spa. Trust me, having just a couple of weeks off and battling for vacation time in July and August is not a fun endeavor in some offices.
Average attendance will probably drop, but that will be offset by the gain in field size and wagering at Saratoga in comparison to the slow business during the dreary final mid-July days of the Belmont meet.
There will, of course, be a strain on horsemen and transplanted workers from Belmont and Aqueduct.
Yet, for horsemen, the longer meet will give them an opportunity to run their horses three times during the meet and take advantage of hefty purses without jamming in starts. Maybe that third start at the Spa will make their horse eligible for NYRA's Starter Loyalty Program and a boost of at least five percent in purse money. That longer timeframe might even encourage more out-of-town trainers to ship in for the entire meet, improving the quality of racing.
As for workers, being away from home that long is difficult. Yet the five-day schedule offers a much better timeframe for trips back to New York to see family members and tend to personal business.
Financial sense
For the town of Saratoga Springs, it's unlikely hotel or restaurant owners will complain. A longer meet may also spark home sales in the area.
Some residents might not like having their life disrupted for another week, but that argument has a hollow ring to it. A longer Saratoga meet makes financial sense for NYRA and the local community should be supportive of that. Saratoga is a much better town than it was when I first visited it 45 years ago, and all that vibrance in the city and the booming real estate prices are largely a result of the racetrack's incredible growth in popularity. For local people to tell NYRA to maintain the status quo and hurt its bottom line, while the businesses around it that they own or work at are thriving because of the people magnet the racetrack has become, seems a tad selfish.
Problems with housing have been mentioned as reason to keep the meet at its current length. But again, why? Neither NYRA nor a government entity forces anyone to rent their home for the summer. It's done of free will and people are raking in higher and higher rents for it. In some cases, they are getting ludicrous amounts of money for the use of their home.
Yet, if they do not want to rent their home for the extra week or so, or for any part of the meet, there's no requirement that they have to do it. If anything, homeowners a little farther away from the track will be happy to fill the void. There will be plenty of housing available. It just might be a ten-minute walk to the track instead of a two-minute stroll. Then again, as much as people might complain, when all is said and done, the lure of those huge rent checks might sway them to be landlords for an extra week.
No shortage of exciting things to do
There's also the realization that a longer, five-day meet will allow fans to enjoy life beyond the racetrack in Saratoga and the surrounding communities. There will be extra time so that you can spend a day across the street from the racetrack at the National Museum of Racing and Hall of Fame and receive a spectacular lesson in the sport's grand history. Or you can spend time sunbathing at Saratoga Lake. Or traveling to Lake George. Or taking in a concert at the picturesque Saratoga Performing Arts Center. Or simply driving through the countryside and marveling at the scenery.
There's no shortage of exciting things to do in Saratoga and a longer, five-day meet will give people the chance to experience it and enjoy their time in Saratoga Springs even more. Just as it did 28 years ago when the meet was expanded to 30 days in 1991 and business flourished at the racetrack and downtown Saratoga Springs – a scenario that played out in the same positive fashion when the meet grew to 34 days in 1994, 36 days in 1997 and 40 days in 2010.
And, as much as six-day weeks at Saratoga have been a staple for years, five days will be a welcome change, especially with a longer meet. Anyone who endured the 1982 meet with 27 straight days of racing without end, amen, can attest to the virtue of having a couple of days to clear the head and dedicate some extra time to handicapping.
In the final analysis, there's no question NYRA's plans for the future will soon generate plenty of comments. Concerns about a longer Saratoga meet should not be one of them.