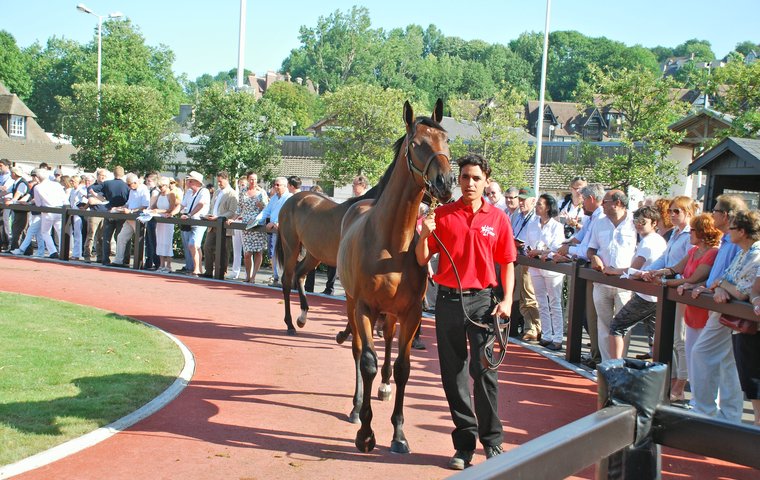 For four days later this month there's only one place to be if you have any pretensions to be a serious player in European racing. The Arqana Yearling Sales at Deauville on August 19-22 has been one of the most important events of its kind anywhere for decades and is as strong as ever now as owners, breeders and trainers gather from all over the world on the look-out for the choicest offerings from the rejuvenated French bloodstock industry. But will that always be the case? An alternative way of auctioning horses is fast emerging. Indeed it has been embraced by Arqana itself, as Isabel Mathew found out.

The success of online auctions in the art world has been well documented, and in recent years the racing and breeding industry too has also shown itself to be an increasingly progressive market. This has notably been illustrated by Arqana Online's results in Europe as well as by a number of outlets in Australia and New Zealand.
At the beginning of 2015, the leading French auction house Arqana, which counts prominent art auctioneers Artcurial as one of its shareholders, announced its decision to create an online platform for buyers and sellers that would offer the same guarantees as its traditional bloodstock sales.
"An important factor that encouraged us to develop the idea into reality was the success of our 'Wild Cards' at our regular sales," former Arqana managing director Olivier Delloye said at the time. Delloye, who now holds the same position at France Galop, added, "This made us realise how much timing was important in maximising the value of certain types of horses."
Tailored sale
Just a few months later in November that year, Arqana Online started with a bang when a share in the Aga Khan Studs' leading young French sire Siyouni was sold for €355,000 to Nurlan Bizakov's Hesmonds Stud in East Sussex in South-East England.
"There are certain times in the year when a seller might like to take advantage of the market, but there isn't a particular opportunity that corresponds to exactly what they are looking for. It is at moments like these that we can create a specifically tailored sale online to suit their needs," Delloye explained.
Positioning itself as a cross between ebay.com and the French online private sales website, vente-privee.com, Arqana Online remains the only European bloodstock auction house that offers this kind of service.
Arqana's President, Eric Hoyeau, says, "As Arqana Online sells just one lot per sale, this means that we only offer the highest quality that would likely be subject to a lot of interest from a number of different parties.
"Over a period of 18 months, we have had a lot of success with stallion shares and horses in training (flat, National Hunt prospects and broodmares). This has subsequently led us to do the same thing in the trotting sphere."
The highest price achieved by Arqana Online to date has been Vedevani, a 3-year-old son of Dubawi who made €800,000 from the Aga Khan Studs. Out of G1 winner Vadawina and a half-brother to two stakes winners, he was a G3 runner-up as a juvenile before being placed at listed level.
Stallion shares popular
Bought by Gerald Larrieu's Chantilly Bloodstock Agency for Khalifa Al Kuwari, Vedevani was subsequently exported to Qatar. The colt had been subject to 47 different bids from nine different interests during the auction.
Interests in stallions have also proved to be an extremely popular market for Arqana Online, with the opportunity to purchase two 50th shares in current French champion sire Le Havre reaching heights of €400,000 and €355,000 last year, while five individual ones for Siyouni have made up to €360,000. To date, the website has registered a turnover of €3.81 million from 12 sales.
In the Southern Hemisphere, just a short while after Arqana Online was created, gavelhouse.com, a subsidiary of leading auction house New Zealand Bloodstock, launched its own platform with a view to selling multiple lots per auction on the internet.
Since holding its first sale in April 2016, gavelhouse.com now holds bi-monthly online auctions of horses of all ages in addition to the regular seven auctions a year at Karaka sales ground on North Island.
At the beginning of June, the platform hit a record high with the sale of 40 lots for an aggregate of NZD $587,000 (€370,000 or $435,000), pushing its total overall turnover to over NZD $3 million (almost €2m or $2.2m) for 531 horses sold since its creation.
The top lot at the sale, the broodmare Ampin, sold in foal to top-class sire Savabeel, went for a record NZD$ 211,000 (€135,000) to agent John Foote, bidding online for the first time, as part of a dispersal sale. Her yearling by the same sire had been purchased for NZD $110,000 (€70,000) earlier on in the auction.
Cost-effective option
With clearance rates up to 93 percent for gavelhouse.com's auctions, as indeed with Arqana Online, sellers have ostensibly embraced the new concept. In addition, it is a seemingly cost-effective selling option, not least when the long distances travelled by consignors and buyers are also taken into account, which is notably the case in Australasia.
More recently, Australian auction house Inglis has also followed suite by creating its own Inglis Digital, this the latest development after its purchase of the trading site bloodstock.com.au six years ago following its launch in 2009.
Since holding its first sale this May, Inglis Digital's highest price has been for the broodmare A Fairy's Kiss, who sold for $55,000 last month. In the same capacity, sites such as bloodstockauction.com are also present in the Australian market.
While Arqana does not foresee the online sector replacing its traditional auctions just yet, with buyers still preferring to be able to see horses in the flesh on the sales ground, such has been the results of gavelhouse.com that New Zealand Bloodstock recently cancelled its mixed bloodstock sale at Karaka due to demand from vendors to sell online.
"We don't envisage gavelhouse.com having an effect on the yearling and 2-year-old sales at Karaka in the immediate future, however recent results have proved that quality horses sell very well," says NZB managing director Andrew Seabrook. "Our clients, vendors and buyers have really embraced the concept and I'm sure it will keep growing."
As the ever-evolving customer behaviour shifts more to online, it only seems a natural progression that the racing world has brought itself more up to date with the digital expectations of today's consumer society. It appears there is plenty more scope to expand it in the future.