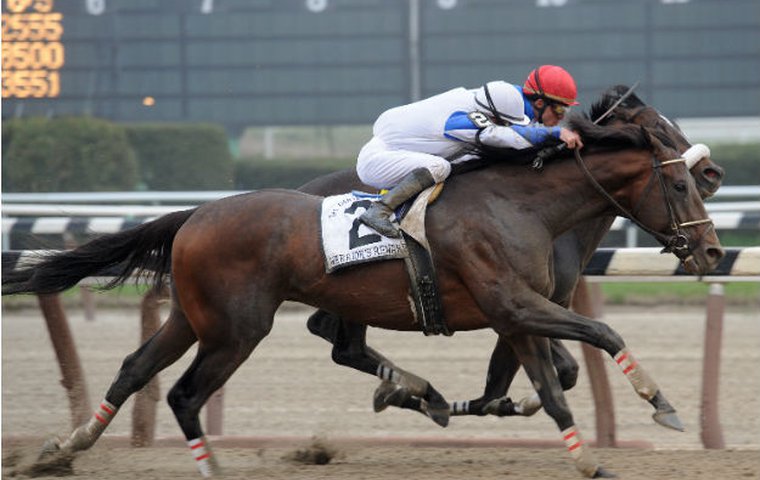 As the hammer fell on the final lot at the 2016 Magic Millions Sale on Queensland's Gold Coast, it seemed timely to muse on the interaction of the Australian- and U.S.-bred Thoroughbred, even if the twain of turf and dirt shall never absolutely meet.

Why? Well, if there is a Las Vegas or Hollywood style horse auction, it's not in America - it's the Magic Millions, unashamedly focusing as it does on the glitz and glamour of racing, doing all it can to lure us to the ultimate gamble of spending millions on baby horses.
Then we have the growing presence of Bradley Wayne Hughes' Spendthrift Farm, which has an Australian operation in Victoria as of last year, and the plethora (15) of U.S.-bred stallions with offspring on sale, which is far removed from how things used to be in this part of the world.
This is also a good time to ponder whether Spendthrift's punt on shuttling the Australian-bred Hampton Court to Lexington can be successful, and to explore the changing face of Australia's breeding industry, which is now more U.S.-influenced than ever before.
The start of the Spendthrift-Australia connection
The historical link between Spendthrift Farm, in its previous incarnation preceding Hughes' resurrection of the property, and Australia dates back to the 1940s and 1950s, when Shannon and Bernborough - two legendary Down Under performers on the track - were resident at stud at Spendthrift in Kentucky.
The 1946 Caulfield Cup winner Royal Gem was also shipped to America in the 1940s, as was the 1938 Cox Plate winner Ajax, who was sold as a 14-year-old in 1948.
This quartet was followed, in the next three decades, by celebrated performers Noholme, Sailor's Guide, Pago Pago, Tobin Bronze, Daryl's Joy (NZ) and Strawberry Road, who had varying degrees of success on and off track in North America.
None, however, quite had the aura of Phar Lap, our first export to the North American continent, but each was high class in its own right and - unlike the New Zealand-born 'Red Terror' - were Australian-bred, save for Daryl's Joy, who also had an NZ suffix.
The 'Aussie' horse hailed as 'better than Secretariat or Man O'War'
Such is the jingoism of we Australians that the trifle of a horse's place of birth is hardly likely to stop us claiming him, and all Phar Lap's racing - bar his famous win in the Agua Caliente Handicap - was done in Australia. In a sense he became the world's horse after that memorable victory at the Mexican casino and resort just south of the Californian border and, of course, after his subsequent death in that state.
Phar Lap was the original connect between the great northern and southern continents.
Australians (oh and New Zealanders) still rejoice in reading the following observations on Phar Lap, whose mounted hide is still the most popular exhibit, almost 84 years after his death, at the Melbourne museum.
The first from U.S. Hall of Fame trainer Charlie Whittingham, who saw Phar Lap race at Agua Caliente and who trained three of the exports mentioned above. In his biography he wrote: "I never got to see Man O War, but he'd have to be a helluva horse to be better than Phar Lap."
And the second, attributed to veteran U.S. racing official Francis Dunne, who was asked whether Man O' War or Secretariat was the greatest horse that he had ever seen. "Neither," he said. "I saw Phar Lap."
Australia's three trailblazing stallions in the U.S.
Phar Lap, his untimely demise aside, was never going to be the stallion trailblazer. He was gelded. That distinction more sits with Bernborough and Shannon, who each sired the winners of more than $4 million while ensconced at Spendthrift, which was then owned by Leslie Combs II, and with the less heralded RoyalGem.
That same suffix II was added to Shannon's name in the States, as it was with Noholme and Ajax. And Shannon, the subject of an excellent 2013 book by Jessica Owers, was - like Phar Lap - well hailed in the States.
Bernborough, the freakish galloper with the whirlwind finish who emerged from obscurity of minor racing at Toowoomba to win 15 races straight at the major tracks in Sydney, Melbourne and Brisbane in 1945-46, also had a degree of notoriety in America as he was sold to movie producer Louis B. Mayer. He, Bernborough that is, was no sensation at stud, but his offspring did include the Whitney winner First Aid.
Royal Gem, who stood at Warner Jones, Jr.'s Hermitage Farm in Kentucky, lays claim to greater Northern Hemisphere influence, given that he sired the winners of more than 1,000 races, including the 1953 Kentucky Derby winner Dark Star, who in turn sired Hidden Treasure, the 1961 Canadian Horse of the Year.
Mixed results for other Aussie imports
Four of the next five prominent exports - Noholme, Tobin Bronze, Daryl's Joy and Strawberry Road - shared the distinction of winning the Cox Plate at Moonee Valley, Australia's premier weight-for-age race (as Ajax and Phar Lap had done). The other was Sailor's Guide, conceived in England and foaled in Australia, who ran third in the 1955 Cox Plate. He won numerous classic and weight-for-age races, and the 1958 Washington D.C. International Stakes, in which he beat that year's Arc winner Ballymoss … but he failed at stud.
The 1959 Cox Plate winner Noholme failed to win a race in the States but was competitive in several major races and certainly made his mark at stud in Arkansas and Florida. Among his first crop was the champion handicap horse Nodouble, who was American Co-Champion Older Male horse in 1969 and 1970 and was the leading sire in North America in 1981. He also sired Shecky Greene, the 1973 American Champion Sprint Horse.
Tobin Bronze, who won the Cox Plate in 1966 and 1967, finished third in the Washington International on his American debut and, while he won four races in his new home, he did not recapture his best Australian form. At stud, he sired 15 stakes winners, including Trojan Bronze, the 1975 San Luis Rey Handicap winner, and Noble Bronze, who won the 1978 California Derby.
The 1983 Cox Plate winner Strawberry Road was another to contest the Washington International, finishing third in 1984. The following year, trained by Patrick Biancone, he ran second to Pebbles in the Breeders Cup Turf. Then, in 1986, he won the last feature race of his career, the Arcadia Handicap at California's Santa Anita Park when prepared by that man who saw Phar Lap, Whittingham. Whittingham also trained, in the U.S., Tobin Bronze and Daryl's Joy, with the latter also winning the Arcadia Handicap.
Strawberry Road was successful at stud, with his offspring including three Breeders Cup winners. Ajax, Daryl's Joy and Pago Pago did not reach great heights in their secondary careers, although Pago Pago, in America, had the distinction of siring Olmec - the dam of the champion Dancing Brave's mother Navajo Princess.
But the Americans didn't want to go to Australia
That 11 horses who were household names to Australian racing fans ventured to the U.S. from the 1920s to the 1980s is quite remarkable and a matter of fond recall. Why it didn't happen in reverse can only be a matter of conjecture. Most likely it was simply because America had more people, more money, more risk-takers, more horses and more movie stars.
Perhaps it speaks to a more romantic time, pre-stallion farm monoliths, with Mayer buying Bernborough and Bing Crosby buying into Ajax. Perhaps it was easier to buy a celebrated horse in Australia than from the old money racing families in Europe.
It was, of course, then quite an endeavour. Phar Lap is reported to have left Sydney on 20 November 1931 and arrived in San Francisco on 15 January 1932. There was apparently a stopover in New Zealand. Even now, it takes three weeks to ship from Sydney to San Francisco. And, if you're going to stand at stud in Kentucky, there's then the trip from one side of America to the other; not to mention the adjustment of going from one season to another.
No notable American horses, it appears, made the alternate trip across the Pacific to race in Australia, with prize money levels probably not attractive enough until more recent times.
Secret Savings, who did his early racing in the States, did come to Australia and claim the G1 Doncaster Handicap in 1997, and there was, of course, the 2010 Melbourne Cup winner Americain, but it's a stretch to call him a genuine import from the U.S. despite his stint with Todd Pletcher.
However, it should be noted that Australian breeder David Hains' 1980-90s experiment of sending his best mares to be mated with leading U.S. sires certainly had a degree of success, with Kingston Rule(by Secretariat) winning the 1990 Melbourne Cup and Portland Player (by Seeking The Gold) winning the 1996 Victoria Derby.
And then the U.S. shuttlers started to arrive in force
The U.S.-bred racehorse had little impact on 20th century development of the Australian and New Zealand breed, at least not until the final decade. It was largely stallions imported from Britain and Ireland. But the times they are gradually a'changing.
The first volume of the Australian Register of Thoroughbred Stallions was released in 1964. Serendipitously, there's a copy on my bookshelf (all things in racing are serendipitous, according to my friend and one time Daily Racing Form editor George Bernet). It listed just five U.S.-bred stallions (three, unsurprisingly by Nasrullah) standing in Australia and none was of any consequence.
In contrast, in 2014, there were no fewer than 11 U.S.-bred stallions who each served 90-plus mares in Australia - up to Medaglia D'Oro's tally of 148. Joining him in high demand were Bernardini, Americain, Declaration Of War, More Than Ready, Dream Ahead, The Factor, Street Boss, Uncle Mo and Animal Kingdom. Another 10, including Big Brown, served between 50 and 90 mares.
Of the 66 stallions who served 100-plus mares in that year, there were as many from the U.S.A. as from England, France and Ireland combined, and just two from New Zealand. That is a massive change from our colonial past. That 1964 Register lists page after page of stallions from England, Ireland and New Zealand.
This metamorphosis began in the 1990s with the import of the all-conquering Danehill, although he, of course, embarked from England and had raced exclusively on turf. Perhaps, more significant, was the arrival of the 'true' American dirt performers More Than Ready - now a major antipodean influence - and the less heralded Dehere, who did manage to get the high-class performers Belle Du Jour, Defier, Natural Blitz and Dear Demi.
Animal Kingdom, American Pharoah and others
The influence of the U.S.-bred Thoroughbred is now well entrenched in Australia and likely to grow via a number of the younger stallions mentioned above and - Spendthrift will hope - through their well received U.S. shuttlers Can The Man, Jimmy Creed and Warrior's Reward standing in Victoria.
Arrowfield Stud are pushing hard for Animal Kingdom with his first crop and his high profile will aid the cause. His first yearlings went through the ring on the Gold Coast and encouragingly three sold for $200,000, $240,000 and $310,000.
While the six previous Kentucky Derby winners (Thunder Gulch, Real Quiet, Fusaichi Pegasus, Street Sense, Big Brown and Super Saver) to stand in Australia either have had limited success here or the jury is yet to decide, that hasn't diminished the contemporary impact of the U.S.-bred stallion, and who knows what impact American Pharoah may have if/when he stands here, as mooted, in 2016 (at Coolmore Australia)?
Spendthrift's high hopes for reverse shuttler Hampton Court
But can we (Australia) exert an influence in the country where the names of previously successful sires like Royal Gem, Strawberry Road and Noholme II would be a distant memory to most?
Darley have recently shuttled Lonhro and Denman to America. Lonhro has had two North American stakes winners in Isotherm and Shakhimat, but his tenure ended after three seasons in the U.S, and Denman lasted just the one. The 2010 Melbourne Cup winner Americain has shuttled to Calumet Farm and had 10 yearlings sold at Keeneland last September, but only one made six figures - and that was $100,000 on the dot.
Hardly an overwhelming success, but Spendthrift's Ned Toffey remains optimistic about the Lexington placement of Redoute's Choice's son Hampton Court. "Hampton Court, from the great Northern Dancer-Danzig sire line, is the right horse to shuttle back to the States and so far has been very well received by breeders," he said.
And now they're on the look-out for new shuttle stallion prospects
In 2014, Spendthrift dipped their toe in the Australian yearling sales pool for the first time and secured several quality lots at the Inglis Easter Sales and, last year, their purchases included the Magic Millions sale-topping Sepoy-Sister Madly colt for $1.2 million.
This year, on the Gold Coast, Spendthrift stepped in early to secure two stallion prospects - lot seven, a chestnut colt by Snitzel ($500,000) and lot 15, a $625,000 bay colt by Street Cry out of the Encosta de Lago mare Aloha.
Spendthrift's intent certainly seems to be to develop dual-hemisphere stallions. They were active again later in the sale, buying a Fastnet Rock colt for $800,000 and a Hinchinbrook colt for $160,000.
"He is a horse that, being by Street Cry, he appeals in both hemispheres," Toffey said of the second acquisition. "He's got a stallion's pedigree, a super individual, very athletic and the kind of horse we are looking for. And we thought he might have sold for a bit more."
The farm's Australian general manager, Garry Cuddy, had a similar view on the Fastnet Rock. "The colt has got the looks and the pedigree. The auctioneer said he's a stallion in waiting and that just about sums up the package," Cuddy said.
It all helped make the Magic Millions a record-breaker
Several did sell for a bit more at the Gold Coast auction, which knocked down Australia's best horse, Winx, in 2013 and which is accompanied by a race-day with Aus$10 million in prize money. Six yearlings sold for seven figures – a record for the auction in its 31st year. The major part of the sale is days one to day four, and 592 lots were sold at a sales record gross of $115 million at a record average price of $195,618.
"It's been a fantastic four days," Magic Millions Managing Director Vin Cox said. "…….we're closing out at $115,806,000, which is the highest grossing yearling sale in the Southern Hemisphere since 2008."
Postscript
Melbourne racing journalist and bloodstock agent Danny Power wrote the following (edited here), in 2014, on the Melbourne Cup winners who headed to to the U.S.A.
Americain is not the first Melbourne Cup winner to stand at stud in America. The first was Colonus, who won the Cup in 1942, followed soon after by the 1946 Cup winner Russia.
Robert Sangster's American-bred import Beldale Ball (by Nashua) who won the Cup in 1980, was sold to stand in America and covered his first crop in 1982. He had very limited success and finished his career at stud in Czechoslovakia.
Colonus stood at stud in Australia before he sailed to the U.S. in 1947 to stand at Muriel Vanderbilt Adams' Edenvale Farm, south of San Jose, California. Colonus sired winners, but no stars.
Russia, who stood a season at stud in Australia in 1948, returned to racing in 1949 before he was sold to stand in the U.S, where he sired three stakes winners. David Davis, the American owner of Phar Lap, headed the syndicate that bought Russia. The stallion stood at Davis' Oak Dell Stud, in the Santa Clara Valley, California.