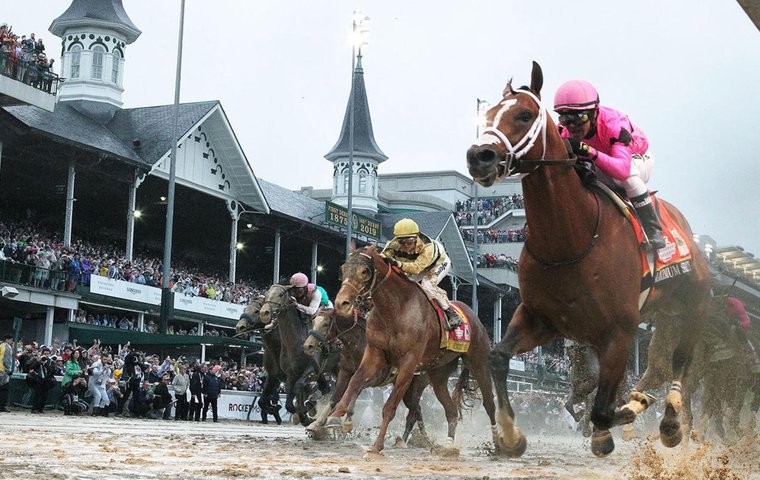 In Thoroughbred racing, January 1 marks more than the start of a new year. In the Northern Hemisphere, on that day all horses officially become a year older, a date most significant for the connections of newly-turned 3-year-olds, especially those with eyes on the year's prominent races for sophomores.

For the rest of the world, January 1 can be a time for reflections and resolutions. Neither of those was in short supply in 2019, as widespread attention from non-racing media brought critiques and excoriation for a sport seen as doing too little to prevent its equine athletes from dying.

As we prepare to turn the calendar, we asked people representing a range of positions in the industry in North America what they would like to see in Thoroughbred racing in 2020.

Paul Matties
Professional horseplayer
It's kind of a cliché, I'd like to see some hope. For too many years, on too many issues, anything that happens is seen as negative. There's nothing positive, nothing that gives you hope that you're doing to do better, you're going to be better, and that things will be better so that horseplayers aren't negative.
I don't blame them for being negative; in their defense, there hasn't been enough in the industry for the everyday fan or horseplayer. Even though racing has changed, the powers that be don't seem to have changed their models or their thinking. They still hope that 50,000 people are going to come to the race and bet $20 each. I'd like to see racing create a new environment for players to thrive and give them hope that every day isn't a struggle to do something they love.
Specifically, the industry needs to create bets in a way so that the everyday player can compete with CRW (computer-robotic wagering). It seems like every week some track starts a jackpot bet, and it's disheartening. Rebates are taken away. There are tracks you can't play. In 2020, I want something positive for the horseplayer.
Jill Byrne
Vice president of racing, Colonial Downs
There are so many things the industry needs to do for next year. My big resolution for racing: a lot fewer meetings with political agendas, and more implementing and executing ideas and safety measures. We're really great at strategizing, and not so great at implementing.
Instead of knee-jerk reactions to medication and whip rules, we need to sit back, plan better, and then implement and execute as a whole industry instead of being so fractured. I'm all for coalitions and groups coming together, and I'm in total support of what everyone is doing, but in 2020 we need to strategize less and implement more.
I'm completely anti-PETA, but people in horse racing can't lower themselves to PETA's level, calling them names and pointing out what they do wrong. We can't worry about what PETA says and does; we have to go beyond that to prove them wrong. Otherwise, we're just playing into their hands. We have to prove it with actions.
Caton Bredar
Racing analyst
I know it will never happen, but on an industry level, doesn't it make sense that we need to speak as one voice? It doesn't necessarily have to be federally — though maybe ultimately that's what has to happen — but all the tracks and racing associations need to agree that we come up with standard whip rules, medication rules, aftercare protocols, and concussion protocols.
Can you imagine anyone watching football if every team operated by different rules?
The thing that has generated the most discussion in the industry, aside from safety, is the inconsistency. The decision that was made to disqualify Maximum Security in the Kentucky Derby might have been a different decision if the race had been in California or New York. The same is true with the medication situation with Justify in California.
Dr Kelly Ryan
Co-medical director of horsemen's health program for Maryland Thoroughbred Horsemen's Association and the Maryland Jockey Club
In the jockey world, our biggest priority is to coordinate medical information and to communicate better with all of our tracks, with every track in the country. Specifically here, my goal is to establish better communication with all the tracks in the Mid-Atlantic, because our riders often hop from state to state.
We want to make sure that, if a rider goes down, he gets care, he goes to a hospital. In our sport, injured riders can put not only themselves at risk, but could potentially put other jockeys and horses at risk as well.
Megan Arszman
Marketing and communications director, Indiana Horse Racing Commission
We really are our own worst enemy. If we can't portray ourselves in the best light, how can we expect mainstream media to portray us in a better light?
2019 was a rough, rough year in horse racing, and I think groups coming together and doing their best to come up with salutation is wonderful, but people need to listen and contribute. You can't complain if you don't contribute. I'd like to see people do something productive to fix what they're complaining about, rather than sitting behind a microphone or a keyboard and complaining. We need to get out of our own way.
Unfortunately, we're at a disadvantage because we don't have consistent medical care like jockeys do in Ireland and Britain. There, jockeys know where to go for care; a lot of our riders don't even have insurance, and it can be difficult to navigate our medical system.
We're piloting a new electronic medical records system, and, in the coming year, we're going to adapt the system specifically for racing. It's way overdue, and we need to make sure that, for example, stewards can see if a rider has had a fall but can't see the rider's specific medical information. We haven't been able to find a way to securely share that info and be HIPAA (Health Insurance Portability and Accountability Act)-compliant; this program that we've been working on can do that.
Joe Bravo
Jockey
I'd like to see racing keep going in the same direction it's been going recently. Years ago, we didn't have information like we do now, information on injuries and precautionary measures. We all care about the animals so much, and they can't speak for themselves, so we need to pay as much attention to them as we can.
Another good development is that high-end horse racing is getting really special. The Breeders' Cup, the Kentucky Derby, Dubai, and now Saudi Arabia has jumped into it. People are really taking notice, and not just in the racing world.
Dale Romans
Trainer
I want to see our game thrive. I want to see us get better controlling catastrophic injuries. I'd like for things to settle down into nice groove. 2019 has been a tough year, and tough times can make us better.
We have good people in charge of the game, even though we all have differences of opinion. I'd love to see us all come together for the better of the game; that would move us way forward. We can have differences of opinion, but that doesn't mean we have to dislike each other.