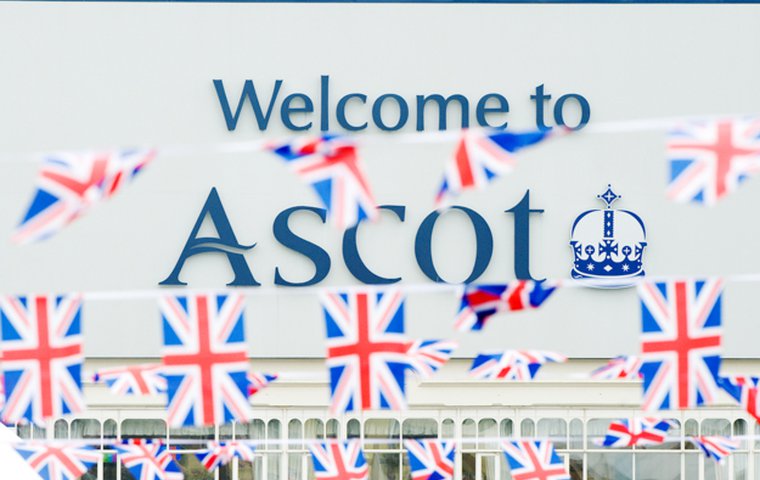 There's never a dull moment for Ascot's Head of Communications and International Racing Nick Smith, the man who scours the world searching for high-profile overseas contenders to race at Royal Ascot each year. He's there in the grandstands for most of the biggest races in the world – although it's never long before he has to hotfoot it onto his next destination. But what is it he's looking for, and which horses have particularly attracted his eye in relation to this summer's Royal meeting?

Nick Smith knows the international formbook inside out, and he regularly consults agents who act as his talent spotters around the world. But for a horse to be a worthwhile target, it must have more than just star quality – it must not be reliant on medication and it must have a trainer receptive to the challenge and an owner keen to be in Berkshire in June.
It's an equation they're pretty receptive to in Australia nowadays – since they've been sending their top sprinters over for the Royal meeting for a decade and have achieved considerable success.
"With Australia now, it's a bit like pushing on an open door, especially with the sprinters," Smith said. "What we want to do now is to push the message that it's also a good idea to send over the top milers and 10-furlong horses, and this time we'd like to try to get Fiorente [Melbourne Cup winner] to come for the Gold Cup."
Top of the 2014 hit list in Australia is five-time Group 1 winner It's A Dundeel, winner of last year's Australian Derby. Smith hopes to see the High Chaparral colt takes his chance in the one-mile Queen Anne Stakes on the first day of the royal meeting.
"Everyone has a different motivation," he said. "For some, like Black Caviar, it was about proving her quality on the international stage. For others, like Animal Kingdom, it's a commercially-based venture based on increasing a horse's stallion appeal."
Trained in the U.S. by Graham Motion, Animal Kingdom tackled the Queen Anne last June on the back of winning the 2011 Kentucky Derby and 2013 Dubai World Cup. The idea for the venture was born when Smith met the owners a year earlier. Victory would have raised Royal Ascot's profile across the Pond, but the horse failed to figure.
In contrast, Motion's U.S. contemporary, Wesley Ward, has supped from the victory cup. No Nay Never's impressive win in the Norfolk Stakes last June was Ward's third triumph with a juvenile at Royal Ascot in four years.
Ward's plunder has yet to fire American imagination in the way Choisir fired Australia's.
"That's because Wesley's reputation in Britain is not matched in the U.S.," Smith argued. "It might have been different if Animal Kingdom had won. He came with a much higher profile. It was unbelievably disappointing for us, but that's how it goes."
Smith said Ward is regarded in the States as something of a quirky trainer, and a specialist with early two-year-olds.
"Wesley is a bit of a maverick. He's always interested in doing something different. And he's totally against medication.
"When his first runners came over [in 2009], it was Cannonball [the then four-year-old sprinter who was narrowly touched off in the G1 Golden Jubilee Stakes] we were interested in. We regarded the two-year-olds who came with him as a bit of a job lot. I was worried they would be blown away in their races."
Indeed, at one point a few days before the meeting, there were fears some of the juveniles may be suffering from runny noses, and that certainly set the alarm bells ringing for Smith and his team. "I said, 'Just make sure you keep them away from Cannonball'," he said.
Smith understands Ward is eyeing a return trip for No Nay Never for the Group 1 St James's Palace Stakes this June.
"That would be a bit of a breakthrough for Wesley," he said.
Animal Kingdom's reverse will not help Smith sell the prospect of a 2014 Royal Ascot trip to connections of dual Breeders' Cup Mile hero Wise Dan, although there are other mitigating factors.
"Wise Dan would be anyone's No. 1 target but his owner [Morton Fink] is 83, which makes things difficult," Smith conceded. "That's why we play each situation as it comes. When we look for international runners we start with the highest-rated horses and work down the list. But a lot depends on the desire of an owner or trainer to travel."
Ascot attracts runners from Japan even though that country's horsemen are hell-bent on winning the Prix de l'Arc de Triomphe. Smith is working to entice Japanese runners in France's flagship race to stay in Europe for Ascot's Champions Day two weeks later.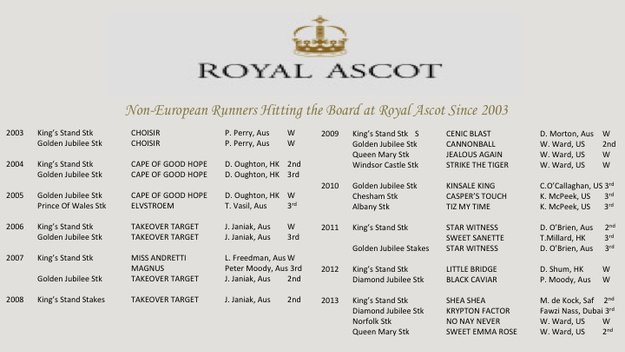 Inaugurated in October 2011, Champions Day falls at the wrong time of the year for most non-European participants.
"The Americans are looking at the Breeders' Cup and the Australians at their spring carnivals," Smith said.
"As for Japan, Royal Ascot is very much on their radar but they have got to be convinced their horses are good enough," he said. "They are not speculative by nature, so it lends encouragement when one of their horses runs well."
There is no fixed policy on travel subsidies, which are largely confined to runners in Group 1 races. Even then, Ascot will only meet up to 50 percent of transportation costs.
"We like to see the same commitment from owners," Smith said. "It encourages us to believe the venture is serious."
While prize-money cannot match levels in other countries, Ascot's international endeavours are abetted by a blend of prestige and increased capital valuations.
"In some cases a win at Royal Ascot can double a horse's worth," Smith said.
Smith is convinced that embracing the international theme will pay even richer dividends in the years ahead.
"There was a paradox at play before we started down the international path," he recalled. "Royal Ascot was such a strong brand globally, but it attracted no runners from outside Europe.
"Now we want overseas horsemen to come and represent their countries at the highest level. In 10 years' time we would like to have widespread international competition in our big races. We are committed to pursuing that goal."