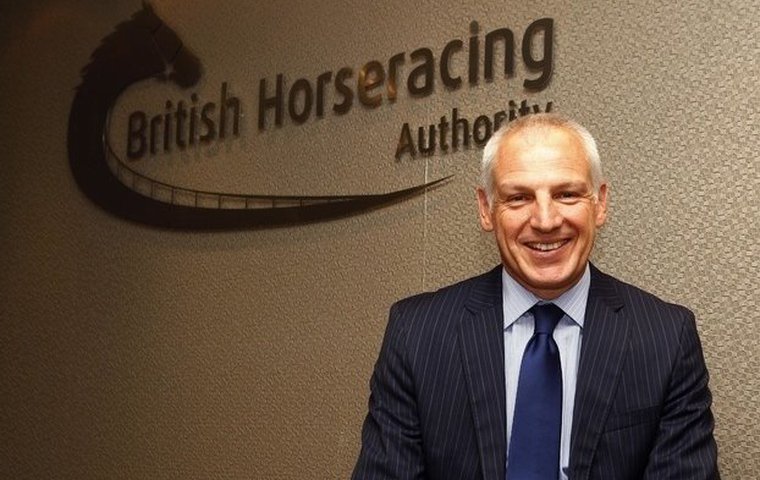 A significant step toward a global ban on the use of anabolic steroids in racehorses came today when the British Horseracing Authority (BHA) announced a new, tougher policy, which includes a 14-month ban for horses found to have been administered the drugs at any stage during their lives.

Under the rules, to be implemented from Jan. 1, 2015, any horse found to have been given an anabolic steroid will be banned from training for 12 months and ineligible to start in any race in Britain for 14 months.
The announcement marks the conclusion of a project initiated last year - in the wake of the high-profile cases of Godolphin's Mahmood Al Zarooni and British trainer Gerard Butler - to establish how British racing would not only adhere to, but exceed where possible, the new international minimum standards on steroid use, published by the International Federation of Horseracing Authorities (IFHA) in October.
In the past year, Australia, South Africa, Dubai and New Zealand have implemented rule changes to outlaw the use of steroids (almost without exception) at any time - in line with policy in Hong Kong, Japan and Europe. Previously, in those jurisdictions, their use was not prohibited - rather the demand was that your horse be presented 'drug free' on race day.
The British position goes against the situation in the U.S., where no exogenous anabolic steroids are permitted to be present in a post-race sample, but there is no prohibition on administration of anabolic steroids for therapeutic purposes so long as a horse does not compete until it is below the post-race thresholds. Therapeutic use is prohibited under the new British rules, but not strictly against the IFHA guidelines.
Other key elements of the BHA's new rules include:
All horses must be available for testing at any time, regardless of physical location and whose care the horse is under, from the time it is first registered with Weatherbys.

All British-bred horses must be registered with Weatherbys (the British racing secretariat) within 12 months of birth, phased to six months in two years. Permanently imported horses must be registered with Weatherbys within three months of arrival in Britain accompanied by a sample that shows no evidence of anabolic steroid administration.

Due to their mirror policies, horses imported from Ireland, France, and Germany that have spent 12 months under their equivalent policies will be exempt from this requirement. Likewise, runners from Ireland, France, and Germany will be treated as British runners and sampled as per the standard testing policy.

All other foreign runners must be in Britain (and the BHA notified of their whereabouts) a minimum of 14 days in advance of their intended race to facilitate post-arrival sampling and analysis, the results of which will be received prior to the horse running.
Attitudes to the use of anabolic steroids in racehorses varies considerably around the world, and the IFHA minimum standards announced in October was seen as an attempt to bring uniformity. Today's BHA statement is sure to be examined closely by most of the world's other main racing jurisdictions, including the United States.
THIS WEEK'S TOP TEN
Jockeys riding in New Zealand
| | | | |
| --- | --- | --- | --- |
| 1 - Opie Bosson | 948pts | 6 - Jonathan Riddell | 896 |
| 2 - Matthew Cameron | 921 | 6 - Michael Coleman | 896 |
| 3 - Leith Innes | 920 | 8 - Rory Hutchings | 893 |
| 4 - Craig Grylls | 907 | 9 - Racha Cuneen | 891 |
| 5 - Vinnie Colgan | 898 | 10- Darryl Bradley | 890 |
*According to TRC Global Rankings algorithm. Includes all rides in Group or Graded races worldwide in the last three years
Paul Bittar, CEO of the BHA, said: "The enhanced, zero-tolerance policy announced today, which exceeds the international minimum standard, has the objective of ensuring that British racing remains at the forefront of tackling an issue that ranks amongst the biggest threats faced by any world sport.
"It is intended to ensure that the industry, racing and betting public can be reassured that all races which take place on British soil are done so on a level playing field. It is also hoped that this will be another step towards global harmonisation across the sport and that the leadership role BHA has adopted on this issue can result in those nations that have not yet adopted the minimum standards following suit.
"Our previous policy already met the minimum standards, and today's announcement goes further, ensuring British racing retains its preeminent position in respect of how drug use is regulated within the sport.
"After a challenging 16 months, as a result of the actions taken already by several nations, the sport globally is now in a much better place when it comes to the regulation of anabolic steroids."
The IFHA minimum standards state:
IFHA considers that anabolic steroids have no place in horseracing.

The use of anabolic steroids should not be permitted in or out of competition.

IFHA will work with jurisdictions that may permit exceptional use for therapeutic purposes only, subject to stringent controls and a minimum stand down period to eliminate performance enhancing effects.
Roly Owers, CEO of World Horse Welfare, an independent advisor to the BHA, said: "We hope this more robust policy will encourage other federations to harmonise towards ever higher standards around the globe to help better protect racehorse welfare.
"Allowing horses doped with steroids to return to competition after 14 months does on first appearance appear proportionate, balancing the gravity of the offence with enabling the horse to continue their career, so safeguarding their future.
"This announcement does provide an opportunity to reflect on whether this is a truly 'zero-tolerance' policy. The punishment has to fit the crime and we believe there must be severe penalties for keepers or owners in breach of this rule to serve as a robust deterrent."
Jamie Stier, director of raceday operations and regulation for the BHA, related details of the development of the policy, a process he said took more than seven months. During the initial research stage, Stier said the BHA met with a variety of stakeholder groups including racing organisations, sales companies, veterinary organisations, scientific experts, and animal welfare charities. This process was led by Sandy Love, professor of Equine Clinical Studies at the University of Glasgow.
Stier added that the BHA conducted a review of relevant scientific literature in relation to the therapeutic use of anabolic steroids, their possible performance enhancing effects, and methods of detection.
"Once the policy recommendations were subsequently developed," Stier said, "We then had to carry out the complicated process of ensuring that they were enforceable and exactly how they would be applied to the regulatory framework here in Britain before publishing the policy.
"We have attempted to address every possible angle in the development of this policy but, while the objectives will remain the same, the policy itself will always remain open for review and further enhancements if required. The methods and approaches to regulating the use of anabolic steroids are something which racing, and any sport, must always look to be evolving."