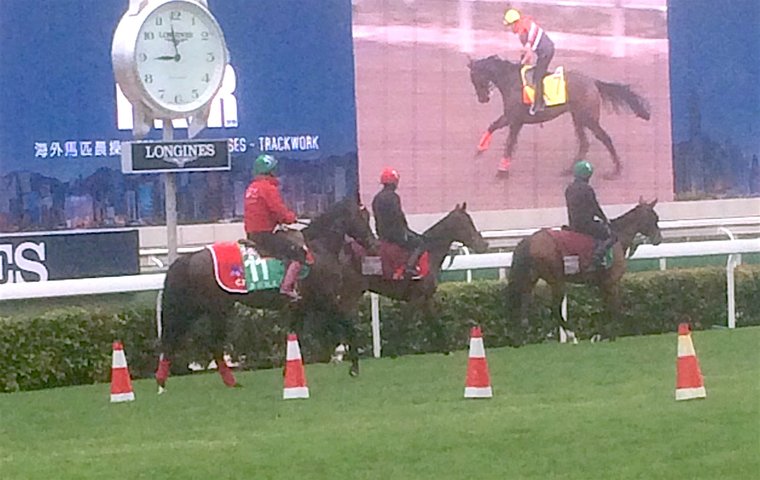 A contingent of strikingly well-toned horses stretched their legs on the Sha Tin turf in the early hours today, their presence not lost on those who have witnessed the evolution of the Hong Kong International Races over the past 30 years.

For, in their midst was Anthony Van Dyck, winner of the Investec Derby at Epsom in June — albeit not a vintage running of the Classic but the best advertisement yet that this meeting has made it on the world stage.
It comes at a time when Hong Kong's reputation as a tourist capital — never mind a racing one — is taking a battering because of pro-democracy street protests and social unrest. And there have also been consequent concerns over safety and security for horses and humans. Hong Kong's remarkable resilience is being tested to the hilt.
But, as the struggle for the preservation of human rights continues, the racing goes on. Only two fixtures have been lost so far this season, and now the biggest day in the local racing calendar looms large, this Sunday, December 8.
Because of its location in the New Territories, Sha Tin is not expected to be targeted in the regular weekend street marches — any trouble is more likely to take place on Hong Kong Island, about ten miles away — and tightened extra security at the racecourse should also make it much harder for would-be protesters.
A total of 20 internationals from Britain, Ireland, France, Japan and Australia have arrived to take on the best locally-trained horses, headed by the outstanding Exultant, rising star sprinter Aethero, and the beleaguered Beauty Generation, out to salvage his reputation following two surprise defeats.
Winfried Englebrecht-Bresges, chief executive of the Hong Kong Jockey Club, acknowledged that many outside Hong Kong had raised questions about this year's HKIR in view of the well-publicised troubles in what is officially a Special Administrative Region of China. It had been a difficult year for recruitment.
Breeding value
"Yes, there were questions being asked, but ultimately people trust us as a brand. We are convinced we can stage a wonderful event which is safe for all. And, with the quality of the horses we have from overseas, all 20 of them, we are extremely satisfied," he pointed out.
As for the winner of the historic first Epsom Derby racing in Hong Kong, Englebrecht-Bresges was clearly proud to see the Aidan O'Brien-trained colt at Sha Tin.
"We had a vision ten years ago to be the international race meeting which would be targeted to create breeding value, and to have an Epsom Derby winner here is one of the key objectives being achieved. It is the first time it has happened, so we are extremely happy, especially in the challenging circumstances at the moment in Hong Kong.
"We would like to thank connections for coming. And to have a horse [Anthony Van Dyck] of this quality to race here is fantastic."
The contingent mentioned in the first paragraph all have two things in common. Anthony Van Dyck (Vase), Mount Everest (Vase) and Magic Wand (Cup) are all by the incredible Galileo and are trained by Aidan O'Brien.