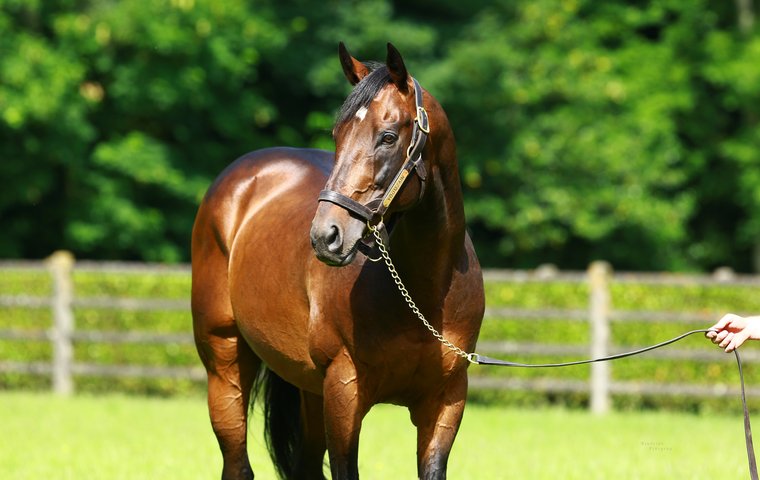 When Flintshire finished second for the second year in a row in the 2015 Qatar Prix de l'Arc de Triomphe, it was hard not to think about Youmzain, another talented globetrotter who almost always ran well but rarely ran first.

However, Flintshire has been based in the United States this year, where he is being pointed toward the Longines Breeders' Cup Turf, so he will not have the chance to match — or better — Youmzain's feat of running second in the Arc for three consecutive years, which he did from 2007-09. Youmzain, meanwhile, retired from racing at the end of 2010 and is now finding success as a stallion in France.
While Flintshire's performances in the Arc (he also ran off the board in 2013) have been relatively straightforward, Youmzain's first second-place finish was incredibly controversial at the time. In 2007, Dylan Thomas beat him by a head, and although Youmzain (a 66-1 shot with British bookmakers that day) had a clean run, Dylan Thomas' victory was debated for more than half an hour by the stewards because he had impeded other horses. Under French rules, a horse is almost always taken down in such cases.
"They bent the rules," said Mick Channon, Youmzain's trainer. "Not that it affected us what Dylan Thomas did, but if you look at French races, Dylan Thomas should have been thrown out. He flattened two or three other horses. I think there were a lot of markers called in that day, let me tell you, but having said that, if we had won, we wouldn't have had him for another two or three years."
Beaten by two champions
That philosophical approach is also something Channon applies to Youmzain's entire career, which featured several notable victories but even more near misses.
In 2008 and 2009, Youmzain was slightly more prominent in the betting markets but had the misfortune to come up against Zarkava and Sea The Stars, respectively, in the Arc. During their careers, the two champions won 15 of 16 starts between them, as only Sea The Stars' debut was not a victorious effort. Youmzain was defeated by two lengths both years.
"I thought we were a bit unlucky in the Zarkava Arc [when Youmzain was 12-1]," said Channon. "I know everyone raves about Zarkava, but we were going so well and had no room. Then, Sea The Stars got an unbelievable run through. If you look at his race, he got a dream run up through the rail and then through horses. But we got beat, and that's that. Nothing can take away what Youmzain did, though." Youmzain was 20-1 that time.
Although he never quite got the job done in the Arc, Youmzain — whose own sire, Sinndar, won the 2000 Arc — was a dual Group 1 winner during his career, taking the 2006 Preis von Europa in Germany as well as the 2008 Grand Prix de Saint-Cloud in France. He also won the 2006 Great Voltigeur Stakes (G2) in England, where he defeated Red Rocks, who went on to win the Breeders' Cup Turf two starts later.
Furthermore, although Channon remembers it leading to plenty of unsolicited training advice, Youmzain also finished second or third in 10 other Group 1 races, spanning five countries, including the Coronation Cup (twice), Dubai Sheema Classic, Grand Prix de Saint-Cloud (twice), Grosser Preis Von Baden, King George VI and Queen Elizabeth Stakes (three times), and Tattersalls Gold Cup.
'We never saw the best of him'
For all his efforts in the afternoons, Youmzain, who is a half-brother to fellow Group 1 winner Creachadoir, was biddable in the mornings but never worked too hard, and it got to the point where it was a concern if he did.
"He never showed much in the mornings," said Channon. "When you were doing your work, you could put Youmzain where you wanted. He didn't pull, and he was nice and settled. If he went with good horses, he would work with them but not beat them.
"His regular lead horse was named Alfredtheordinary, who was not a great racehorse but knew his job and was good at it. He was perfect for the job he had to do. If Youmzain worked with Alfredtheordinary, he struggled to beat him, too. I actually got worried if he beat him."
Youmzain's final start came in the 2010 Arc, where he was well beaten by Workforce. He checked in 11th but was placed 10th due to the disqualification of seventh place finisher Planteur.
"The French gave him an ovation when he came back, even though it wasn't his day," said Channon. "We probably never saw the best of him. I was never allowed to run him at what I thought would be his best trips — 1 mile, 6 furlongs or 2 miles. The owner would never let us run more than 1 1/2 miles. I always felt that was a big mistake, certainly as he got older.
"He was a very good horse, though, and I wish I could have one like him in my barn every year. He was an absolute favourite, and he is still talked about today. They become part of the furniture when you have them that long. He was a colt, so he would nip, but he was never mean. He was always just better on than off, as he just wanted to get on with it. Once you were on him, he was a pussy cat. It's lovely to have something to do with a horse as good as him."
Success as a stallion
Youmzain, whose name appropriately enough means Very Good Day in Arabic, cost just 30,000 guineas at the 2004 Tattersalls October yearling sale and retired with earnings of £3,394,269 for owner Jaber Abdullah. Undoubtedly, he repaid those who had faith in him during his racing career.
Now, although faced with modest expectations from the breeding industry, Youmzain is starting to do the same as a stallion at Haras du Quesnay, the farm that bred one of Flintshire's nemeses, two-time Arc heroine Treve. Youmzain, who has maintained the likeable personality he had during his racing career, bred 73 mares this past season.
"He is very easy to work with," said Haras du Quesnay's Anaïs Villedieu. "He doesn't need any special exercise, as he is very easy to keep in good condition. During the breeding season, he goes out in the paddock in the morning after the first covering and comes back in the early afternoon for the afternoon covering. In the off season, he is out at night and comes in early morning."
Youmzain's first foals were born in 2012, making his eldest runners 4-years-old, and among that first crop is the talented Sea Calisi. The filly won the 2015 Prix de Malleret (G2) and was a narrowly beaten third in the 2015 Yorkshire Oaks (G1) before going to America this year, where to date she has won the Beverly D. Stakes (G1) and Sheepshead Bay Stakes (G2).
Last year, Suits You, a member of Youmzain's second crop, won the Chesham Stakes at Royal Ascot before being sold privately to Hong Kong and renamed Sunny Way.
"Youmzain is a good-looking horse who can sire Group 1 winners," said Villedieu. "Sea Calisi's good performances last year attracted many breeders to the horse. Concerning the Grade 1 win in August, it is too soon to know what will happen in the upcoming 2017 breeding season, but it should bring him some new mares and new interest."
Considering Youmzain began his stallion career for a private fee, then stood for €3,000 until working his way up to €4,000 in 2016, it is perhaps surprising that his first crop features a G1 winner who has earned $825,513. Then again, nothing about Youmzain has ever been exactly ordinary.