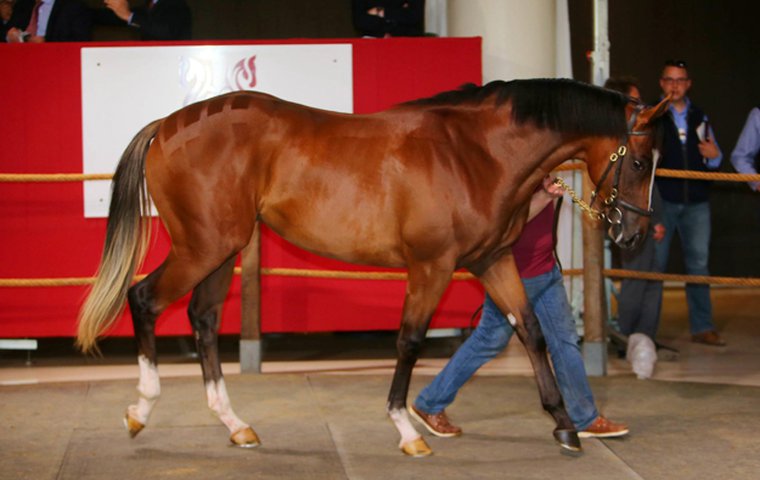 Al Shaqab Racing may have been conspicuous by its absence from the buyers' sheets during the early breeze-up sales in Europe and North America, but Sheikh Joaan Al Thani's operation certainly thrust back into action in style at the Arqana Breeze-Up Sale at Saint-Cloud on Saturday.

Acting through Nicolas de Watrigant, of Mandore International, Al Shaqab purchased eight lots worth €2.34 million, led by a €600,000 sale-topping son of Oasis Dream. Like last year's €750,000 sale-topper, also bought by Al Shaqab through Mandore International, he was sold by Brendan Holland's Grove Stud.
Although bred in Ireland by the Vallee Des Reves Syndicate, the colt was a Kentucky pinhook, having been bought at last year's Keeneland September Sale by Holland for $150,000. He also owned one of the better pedigrees of the day as a half-brother to G1 Coronation Stakes winner Maids Causeway and G3-placed Uimhir A Haon.
"It's a lot of money but he has the pedigree to be a stallion one day," said de Watrigant after outbidding agents Jamie Lloyd and David Redvers. "He's the horse we've all been waiting all day for. The consignor thought he was his best horse and we expected him to breeze well, which he did."
His unraced dam, the Kingmambo mare Vallee Des Reves, is a half-sister to G2 winners Vetheuil and Verveine, dam of G1 winners Volga and Vallee Enchantee.
"When I bought him at Keeneland he was very babyish," said Holland, who sold €1.624 million worth of stock to end the sale as leading vendor. "But he was a May 22 foal and, when we brought him in after two months, he began to look like a special horse. He has something about him -- obviously the pedigree is there but he's got all the physical attributes and he's a tough horse with a big heart. It's those big-hearted horses that take you where you want to go. Hopefully, he'll turn out to be what we think he is."
While the 2014 top mark of €750,000 was never threatened, it was still a day of gains at Arqana, with 88 horses changing hands for a total of €8.203 million, up 21.5 percent from 2014, for a clearance rate of 71.5 percent. The average rose 21 percent to €93,216, while the median increased nine percent to €60,000. Six horses broke the €300,000 barrier, compared to just two in 2014.
"The striking fact is the number of six-figure lots, which was 19 last year but 31 this year," said Arqana President Eric Hoyeau. "There is a good cross-section of vendors among the higher-priced lots and obviously we're delighted to see people who have had success at this sale in the past returning here to buy."
Al Shaqab also snapped up the day's most expensive filly, another offering from Grove Stud, for whom they paid €340,000. By Zoffany, who has been quick to make a favourable impression with his first runners, she is out of the winning Candy Stripes mare Sweet Kristeen, a relation to Tiggy Wiggy, and had cost Grove Stud just £36,000 as a yearling.
Al Shaqab also struck at €300,000 for a pair of colts from The Channel Consignment, namely an Invincible Spirit half-brother to listed winner Prince Fasliyev and a son of Siyouni, who had cost his vendor just €48,000 as a yearling. Another Al Shaqab purchase, a Lonhro colt bought for €260,000, provided a considerable mark-up on the $17,000 that he had cost his vendor, Brown Island Stables, at last year's Keeneland September Sale.
"I looked specifically at Lonhro when I went out to Keeneland as I thought he might be off the radar a bit," Brown Islands' Jonny Collins said of the colt, who shares his sire with the unbeaten Rah Rah, one of the smartest British 2-year-olds seen out so far this season.
"I've loved this colt from the moment I got him home. He has a great mind and I hoped he'd do well. Nicolas de Watrigant bought [G1 winner] Mshawish off me here, and I hope this colt is just as lucky."
Agent Stephen Hillen, who bought Prix du Jockey Club and Irish Champion Stakes hero The Grey Gatsby at this sale for €120,000 in 2013, was the only other buyer to break the million-euro barrier, spending €1.146 million on nine lots.
His purchases were led by a High Chaparral colt out of Crystany, for whom he paid €310,000 on behalf of The Grey Gatsby's owner Frank Gillespie.
The colt's sale contributed to a strong year for vendor Jim McCartan, who also sold the Tattersalls Guineas sale-topper, a 230,000 guineas son of Exchange Rate. McCartan paid 50,000 guineas for the High Chaparral at last year's Tattersalls December Yearling Sale -- it was at the same sale in 2013 that he sourced another profitable son of the stallion in Moheet, an 800,000 guineas juvenile who subsequently ran third in the Craven Stakes.
"He's bred to go 1 mile, 4 furlongs but with the speed he's shown, he could be anything," Hillen said. "He breezed exceptionally well and he's a relaxed horse.
"You probably won't see for him for a couple of months. He's bred to be a 3-year-old and looks like a horse who could be running in August.
"The market is fair. You bring a horse to market and you're getting well paid for it."
Bred by Ballygallon Stud, the colt is the third foal out of the listed-placed Crystany, who joined Ballygallon when purchased as a yearling for €520,000 through Mags O'Toole at the Arqana August Sale. Crystany was a smart filly herself but she is supported by an excellent family as a Green Desert daughter of Fillies' Mile heroine Crystal Music, a half- sister to G3 winners Dubai Success and State Crystal.
For much of the day, the pace was set by a first-crop son of Canford Cliffs bought for €320,000 by Robert Nataf of Horse France on behalf of Coolmore. It was a sale that provided another vote of confidence for the Coolmore stallion, who sired a 300,000 guineas colt at the Tattersalls Craven Sale and has been represented by two winners to date.
Sold by Mocklershill, Nataf's purchase is from a family that Coolmore know well as the first foal out of the winning Wondrous Light, a half-sister to their 2009 Irish Oaks runner-up Ice Queen. He also turned a fine profit for his connections, having cost €110,000 through George Mullins at the Arqana October Sale.
Top Six Lots