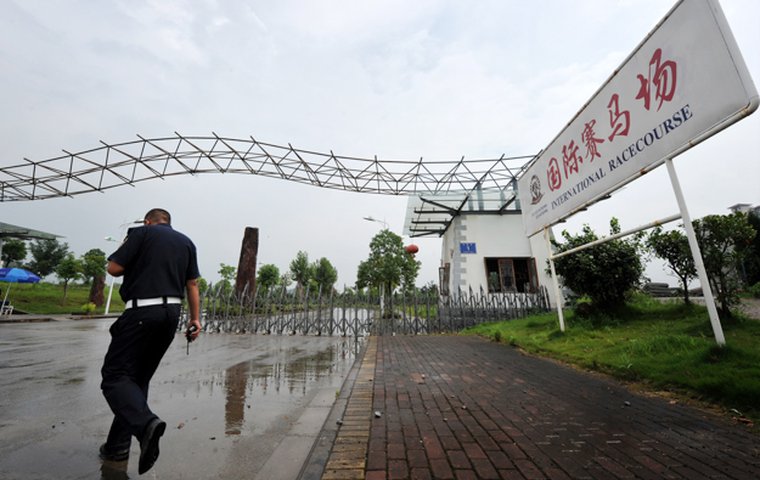 Due to the Chinese government's persistent refusal to permit betting on horse racing and the vast sums that could be made if it ever does become legal, would-be entrepreneurs are looking for ways around the ban. The bigger players are following the conventional method of building a racecourse and seeing what happens. Brandon Hillier continues his investigation.

Read Part I - Read Part II – Read Part III - Read Part V
-----------
Two of the Shanghai Race Club's members, Wu You Hong and Hong Kong businessman Jacky Wu Yuet-ko, have been down that rocky road of creating a facility and hoping for the best. However, both might have a cautionary tale to share with the latest wave of overseas speculators lining up for their slice of China's currently putative horse-racing pie.
Wu You Hong's Nanjing International Equestrian Venue cost a reputed 500 million yuan ($86 million) to build on the former royal hunting grounds at Nanjing, the capital of Jiangsu province in eastern China and the national capital at various times in China's history. Although it was completed in 2003, there is some debate among sources as to whether or not the "international standard" racecourse staged a solitary race meet in 2005.
"Officials stepped out of the deal and left the facility to the Nanjing Horse Racing Enterprise Company, which has since lost 6 million yuan a year," according to a Globaltimes.cn report in late 2012. Nowadays, if sources are to be believed, you are more likely to see cars parked on the Nanjing course than horses.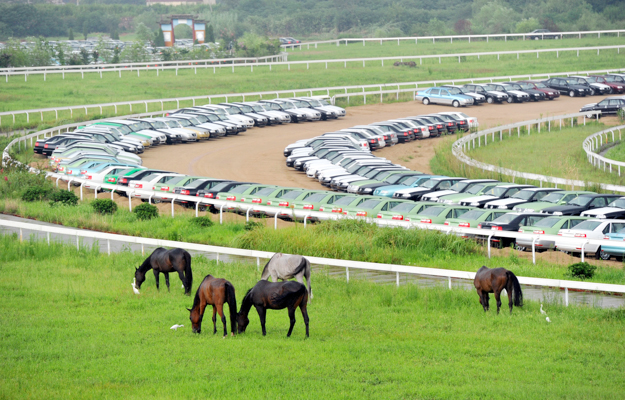 Jacky Wu's Wuhan venture has fared a lot better, but it has not progressed as planned. The Orient Lucky Horse group's dirt-track venue began operating an annual racing festival in 2003, with Wu aspiring to initiate a Hong Kong Jockey Club-style operation: one built on an ethos of betting to create revenue that could be ploughed back into the local community via taxes and charitable contributions. That vision remains a long way from fulfillment.
"The model on which the Hong Kong Jockey Club operates is what inspired me," Wu said to the South China Morning Post in 2005. "I grew up in Hong Kong, and horse racing there has done so much for the city and its people. So I thought, if that can work for Hong Kong, why not for Wuhan?"
The track, like the planned Tianjin complex and several other equestrian developments in China, was supposed to be the heart of a larger scale property development that would include luxury housing, shops, and entertainment. It remains incomplete, and Wu's grand plans for the racetrack have stalled after a promising start.
"I think he's sucking wind out in Wuhan," one China-side source opined. "Development hasn't happened. He was banking on it that racing would be going on by now, and I think that he's lost out."
Wuhan has a population of 6.5 million. It is the capital of Wubei Province in Central China and was one of the country's horse racing powerhouses before the revolution. The city's current racecourse has room for 30,000 spectators, and, although the quality and attendance may be lacking, Wuhan has at least succeeded in holding regular race meets and did host a leg of the Fédération Internationale des Gentlemen-Riders et des Cavalières (FEGENTRI) amateur riders' series in November 2010. Not quite the Global Sprint Challenge, but certainly indicative of progress.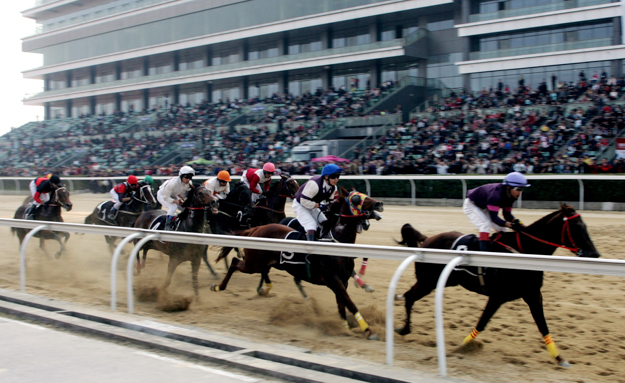 According to sources inside China, who have requested anonymity in wishing to avoid retribution, the Wuhan venture was slated to take the lead in the central government's quiet drive to advance the racing industry – a strategy that it hoped would open an avenue to the creation of much-needed jobs, and develop a new and lucrative revenue stream.
The government had also prioritized the development of more recreational opportunities for workers who now enjoy some surplus income and free time. It saw horse racing as a potential outlet. A noticeable seam running through the whole issue was the problem of wealthy Chinese, including government officials, traversing the globe and leaving their money behind in casinos from Macao to Las Vegas – not to mention the reputed 600 million yuan ($99 million) a year lost to China's black market bookmakers. For a while, pari-mutuel betting seemed to be just a five-eighths sprint away.
In 2008, the Wuhan Commercial Service College in conjunction with the Wuhan Jockey Club and the Wuhan Sports Association went so far as to launch a horse-racing management course. The initial intake had more than 90 students. The forbidden practice – betting – was even addressed.
In November of that year, the Wuhan races not only went commercial with nominal prize money for every race, but for probably the first time since a seven-year trial was halted in 1999, officially-sanctioned betting on races in China also took place, albeit in the form of a lottery-style game with "prizes." But, rather than marking the beginning of an on-going trial into gambling on racing, the experiment doesn't appear to have been repeated.
Despite the "Chinese Horse Racing Intelligence Competition Research Group" setting up shop in Wuhan in 2011, Wuhan's importance has declined in the past three years. Its fall from favor seems to have coincided with a move that sent positive signals about progress on horse racing flashing out of China. This was the 2010 appointment of Pan Zhichen as head of the Chinese Equestrian Association (CEA). Given Pan Zhichen's arrival, it was little wonder that speculators from the west of Ireland to the wadis of Arabia began to accelerate their interest.
To give some perspective, the CEA, the body responsible for all things relating to horse sports in China, comes under the umbrella of the government's State Sports General Administration (SSGA). In the long list of administrative bodies under the SSGA, the CEA is more USA Cricket Association than National Basketball Association. And within the CEA, horse racing is the poor relation to the eminently more popular polo and equestrianism.
Pan Zhichen, on the other hand, had not only been the top man in cycling and fencing – important sports in China – but, he was also director of the Competition Preparation Department of the Chinese Olympic Committee from 2000 to 2009, overseeing all Olympic sporting disciplines. His appointment may not quite have flashed a green light to racing, but it at least suggested the green light might be coming.
His tenure at the CEA coincided with the emergence of Chengdu's Jinma International Racecourse, seeming to imply a downgrading of Wuhan's status, and brought a new optimism that racing might be about to go big-time.
Chengdu has fast established itself as western China's primary sports hub. Against that backdrop, the Chengdu project took off rapidly. The RMB 1.5 billion ($200 million) track was allegedly built from scratch in just three months, a collaboration between investors Jinma International Sports City, the local government, China Railway, Erju Group Corporation, and Chengdu Culture and Tourism Group. It was expected to hold 80,000 spectators once all phases were complete. The venue staged its first China Equestrian Festival in September 2011. The second edition in October 2012 had 30,000 people in attendance, including competitors.
This past fall's third edition was lauded in China Daily as having updated facilities, including a new 4,500-meter cross-country course. But mention of horse racing was notably absent. That could be merely an oversight, or more likely, further evidence that horse racing's advancement is being put on hold under the current Xi Jinping regime in Beijing. However, one thing that cannot be ignored is Pan Zhichen's departure from the CEA in early 2013, for a far more eminent position as head of China's volleyball teams. Horse racing, at least for now, appears to be on the back burner once more.
So where does all this leave horse racing in China? Is the Shanghai Race Club's virtual way really the sport's future? Or is racing's future, if there is one, more likely to follow a conventional route? The big guns can wait it out, but at what cost and what will be their return?
Those behind September's Hohhot "renaissance" (the Tianjin collaborators Coolmore and Teo Ah King's China Horse Club) continue to be upbeat, and Sheikh Mohammed's postponed Chengdu race meet is being planned for April, according to the Chengdu Daily. That same newspaper report claimed that quarantine issues, which might have been a stumbling block, had been resolved, but that may be optimistic.
Meanwhile, the Hong Kong Jockey Club continues with its long game. And Conghua is its foothold.
---
Tomorrow, our five-part series on the future of racing in China concludes with a look at how the Hong Kong Jockey Club might fit into the picture.