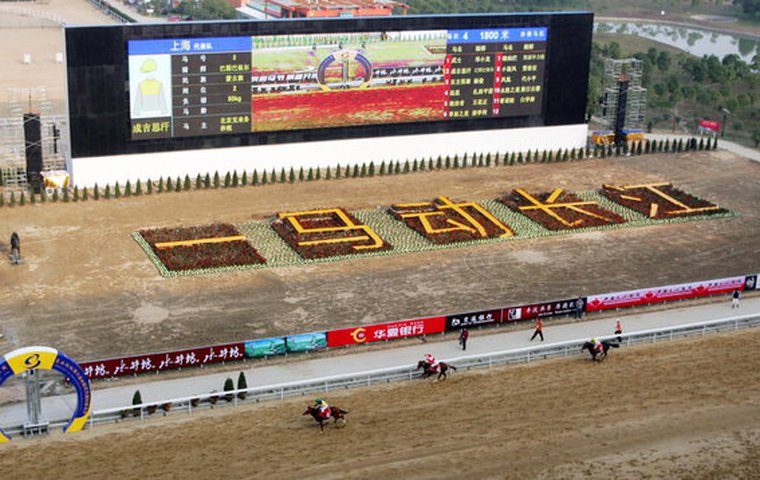 China's change of leadership has led to an anti-corruption drive that seems to defer the possibility of betting legalization, without which it is virtually impossible to see how the sport can thrive. But China has a 20-year history of mind changing and vacillation as far as horse racing is concerned. Brandon Hillier continues his investigation into the future of racing in China – if there is one.

Read Part I - Read Part III - Read Part IV - Read Part V
-----------
Horse racing in China is a blurred image. There are no clean lines. No comprehensive, accessible sources for fixtures, rules, or performances exist. Neatly compiled tables with numbers of winners lined up alongside the names of jockeys and trainers are elusive – in fact, simply getting hold of the names of jockeys and trainers is a challenge, and even then, those names would mean little or nothing to the world outside. The jockey ranks these days are made up of local Chinese riders with limited ability. Race meets are low quality with most of the competing Thoroughbreds no better than the leftovers from Australasia or Europe, and sometimes Hong Kong.
The sport inside China's border is an enigma. With gambling outlawed and the current political climate seemingly weighted against an imminent breakthrough, horse racing appears to be on ice for now.
In 2000, the racetrack at Guangzhou was one of a number forced to shut down during a one of the country's periodic cleansings. The track's chief executive, Huang Qihuan, was sent to prison for 19 years on corruption charges. As with the demise of the once thriving Beijing racing scene five years later, Guangzhou's downfall allegedly came about when officialdom reassessed its approval of the Jockey Club's gambling activities, which, in a euphemism typical of China, had been referred to as a "horse racing intelligence competition."
It could be that the current drive will wind down once the relatively new leader, Xi Jinping, has secured his position to his own satisfaction. This was the case following the clampdown in the early 2000s that included stamping out illegal wagering on Hong Kong's Mark Six lottery. However, it is hard to say when that point of satisfaction might be reached, although the existence of "the five-year anti-graft plan" may give some indication of a timeframe.
"Gambling is a potentially controversial issue inside China, and Xi Jinping and his supporters want to avoid controversy until they get all of their rivals in line," said Emmett Ryan, Co-Founder of Sai Ma Sports, a consultancy company with expertise in equestrianism and horse racing in China. "It could be that they're now done with that, and when their new economic plans become clearer, horse racing might be in there."
But, then again, it might not.
In the meantime, horse racing continues to play out in pockets across mainland China, as it has done for 20 years or so. In fact, more than one ambitious speculator has gambled on the betting ban being lifted, just as the Beijing Jockey Club did a decade ago. Proponents say that a single stroke would open the gates to what is widely perceived to be the global racing industry's last, and by some way greatest, unconquered land of opportunity.
Irritating the extremities of that argument though is that most oft-told cautionary tale regarding the sport in China, the Beijing Jockey Club's fall from grace. The 160-hectare (395-acre) site at Tongzhou, with its race track, stables, and Huajun Stud breeding complex, began operations in 2002 and quickly flourished after an initial outlay reported to be in the region of $65 million.
The man behind the venture was Hong Kong businessman Yun Pung Cheng. An estimated 1,000 horses, imported from Europe and Australasia, were on-site at the Club's height, alongside some 700 staff, including about 18 trainers from Britain, Ireland, France, Australia, New Zealand, and South Africa.
The story goes that the Beijing Jockey Club received permission to stage races and that a verbal agreement allowed gambling, or a "guessing game." How much fact has become myth is not easy to discover. But what is beyond dispute is that racing was curtailed for a time in 2004 amidst an investigation, then in the fall of 2005, the rug was pulled altogether, leading to that dramatic cull. Now, the empty grandstand looks down on a racetrack without any races.
Yet, the intoxicating promise of what might be is enough to attract wave after wave of investment. Wuhan, Chengdu, Jinan, and Nanjing are among the places that have gained full-blown racetracks in the past decade or so. The grand schemes at Tianjin, Daqing Mountains, and Conghua are on-going in their developments. Global heavy-weights have thrown their hats and keffiyahs into the ring – the Hong Kong Jockey Club (HKJC) being another Klondiker aiming to out-stake Sheikh Mohammed, Coolmore, the China Horse Club et al. Many with less clout have all but given up, at least for now.
"We just have to believe that the Chinese government will make the right decision at the right time, whatever and whenever that might be," said Emmett Ryan of Sai Ma Sports. "It's five years since we first went in, and now, the will is not quite there on the Chinese side. It could be 20 years away."
On the other hand, with Hong Kong raking in turnover of about HKD $1 billion (USD $130 million) every race meet and Macau's already wildly profitable casinos making their biggest gains in two years during this past October's Golden Week holiday – thanks in no small part to mainland Chinese money – the Chinese government is far from blind to the vast revenues that would immediately pour into central and local authority funds from organized gambling.
China's legal lottery market is said to be worth $40 billion per year, while its illegal gambling market is believed to be at least 10 times as much. Hong Kong has seven million citizens, and extrapolating from the wealth generated by legal betting there, the sums that might be generated by legalization of betting on racing for China's 1.4 billion inhabitants are almost unimaginable. It is that thought that keeps the speculators circling like buzzards at a road kill.
Sheikh Mohammed has made moves that suggest he is in for the long haul. His planned Chengdu race meet failed to transpire last year, but in June he graduated 15 Chinese students from his Dubai International Thoroughbreds Internships program, and a further 12 from the Darley Jockey Training Program. Darley has also put two stallions on the ground in China: Jalil in Beijing and Sousa in Inner Mongolia.
Reports suggest that Darley's planned Chengdu meet has not been abandoned. With the project on hold until a new date could be chosen, Dubai Racing Club CEO Frank Gabriel said to the Racing Post, "We are doing our best to make it happen. We are still moving forward, nothing is on hold."
According to a mid-December report in the Chengdu Daily, the quarantine issues have been resolved and the meet is now slated for April 6. It would seem that authorities in China have relented and sanctioned the hoped for quarantine corridor that will enable the Sheikh to import horses for the event and return them home afterwards.
As for Hohhot, the meet last September was unencumbered by the tough quarantine rules. Coolmore flew in the horses and sold them to Chinese investors on the ground. The makeshift track in a muddy Mongolian field outside of Hohhot was a far cry from the $2.6 billion Tianjin complex where the meet was slated to be held, fuelling rumors that China Horse Club's facility is behind schedule.
The face of the Tianjin project is Teoh Ah Khing of TAK Design Consultants, the people who designed Dubai's Meydan. At Tattersalls Yearling Sale in October, the Malaysian businessman told Thoroughbred Daily News: "We hope to race at three venues eventually, possibly one in Shanghai, and Tianjin racecourse opens next year in the Year of the Horse."
The notion that 2014, as the Chinese Year of the Horse, will mark a positive turn for horse racing in China is one that has gained some yardage. No one can say with any surety that it will or will not happen.
Racing in China is reliant upon political will if it is to emerge as a fully-fledged industry. The Dubai contingent and Teo Ah Khing both have delivered the right sound bites within government earshot, about being able to stage racing without gambling as its ruling force. Betting is what drives the Hong Kong Jockey Club. So the people in Happy Valley (headquarters of the wealthy HKJC, whose turnover contributes more than 10 percent of the Hong Kong government's income) will move forward step by step, preparing for the envisioned breakthrough.
All of the above potential players would do well to heed the experiences of some of their wealthy Chinese counterparts on the ground, with the race track developments at Nanjing and Wuhan serving as further cautionary tales. But while the big players are forced to wait for official sanction, there are others making the most of the situation as it stands: fringe players and smaller scale entrepreneurs sensing an opportunity and prepared to try a whole new way.
---
Tomorrow, in Part III of our 5-part story on China: Will virtual racing catch on?