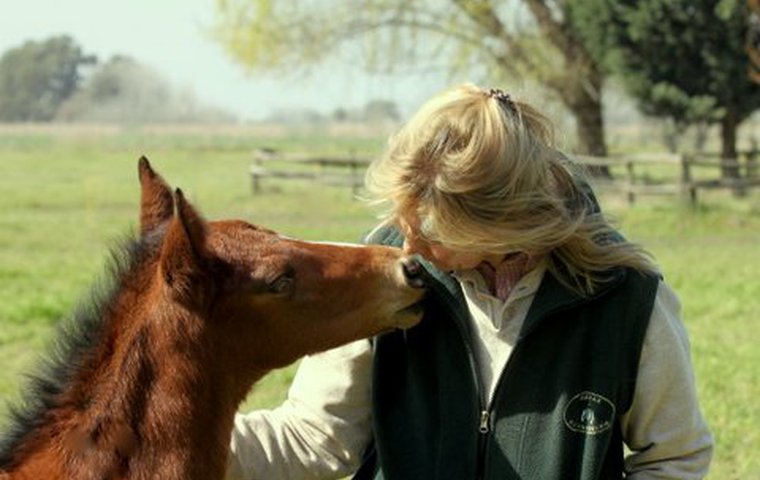 With its $12 million in prize money, ultra modern publicity campaign and business-savvy stakeholders, the all-American Pegasus World Cup seems a far cry from the traditional values of racing's roots. However, the origins of U.S. owner Jim McIngvale's Argentine import Eragon provide a timeless note of romanticism, and more than a touch of international interest as the horse is a cousin of Godolphin's French-based sire Rio De La Plata.

"He's made a huge journey," says Hortensia Kraupa-Tuskany wistfully of the Southern Hemisphere 5-year-old, whom she bred on her farm at Rauch, 200 miles south of Buenos Aires.
Eragon, Argentina's champion miler, is the great unknown quantity in the Pegasus line-up. Since December he has been trained by Laura Wohlers in the U.S. and he will be ridden by Edgar Prado when he takes on California Chrome and Arrogate at Gulfstream Park on Saturday.
But a trip to Kraupa-Tuskany's stud farm, Haras Avourneen, which nestles discreetly at the end of a rough track deep in the Argentine countryside, suggests Eragon could have come not only from a different continent, but also from a different moment in time.
A century-old Ford Model T car stands in the drive, a horse-drawn carriage in one of the barns, and a local Criollo pony swishes his tail in the leafy shade. This is Eragon's birthplace, and the dream come true of his breeder Hortensia Kraupa-Tuskany.
Foaling by lamplight
Born of Austrian and Argentine parents, the softly-spoken Kraupa-Tuskany refers to her homeland as though the country is an old and faithful friend. "I almost grew up on a horse here in Argentina," she says. "I lived for 14 years in Germany during my teenage years and when studying veterinary medicine, but I always wanted to go back to Argentina. My dream was to be as close as I could be to horses, and I am very grateful to this country that I could realise this dream, which I think would have been much more difficult in Europe."
Returning to South America 30 years ago to begin her operation with just a single mare, the elegant Kraupa-Tuskany was attracted by the simplicity of the South American lifestyle, and basic facilities, which would certainly have discouraged others.
"This country gives you the opportunity to live a very old fashioned life, which I love," she says. "I spent the first 25 years here without electricity, doing all the foaling with my petrol lamp. I never missed having electricity, but nowadays, having more people working with me and with the possibility to scan the mares, I saw the necessity to modernise.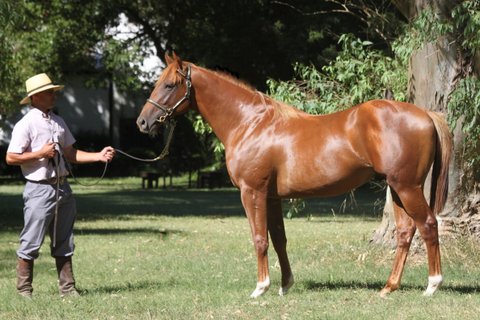 "But I still keep all my petrol lamps in my house. I think it's a privilege that you can live here with things from the modern world, but at the same time keeping things from the old world and its values."
Kraupa-Tuskany laughs and continues: "Sometimes, when friends come round, we go out into the countryside in the old car, with an old gramophone player. They're just old things, but they work very well even now."
Devoted team of gauchos
Argentina is the fourth biggest producer of Thoroughbreds in the world, after the U.S., Australia and Ireland, with most of the major studs to the north of Buenos Aires. Haras Avourneen, where mares and foals roam in lush paddocks with knee-high grass, lovingly tended by Kraupa-Tuskany and her devoted team of gauchos, is located far from the country's commercial bloodstock region.
"Here at Rauch, to the south of Buenos Aires, it is more cattle land. But I think that it is the ideal country to breed horses. The climate, the soil, the water, everything is right for horses, and we have wonderful workers, with exceptional horsemanship. For me, the most important thing is dedication, and a love of horses. I pay great attention to the smallest details and do all that I can to ensure my horses are happy."
Despite small crops of between eight and ten foals per year, Kraupa-Tuskany's operation punches well above its weight in the national breeders' rankings, and boasts a 30th place in the 2016 table of stakes results, well up among the commercial breeders of three-figure crops.
The fortunes of the Haras Avourneen began their upturn around the turn of the new millennium, with the purchase of Express Way (Ahmad), who was to become the dam of G1 Prix Jean-Luc Lagardère and Premio Roma winner Rio De La Plata.
"The Haras Abolengo developed a very successful 'E' line, and I always wanted a mare from this family. I remember the day I went to the sales, opened the stable door and saw Express Way for the first time. She was very big, with a lot of class. A beautiful mare.
European first
"I was lucky enough to be able to buy her and the first year she was covered by Candy Stripes. This first foal (El Expresivo) won a Group 1 and, from there, I made a foal sharing agreement with Darley.
"After a meeting with Fantastic Light in Newmarket, Express Way was sent to Kentucky and a date with destiny in the form of Rahy. The result of this cross was none other than Rio De La Plata, and the rest is history. Rio de la Plata is very important for the Haras Avourneen. He represents the first time an Argentine mare produced a stakes winner in Europe. We gained a lot of respect."
Kraupa-Tuskany now observes Rio de la Plata's stallion career from afar and enthuses: "I met Julian Ince [from the Haras du Logis, where Rio De La Plata stands in France] and he was very very happy with the horse, so I hope he is doing well."
She needn't worry, Rio De La Plata sired eight winners from his first juvenile crop in 2016, including G3 third Thais.
Closer to home, Kraupa-Tuskany has plenty on her plate with three half-brothers of Rio De La Plata. "It's amazing to think that four of Express Way's offspring are sires."
High hopes for a young stallion
El Expresivo has numerous winners from 207 progeny listed on the El Turf website, while the gigantic, nearly-black, G2 runner-up Epsilon (Acceptable) has a handful of winners from barely a dozen registered offspring. "Epsilon did well but he never really had a chance," she says. "He stands here at Avourneen and only covers a few mares, but I have kept a very nice filly. Her dam already had Recordado (Candy Stripes) who won the Group 1 Premio Consegracion and was sold to the United States. This filly is her half-sister, by Epsilon, so I kept her. Her name is Run Lady Run, so I hope she will run. We are just starting to break her now."
Optimism also abounds for Rio De La Plata's third half-brother, Ejekutor, who stands at stud near Buenos Aires. "He is by Southern Halo, who was our best sire in Argentina for 11 years, so I hope he will have luck as a stallion. He's a very good looking horse and he won two races, but he had problems with his hocks and could never really show how good he was. He has some wonderful foals, his first ones are just a year and a half now."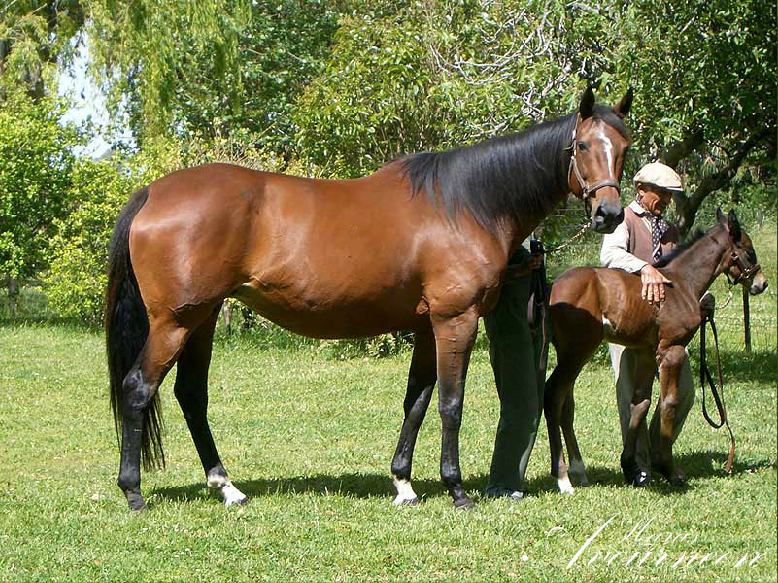 Even before Rio De La Plata made his name for Godolphin, Kraupa-Tuskany leapt at the opportunity to invest further in this prestigious family, purchasing Express Way's unraced half-sister, Express Time (Shy Tom) at auction, in foal to Not For Sale.
In 2011, Express Time gave birth to a colt by Offlee Wild. "I always thought a lot of Eragon. He had nice conformation and a lovely temperament. I sold him as a yearling at Palermo and he joined [trainer] Roberto Pellegatta [world-ranked 148, and #3 in Argentina on TRC Global Rankings], won his first race at two and in the end he won ten races here in Argentina. He is not a big horse, but he has a big heart."
The Kentucky-bred Offlee Wild, currently #123 in the world sire rankings, died last October in Turkey, where he was standing.
Happiest moments
Eragon's exploits include three top-level successes in the Gran Premio Joaquin S de Anchorena on turf, the Gran Premio Estrellas Mile and, most recently, the Premio Hipodromo de Palermo, both on the dirt.
"His owner always said I had to come to his Group 1 races because when I came, he always won! He gave me the happiest moments of my racing life, because I was there for his successes.
"Rio De La Plata won some very big races, but I wasn't present to see him. For Eragon, I was there, jumping and crying. Today, I am really very proud, because his new owners picked Eragon out of so many good horses they could have bought."
Hortensia Kraupa-Tuskany has found a perfect balance between tradition and modernity in her small corner of the Argentine pampas. Thanks to technology and the internet, she is able to follow her pride and joy in his American adventure.
"I am trying to read or watch everything I can find about his training and what he is doing. I saw the video of his work the other day [see YouTube video below] and it is really something to think that he comes from this small farm, that he did all he did in Buenos Aires and now he is in the United States for such a huge race."
After missing out on Rio de la Plata's moments of glory in Europe, Hortensia Kraupa-Tuskany is ready to leave her tranquil Argentine paradise for a last-minute trip to the bright lights of Miami for Eragon's big day.
"I'm so excited. I was longing to go to the Pegasus but everybody told me that you can't get a ticket anymore, everything is sold out. I found the number of Eragon's owner [Jim McIngvale] and I was so nervous, but I called him and spoke to his daughter. They were surprised at first but then were so nice and understanding, and they have arranged for me to be able to go to Gulfstream for the race.
"I travel to Miami on Wednesday and my sister is coming over from Germany too. I'm so grateful, it's like a miracle."
If miracles do come true, Jim 'Mattress Mack' McIngvale will be able to thank Eragon's lucky charm, living the South American dream.