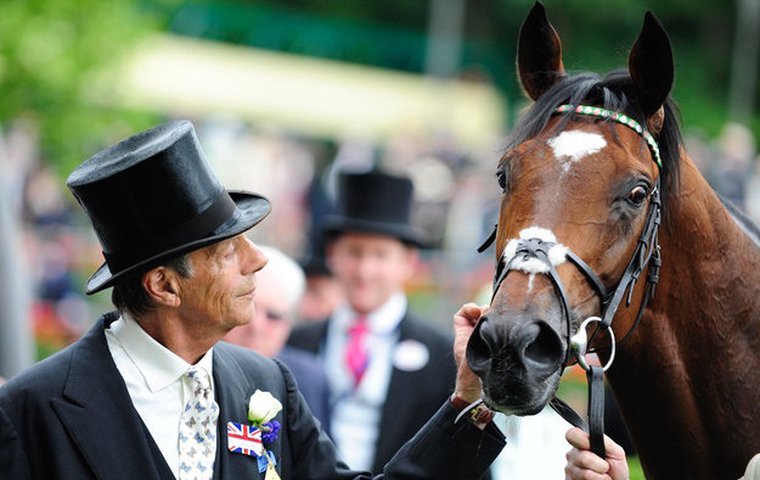 Julian Muscat looks back on the life of Sir Henry Cecil, the extraordinary and much-loved British trainer who died last year and in whose name Friday's Epsom Oaks is being run.

There will be few dry eyes at Epsom on Friday, June 6, when tribute is paid to the late Sir Henry Cecil ahead of the Investec Oaks. The fillies' Classic, which Cecil won eight times, is being run in memory of the trainer who died last year at age 70 after a prolonged battle with cancer.
Even now, one year on, British racing has not quite come to terms with Cecil's passing. His legend abounds, from his famed stables atop Warren Hill in Newmarket to the horses he once trained, which now run in the name of his widow, Lady Jane.
Indeed, one more salient reminder of Cecil's indelible imprint came on May 25 when Frankel's full-brother, Noble Mission, landed the G1 Tattersalls Gold Cup at The Curragh. It enabled Lady Jane to hoist the flag bearing the aristocratic family's coat of arms high above Warren Place. The ritual, which unfurled whenever Cecil trained a G1 winner, was one he enacted with astonishing frequency in a career spanning five decades.
The Oaks itself is the perfect platform from which to celebrate a man who excelled with fillies. Cecil bore a natural empathy with them as he once said that he should have been born with female genes. His Oaks record attests to that affinity, as does the pair of G1 winners he saddled in the United States.
Yashmak's 1997 Flower Bowl Invitational Stakes triumph and Midday's victory in the 2010 Breeders' Cup Filly & Mare Turf were the only championship races Cecil landed in the U.S., although he should have won a third when Indian Skimmer contested the Breeders' Cup Turf at Churchill Downs in 1988.
Cecil doted on Indian Skimmer; he fussed over her like a proud father. The grey filly was bred in partnership by Ashford Stud and Ronald J. Worswick, whose Tanthem upset champion sprinter Dr. Patches in the 1980 Forego Handicap. And while she posted several notable triumphs, among them a drubbing of the mighty Miesque in the Prix de Diane (French Oaks), events at Churchill conspired against her.
Fighting the rider and posted four wide throughout, Indian Skimmer finished third at the Breeders' Cup, flattening out over the 12-furlong trip, a distance over which she never won. Her cause was not helped in the preamble, when Cecil received a letter from the Jockey Club's senior steward, Lord Fairhaven, asking him not to use any permitted medication on the filly. The request irked Cecil, who nevertheless complied.
Indian Skimmer was probably the best of a stellar collection of fillies Cecil trained – among them champions Bosra Sham, Diminuendo, Snow Bride, Midday, Ramruna, Reams of Verse, and Oh So Sharp, who completed the fillies' Triple Crown (1,000 Guineas, Oaks, and St Leger) in 1985. Yet, the one most pivotal to Cecil's story was Light Shift, who won the 2007 Oaks.
Light Shift marked the start of a renaissance in Cecil's fortunes that had slumped to great depths. More than the litany of triumphs, his recovery from a spate of personal and professional setbacks is why he is remembered with such affection. After two divorces, David, the twin brother to whom he was particularly close, succumbed to cancer in 2000, leaving Cecil in an emotional vacuum.
He would not train another G1 winner for six years, during which his string dwindled from more than 200 horses to fewer than 30. He was on the skids, seemingly destined for hasty retirement, when he took another hammer blow in 2006. He had contracted stomach cancer.
Cecil was on borrowed time. Nine months of intense treatment left him physically frail, and his inner turmoil surfaced when Light Shift won at Epsom. Teary-eyed and emotional in a way he was never seen in public, before or subsequently, Cecil told of the uphill struggle to re-establish himself.
He was sustained personally by his pride, and professionally by a pair of owners who stayed loyal when most others abandoned the sinking ship. One of them, the Niarchos Family, reaped due reward when Light Shift won the Oaks. The other would reap an even greater dividend.
Prince Khalid Abdullah could have been forgiven for thinking that no horse he owned would come close to matching Dancing Brave, his champion racehorse of 1986. Yet, he would salute one even better in Frankel, whom Cecil trained with sure-handed precision over three seasons starting in 2010.
An invigorating symmetry settled over Cecil and Frankel. They were man and horse as one entity, each infused by a desire found only among winners. Frankel's unbeaten 14-race streak has entered racing folklore, but less well documented was a headstrong nature that Cecil had to dose for the dream to be realised.
In other hands the striking bay colt could easily have been ruined before reaching the racecourse. And of course, there was added poignancy in Frankel's name, which was bestowed on him in commemoration of Bobby Frankel, the California-based trainer of great esteem who succumbed to cancer in 2009.
Within Frankel were overtures of Cecil himself: fiercely competitive despite the latter's demeanour as a foppish eccentric. Raging fires burned inside a man who seemed emotionally vulnerable, and who never properly revealed himself beyond the boundaries of Warren Place, where he felt totally at home.
Interviewing him there was a rare treat despite Cecil's aversion to reminisce on the horses that made his reputation. He was more inspired by the promise of the future than by deeds of the past. On one occasion, when told that a photographer would shortly be arriving to snap him, he lay down sideways on a giant oak desk and said he wanted to be portrayed as a modern-day Venus, spreading love to all and sundry.
In the years ahead, Cecil will be remembered by the numbers of a career that saw him annex 25 British Classics, among them the Derby four times. His 75 winners at Royal Ascot will resonate loudly from the record books, as will his 10 trainers' championships. Yet, Cecil's story transcends the boundaries of racing's narrow parish.
Always colourful, often frivolous, sometimes contrary, and occasionally outrageous, Henry Richard Amherst Cecil was one of a kind. In celebrating him on Oaks day, everyone will rekindle their own special memories of a man who was, in many ways, larger than life. It was a life lived to the full.