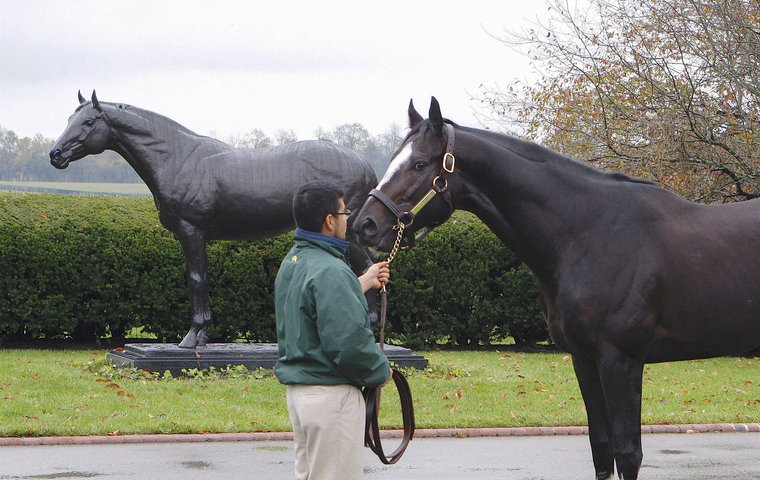 To say expectations are high when it comes to Honor Code succeeding as a stallion would be an understatement. A champion on the racetrack, Honor Code was a member of the last crop by A.P. Indy. His first foals begin racing this year, and there is a strong hope that he will continue his father's legacy.

"It meant a lot, ending up with Honor Code," said Bill Farish. "It was pretty much the end of the road [with A.P. Indy], and to end up with one like him out of A.P. Indy's last crop, and now we are hoping he could be his best son ever, is incredibly exciting and lucky."
Farish's father, Will Farish, founded Lane's End Farm 40 years ago. He bred A.P. Indy in partnership with W. S. Kilroy, and the Seattle Slew colt sold for $2.9 million, making him the highest priced yearling of 1990. Living up to the hype, A.P. Indy was named the 1992 Horse of the Year after winning the Santa Anita Derby, Belmont Stakes, and Breeders' Cup Classic.
Retired to Lane's End, A.P. Indy became a member of the Hall of Fame in 2000 and was twice the leading general sire in North America before being officially pensioned in 2011. In 2015, he was the leading broodmare sire in America.
A.P. Indy is now 30 and still resides in the same stall that has been his for decades. Honor Code lives in the neighboring stall.
Enviable pedigree
Although pedigrees don't guarantee success, if they did Honor Code was born to be a champion via both his sire and his dam. Bred in Kentucky by Dell Ridge Farm, Honor Code is out of the stakes-winning Storm Cat mare Serena's Tune, a granddaughter of champion and Hall of Famer Serena's Song.
In a similar vein, looks don't guarantee success either, but if they did, Honor Code was ahead of the curve from the beginning. Even as a youngster, the dark bay colt with flashy markings looked like he might be special, and it didn't go unnoticed by the team at Lane's End. He quickly caught the eye of general manager Mike Cline and bloodstock agent David Ingordo.
"We feel lucky to have him and to have come across him," said Farish. "Mike and David were at Dell Ridge Farm one day looking at yearlings for the sale. He walked out, and they said to my dad, 'You have to come see this horse.'
"He was always such an eye-pleaser and still is. Luckily, we were able to work a deal with them and get him, and race him in partnership. Then for him to really live up to all of our hopes was very exciting."
Honor Code was put in training with Shug McGaughey. A Graded stakes winner at two, he was injured early into his 3-year-old season but returned to excel as an older horse. During his 4-year-old campaign, his victories included the G1 Metropolitan Handicap and G1 Whitney Stakes, and he was named the 2015 champion older dirt male at the Eclipse Awards. As it happens, Honor Code was one of just 36 live foals from A.P. Indy's last crop. Another, Got Lucky, also was a G1 winner.
Honor Code took up his role as a stallion at Lane's End in 2016, meaning his first crop debuts this year.
"We have some pretty high hopes for him to live up to," said Farish. "It would be a fitting closure to A.P. Indy's reign. We hope he can be as good a stallion as his dad was, but that will be tough."
Life on the farm
Life has been good for Honor Code since he retired. He's been popular at stud, and he easily settled into the routine at Lane's End.
"The good horses have the mindset to do what you ask them to do, and they seem to understand what you are asking for," said Bill Sellers, Lane's End's assistant manager, stallions. "Normally it's not that big of a deal to transition them from a racing career to a stallion career.
"From the very first day we introduced him to a mare, he caught on very fast. He's a very good breeding horse, he's fertile, and he's easy to handle. He's one where you would love to have a couple dozen of them in your barn. He's usually easy going. He does have a little touch of Storm Cat in him that I see from time to time, not in a bad way, but just a little bit."
Honor Code's routine follows that of all the Lane's End stallions. They are turned out for about 16-18 hours a day, and during the off season they are exercised on a free walker to keep them fit and ready for the breeding season.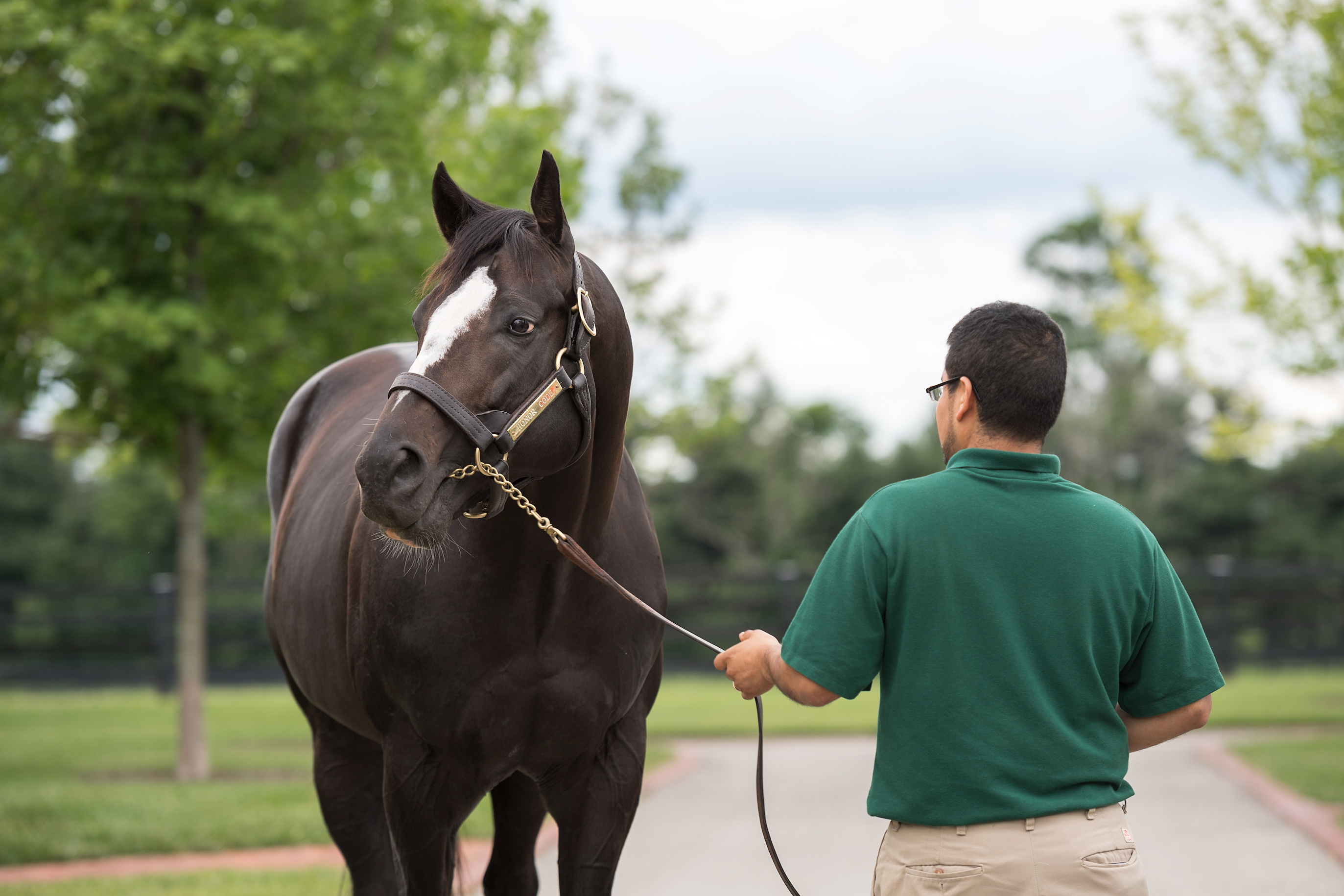 "We try to keep them outside as much as we can," said Sellers. "We feel like being outside, moving around, grazing, and being a horse is important. They are on that routine year-round unless the weather is really bad.
"They like to be out. They are a lot easier to take care of, they are quieter, and they are happier. If you can keep your horses happy, it's usually all good from there. They all seem to thrive on their routine here, so we try to vary it as little as we can."
There was one quirk with Honor Code, though, when it came to transitioning from racehorse to stallion: he still expects his treats from time to time. Luckily for him, peppermints are part of the Lane's End routine.
"When Honor Code was in training, he was a little spoiled," said Farish. "He got a lot of peppermints in Shug's barn. The rider would lean over and give him peppermints when he was walking to the track since he's one of those horses who liked to stop and look around. A lot of good horses seem to do that and are more aware of their surroundings.
"Sometimes, even now, they have to give Honor Code a peppermint to get him in his stall because he knows how to work the system."
Well supported
Whether or not Honor Code can follow A.P. Indy's example of being a leading sire remains to be seen, but he has certainly been well supported since he retired.
"He's averaged about 150 mares a year, which for us is a very full book," said Farish. "We are hoping to have him right about there again this year. The reports we are getting from a lot of the 2-year-old breaking farms down in Ocala have been very, very positive.
"Even though you wouldn't expect him to have 2-year-old sale types, I think he will have some, and those usually really help a horse in his fourth year, when you are trying to get that full book again."
In addition to a desirable pedigree and clear talent, Honor Code also seems to be stamping his progeny.
"He definitely stamps them," said Farish. "They have a lot of chrome. They aren't all the same coloring, but a lot of them have a lot of white. You can usually pick them out pretty easily. He's a big-bodied, strong horse, and he's getting that in his yearlings and 2-year-olds."
Having flashy foals is a trait Honor Code shares with another Lane's End stallion, Union Rags, leading to colorful fields during foaling season.
"When you drive through the farm in the spring, and see all the foals out in the paddocks, you can pick out the Union Rags and Honor Codes pretty easily," said Sellers. "It's usually one or the other."
Although Lane's End has obviously been among those supporting Honor Code at stud, the team is still on the hunt to purchase some of his progeny to race in the farm's green and yellow silks.
"We have some, but we don't have as many as we like," said Farish. "We will be looking at the 2-year-old sales and privately as well. When you are marketing a horse, you tend to get the good ones to the sales, to get them out there, and then sometimes you look up and say, 'Wait a minute, we don't have as many as we want.' We would like to add a few."
Even with great expectations, Honor Code is currently in a tricky part of any stallion's career: he is no longer the new guy in town, but his foals haven't had a chance to show what they can do yet.
"It's always a tough year for people to commit," said Farish. "If you breed now, by the time they are yearlings, we are all going to have a pretty good idea if the story has a happy ending or not. I think in his case it's a great time to breed to him because you might not see him for $40,000 again if he does what we think he will."
Beyond just the economic realities of wanting any young stallion to succeed, it's undeniable that there is an emotional connection to Honor Code as well. A.P. Indy did so much for the sport, and for Lane's End, that it is only natural for those connected to him to hope his last champion son can follow his lead as a sire as well.
"I was here when A.P. Indy was foaled, I was here when he went to the yearling sale, and then he went to the racetrack and did everything you could ask for one to do," said Sellers. "I was here when we brought him home after the Breeders' Cup. A.P. Indy was star quality from the start. You would look at him and think, 'That's what they are supposed to look like.' Then he turned out to be A.P. Indy.
"I would be hard pressed in my lifetime to come across another horse like A.P. Indy, but when Honor Code walks into the barn, you can't help but go, 'Oh wow, that's a pretty nice horse.' "