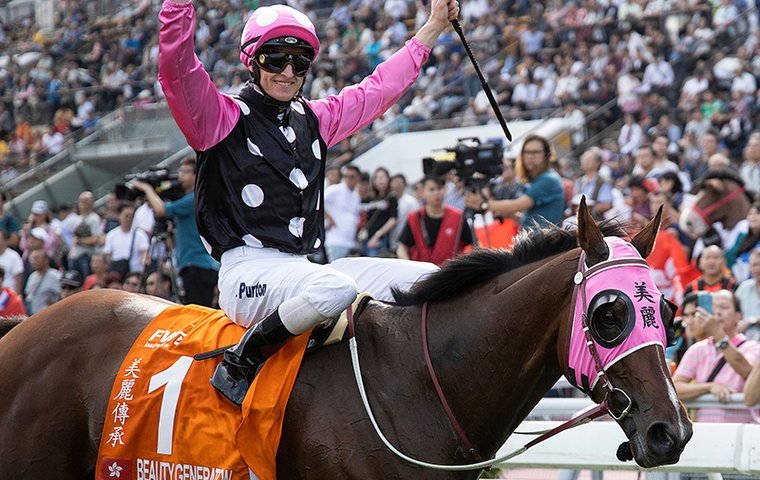 Ahead of the richly-endowed FWD Champions Day at Sha Tin on Sunday, featuring three major G1s and most of the best horses currently in training in Hong Kong, Nicholas Godfrey counts down his idea of the ten best runners ever to have run in the territory.

Since horse racing in Hong Kong has progressed in leaps and bounds in recent years, this list of the region's top ten greatest horses is restricted to the modern era. For our purposes, that means roughly the last 30 years, since the advent of the Hong Kong International Races (HKIR) at Sha Tin every December marked the region's first baby steps on to the global stage.
As a result, equine heroes of an earlier closeted era – three-time horse of the year Silver Lining, or dual winners Co-Tack and Quicken Away – are not considered. Anyway, while it is impossible to quantify, commonsense suggests those of a more recent vintage are superior as the Hong Kong talent pool is deeper than it has ever been.
Even so, despite this 'recency' bias, there are plenty of top-class racehorses from since the turn of the century who can feel hard done by not to have made the cut.
1. Silent Witness
Foaled 1999
b g El Moxie - Jade Tiara
Trainer: Tony Cruz
Jockey: Felix Coetzee
Owner: Arthur Antonio da Silva & Betty da Silva
Breeder: I.K. Smith (Australia)
Career record: 18 wins from 29 starts
World champion sprinter 2003, 2004, 2005; HK horse of the year 2004, 2005
Nothing short of a legend to the Hong Kong racing community. A truly outstanding sprinter, Silent Witness was the world's top-rated in that division for three years between 2003 and 2005, when he won his first 17 races.
Having numbered a pair of HK Sprints among his titles – on both occasions trouncing international fields as odds-on favourite – and two cleans sweeps of the Champion Sprint series, it was only when he stepped up in distance that he was defeated, and only then when he was touched off by top-class Bullish Luck in the Champions Mile at Sha Tin in May 2005.
At his favoured trips, he was unassailable in his pomp, when he added Japan's most prestigious sprint, the Sprinters Stakes, to his collection of G1 victories; such was his reputation that the HKJC even gave him his own website.
2. Beauty Generation
Foaled 2012
b g Road To Rock - Stylish Bel
Trainer: John Moore
Jockey: Zac Purton
Owner: Patrick Kwok Ho Chuen
Breeder: Nearco Stud Ltd. (NZ)
Career record: 20 wins from 37 starts (18 wins while based in HK - tying the record with Silent Witness)
World champion miler 2019; horse of the year 2018, 2019
The number one specialist miler on the planet for an extended period, Beauty Generation was next to unbeatable at Sha Tin for two complete seasons from 2017 to 2019, going from strength to strength in a series of exhilarating victories, perhaps the most memorable of which was his second HK Mile triumph when he posted an electrifying display to make his rivals look like patsies.
Back-to-back horse of the year titles were a formality during an unbeaten 2018-19, in which he landed all the G1 mile races available to him and became the first horse ever to win eight times in a HK season during a ten-race winning streak.
With earnings of HK$100,422,500, he is the territory's highest earner; according to official ratings, his mark of 127 in 2018 rated him the joint-best horse ever trained there.
Though he is not quite the force he was, his fans will be hoping for a last hurrah in the FWD Champions Mile on Sunday before retirement. Victory there would make him a strong contender to win his third horse of the year title.
3. Sacred Kingdom
Foaled 2003
b g Encosta Da Lago - Courtroom Sweetie
Trainer: Ricky Yiu
Jockeys: Gerald Mosse, Brett Prebble
Owner: Sin Kang Yuk
Breeder: Mrs N F Calvert & Estate Of The Late A M Calvert (Australia)
Career record: 17 wins from 36 starts
World champion sprinter 2007, 2008, 2009: horse of the year 2010
Sacred Kingdom was a formidable performer across a number of seasons – to the extent that three times he was the top-rated sprinter on the official end-of-year world rankings.
After leaving Australia, he won his first five starts in Hong Kong as a 3-year-old before cementing his reputation the following season when he won the first of his two HK Sprints in breathtaking fashion. Injury intervened before he returned to his best at five, going on to overseas success in the valuable KrisFlyer Sprint, where he beat Singapore superstar Rocket Man on his home ground.
He was still racing in the region's top sprint company when he was retired aged eight in 2012. Four times he was Hong Kong's champion sprinter; three times he was named most popular horse. His blistering 1,000-metre track record of 54.70s at Sha Tin stood for more than 12 years until Aethero bettered it by a single hundredth in 2019.
4. Fairy King Prawn
Foaled 1995
b g Danehill - Twiglet
Trainer: Ricky Yiu, Ivan Allan
Jockey: Robbie Fradd, Steven King
Owner: Mr & Mars Lau Sak Hong
Breeder: Catherine Redmond (Australia)
Career record: 12 wins from 26 starts
Horse of the year 2000, 2001
One of the most popular horses ever in Hong Kong, Fairy King Prawn registered a landmark success in the Yasuda Kinen in 2000, when he beat Godolphin's Diktat by a length and a quarter to become the first horse trained in the region to win a G1 overseas.
He had already shown himself more than capable on the biggest stages in landing the inaugural HK Sprint in 1999, one of a series of major successes on the domestic scene.
His reputation was enhanced by two narrow defeats: first when he failed by a short head to catch New Zealand's superstar Sunline in the HK Mile in 2000, then when he did catch that mighty mare in the Dubai Duty Free, only to be run down by Jim And Tonic by a neck. "In the context of Hong Kong, he's a sporting colossus," wrote Lawrence Wadey, the South China Morning Post's senior racing writer at the time.
5. River Verdon
Foaled 1987 (died 2005)
b g Be My Native - Tuyenu
Trainer: David Hill
Jockeys: John Matthias, Gerald Mosse, Basil Marcus, John Marshall
Owner: Sir Oswald Cheung & Ronald Arculli
Breeder: Ronald Arculli (Ireland)
Career record: 16 wins from 38 starts
Horse of the year 1991, 1992, 1994
An all-time legend of the Hong Kong turf, River Verdon was the number one horse of the 1990s in the territory. The first and only winner of the Hong Kong middle-distance Triple Crown and a three-time horse of the year, his wins spanned no fewer than six seasons, among them a Hong Kong Derby, two HK Gold Cups and no fewer than four Champions and Chater Cups – plus the HK Invitation Cup (now HK Cup) where he defeated rivals from four continents in 1991.
Such was his reputation at home that he was to become the first HK-trained horse to race abroad in G1 company, and while admittedly he cut little ice in either the Arlington Million in 1992 or the Melbourne Cup two years later, his pioneering overseas adventures paved the way for the more successful sorties by others in later decades.
6. Vengeance Of Rain
Foaled 2000 (died 2011)
b g Zabeel - Danelagh
Trainer: David Ferraris
Jockey: Anthony Delpech
Owner: Chow Chu May Ping & RG Chow
Breeder: K Briggs Enterprises etc (NZ)
Career record: 10 wins from 27 starts
Horse of the Year 2007
One of the horses who really put Hong Kong on the international map, chiefly via a deserved victory over a top-class field in the Dubai Sheema Classic in 2007, when victims included the most recent winners of both the Epsom Derby (Sir Percy) and Breeders' Cup Turf (Red Rocks). At the time, the $5m contest was the joint-richest turf race in the world, but Vengeance Of Rain had long since advertised his talents, having won the short-lived Emirates World Series in 2005 thanks to domestic victories in both the Audemars Piguet QEII Cup and the HK Cup, where he beat Arc runner-up Pride by a neck in a memorable race.
He'd also won the HK Derby earlier the same year; hardly surprising, then, that the New Zealand-bred (who started life as Subscribe in Australia) held the Hong Kong earnings record for three years from 2007 to 2010.
7. Able Friend
Foaled 2009
ch g Shamardal - Ponte Piccolo
Trainer: John Moore
Jockey: Joao Moreira
Owner: Dr Cornel Li Fook Kwan
Breeder: Ramsey Pastoral Co Ltd (Australia)
Career record: 13 wins from 26 starts
Horse of the year 2015
Looked an absolute world-beater at his best, notably in the Hong Kong Mile of 2014, when he quickened away under a hand ride in a 4¼-length odds-on demolition job. Seldom had the HKIR been graced by such a consummate display, and it was recognised with a rating of 127, the highest ever achieved by a HK-based horse, in the end-of-year world rankings, in which he was rated the third-best racehorse in the world.
His CV numbered a litany of the region's top races at 7f/1m, among them the Chairman's Trophy (twice), Champions Mile, Classic Mile, Queen's Silver Jubilee Cup, Stewards' Cup and Premier Bowl. Sadly, he sweated badly and finished well beaten on his only overseas outing - at Royal Ascot; injury dogged his career thereafter, though he continued as a force in top races at home until his retirement in 2017.
8. Ambitious Dragon
Foaled 2006
b g Pins - Golden Gamble
Trainer: Tony Millard
Jockeys: Maxime Guyon, Douglas Whyte, Zac Purton (plus assorted others)
Owner: Johnson Lam Pui Hung & Anderson Lam Him Yue
Breeder: EP Lowry (NZ)
Career record: 13 wins from 30 starts
Horse of the year 2011, 2012
One of the greatest champions in Hong Kong racing history, dual horse of the year Ambitious Dragon was blessed with an amazing turf of foot and effective at 7f-1m2f, which explains how he was twice HK champion miler, and twice HK champion middle-distance horse.
Admittedly, his reputation was bigger at home than abroad, where his lustre was dimmed by a disappointing effort on his sole overseas outing in the Dubai Duty Free in 2012. However, he got stirred up in the preliminaries that day and it said much of his efforts at Sha Tin that he was sent off a well-backed favourite from a cosmopolitan double-figure field full of G1 winners.
After winning the HK Derby at four, he went on to six more G1 wins at home, among them a cosy success in the HK Mile. "In my opinion, he is as good as you get, and why I say that is because he was so versatile," suggested his adoring trainer Tony Millard.
9. Viva Pataca
Foaled 2002
b/br g Marju - Comic
Trainer: John Moore
Jockeys: Darren Beadman, Mick Kinane
Owner: Dr Stanley Ho
Breeder: Floors Farming And Side Hill Stud (GB)
Career record: 18 wins from 51 starts
Horse of the year 2009
Although he won five of his seven starts in Britain, when he raced under the name of Comic Strip, the horse who was to become Viva Pataca was nothing more than a decent handicapper for Sir Mark Prescott. Sold to Hong Kong, he won the HK Derby in his first season before going on to eight G1s altogether in the territory, where he figured among the leading performers for several seasons.
Blessed with a potent finishing burst, he was probably better at 1m4f than shorter – HK champion stayer four years on the bounce, champion middle-distance horse three times – and won three editions of the Champions & Chater Cup plus two Audemars Piguet QEII Cups and two HK Gold Cups en route to becoming the region's biggest prize-money earner with his career total of just over HK$83m. Despite purse inflation, that mark stood for seven years until it was eclipsed by Beauty Generation in 2018.
10. Good Ba Ba
Foaled 2002
b g Lear Fan - Elle Meme
Trainer: Andreas Schutz, Derek Cruz
Jockeys: Olivier Doleuze, Christophe Soumillon
Owner: John Yuen Se Kit
Breeder: Haras Santa Maria De Araras (USA)
Career record: 16 wins from 49 starts
Horse of the year 2008
Became the first horse to complete a hat-trick at the HKIR when he won the HK Mile in 2009, though by that stage he was past his prime, which had come with his original trainer, Andreas Schutz, for whom he won four domestic G1s in 2007-08 (among them a defeat of the brilliant sprinter Sacred Kingdom over 7f).
According to Racing Post Ratings, however, the best performance in an extended career came in the HK Mile of 2008, when he slammed G1 regular Able One in a track-record time, thereby raising the benchmark in terms of official ratings for HK-based horses with his mark of 124 in the 2008 World Thoroughbred Rankings.
His mercurial owner kept the gelding going well after his peak; he raced for seven seasons (2005-11) in HK and wasn't even done then, being sent sprinting without success following an ill-advised move to Australia aged 11.
HONOURABLE MENTION
Indigenous
foaled 1993 (died 2004)
br g Marju - Sea Port
Trainer: Ivan Allan
Jockeys: Basil Marcus, Douglas Whyte, Shane Dye (among others!)
Owner: Pang Yuen Hing
Breeder: Oldtown Stud(Ireland)
Career record: 15 wins from 64 starts
Horse of the year 1999; most popular horse 1999
Bred in County Kildare, the horse who was to become a standing dish in a long career started his racing life with three wins from eight starts in Ireland in the guise of Qualtron for trainer Kevin Prendergast.
Renamed Indigenous after his sale to Hong Kong, he went on to become one of the region's greatest ever stayers and probably its most durable, winning a string of high-profile events for Ivan Allan over a number of seasons, among them back-to-back editions of both the HK Gold Cup and Champions & Chater Cup and a Hong Kong Vase in 1998.
Sent on his travels, only domestic star Special Week could beat him in the 1999 Japan Cup, while three years later he was also third in the Singapore International Airlines Cup. Notable for his longevity, this redoubtable gelding also appeared at Royal Ascot and the Dubai World Cup during nine seasons on the track during which he ran at the HKIR six times.