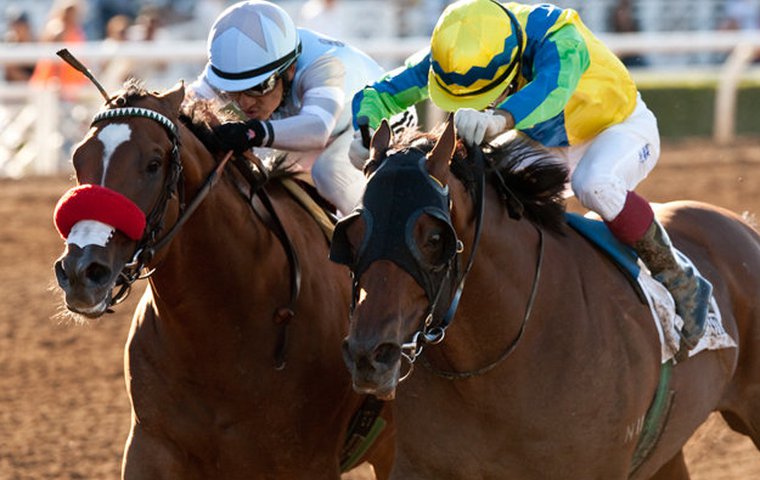 Even before Rich Tapestry boarded his flight at Hong Kong International Airport one humid, typically rain-sodden night late September to make the near 12,000-kilometer journey over the Pacific to Los Angeles, few significant frontiers still existed in global horse racing - the obstacles involved with hurtling millions of dollars worth of taut, quivering horse flesh thousands of miles through the stratosphere having long been removed.

So when Rich Tapestry under jockey Olivier Doleuze sprouted dragon wings down Santa Anita's fabled home stretch only days later, his fire-hot breath scorching Goldencents' flanks, withers then whiskers on path to a thrilling nose-bob of a victory in the G1 Santa Anita Sprint Championship, yet another of international racing's dwindling list of unfulfilled touchstones went up with a puff of smoke.
And twist it whatever way you want, Rich Tapestry's victory proved a veritable Rubik's Cube of a headline-maker.
He became the first Hong Kong-based raider to run in the U.S. since River Verdon's failed Arlington Million bid in 1992, and the first ever to prevail on these shores - in a G1, no less. He provided Michael Chang with his first ever top-flight victory as a trainer. He set himself up to be Hong Kong's first runner in the Breeders' Cup. What is more, Rich Tapestry did it without Lasix, despite a history of bleeding problems. Despite not having run for more than five months. Despite each of his other four competitors on that ruthlessly hot Californian Saturday lining up with an "L" printed next to their name.
"I've never used Lasix before, and my first impression was to use Lasix to help the horse," admitted Michael Chang, over the phone from Hong Kong, about his initial instinct concerning the anti-bleeding medication. Few would have blamed Chang had he gone with his gut. For most international trainers coming to the U.S., using Lasix is the obvious choice given the race-day drug's prevalence in this country. The Hong Kong Jockey Club, however, used their not-inconsiderable clout to persuade Chang to eschew Lasix, but he sees no reason to rue falling into line with their wishes.
"Afterwards, he was fine. We scoped him two hours after the race, and there was only a very tiny bit of blood in the scope," Chang said.
As a point of interest, trainer Leonard Powell, Rich Tapestry's host throughout the duration of his trip, said that Rich Tapestry lost only 10 pounds through the race. Powell's own two runners that very same day, both of whom were administered the diuretic Lasix, lost "twice as much" weight, he added.
Since the Sprint Championship, Rich Tapestry's training has remained hiccup free. "My work jockey says that everything's under control, and I hope that I can keep his condition as good as before," Chang said.
To say that Rich Tapesty's win turned a few heads would do a disservice to the number of people who woke up with cricked necks the following day. Before the race, most eyes were focused on last year's Breeders' Cup winning sharpshooters, Goldencents and Secret Circle. The Hong Kong raider was eyed more out of curiosity than with any serious consideration. And there are two probable reasons for that: One is a belief in this country that they've cornered the market in lickety-split speedballs; the other concerned Rich Tapestry's lack of dynamite dirt form.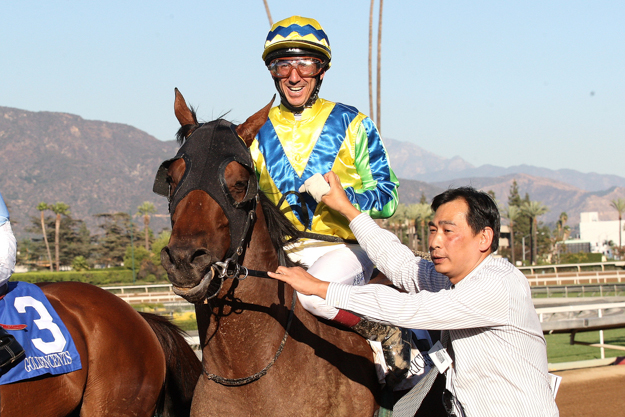 Hong Kong's racing calendar lasts 83 days with approximately 770 races a year, flip-flopping between two racecourses, Happy Valley and Sha Tin. The majority of those races are conducted on the turf. About 80 are held on the dirt. And no graded sprint races are held on the dirt – a problem for any Hong Kong crack shot who likes the feel of sand between his toes.
While Rich Tapestry showed himself to be a sprinter of some substance on the Tapeta out in Dubai in the spring—where he won a G3 before finishing a fine second in the G1 $2 million Dubai Golden Shaheen—he still had it all to do it on the dirt in another country against some of the very best around. Most thought he couldn't. Chang thought he could.
"Honestly, even before the race I was quite confident that he could run a good race because this horse enjoys the dirt surface so much," Chang said. Though he expects the Breeders' Cup to prove a much tougher proposition.
"The Breeders' Cup Sprint will be a stronger field," he said "They didn't know my horse before. Now, they've got a good idea of my horse. He has very good gate speed, and he can come from behind. I think the race should be stronger than the Sprint Championship. I think Secret Circle will improve, because he had a long break since his last race. And the trainer Bob Baffert is a very, very good trainer. I just hope my horse can get a decent starting post…and some luck."
Rich Tapestry is racking up more air-miles than Phileas Fogg. Bred in Ireland, where he raced for two years (claiming a lone victory in four starts for trainer Dermot Weld), Rich Tapestry emigrated to Hong Kong in 2011. There was the trip to Dubai earlier this year. And should nothing untoward occur between times, a stab at glorious redemption in the Golden Shaheen is very much on the cards for next year. At the moment, however, sun-dappled Southern California during the fall is clearly to his liking.
"There have been no problems since his win. He likes it here," said a disconcertingly teenage-looking 37-year-old Vincent Sit, Rich Tapestry's exercise rider, as he peeled off his skull-cap and safety-vest recently one morning. The horse in question was already in his stall munching away on breakfast after breezing five-furlongs in 1:01, exerting only marginally more effort than if he had helped an old lady cross the road. "Everything's good. He's easy to look after, easy to ride."
Sit's good grasp of English should come as no surprise. Between mid July and the end of August when Hong Kong suspends racing, he spent the summers of 1998, 1999 and 2003 working for U.S. Hall of Famer H. Allen Jerkens. Sit even had a few rides over here. "I didn't win any races." He was notably more successful back home, however. "I rode about 105 winners back in Hong Kong."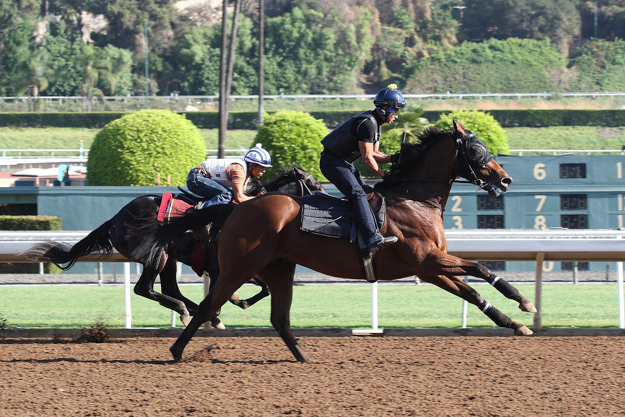 Sit hung his boots up for the last time four years ago, at which point he took up his current position for Chang. About a year later, a handsome though not-overly-big horse from Ireland arrived who would take him to even taller career summits than he had mounted as a jockey. "[Rich Tapestry] has been an amazing horse to be around."
Given the way Rich Tapestry moved over the dirt back in Hong Kong, and given Sit's prior U.S. experience, he felt certain that the horse would thrive on these shores. "I thought that the horse would like the softer going of dirt," he said. "When I rode him in Hong Kong and in Dubai, I told Michael that the horse would handle America. He likes a soft track. He likes to be able to dig his toe in."
The issue of Rich Tapestry's preferred surface, however, is one that has caused more than a little bewildered head-shaking back in Hong Kong. Some U.S.-based pundits questioned Rich Tapestry's ability to handle the dirt track at Santa Anita, arguing that it would be the first time he had encountered such a surface. But as Michael Cox pointed out afterward in the South China Morning Post, the track at Sha Tin, while officially labeled "all-weather," is just "plain old dirt… more American than apple pie, a good ol' dirt track just like the ones dotted around the US of A, and Rich Tapestry was two from two on it."
Still, it's the question of Rich Tapestry's Lasix-free exploits that has been the most "remarkable part of the story," said Bill Nader, director of racing for the Hong Kong Jockey Club (HKJC).
"As we all know, when horses from overseas come to America for one of these big races, they do avail themselves of Lasix because it is permissible," Nader said over the phone. "But [Rich Tapestry] was able to go over there and not only win, but win against two Breeders' Cup champions from the previous year, do it with a smart time and do it all without Lasix. It's really incredible"
Nader said that the HKJC worked with Rich Tapestry's team to map out their Lasix-free U.S. race schedule. "It was Winfried Engelbrecht-Bresges, our [HKJC] CEO, who said: 'Our strong preference is that you do it without Lasix.'"
Having been part of The New York Racing Association for 14 years before accepting a post in Hong Kong, Nader understands perhaps more than most the significance of Rich Tapestry's achievement.
"The likelihood of a foreign horse coming to America and winning a Group 1 on dirt at six furlongs is quite remarkable. It just doesn't happen. Dayjur nearly did it in 1990. Sheikh Albadou did it in '91 in the Breeders' Cup Sprint. But to do it without Lasix, I thought it was an extraordinary achievement.
"You've got an Irish horse trained in Hong Kong ridden by a French jockey with Hong Kong owners winning in America. It really epitomized what international racing is all about," Nader continued. "And now, he heads to the Breeders' Cup as one of the top choices in the race, it's just incredible. To have a Hong Kong horse in the Breeders' Cup – I thought it was something I'd never see."
Nader may not have believed it possible, but as the writer Geoffrey Madan once noted: "The dust of exploded beliefs may make a fine sunset." Nader, however, will have to wait under the pre-dawn glow of Nov. 2 before he knows whether Rich Tapestry will be joining the likes of Sheikh Albadou et al. on a long and illustrious Breeders' Cup honor roll.
"It will be early morning by the time the race runs, but I'm sure all of Hong Kong will be awake and will be watching," Nader said. "The people here in Hong Kong really appreciate what he did. We will simulcast the race. It's great for international racing, it's tremendous for the Breeders' Cup and for the first time, the Breeders' Cup will really resonate with the Hong Kong people."