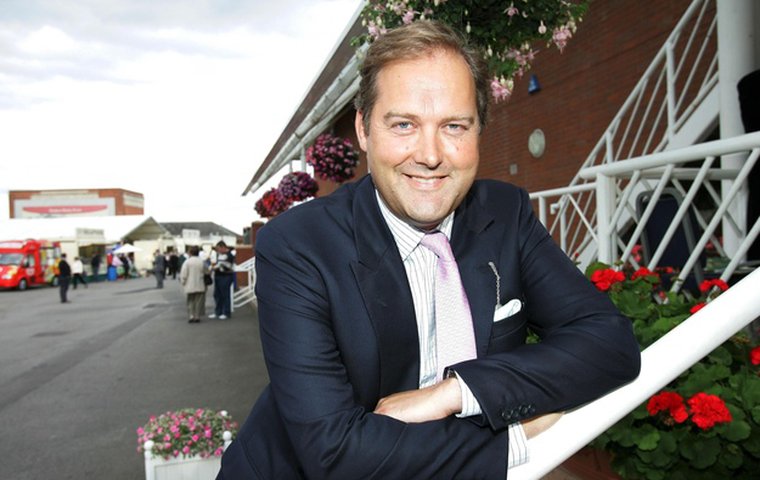 Harry Herbert is a big man in racing. At around 6-foot-6 and built to match, he's nearly a colossus. But he has none of the stolidity, certainly none of the latent threat, that even the gentlest of giants often have to lug around with them. If you found yourself restricted to just one adjective with which to describe him, that adjective would probably be "genial."

His geniality – perhaps a better word would be charm - has played a big part in his life. His is a character that has been both shaped by and developed through good fortune. As the grandson of the Earl of Carnarvon who, with archaeologist Howard Carter (whom Indiana Jones was based on) discovered Tutankhamen's tomb in Egypt; the son of the Earl was racing manager to the Queen; member of a family that reputedly still owns most of Wyoming; born into Highclere, one of the four or five most magnificent houses in England, now familiar to millions as the set for "Downton Abbey," he knows very well that life has dealt him a pretty exceptional hand – and he has the self-awareness, and the plain decency, to be grateful for his good luck and happy to make the most of it.
​------------------------------
As of March 2018, Harry Herbert is no longer Al Shaqab's racing adviser
------------------------------
As the second son, he isn't an earl himself, but he has none of the surliness that according to the traditions of country house fiction is supposed to characterise those who didn't quite inherit the family's top job. Instead he's an "Honourable," and the Hon. Harry Herbert is a title he's worn with unfailing grace and more than a little panache.
As founder of Highclere Thoroughbreds, the most successful ownership syndicate in the history of British racing; manager of Royal Ascot Racing Club, owners of Epsom Derby winner Motivator among other famous horses; and now racing adviser to Qatar's Sheikh Joaan bin Hamad bin Khalifa Al-Thani, the new force in British and global racing who may provide the sport with another powerhouse owner, Herbert is an extremely busy man, and therefore, a very hard one to pin down. The weighing room at Newmarket on July Cup Day is not exactly the perfect place to interview him - and not just because, surrounded by jockeys, he stands out like Gulliver in Lilliput.
The conversation is necessarily interrupted by a stream of friends and acquaintances - by jockey Frankie Dettori with his usual Frankie-style jokes; by a hopeful trainer determined to convince the man of influence that Al Shaqab needs to buy a horse he trains; by Joseph O'Brien, dark haired with ice blue eyes and nearly 6-foot himself, he's one of the few around who doesn't have to tilt his head too far to look him in the eye and who treats him with admiring respect but without any need for deference. No one seems intimidated by racing's "Triple H." Everyone knows that any approach will be greeted with perfect courtesy and full, smiling attention. But even with the necessary breaks for races, phone calls, conversations with Al Shaqab dignitaries, he never loses the thread as he answers questions with thoughtful consideration.
You might think that under his father's influence he was always destined to play a part in racing history. But no, not always.
"Father took me racing when I was very young," Herbert said. "And of course, racing was spoken of at breakfast, tea, and dinner. The Queen's horses were always the main topic. I was also taken at an early age to meet Dick Hern [training great who prepared Brigadier Gerard among others] at West Ilsley and hear him talk about them. But the truth was that in those days, I wasn't completely riveted. I was more interested in other outdoor sports - particularly fishing and cycling. And I was the only one in the family who didn't ride, which made a difference. I suppose I didn't want to be the daddy's boy who just followed meekly in his footsteps. Then in my late teens, I started taking a real interest and following racing properly. You might say the dormant gene kicked in."
He didn't go straight into the sport though. Instead, his ambition was to become an actor. It was a profession for which he's shown extreme aptitude both then and now. He's recognised as one of the best after-dinner speakers in racing. Every year, he hosts the Cartier Racing Awards with elegant aplomb. It's one of life's mysteries that he didn't make it into the Royal Academy of Dramatic Art, but maybe the selectors were influenced by the thought that most thespians don't like being towered over: it's bad for the neck as well as the ego.
Their loss was racing's gain. He swallowed his disappointment – his father had been "rather horrified by the idea," in any case – by going to America instead.
"My mother's American, so I had dual nationality and I got a job with a computer company called Bloodstock Research," Herbert said. "I worked in Kentucky for a year, then got hired away by Barry Weisbord of Matchmaker [Breeders' Exchange]. It was an amazing break for me as he was a great ideas man who gave me the confidence to put my own ideas into action.
"In 1986, I came back to Britain to set up business over here but also to work with [bloodstock agent] David Minton," he continued. "I knew exactly what I wanted to do, which was to launch syndicates. But for a while, I couldn't get funding. Then [publisher of Pacemaker magazine] Nick Robinson had a word with [Irish entrepreneur and horse owner] Michael Smurfit, and Kennet Valley Thoroughbreds was launched. We had a fair bit of success including second and third in the first running of the Cartier Million. Then recession came in 1991-2, Nick decided he didn't want to be involved in any more syndicates, and so I moved on to develop Highclere Thoroughbreds. We had a huge break almost straight away when we bought Lake Coniston for 22,000 guineas. He won the July Cup by four lengths, became European champion sprinter, and we sold him to Coolmore for £2.4 million."
Consistent success has followed that spectacular debut. By the time Motivator won the 2005 Epsom Derby for the Royal Ascot Racing Club, which Herbert put together and managed and included showbiz titan Simon Cowell among other notables, Herbert's reputation for luck, or judgment, was pretty firmly established.
Highclere's pale blue silks with the black cap had become some of the most familiar on British racecourses, and its horses – always with their one word names – well known, even before Harbinger won the sensational 2010 G1 King George VI and Queen Elizabeth Stakes by 11 lengths from a field that had Group 1 winners around the world including Cape Blanco and Prix de l'Arc de Triomphe winner Workforce.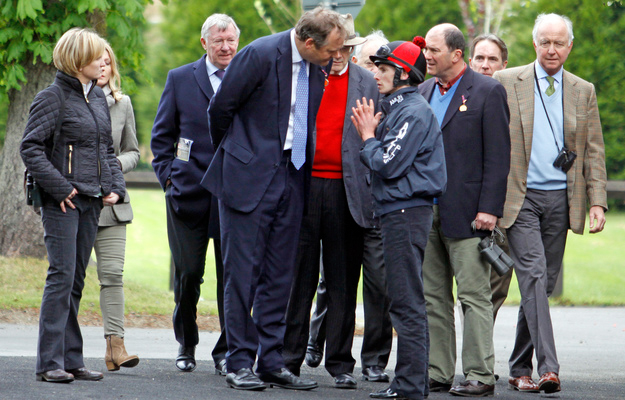 The structure of the numerous syndicates is very similar.
"We aim for about 20 shares in two horses that will be sent to a couple of different trainers," Herbert explained. "Some shareholders will have a preference for the Stoute/Hannon combination; others for the Haggas/Varian or perhaps another combination. We enable them to choose partnerships that include their friends and we hope they will make new friends through the partnerships too. We deal with the management details and take as many of the difficulties out of ownership as we can. Our emphasis is on communication, and our aim is to make every member of every syndicate feel like a sole owner of each horse while taking as much of the stress as possible out of racehorse ownership; to provide bulletins and stable tours that enable them to grow affection for the horses they own – and to give each member the possibility of owning a champion. That's our mission statement."
If there was once a widely held belief that Herbert must owe much of his success to his privileged background, there is now a general acceptance that his shrewdness, organisational ability, and perhaps above all, his extrovert charm has had a lot to do with it too. After all, racing history is littered with stories of well-connected young men who started off brightly then disappeared into the economic swamps. Here is a stayer.
It should have been no surprise then that when Sheikh Joaan decided to begin setting up a racing empire that he looked for a man of Herbert's stature to work with. In spite of the rumours that the money behind the enterprise is beyond the comprehension of most ordinary citizens, Herbert's appointment as racing adviser to the Sheikh's Al Shaqab organisation was only surprising because the man who'd been hunted accepted the job. Surely he must have been given reason to hesitate by the thought of possible incompatibility with the interests of Highclere Thoroughbreds.
"I did have to think long and hard before accepting" he said. "But I'm 55 now, and it was just too exciting an opportunity to miss. As long as I could keep Highclere Thoroughbreds, I knew I would have to accept. Sheikh Joaan made it clear this was not a problem, and I realised there was no reason why there should be any conflict of interest except perhaps on the racecourse. We've got a very good team at Highclere led by Alex Smith and Alison Begley, so I saw no reason why it should suffer at all. So with three of the Sheikh's men we've been plotting and planning the structure of Al Shaqab almost from scratch, including new silks and new branding, to build an organisation that will be able to compete in line with his ambitions not only in Britain and Europe, but worldwide.
"Sheikh Joaan is determined that Al Shaqab should be a global name in racing alongside Qatar's developing influence in other sports, and the ideal is to see it become as quickly as possible a global player in the sport. Of course, we had a terrific start when Treve won the Arc and became the joint highest-rated horse in the world last year. We're now trying to grow from there."
Comparisons with Godolphin are inevitable, and Herbert does nothing to discourage the idea that Dubai's model is something of an inspiration for Al Shaqab.
"It's not dissimilar to Godolphin and as with that model, we feel racing fits very well into Qatar's intention to become a centre for many major sports," Herbert said. "We intend to grow a breeding operation too with stud farms here in Britain, in Ireland, and in Australia."
It's no secret that Qatar as a country has even greater wealth than Dubai, so it hardly requires clairvoyance to imagine intense rivalry that may come between the two down the line, particularly as Qatar intends to develop the mixed Thoroughbred/Arabian meeting it held for the first time this year into what could be seen as a competitor to the Dubai World Cup Carnival.
"Qatar is not looking to create another Meydan" said Herbert who will have a major advisory role in this project, "but Sheikh Joaan does intend to create an efficient world-class racecourse and eventually host Qatar's own major international meeting. I'll be playing a part in the discussions, and for me, it's immensely important to see Qatar achieve its aim of staging its own international festival."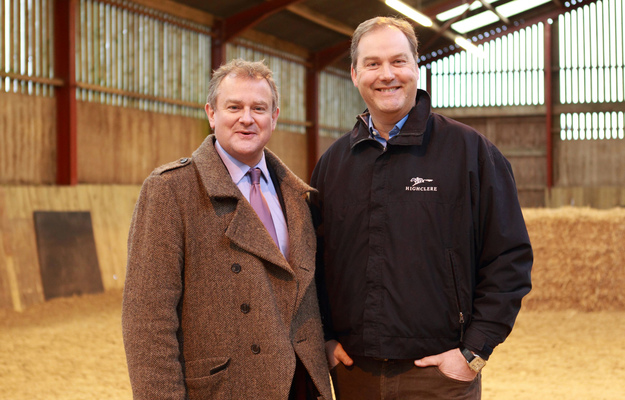 Herbert's various responsibilities, including remaining a board member of the Royal Ascot Racing Club – whose gelding Graphic recently won the G3 Prix Messidor - must stretch him nearly to the limit. Does he find much time to sleep?
"When you're given an opportunity like this you make your own time," he laughed. "And part of my job is to make sure we've got key people on board at all levels to share the work evenly. I'm very conscious of the privilege of being given such an opportunity – but that doesn't mean I'm taking my eye off the Highclere ball."
Just to prove it he asks if we'd mind including the email address for those wanting to join new syndicates.
But does the Sheikh see any potential conflict between Highclere's interests and Al Shaqab's? "Not at all," Herbert answered. "In fact, he shares the pleasure in Highclere's successes. You should have seen what it was like in the Al Shaqab box when Telescope won the [G2] Hardwicke at Royal Ascot last month. High fives all round and lots of jubilation!"
Does he ever regret abandoning the acting ambitions he had in his youth?
"No" he said. "I find public speaking fills that particular wrinkle. I do enjoy it. I've twice been invited to address the Carbine Club in Melbourne before the Melbourne Cup, and if you find yourself in front of 1,200 well-oiled Australians, if that doesn't get the acting juices flowing, nothing will."
But, he does watch "Downton Abbey."
"Yes of course. I do watch it. And Hugh Bonneville [who plays Robert Crawley, Earl of Grantham in the series] is a share owner in a Highclere syndicate. Other members include [celebrity chef] Heston Blumenthal, [British Olympic heptathlon gold medallist] Denise Lewis, [actress] Elizabeth Hurley, and [former Manchester United manager] Sir Alex Ferguson."
Then, Herbert's phone rings yet again. He looks at the screen.
"It's Sheikh Joaan" he said, raising his eyebrows in a "I-know-you'll-understand" apology.
As I moved away to give him privacy, I heard racing's big man begin to speak, in exactly the same friendly, considerate tone he uses for the lowliest and the grandest, to the man he now addresses as "Sir."