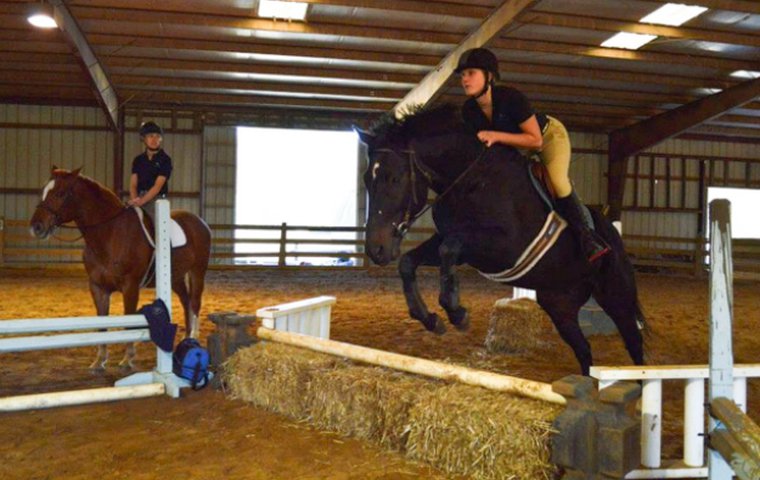 This One's For Nina and Nacho Earl were among five horses who left Suffolk Downs in early October on a van headed to the Blue Skies Riding Academy in Emerson, Georgia. Fortunately, they got their happy ending after the end of live Thoroughbred racing in New England.

"We took two mares, one stallion [This One's for Nina] whom we gelded, and two geldings [including Nacho Earl] and we are very pleased with all of them," said A.J. Martin, the non-profit organization's barn manager, who made the trip to East Boston to select them with Blue Skies Executive Director Beverly Bochetto. "They are doing wonderfully and are acclimating extremely well. Three are going under saddle soon and the other two need more time off, which they will get for as long as need be. We love them all dearly, and they will never leave us. They will be loved and well cared for right up until their last days."
Owner/trainer Matthew Clarke had This One's For Nina and Nacho Earl in his barn when the Massachusetts Gaming Commission bypassed Mohegan Sun, Suffolk's gaming partner, for the sole Boston area casino license in Mid-September. Without expanded gambling and in the face of future casino competition, track ownership was forced to curtail live racing and shut down the business by year's end.
"Those two horses were sound, but I felt it was in their best interest to retire them as I didn't see a future in racing for either of them," said Clarke, who moved on to the recently concluded Finger Lakes meet after Suffolk's backside closed and will stable at Aqueduct this winter. "It makes me very happy that they are doing so well in their new home. I've seen pictures and they both look great and look happy."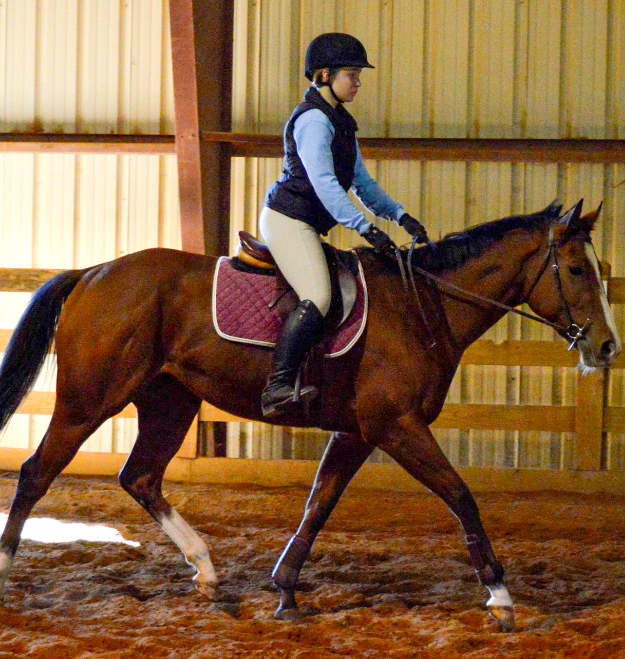 When Suffolk Downs reached the finish line, there was no other track in New England, which once boasted 17 live Thoroughbred racing options, left standing. Although the future was dire for the horsemen, their unwanted charges fared extremely well.
In fact, the almost 100 horses who could not travel to another racetrack for any of a variety of reasons were all purchased, placed, adopted, or fostered.
"Our horsemen get knocked a lot, but they take care of their horses, often even before they take care of themselves. This year it all worked out fine," said Suffolk's Vice President of Racing Sam Elliott, who lost his job along with almost all of Suffolk's employees. "Every horse left [the grounds] and every horse who needs a home got one. I was extremely pleased."
What could have been an unwanted horse crisis turned out far better than feared and was even an improvement over past years when horses were found abandoned on the backside at the meet's end.
"We got really lucky because everybody took the situation seriously and worked hard," Elliott said. "CANTER [the New England chapter of the rehoming non-profit] did a really, really great job. There were fewer issues than in any other year. There was not one horse left behind and there is something to be said for that."
The story of Junior Junior, the pony ridden by outrider David Loiselle, illustrates how there can be a wonderful outcome when people have their hearts in the right place and band together.
"The horse I had the biggest panic about was David's pony [Junior Junior]," Elliott said. "He went down about three weeks before the end of the meet when he clipped heels with a loose horse he was catching. He was bruised from his shoulder to his rear. [Dr. Risé Sheehan] X-rayed him the following day and he had a fractured pastern all the way down into the joint. Initially Risé thought the pastern would ultimately result in him being put down, but surprisingly it got better. I give a lot of credit to Risé because she went over every day and took care of him, and I believe it was all done pro bono.
"We were pretty sure the pony was a Thoroughbred although we couldn't read his tattoo," Elliott said. "He was a great pony for a long time, so I told David I'd get him taken care of. I wasn't sure how or where, but I was determined to get it done."
He called Thoroughbred Retirement Foundation (TRF) Vice President Diana Pikulski. The Plymouth County (MA) Sheriff's Correctional Farm is one of the TRF's facilities but it was already filled to capacity with off-track Thoroughbreds (OTTBs) from Suffolk.
"I said to Diana, 'I really, really need this one," Elliott said. "In November, we took him down to Plymouth. That shows what we can do."
The lion's share of the massive re-homing effort was managed and coordinated by CANTER New England, which held a showcase and an open house at the track in the fall lead by Ellen O'Brien, the organization's founder and former executive director, and Kim Rigolini, the current executive director.
"CANTER did a great job and went way above and beyond," Clarke said. "Those two girls and their volunteers worked tirelessly and need to be highly commended."
O'Brien said that within the last two months the organization has re-homed all of the Suffolk horses and there were only two last-minute emergencies although both horses have found homes. She added that the immediacy of the situation motivated individuals who had been toying with the idea of acquiring an OTTB to get off the fence and make the commitment.
Retirement agencies -- many of them accredited by the Thoroughbred Aftercare Alliance -- the show horse community, and interested parties from as far away as Texas responded. CANTER New England's Facebook page, which still lists some horses needing a permanent home, has seen a 40 percent increase in the number of "likes," which currently number almost 4,000.
Although every horses in need was taken care of, there is fair warning that the situation could prove dire once again in the coming year if the New England affiliate of the Horsemen's Benevolent and Protective Association is unsuccessful in its attempt to lease Suffolk Downs and restore live racing.
In that event, the 62 breeding farms in Massachusetts will likely all go out of business and the owners will be forced to sell off not only their open green space but their stallions, broodmares, and young horses.
"People are asking us, 'What now for CANTER?' O'Brien said. "We still have a lot of horses we placed who we need to follow up on, we still have adopted horses we're looking to place permanently, and it's highly likely that next year there will be horses available through dispersal so we're not going anywhere. If there is no live racing next year, there are still lots of horses who are tied to the Thoroughbred industry who are going to need help."