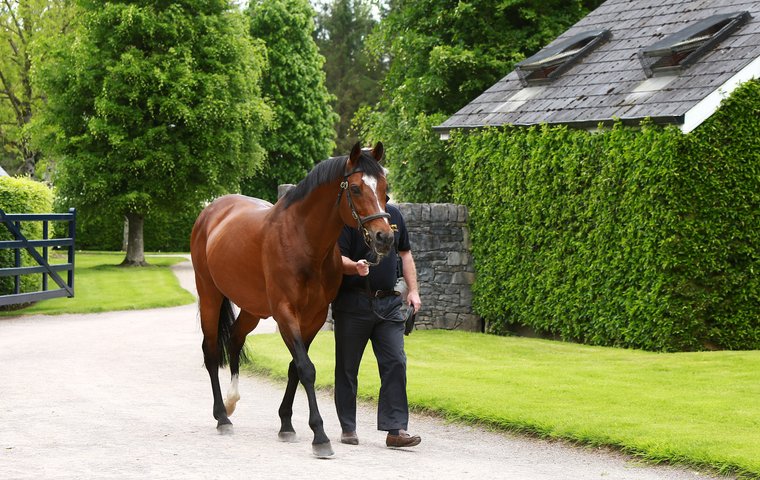 He's the colossus that towers over the rest of the world, the clear number one sire in the TRC Global Rankings. His progeny have won more prize money - way more - than that of any sire anywhere (including Japan) in 2016, and, in winning the champion sire title in Britain and Ireland for the seventh year running, his total was more than the next three stallions combined. So what's he like? And what's it like to be with him every day? Sally Ann Grassick went to Coolmore Stud in Ireland to talk to someone who really knows.

Coming from the family that he does, it would have been a huge disappointment if Galileo hadn't been a star on the track - or at stud. But no one could have imagined the sheer scale on which he would achieve, becoming a global phenomenon who will have an overwhelming influence on the sport for generations, just like his sire, Sadler's Wells, before him.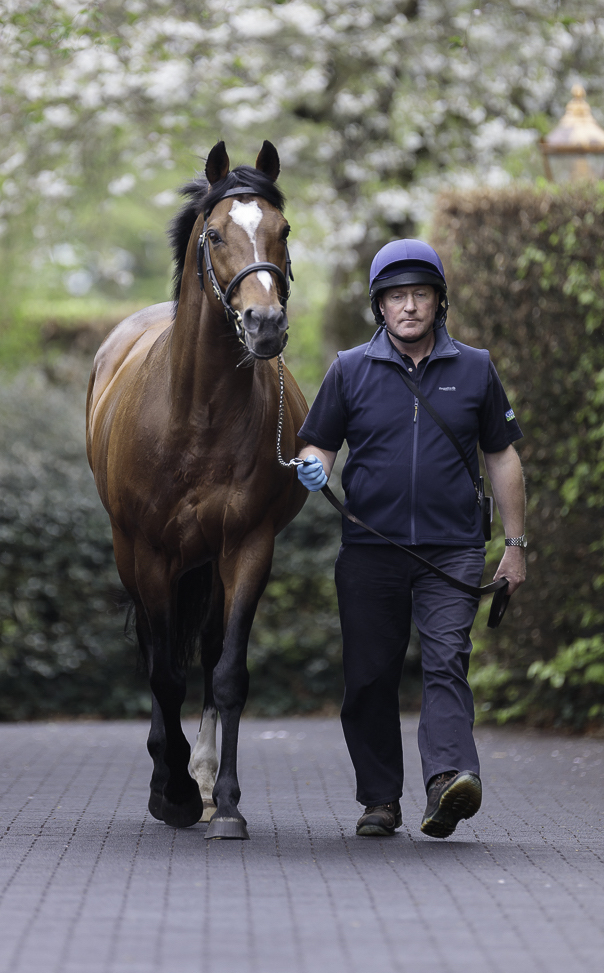 We all know Galileo the racehorse; the son of the superstar mare Urban Sea who took our breath away when landing the Epsom Derby, Irish Derby and King George treble for trainer Aidan O'Brien, which resulted in him being crowned champion 3-year-old in Europe in 2001.
And, of course, we all know Galileo the stallion; champion sire in 2008 and then every year from 2010 to the present (that's eight times in all), with 62 G1 winners from 12 crops. He looks set to beat his own father's worldwide record of 80 from 24 crops, and is responsible for giving us a galaxy of champions, headed by the likes of Frankel, Australia and New Approach.
Galileo cemented his position as the best sire on the planet when his daughter, Found, and sons Highland Reel and Order Of St George filled the first three places in this year's Prix de l'Arc de Triomphe at Chantilly.
Meanwhile his progeny dominated the Cartier Awards, Europe's equivalent to America's Eclipse Awards, capturing five of the eight prizes. The brilliant Minding was named Cartier Horse Of The Year and also took the 3-year-filly award, Found was top older horse, Order Of St George was honoured in the stayer category, and Churchill landed the 2-year-old colt award.
Galileo has thousands of fans spread across the globe, and many of us have been lucky enough to admire this superstar in the flesh at Coolmore Stud in Ireland, but the privilege of truly knowing a champion like this is reserved for a few lucky ones who deal with them on a daily basis.
Noel Stapleton (pictured above with Galileo) has spent 26 of his 30 years at Coolmore looking after their top-class stallions. Here he talks about the real Galileo, the horse behind the success.
What he's like with visitors?
Stapleton: "Galileo is the one horse everyone wants to see; from the tourist to the bloodstock agent, breeder, trainer and even the odd celebrity!
"There are around five of us who handle him and most of us have been here as long as he has. I also handled his sire, Sadler's Wells, for the majority of his stud career, and it is amazing to see the similarities between them.
"They are the two horses you could always be confident about bringing a visitor in to stand beside for a photo. Their temperament was always constant, with both of them consummate professionals and a pleasure to handle.
"The only difference is that, when Galileo, spots a camera he is not as big a poser as 'Sadlers' was!"
A typical day
Stapleton: "Galileo likes his routine; he is a real creature of habit. He has been the same horse since the day he arrived here. If anything, he is becoming even more relaxed with age, and they said he was the same in Ballydoyle since he was a yearling.
"Nowadays he normally covers two a day but never more than three. We exercise him twice a day; lunging for 15 minutes in the morning, followed by 45 minutes of walking in hand, and in the afternoon we walk him for 30 minutes and hand-graze afterwards."
"I have been lucky enough to have been at Coolmore for so many good stallions such as 'Sadlers', Danehill and Caerleon, and it goes over your head sometimes, but it really is amazing to have a horse as good as Galileo.
"He is a true gentleman, and I think he knows how important he is."
Family resemblances
Stapleton: "We have four of his sons standing here now [Australia, Ruler Of The World, Gleneagles and The Gurkha] and it is so interesting to get to know yet another generation.
"Some of them have traits of Galileo and some have characteristics of 'Sadlers' but their excellent temperament is the one thing they all have in common. Hopefully one of them will take their sire and grandsire's place one day, but they will have very big shoes to fill!"