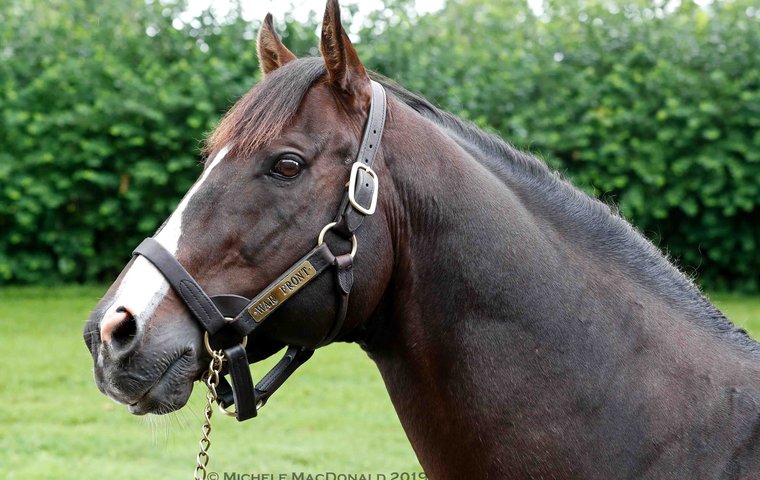 Looking out over a lush green field shaded by trees at Claiborne Farm and seeing a bay stallion with the stout body of a bull and a distinctive off-center blaze as he quickly turns his head at the sound of another horse neighing is almost like traveling back in one of H. G. Wells's mythical time machines.

It could easily be almost four decades ago, when a young Danzig was just beginning to make his mark and change the world through his supersire son, Danehill, European champions Dayjur and Anabaa and North American stars such as Belmont Stakes winner Danzig Connection and Canadian Triple Crown winner Dance Smartly.
But this is today, and the horse who is gazing curiously across his paddock is Danzig's son War Front, a lookalike of his sire and very much in the mold of grandsire Northern Dancer, who stormed through the Kentucky Derby and Preakness Stakes on dirt before transforming European racing with his champion turf descendants.
At age 17, War Front has just reached a nirvana stage in the bloodstock realm. He possesses a calm and even gentle demeanor as he basks in the afterglow of a life in which he has had to work less under Claiborne's rather old-fashioned yet highly successful management while achieving more than his peers.
Through a parade of champion European offspring in recent years, and now, in Preakness winner War Of Will, an American classic winner, War Front has established himself as the rarest kind of sire — one whose offspring can perform almost anywhere, in any conditions, at lofty levels.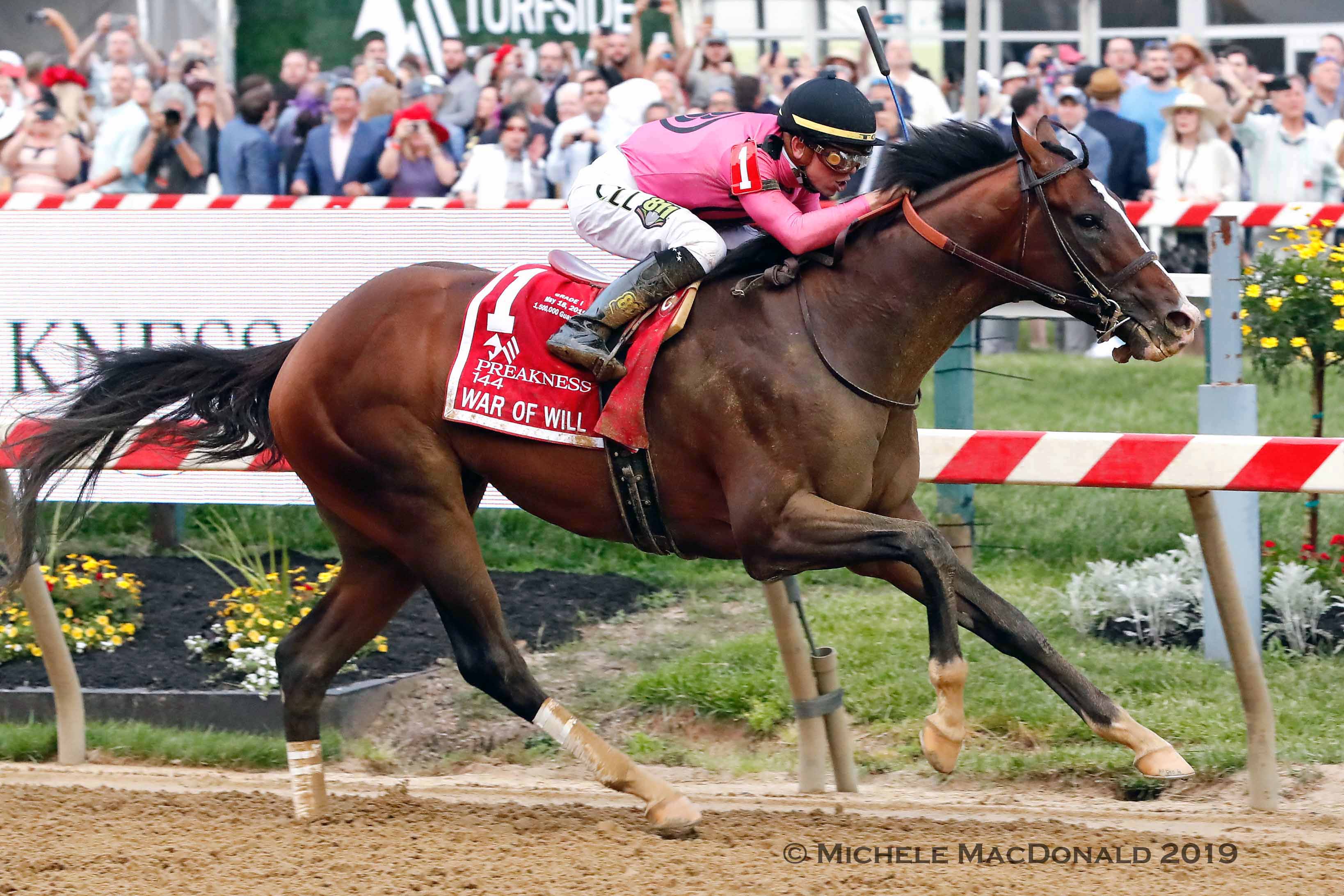 He commands the highest advertised fee in North America at $250,000 and he ruled sale rings on the continent last year with the highest average yearling price of $783,000 for 20 sold and as the most in-demand covering sire. Five of the top seven mares sold at the Keeneland November breeding stock sale were in foal to War Front and his overall average as a covering sire was almost $2.2 million.
Bernie Sams, Claiborne's bloodstock and stallion seasons manager, who has overseen War Front's career, said the stallion has stomped out all early biases against him with his achievements. He eclipsed expectations with his modest beginning fee of $12,500 and quelled criticism that "he looks like a pony" at around 15.3 to 16 hands tall, and he has gone on to dispel notions that he could only sire precocious juveniles or grass runners.
"He's done more, as each year goes by, than people expect him to do," Sams reflected.
War Front's ability to sire any kind of runner "is probably a bigger deal than people realize around here", Sams continued, asserting that "people have forgotten" about the sires of the 1980s and 90s, like Danzig and Blushing Groom, who were able to get top-quality offspring on dirt and turf.
In all the world, War Front may have no equal in his versatility as a sire.
Godolphin's Dubawi, a grandson of Claiborne's Seeking The Gold, may be his nearest rival as he has sired dirt performers such as Dubai World Cup winner Prince Bishop and G1 winner Mubtaahij in addition to turf stars such as French Derby winner New Bay and 2000 Guineas victor Night Of Thunder.
War Front — with ten crops of racing age that have, by Claiborne's design, averaged only about 75 members — has 84 black-type winners, or 11 percent of his 749 foals of racing age (including current juveniles, most of whom have not started). He has sired eight champions, including European stars Declaration Of War, Air Force Blue, U S Navy Flag and Brave Anna, and 12 millionaires, and War Of Will's Preakness triumph gave him his 21st G1 winner.
His offspring also include G1 winner Omaha Beach, who was the early favorite for the Kentucky Derby before being withdrawn with a throat issue that subsequently was corrected through surgery, speedy G1 winner and sire The Factor and Australian G1 winner Homesman.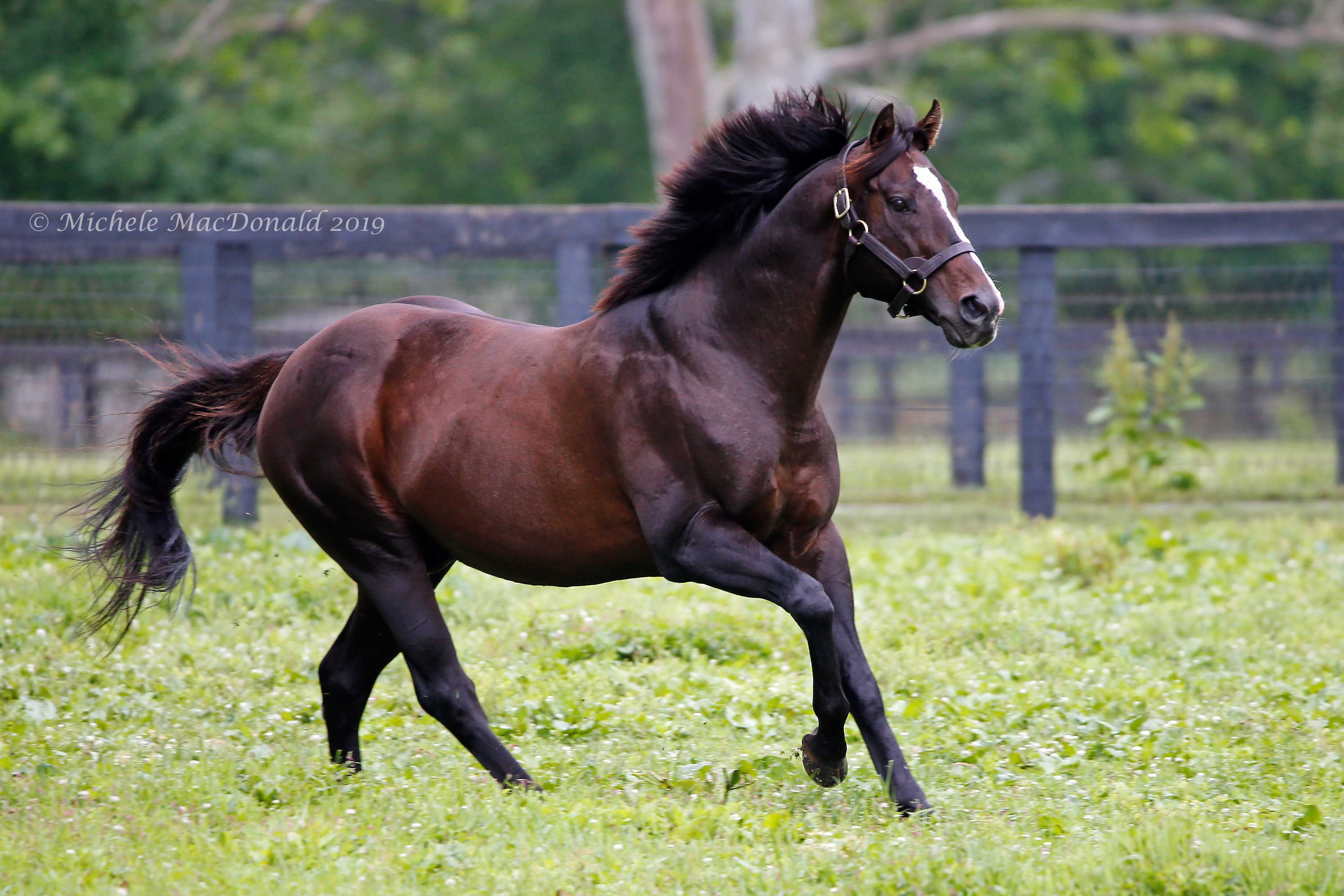 Beyond all those facts and statistics, War Front also is a superstar in another category, serving as an ideal ambassador for Claiborne with farm visitors. In this sense, he is entirely different from Danzig, who was known to charge his paddock fence in an effort to deter people from getting too close to his territory.
"He's out with just about every tour that we have on the farm," said Claiborne stallion groom Kyle Johnson. "He's as easy as they come as far as his overall demeanor. He's so used to being around people now that he doesn't really have a bad day as far as his attitude goes."
War Front gently checks the hands of people who come to see him, searching for his favorite treat of peppermints, yet refrains from nipping. He is not shown with the lip chains that have become pervasive at other establishments and he can be found all over social media in fan selfie photographs, with people standing close to him and touching him.
"He is a very smart, intelligent horse," Johnson related. "He's kind of the reason a lot people come out to see the stallions. He has the big allure of being the top stallion in the country right now, and people want to see a superstar. It's like going to see Babe Ruth back in his heyday."
So much has changed since War Front arrived at Claiborne as a 4-year-old in 2006. Bred and raced by Joseph Allen, he was a speedy horse who had won the G2 Alfred G. Vanderbilt Breeders' Cup Handicap at Saratoga and finished second in a pair of G1 speed tests on dirt, but he was unplaced in the Breeders' Cup Sprint.
While his conformation was superior to that of Danzig, who was known for offset knees that compromised him physically and limited his career to three starts, War Front had the disadvantage of entering stud in the year before the global economic crash.
Allen, who also bred Dynaformer, stayed in for half of War Front, and Claiborne went about selling other shares.
As Sams recalls, the farm's priority was to find breeders with strong broodmare bands who could be relied upon to support War Front and raise his offspring in a way that would allow them to become hardy athletes.
"When we syndicated the horse, we sold the shares to people who had mares that would fit roughly a $100,000 stallion that's going to stand for $12,500. A bunch of those people bought shares, they bred to him and they were successful. It wasn't any magic necessarily," Sams said.
"With him or any of them, you pick a lot of different [types of mares], whether it's dirt, turf, long or short, unraced with big families, some that could race with not much family — you mix it up. As I've said to a number of people, if a guy calls and he likes the mare and I like the mare, I'm not going to question what he wants to do. I think it's as much about where [the foals] are raised and who takes care of them as it is about the mares starting out."
War Front and his mates did all the rest. In his first crop of 75 named foals born in 2008, 11 became black-type winners, including The Factor, G1 turf winner Data Link, Soldat, a graded winner on dirt and turf, and G1-winning turf filly Summer Soiree.
The win that put him 'on the map'
In the next crop came Declaration Of War, bred by Allen and raced by him in partnership with Coolmore. After winning a pair of British G1s, including the Queen Anne Stakes at Royal Ascot, Declaration Of War flashed an indication of what War Front was all about as a sire when he finished a nose and a head out of first in the Breeders' Cup Classic, on dirt, won by Mucho Macho Man over Will Take Charge.
Yet it was the Royal Ascot victory by Declaration Of War, which occurred on the same day — June 18, 2013 — as the win by War Front's juvenile son War Command in the Coventry Stakes at the Royal meeting that seemed to truly launch the stallion in the minds of breeders worldwide.
"That put him on the map," Sams said. "My phone blew up with emails and texts. I was watching and we were cheering for him and it was great, but until it happened, you didn't realize how many people were watching those Ascot races. I think that was as important as anything for him. That was what moved him to the next level — that day at Ascot."
Also bred by Allen and raced in partnership by him with Coolmore, War Command went on to victory in the G1 Dewhurst Stakes.
That kind of success encouraged Coolmore to become more involved, and today the Ireland-based superpower owns a substantial interest in War Front, while Allen said he still retains about 30 percent of the horse and Claiborne also holds a major stake.
'Lightning in a bottle'
"If there are 40 shares, there are probably 18 shareholders. It's pretty tight and it's always been pretty tight," Sams said of War Front's ownership. "There are a couple of other people who have two shares. But all the rest are singles. When the horse started doing well, as people wanted to come out [and sell shares], most of them were people I knew or friends of mine, so they let me place them where I wanted to, so we were fortunate in that we could go to guys who were good breeders and say this horse is doing well, how about a share? They sold anywhere from $300,000 to a couple of million dollars. It worked out extremely well."
Trying to find a season to War Front in the current market is extremely difficult. While a few may trade each year, Claiborne handles any other arrangements, and Sams's well known judiciousness in approving — or turning down — mates for farm stallions has to be a major factor in War Front's success.
However, he deflects credit to the horse himself, saying: "I think he's probably just that good a stallion that it doesn't really matter what the broodmare sire line is, whether its Seattle Slew, Mr Prospector, Northern Dancer, whatever."
Sams also paid tribute to Allen, who he said "has let us do anything we wanted" with War Front. For his part, Allen has praised Claiborne for helping him "catch lightning in a bottle" with the stallion both he and staff at the farm fondly refer to as "the franchise".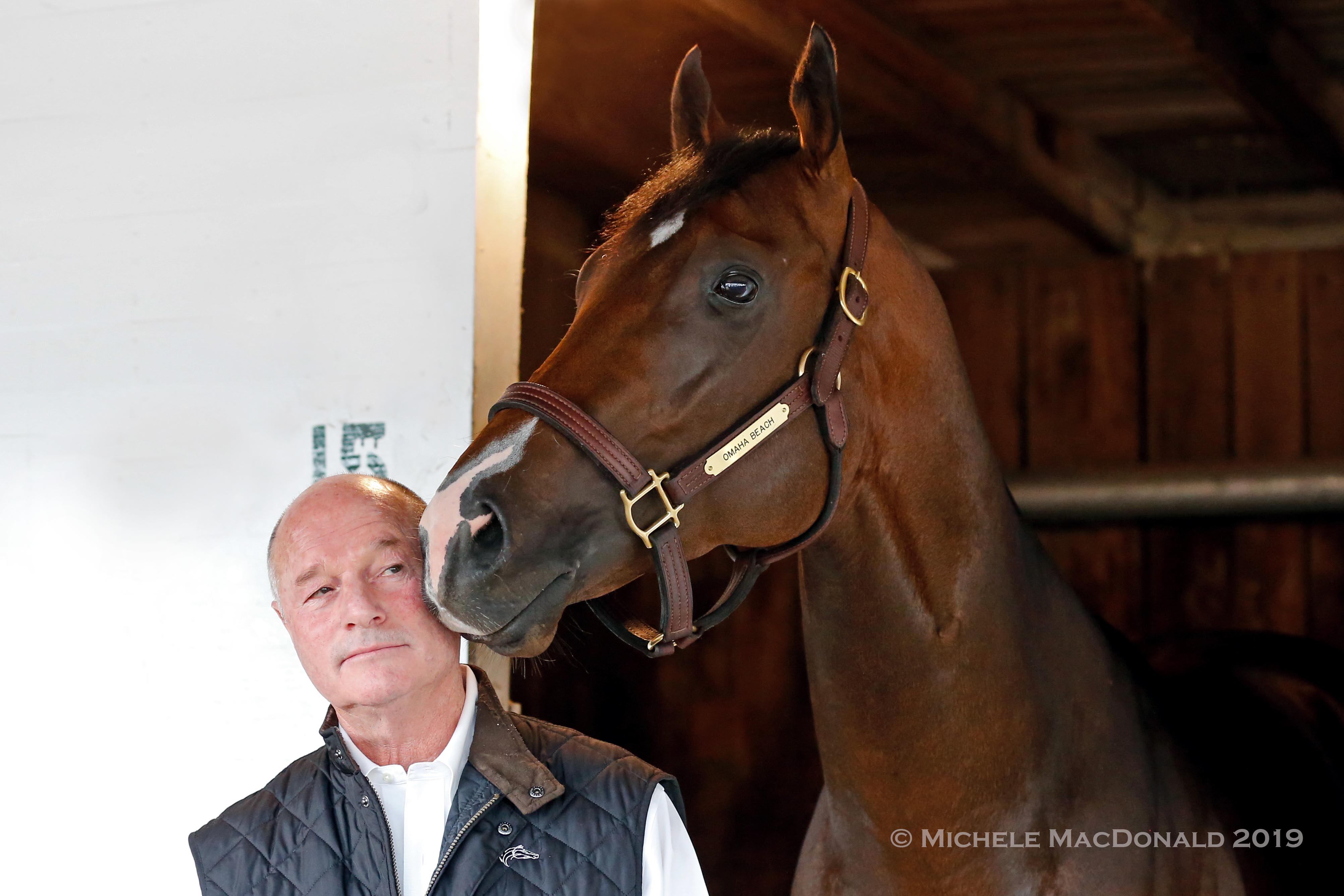 Following the Royal Ascot victories, Coolmore's significant investment in War Front led to more European-type mares by Galileo and Sadler's Wells being bred to the stallion, and the doubling up in Northern Dancer blood has worked spectacularly.
Among the resulting offspring have been the G1 winning brother/sister pair U S Navy Flag and Roly Poly, both produced by Galileo's daughter Misty For Me, winner of the 2011 Irish 1000 Guineas. Other examples are Brave Anna and Breeders' Cup Juvenile Turf winner Hit It A Bomb.
Amid all the typically precocious War Fronts developed for Coolmore and partners by Aidan O'Brien, American breeders sort of forgot that War Front also could get top dirt runners, Sams said. Thus, the Preakness triumph by War Of Will and Omaha Beach's impressive Arkansas Derby and Rebel Stakes wins this spring proved vivid reminders of the depth that War Front offers as a sire.
Interestingly enough, both colts were bred by European-based breeders who also participate in American markets, with a Coolmore partnership breeding Omaha Beach, who was acquired and is raced by Rick Porter's Fox Hill Farms, and the Niarchos family breeding War Of Will, who was purchased by trainer Mark Casse's brother, Justin Casse, at the Arqana breeze-up sale for owner Gary Barber.
Sams said that, while his telephone has not rung off the hook since the colts' rise to stardom — mostly due to the fact there are never many seasons available for War Front — he does believe there will be a further impact.
High fertility
"I think it will help the yearlings," he said. "Instead of people walking around the [Keeneland] September sale and not having War Fronts on the list because he's 'just a turf sire', they'll look at [his yearlings] this year and have to think about him in a little different light, especially the colts."
The sale of breeding rights in Omaha Beach to Spendthrift Farm for what Sams said he has heard was "a pretty big number", and the potential for the same kind of deal for War Of Will is highly motivational for yearling buyers seeking the same kind of home-run success.
"If you can go around the sale and find colts like that, with that kind of pedigree and by War Front, that could do both [dirt and turf], you don't have that kind of possibility very often," Sams said.
In managing War Front over the years, Claiborne typically limited him to about 105 mares a season and he has retained a high fertility and good health.
Even though there were "a number of people who wanted us to shuttle him", particularly in light of Danehill's domination in Australia, Sams declared "that's never been an option". Claiborne also declined to stand War Front to limited mares on Southern Hemisphere time as it was decided the $1 million or so in potential income was not worth the risk.
Unsurpassed quality of his mares
Visitors to Claiborne learn through tours that War Front is insured for about $80 million, and Sams said he hopes the horse enjoys about five or six more fruitful seasons in the breeding shed. War Front, who in his very first season showed that he was far more effective in getting mares in foal when bred only twice a day rather than more often, effectively dictated the size of his book of mares annually.
While War Front's 2019 crop of juveniles numbers a career-high 98 individuals, according to Jockey Club records, the stallion was cut back to 82 mares during the 2018 breeding season and will conclude the 2019 season with about the same number.
A main reason for the slight reduction from earlier years, which syndicate members readily agreed to, was that shareholders' mares could easily be serviced in an even more timely manner, Sams said.
While the quantity in War Front's book is far from the top in Kentucky — by comparison, Into Mischief led all American stallions with 245 mares covered in 2018 — the quality of mares visiting him is unsurpassed.
War Front's past mates have included Horse of the Year Zenyatta and Prix de l'Arc de Triomphe winner Found, and this spring he greeted the likes of champion Lady Eli, who was making her second visit to him, champion Beholder, Breeders' Cup Juvenile Fillies Turf winner New Money Honey, and Visions Of Clarity, the dam of War Of Will.
Danzig 'would never have made it today'
In the 13 years since War Front arrived at Claiborne, the world has gone through a recession and breeding trends have continued to change radically compared to the days when Danzig roamed his own Claiborne paddock and Mr Prospector galloped over the ground nearby.
"War Front's father would never have made it in today's world," Sams said, a truth that stings when considering what would have been missed in the breed with Danzig.
"If you took War Front today, he wouldn't be easy to sell because he's small. Horses that stand for $15,000 and under, they're just hard to sell in general unless you're willing to do all sorts of deals and gimmicks," Sams said.
"War Front had a number of early winners and stakes winners as 2-year-olds. If he had not had them, he would have been toast," Sams added. "People don't give stallions much time anymore ... and big books of mares have killed a bunch of horses that would have had a shot. Some of these horses come in and bred 200 mares and another nice horse that stands down the road gets 75 mares. It doesn't make any sense."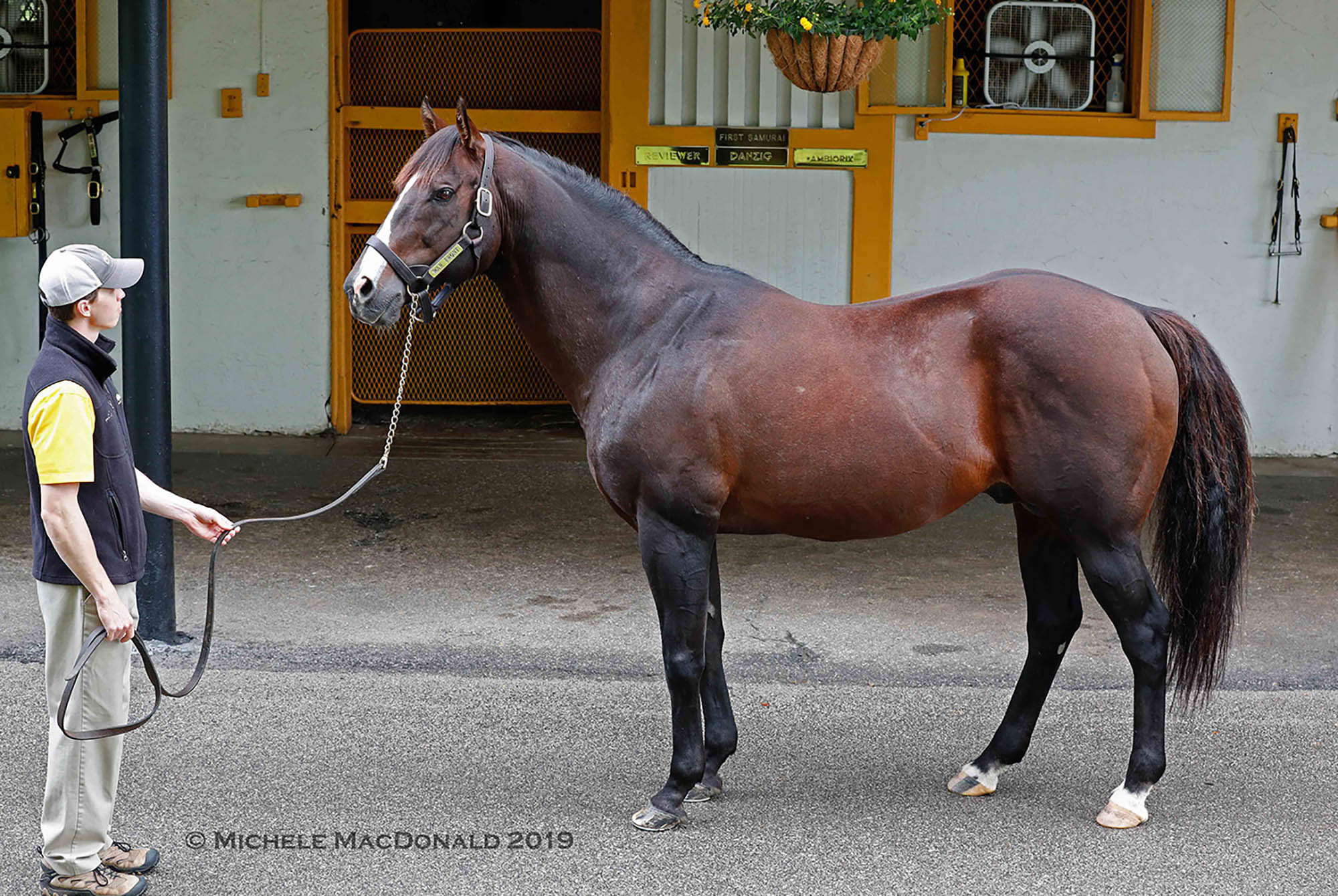 While War Front may be a huge exception to contemporary rules, he is a most genuine heir of the greatest legacy the modern breeding world has known, adding another dimension to the saga of Northern Dancer. Not only does he share the hallmark asymmetrical stripe that curves over the left nostril in an eerily similar pattern to both Northern Dancer and Danzig, he also shares their prepotency.
In this year of War Front's most significant dirt successes with War Of Will and Omaha Beach, Sams and Claiborne are looking to the future. While sons of War Front now stand all over the world, from Europe to Japan to South Africa and, of course, across America, Claiborne is seeking the next generation to carry on the brilliant breeding success story that began for the farm in 1981, when Danzig covered his first mares.
"We need a good son of War Front, that's what we need. Hopefully we've got one in the racing stable," Sams said, noting that otherwise "it gets very expensive".
Johnson, who was drawn to work at Claiborne partly due to his interest in War Front and his success, indicated that it will be difficult to duplicate all the sire's qualities, including his kindly nature.
"If there is a more perfect horse out there or a horse that is closer to perfection than this guy, I'd love to meet him some day, but I doubt I'll get that chance. He's really the complete package, all that you could ever hope for," Johnson said.