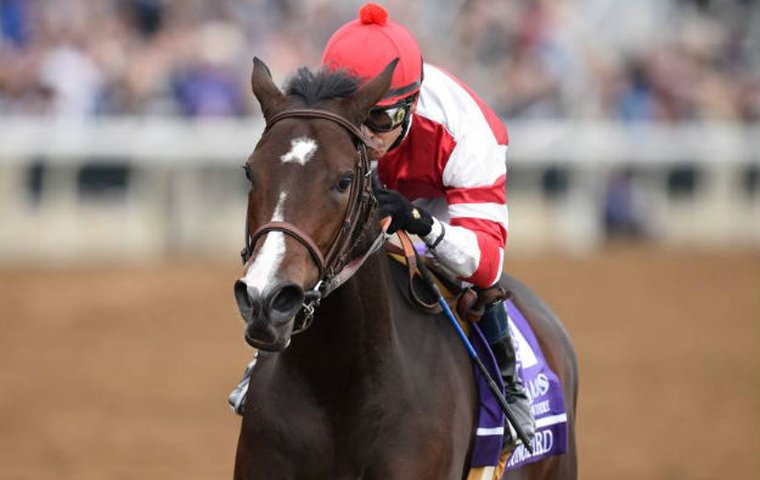 The Hollendorfer masterclass: making sure Songbird continues to thrive
"I work pretty hard, but I don't work as hard as Jerry" – Russell Baze, the world's winning most jockey. "He's a workaholic – that's it. Nobody else could do what he does" – Art Sherman, trainer of Horse of the Year California Chrome. "His work ethic is the reason he's accomplished all he has" – Kathy Walsh, one of the nation's most successful female trainers.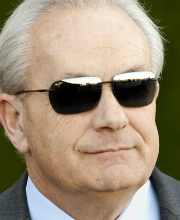 The workhorse in question is Hall of Fame trainer Jerry Hollendorfer (photo: santaanita.com). The quote-givers are all long-time fixtures of the California circuit, all having scaled their own individual summits in the sport. In an occupation with workdays that frequently begin and end beneath the stars — and one that rewards hard graft more than almost all else — their praise is high indeed.
But Hollendorfer, months away from becoming a septuagenarian, downplays the compliments. "What's that old saying: if you love your job, it's not work?" he said one early morning in March at Los Alamitos racecourse.
Beneath a French Impressionist's dream of a sunrise, Hollendorfer watched a couple of his horses go through their paces. Gone were the requisite sunglasses that give him the look of an extra in a Scorsese movie, and in their place eyes that have the restless quality of someone unaccustomed to beach life or siestas or anything that might resemble downtime for softer mortals.
"Coming out here, getting the job done, it's like a little recreation in itself."
And getting the job done is exactly what Hollendorfer does, with unerring precision – a talent that he has honed to a masterclass over the span of his 37-year career.
Another dimension
Hollendorfer collects training titles the way Derek Jeter steals bases (the figure currently stands at 86 separate titles between Golden Gate and Bay Meadows alone). At writing, he's notched a mere 7,070 career victories (a figure surpassed only by the conveyer-belt operations of Steve Asmussen and the late Dale Baird).
Among his peers at the head of the trainer's table in California, he saddled more starts last year than Bob Baffert and Doug O'Neill combined.
Still, in the last, say, 10 years or so, amid these runaway figures have appeared a rapidly growing number of big-race successes, with horses that have taken him ever nearer to the very center of racing's center stage.
With the emergence of Songbird — the handsome, polished-mahogany wunderfilly who melts as many hearts in the grandstand as she breaks on the track — this autumnal career surge in quality looks like it's grown another dimension.
"Lately, I've been getting a chance to run in the big races and the graded races," he said. "I really enjoy getting fillies with good pedigrees and developing them so that they're stake placed or graded winners."
Songbird, easy winner of the G1 Santa Anita Oaks earlier this month (and her sire being Medaglia d'Oro, her dam a G2 winner), epitomizes this approach. "She's a Breeders' Cup winner and a very nice filly. So far, she's been staying very sound and doing very well. Our long-range goal was the Kentucky Oaks."
And after that?
"I haven't thought about after."
BACK TO THE BEGINNING
The little town of Bath, Ohio — the sort of close-knit community where illicitly sold shrubbery can cause uproar among the locals — is where Hollendorfer grew up on a smallholding of a few acres of land. There, his "hard working parents"— his father for the Chrysler car company, his mother in a Baptist Church — instilled in him a work ethic built on rigid Baptist principles of honest labor and devotion to the task.
"You are how you're raised, and I was raised in an environment where you work hard. If you're in high school, you're expected to have a summer job, that kind of thing."
But, fresh out of Akron University with a marketing degree in business administration, Hollendorfer hit a crossroads. The will to work was there - the question was, at what?
"I wandered around for a year. I came out to California and got a job on the backside of the racetrack. Once there, I just really knew that that was for me."
The decision wasn't a hit back home, however.
"I grew up in the Bible Belt. My folks were both religious, and they were very distressed when I went into horse racing. The thing with the church is they don't agree with gambling. I wasn't working on becoming a big-time gambler, but that was the rub with the church."
'I think I created a monster'
Necessity eventually brought Hollendorfer to the barn of veteran California trainer Jerry Dutton, where he scaled the ranks from hot walker to assistant trainer.
"[Hollendorfer] came to see us because he needed a job," said Dutton once, in an interview. "He told me he didn't know much about horses but had the reputation of being a hard worker. Looking back upon it, I think I created a monster."
From Dutton, Hollendorfer went to work for trainer Jerry Fanning as his foreman for two years. Fanning remembers a "good kid – very likeable" who lived on-site at the barn. "He would put in a lot of hours – both of us worked hard. He was a good horseman, too."   
After returning to Dutton for a spell, Hollendorfer set out on his own in 1979.
"I was one of the fortunate ones to work for some really good people," said Hollendorfer. "They had a structure to the way they trained their horses, and how they ran their business. Jerry Dutton was not a teacher and Jerry Fanning was not a teacher, but if you observed them, then you learned that way."
Hollendorfer's first few years with a license were slim pickings (compared to current standards). To help pay the bills, he worked as an agent for a vanning company. His very first winner was taken down. "I wasn't off to a grand start, I can tell you that."
But, when success eventually came, it swooped in fast. So much so, when he challenged for his first trainer's title, baseball caps were circulated with the words, "Jerry Who?"
High-profile victories
King Glorious was Hollendorfer's first graded stake winner - in 1988. Brought for $7,500 at a sale at Bay Meadows, King Glorious went onto win eight races, two of them G1, including the 1989 Haskell Invitational Handicap. "He was the fastest horse I've ever trained. When the gates opened he was just so smooth. I have never seen another horse like that."
(Here's a neat piece of trivia: the King Glorious Stakes was the last stake race ever run at Hollywood Park, won by a then undistinguished Cal-bred by the name of California Chrome)
Variety Road had already won two G1s before owner-breeder Kjell Qvale moved him to Hollendorfer in 1988. The move was a rehabilitation mission, for Variety Road had been injured in a spill at Santa Anita. "He had some neurological damage we worked on and finally he got over it."
Under Hollendorfer's tutelage, Variety Road racked up a further four graded stake wins.
The high-profile victories continued to trickle in. In 1991, Lite Light won the Kentucky Oaks, marking the first of three Oaks victories for the stable (Pike Place Dancer followed up in 1996, then Blind Luck in 2010). But, around the middle of the noughties, this trickle had started to become a flood – a trend that coincided with his increased presence in Southern California.
"In the back of my mind, I was always thinking, 'you're not doing much in Southern California because you're not committed to doing this'. If you never commit to something you can never be successful." But this mantra extends beyond Southern California, permeating all corners of his life. For commitment, structure and a ceaseless march forward are cornerstones of his whole modus operandi. Just take a look at any regular week from the Hollendorfer diary:
Monday through Wednesday are spent at Golden Gate in Northern California, Thursday through Sunday are spent with his strings at Santa Anita and Los Alamitos – seven days comprising two flights, three separate barns, 3 a.m. starts and well over 100 horses.
Hard-earned lessons
After the last race on Sunday afternoon, he's on a plane back up north to repeat the cycle.
There's rhyme and reason why Hollendorfer puts in the long hours – pragmatism, for one. "We go over thoroughly every single horse every morning. And then we take all the workers out and jog them in the afternoon. We go over and over and over and over them every day, and we try to identify any small thing that might grow into something worse. The goal in our barn is to go over horses so thoroughly that we catch problems early. And, if we can prevent those, then the horse will last a long time."
But it goes much deeper than that, tapping into his formative years, into those hard-earned lessons that formed the bedrock of how he tackles whatever obstacles life throws his way - like his earlier problems with alcohol.
"I decided one day that partying and drinking wasn't promoting anything successful in my life, so I quit. That's when I started getting horses to train. And since I've quit I've been very successful. And I've never had the urge to go back and do those things again. I turned a page, definitely.
"What religion teaches people is to have a structure, and people who have structure in their life have a big advantage. Now, don't get me wrong, some people don't need to have a structure to be successful. But I think people who were brought up that way see in life a different way of living.
"You don't always do the right thing, believe me, but if you try to do the right thing you can always hold your head up high, even if it didn't work. But, if you're goofing off, or not paying attention to business, then you only have yourself to blame."
As for his folks, they eventually warmed to the idea of their son making a name for himself in the clandestine world of horse racing.
"When I won the Ohio Derby, I gave my father the trophy - he seemed to like that. He put it up on the mantle, anyway."
THE HOLLENDORFER METHOD
One day last year at Del Mar, Dan Ward, Hollendorfer's assistant at Santa Anita, passed by Songbird's stall, peeked in, and found her upside-down against the back wall. "She was 100 percent cast," he said. "But, instead of thrashing around in panic, as most other horses would have done, Songbird was more measured. "She just looked at me like, 'get your ass in here and help'. She didn't make a sound. Another horse would have gone crazy and got all cut up. She's just a very sensible horse. Smart.""She's not going to have any trouble going to Kentucky, and getting all shook up before the race," he added.
Ward, a vital piece of the Hollendorfer puzzle, joined the barn in 2007. Before that, he had worked for Hall of Famer Bobby Frankel for 22 years, as a groom for about four years, then as assistant.
"I joined Bobby right out of high school." And Ward notices similarities between the two trainers, like the way in which they give all horses the same attention, regardless of ability. "When Jerry watches a million-dollar race here, he'll watch a four-thousand dollar race at Golden Gate and have just as much interest."
Another similarity lies in the sheer number of top-class fillies that each have had a hand in shaping (read into this what you will, but Hollendorfer's current barn at Santa Anita is the same one that Frankel once occupied). For every Cittronade that Frankel trained, Hollendorfer has had a Blind Luck. For every Megahertz there's a Tuscan Evening. For every Toussaud there's a Songbird.
But Songbird's head-diva status in the Hollendorfer barn is far from uncontested.
Tara's Tango has proven a revelation this season, breaking her graded stake duck in the G2 Santa Maria Stakes at Santa Anita in February before clinching the G1 Santa Margarita Stakes less than a month later. A filly with a long history of niggling problems, Tara's Tango, now four, has enjoyed a clear run of things this year.
The consistency of fillies
"She's sounder than ever," Ward said. "Some people might say, 'jeez, you're running her a lot', but maybe that's what she wanted all the time - sometimes you baby them. She's coming out of her races and she's jumping up and down in her stall. It can take a lot of time to figure it out."
So, why do fillies seem to fit so well into the Hollendorfer regime? "When you get a good filly, they tend to be consistent," Ward said. "They're more consistent than colts – when they're right. When they're not right, you can't get them back to running. But when you get a filly that's running good, like Blind Luck, they're running good every time."
Hollendorfer agrees that fillies prefer a routine — "they settle in and probably do better because they know what's expected of them" — though he's quick to dismiss suggestion that his routine is especially exacting.
"People say that I'm hard on horses, but I really don't think I am. There seems to be this idea that, if you're working a horse, you're taking something out of them. But my attitude is that if you're working a horse you're putting something into them. I think it's safe to say that when I lead one over they're pretty fit. But I also like to think that all of our horses last as long as possible."
The matter of racehorse longevity is a pertinent one. Invariably, given the prolific nature of his stable, Hollendorfer is placed under the public microscope in the advent of any racetrack fatality or drug offense (according to the Jockey Club's Thoroughbred Rulings registry, Hollendorfer has had nine drug violations in California over the last 10 years and from over 9,500 starts, all for lesser Class 4 violations).
Those who know him best talk of someone whose intensity — "occasionally volcanic, that's a nice way to put it", said Baze — is tempered by a soft-spot for the animals in his care, horse or barn cat. Take Shared Belief, being readied for a comeback after nearly eight months on the sidelines, who died after undergoing colic surgery last December.
Remembering Shared Belief
"Shared Belief - that was a tough one. I still think about him a lot. It was totally unexpected. The horse was coming back from injury and doing very well. We were expecting something for the future and then all of a sudden he was gone.
"The longer I'm around the game, the more respect I have for what the horses give us every day, and that's not just the horses that run in the big races – I mean the horses that go out there and give everything in those claiming races. That's to be respected, 100 percent."
It's fair to say that this sense of responsibility is felt collectively among the team, each of whom share a drive similar to that of the ringmaster. "You cannot do these things without having great people work for you."
Aside from Ward at Santa Anita, Don Chatlos runs the show at Los Alamitos. MVP is given to Hollendorfer's wife, Janet, a key component up north, and "someone who deserves just as much credit as Jerry does for all their success", said Kathy Walsh.   
"Janet's been with the operation since it first started," said Hollendorfer. "She knows every aspect of what we do and how it works, which is most important. She's a real expert on foot issues. She has a great deal of success working with those kinds of problems. She runs the Golden Gate outfit and she runs it very well."
It's more than the Golden Gate outfit that runs well, however – the whole Hollendorfer operation has taken Michelangelo's chisel to the outline of California racing, sculpting it in profound ways. There's the matter of his 7,000-plus winners – a monolithic figure that dwarfs other dominant California stables (Baffert's career total, for example, sits at 2,630). "I'm almost 70 years old. I'm not going to throw 8,000 out there and say I'm going to do that. I'm in a pretty exclusive club with over 7,000 as it is."
In the early 1990s, he won, as part of a settlement, an anti-trust lawsuit against the former Horsemen's Benevolent and Protective Association in California and certain California tracks, allowing for an increase on the number of stalls that trainers could occupy at any licensed California racetrack (with one important caveat: that stalls were available). It was a controversial ruling, lifting the decades-old lid on barn size that, in effect, kept individual trainers' horse numbers down in California.
A controversial ruling still? Absolutely, especially amid a contracting industry. And mention of it among training circles is almost guaranteed to throw a chili pepper into the debate. But Hollendorfer's place in the sport is defined by so, so much more than that - the swelling stats, the ever-growing big race victories and the Biblically-long list of training titles, all these provide vaulted career goals for future trainers to surpass.
I closed with a question about his legacy, about how it should be shaped, and where the focus should be.
"My goal is to keep doing this as long as I feel as though I'm doing a good job," he said. "I don't even think about my legacy at all. I just want people to say about me when I'm not here that I made the most of my opportunity."