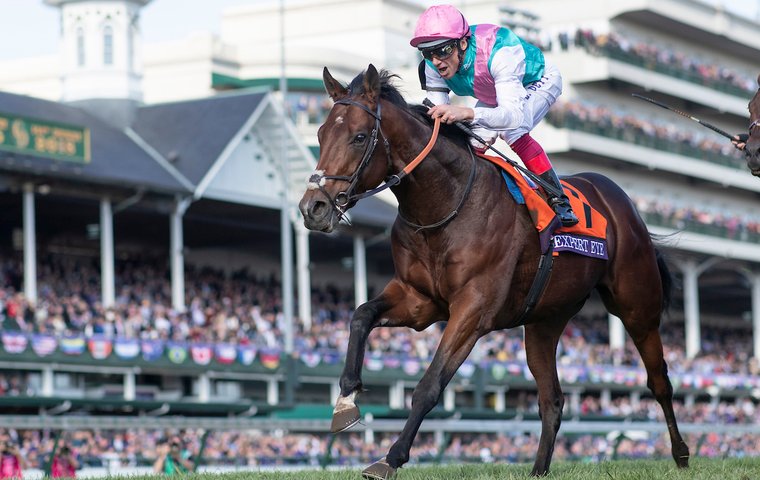 One of the defining moments of Royal Ascot 2018 came courtesy of a devastating winning display by Expert Eye in the Jersey Stakes under current world #14 jockey James McDonald.

A juvenile campaign highlighted by a similarly dominant win in the Vintage Stakes at Goodwood the previous summer had suggested that Juddmonte had yet another serious weapon within its armoury, and the manner in which Expert Eye scorched through a 21-runner Jersey field to win as he pleased that Ascot afternoon brought those hopes to fruition.
Here was Prince Khalid Abdullah's newest G1 winner in waiting and, after adding another G3 to his record in the City Of York Stakes, the homebred Acclamation colt duly joined illustrious Juddmonte roll of honour with a stylish victory in the Breeders' Cup Mile at Churchill Downs; sent off favourite in a race that featured nine G1 winners, he swept through under a confident ride from Frankie Dettori to run down Catapult and become the first British-trained winner of the race since Barathea in 1994.
The Breeders' Cup Mile brought the curtain down on a career that had begun the previous June for Sir Michael Stoute with a winning debut over subsequent Richmond Stakes winner Barraquero in a traditionally warm maiden at Newbury. He competed solely in Pattern company thereafter, ultimately retiring with five wins and another three placings; while he enjoyed his finest moment in the Breeders' Cup, he also performed with great credit against the older milers when placed in both the Sussex Stakes and Prix du Moulin.
A high-performing 2-year-old who mixed it with the best over seven furlongs and a mile at three, Expert Eye also boasts the additional allure of a pedigree full of miling pace. He shares his sire, Acclamation, with leading sire Dark Angel, and is the only son of the stallion to have won a G1 over a mile.
His dam, Exemplify, meanwhile, is a winning Dansili half-sister to Newmarket and French 1000 Guineas heroine Special Duty. This is a powerful Juddmonte family that descends from American champion Chris Evert, whose grandson Chief's Crown sired Erhaab and Grand Lodge during his long and successful stud career in Kentucky.
Thus it was no surprise to see Expert Eye catch the imagination of breeders when he joined the Juddmonte Farms' roster at Banstead Manor Stud in Newmarket last year. Advertised at a fee of £20,000, he went on to cover a full book of 140 mares, among them 30 stakes winners and 73 black-type performers and/or producers. Indeed, 97 percent of his book were either stakes performers and/or producers or the siblings or daughters of stakes performers.
After a breeding stock sales season that featured the sale of three mares in foal to the horse for in excess of €100,000, he is due to stand for £17,500 in 2020.
Now, with his first foals hitting the ground, the next chapter in Expert Eye's stud career is underway. And while it's early days, the reports have been consistently encouraging.
Positive reports
So far, every one of them has been either bay or brown.
"Given his precocity, pedigree and the book of mares he covered last year he has every chance of developing into a young sire of note," says stud director Simon Mockridge.
"The reports so far have been very positive - having breeders very pleased with the resulting foals is all we can ask for at this stage. The first reported foal was a very attractive filly at Old Buckenham Stud - she has a nice racy profile to her. The colts born thus far have been described as strong and well made."
The first reported foal was a filly foaled on January 25 out of the Cape Cross mare Domitilla. Bred by Scuderia Blueberry, she was joined in later days by a colt bred by Sally Rowley-Williams out of G3 winner Precious Gem who was described by John Lenihan of Ballyogue Stud as "a good size with plenty of bone, good colour, correct - a very nice foal".
Rathbarry Stud, which stands Expert Eye's venerable sire, Acclamation, offered similar sentiments towards their colt out of Daring Life, another winning daughter of Cape Cross.
"He is a very correct foal with great limbs and a lovely head," said Rathbarry's Paul Cashman. "He has a smashing presence and really takes your eye."
The compliments keep flowing, with a colt out of the winning Sar Oichie, a Teofilo relation to Skitter Scatter, described by breeder John Fagan of Deerpark Stud as a "smashing colt - a good-walking, correct foal".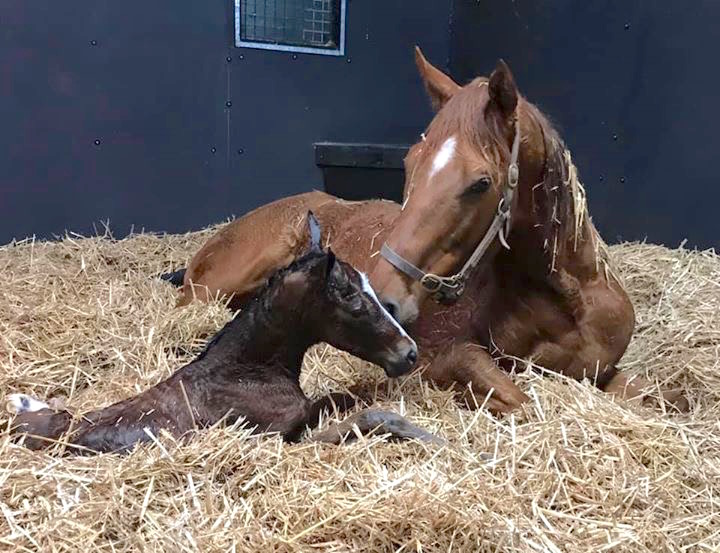 Of course, one of the great strengths of the Juddmonte operation lies in its own confidence behind their roster. To that end, breeders use their stallions in the knowledge that they will also be strongly supported by the stud's powerful broodmare band.
Over the years, the operation has bred the first G1 winner by ten of its current or former residents, starting with Known Fact (sire of Warning) and continuing with the likes of Rainbow Quest (Quest For Fame), Zafonic (Xaar) and Dansili (Rail Link). Hopes will be high that Expert Eye can maintain the tradition, especially given that his first book contained a dozen Juddmonte mares including G3 winner Mirabilis (herself the dam of G3 winner Monarchs Glen) and listed winners Entree, Emergency and Zaminast.
A similar volume of support is cast to follow in 2020, as Mockridge explains.
"Juddmonte are sending Expert Eye 11 mares in 2020," he says. "Around one third of all of Juddmonte's homebred G1 winners have been by unproven stallions, which gives us plenty of confidence when using Expert Eye.
"Six of the mares are black-type winners – they include G1 winner Heat Haze (a daughter of Hasili and the dam of G3 winner Mirage Dancer), G2 winner Modern Look (also dam of G3 winner Grand Jete) and listed winners Rostova, Scottish Jig (a half-sister to G1 winner Seek Again), Swiss Range and Variable (a daughter of G1 winner Proportional).
"The other mares are all full or half-sisters to top-class racehorses - Across The Floor (a half-sister to Flintshire), Glaciate (a half-sister to Snow Sky and Ice Breeze), Atone (a sister to Midday), Palmette (a sister to Showcasing) and Tiadargent (a sister to Restiadargent)."
One of Juddmonte's very best - 'you would have to say that he's the best 2-year-old that I have had for quite a while', Sir Michael Stoute was quoted as saying - and a fourth-generation homebred at that, it's easy to see how hopes run high for Expert Eye.
"Physically he has done extremely well over last summer and winter and is a quality horse with a great temperament and athletic movement both at the walk and in his faster paces," says Mockridge.
He adds, "He comes from one of Juddmonte's most versatile families. It includes top class 2-year-olds who went on to excel at three such as Expert Eye himself, champion 2-year-old and Classic winner Special Duty and Prix de la Foret winner Etoile Montante. It also includes multiple G1-winning older horses on dirt and turf, including seven-time G1 winner Sightseek and her dual G1-winning half-sister Tates Creek.
"It is also one of the best represented families in the Juddmonte Stud Book with over 20 mares still in Juddmonte ownership. So it is a family that should continue to evolve and produce top horses, especially as there are young stock from the family to come through by some of the world's best stallions – Frankel, Kingman, Galileo, Curlin, Into Mischief, Kitten's Joy, Pioneerof The Nile, Tapit and Uncle Mo.
"Expert Eye's dam Exemplify is visiting Acclamation again in 2020, while his winning Kingman half-sister Clerisy will be visiting Dark Angel in her maiden season."
Numerous hurdles present themselves during the course of a stallion's career and, in that, Expert Eye is no different. But if early impressions are any indication, then it's not too fanciful to believe that the foundations have already been laid for him to become the next Juddmonte stallion success story.