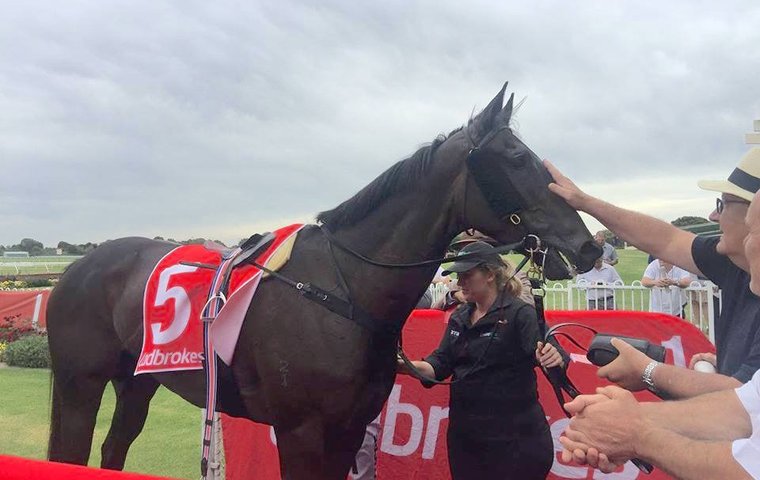 Victorian racehorse owner Paul King thought he knew what patience was. As financial advisor for Dennis Marks, who raced many a classy galloper, including the champion mare and Melbourne Cup winner Let's Elope, he had witnessed the many ups and downs involved with racehorse ownership.

He knew that 'the art of patience' was the most important thing an owner could possess. And he thought he had it.
"But," he admits, "I just did not get the level of patience you need!"
Let's go back to late 2014. King is feeling blessed with two horses showing potential, the sort of promise that gets an owner just that bit excited. Within a month, both Raindrops On Roses and Dusty Jack make their debuts. Neither set the world alight, though connections are pleased with the former's ninth and the latter's fourth.
It is summer 2015 before either race again. Raindrops On Roses - a regally bred bay by High Chaparral out of a daughter of Danehill and Let's Elope - runs a few handy races but still needs time as her pedigree suggests.
Small swelling
Dusty Jack, a son of Written Tycoon, hits form quicker - at just his second start racing away to an easy maiden victory at Seymour racecourse in Victoria.
It is decided that he too will benefit from some time off, to strengthen, to mature.
And so the scene is set. 2015 was going to be fun for King and his fellow owners, including Lauriston Park stud's Chris Bakker. Bring it on, they thought.
Then one day, while at the Flemington stables of trainer Nigel Blackiston, Raindrops On Roses had a small swelling on the inside of a hind fetlock. And, on another day, there was blood coming out of Dusty Jack's hoof after a gallop.
Two minor setbacks? If only. Try major ones.
Within 24 hours of the first sign of a problem with Raindrops On Roses' leg, she was in serious trouble.
"One day there was a swelling the size of a five cent piece," King recalls. "The next day it was a dinner plate."
A very very messy dinner plate.
Rotten flesh
Fortunately, Blackiston was quickly onto it and Raindrops On Roses was transferred to the care of the highly skilled vets at the Ballarat Equine Clinic in Victoria.
'Ghastly' is how King describes what was happening to his beloved mare. Rotten flesh peeling off in chunks, tendons and bone visible to the human eye.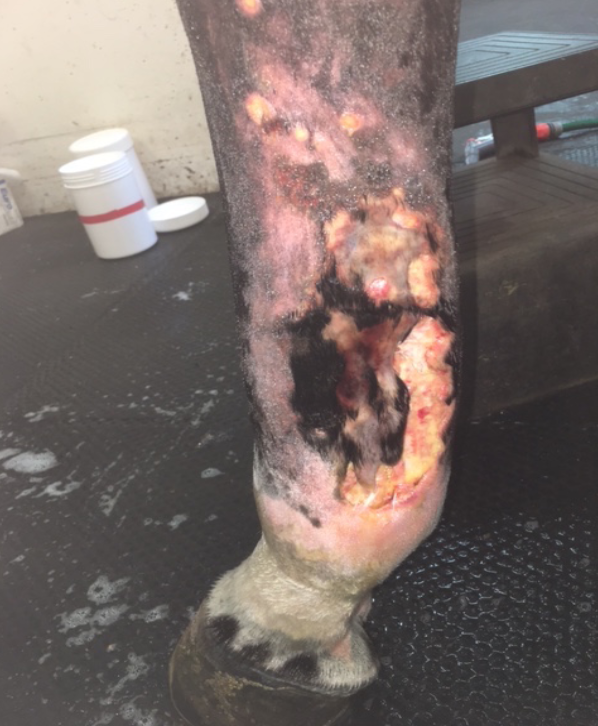 Whether it was the dreaded staph infection, a flesh-eating bug or the reaction to a spider bite, veterinarians were not entirely sure. But Raindrops On Roses was hit with large doses of antibiotics, something that in itself can be dangerous for the fragile creature that is the Thoroughbred racehorse. Fortunately Raindrops On Roses was tough and she came through it - eventually.
And not without a lot of TLC on the part of Bakker, whose job it was to clean the wound. And clean it again. And again.
"She had a few little ulcers burst out and there was a lot of debris and dead tissue there," he says. "There was a lot of changing bandages!"
Fortunately Raindrops On Roses helped her own cause, inheriting some of her illustrious granddam's wonderful personality traits. "She just had a great attitude," Bakker says, "and all that time in a box she never once got sour. She is the kindest horse you could find."
'We were devastated'
Close to the same time that Raindrops On Roses' mysterious ailment flared, Dusty Jack was also in trouble.
X-rays could not find an issue with his foot but, after each gallop, there was bleeding. The only thing to do was to go in and have a look. So he too headed to Ballarat.
Renowned surgeon Dr Ian Fulton was on the case, finding a malignant growth under the horse's pedal bone. It was removed, but the prognosis was not great. "He told us that realistically few recover from pedal bone issues to the point where racing them on is viable," King says. "We were devastated."
But not beaten.
Back at Lauriston Park, where he was born and raised, Dusty Jack endured a daily 20-minute ritual of wound cleansing and dressing. The hole in his foot was a sizeable one and it was always going to take a long time to grow out.
In the meantime, he was to and fro the vets with x-rays monitoring his progress. If, his owners were told, the growth recurred, it would spell the end for the brave young horse.
Dusty Jack's recovery was by no means straightforward. With his foot damaged, the hoof began to grow in a deformed manner, and a special plate was made - one that had to be removed each day for the cleaning of the wound.
Then a slight crack emerged in the hoof. Yet more time needed.
Back on the racetrack
And so there were two horses, both of whom had shown talent racing over the summer of 2014-15, neither of whom were seen again on track until late 2016.
Since that time, Lauriston had forged a relationship with nearby Lindsay Park and the training team of David Hayes, Ben Hayes and Tom Dabernig were trusted with the care of Raindrops On Roses and Dusty Jack.
It was Raindrops On Roses who made it back first, resuming in early October.
She was good first up, all the better second up - relishing a step up from 1500m to 2040m and easily breaking her maiden at Benalla racetrack.
That was one of the more satisfying wins for her owners, who were all smiles. They were happier still when she was again in winning form at Mornington in late January.
Beyond satisfaction
Highly rated as a potential stayer by Lindsay Park, the 5-year-old Raindrops On Roses is still lightly raced, with connections confident the best is still to come.
A couple of months after her return to the races, Dusty Jack was also on course. A class one race at Geelong was chosen, and what a run it was: a brave second, having raced wide from a tricky gate.
Dusty Jack has raced three times since then. Once at Cranbourne, twice at Sandown. Each time he has settled off pace, each time he has let go of a withering run.
And each time he has won.
So how does that make his oh-so-patient owners feel? It's beyond satisfaction; joy mixed with exceptional pride.
"It has been absolutely amazing," King says, while Bakker describes Dusty Jack as "a bloody beauty!"
Both are keen to thank those who have helped their two talented and tough horses along the way - their trainers, their vets, their farriers and their other owners.
"Everyone loves these two horses," King says, "and nobody has ever questioned the time they have needed."
Bakker adds: "It has been a great result for both horses. Win, lose or draw, it has been nice to give them the opportunity to do what they were bred to do. They are enjoying being racehorses!"