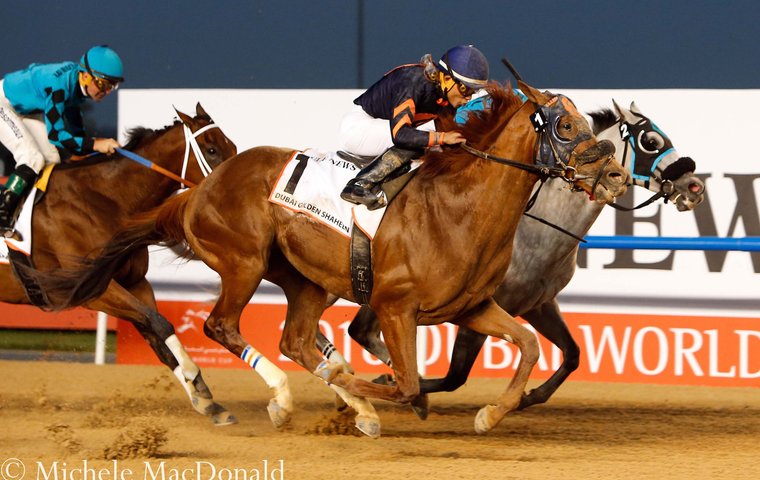 When trainer Chad Summers talks about his multi-millionaire New York-bred Mind Your Biscuits, his first comments aren't about how fast the horse is, or the earnings record he set, or what it's like to win a race in Dubai for two straight years.

When Summers talks about Mind Your Biscuits, he talks about the horse.
"He's got such a great personality," said the owner-trainer. "And he's just an athlete."
Summers remembers watching Mind Your Biscuits as a 2-year-old in the early stages of his training, at Susan Montanye's facility in Florida. Summers and a number of partners, including family members and Montanye, had privately purchased him as a yearling for $47,000 after he failed to meet his reserve at the 2014 Fasig-Tipton Saratoga sale of preferred New York-bred yearlings. Earlier that year, he'd been purchased by Machmer Hall as a weanling at Keeneland for the same price.
Machmer Hall had retained an ownership interest, and the plan had been to pinhook him, a plan that went awry when the chestnut colt again failed to meet his reserve, this time at an OBS sale of 2-year-olds in training. By that time Summers had, as he put it, fallen "head over heels" in love with the son of Posse out of the Toccet mare Jazzmane.
A place in history
"When he was training on the farm, he was always into the bridle with his ears pinned forward," said Summers.
Bred in New York by Jumping Jack Racing, that eager colt, now five, is the richest New York-bred in history, with $3.7 million in earnings, three G1 wins, two G2 wins and two Breeders' Cup placings.
Not bad for a horse that twice couldn't find a buyer and who began his career in state-restricted races, not breaking his maiden until his fifth start.
Posse was standing in New York at Rockridge Stud when he sired Mind Your Biscuits, and, as the son of a New York stallion out of a New York-based mare, he's become something of a symbol of the development of the state's breeding program since the infusion of funds from the Genting Resorts World New York Casino at Aqueduct that opened in 2011.
Click here for full details of the New York owner and breeder awards
Among the perennial leading earners for New York-based stallions, Posse was sold in 2016 and moved to Uruguay, where he now stands. Rockridge owner-manager Lere Visagie had tried to bring Posse back to New York to stand for the Northern Hemisphere breeding season but couldn't come to terms with Haras Rapetti, which now owns the 18-year-old stallion.
"It's a huge loss that Posse's in South America," said Jumping Jack Racing's Susan Baccari. "He's a racehorse sire."
"He's a nice stallion and I'm sorry they gave up on him," agreed Summers. "I was at Rockridge the other day, and Lere mentioned the number of people that want to breed to Posse because of Mind Your Biscuits."
"Like Mind Your Biscuits," Summers continued, "Posse didn't have the flashiest pedigree or sales results — he's just a blue-collar horse that shows up to work."
"Blue-collar" may not be the first description that comes to mind when looking at Mind Your Biscuit's past performances. Well-traveled, he's run at nine different tracks, including some of this country's premier courses, and has made two trips to Dubai.
Nor was there much that proclaimed "blue collar" about his stunning win in this year's G1 Dubai Golden Shaheen sponsored by Gulf News.
Though obviously not an outsider based on his race record — which included a win in the race the year before — Mind Your Biscuits and jockey Joel Rosario had lagged far back in last place through most of the 1200-meter (six-furlong) race, not even visible on the screen. As the field hit the 200-meter mark, Mind Your Biscuits suddenly appeared, flying down the middle of the track, passing the leaders to snatch an astonishing win (see video below).
"It looked impossible," Summers admitted. "But, once he gets outside in the clear and Joel drops his hands, he can do what he loves to do. That acceleration he has — it's the way he's always been."
A little more than a week later, his connections accepted the trophy for New York-bred Horse of the Year for the second straight year.
The horse's ownership group has shifted throughout the last several years, with various partners buying in and being bought out. Among his owners now are Sol Kumin, who has purchased interests in a number of high-profile horses and campaigned champion Lady Eli with partner Jay Hanley, and Michael Kisber, who has also been involved in a number of partnerships, including one for G1 winner Watsdachances.
Those connections now anticipate Mind Your Biscuits will appear in the G1 Met Mile at Belmont Park in June, on the Belmont Stakes undercard. Summers wants to prove that his horse is more than a sprinter, and he'd like to return to the Breeders' Cup in November and the G1 Cigar Mile at Aqueduct later that month, a race in which he finished second last year.
Summers has talked with farms in New York and beyond about where Mind Your Biscuits might stand as a stallion. While he'd love to stand the horse in New York — "I'd love to see him take Posse's place," he said — he so far hasn't made any commitments.
"I hope all New Yorkers are proud of him," he said. "We take a lot of pride in knowing that he's a New York-bred that competes in open races, that competes in Grade 1 and Group 1 races."
"We like sharing him with people, too," he continued. "He's got so many fans and he loves people — he loves people coming back to the barn, and we love sharing him. We look forward to doing that for the rest of the year."