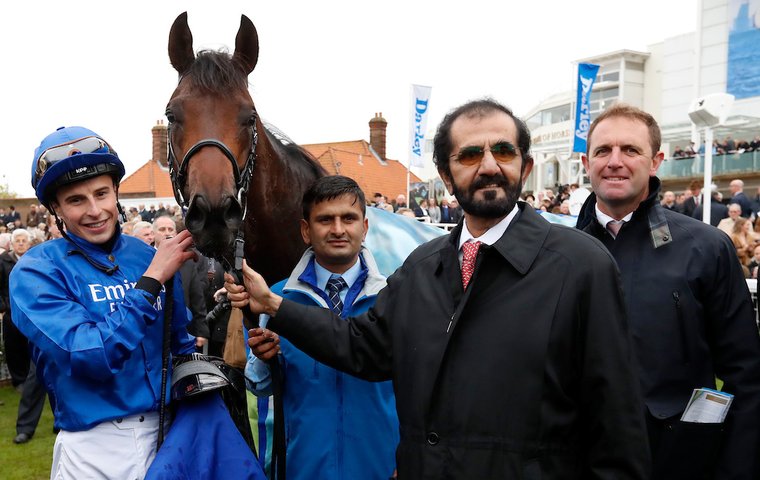 One of the benefits of being the world's biggest racehorse owner is that you can pretty much ship your horses anywhere, for races, training, or rest, at any time of the year. The enjoyment of visiting them on a daily basis comes as one of the associated luxuries.

When Masar won the 2018 Epsom Derby, he spent much of the preceding winter in Dubai, at Marmoom Stables, which is Godolphin trainer Charlie Appleby's training base there, 25 miles south of the city.
Sheikh Mohammed was a regular visitor in the weeks of the colt's preparation for the Classic season that lay ahead. For the ruler of Dubai and vice-president of the United Arab Emirates, spending quality time with the home-bred destined to become the first Derby winner sporting Godolphin's royal blue silks offered some respite from his responsibilities as Head of State.
Two years later, Sheikh Mohammed and Godolphin again have a 3-year-old with the attributes of a budding Classic winner, Pinatubo, who this week was officially rated the best juvenile to have raced in Europe in 25 years. The Shamardal colt, unbeaten in six starts, is short-priced favourite to win the 2000 Guineas at Newmarket on May 2.
But, unlike Masar, he will not have his owner popping in to check his progress on a regular basis. Instead, Pinatubo has remained at Moulton Paddocks, Newmarket, in a deliberate move by Appleby to maintain a routine that has proven successful.
"He has never been a work horse, That's why he never came to notice in his gallops before he went to the races. Even the lad, who rides him at home, never felt anything out of the ordinary in the mornings. Yet, on raceday, he comes alive," Appleby reported.
"We take many horses to Dubai for the winter every year, but when we choose, it is on an individual basis. In Pinatubo's case, we felt it was the right thing to let him stay in Newmarket. I didn't want him going to a completely different environment, alien to what he has been seeing every day," he added.
Marmoom features a nine-furlong dirt track, as well as grass gallops, on an oval layout. It is completely flat; if it also had a grandstand, it could easily double as a decent track in the United States.
"The danger in going to Marmoom is that he could be set alight … every day. We have discussed it and decided to stick to the same routine in Newmarket. We know it works. Sheikh Mohammed is not at all disappointed that he is not going to see the colt every day in Dubai this winter. He wants what is right for the horse.
"He has followed Pinatubo right from the start. He picked him out when we looked at the home-breds in Ireland [in October 2018]. He gave him a nice [inspection] score," he added.
At the unveiling of the European Two-Year-Old Classifications in London this week, Graeme Smith, the British Horseracing Authority's lead handicapper of juveniles, described Pinatubo's nine-length win in the National Stakes at the Curragh in September as "breathtaking … one of the great 2-year-old performances, and the best by any 2-year-old in the last 25 years."
But Smith then posed this question: 'Will he train on at three?'
When that was put to Appleby, the trainer replied, "We genuinely won't know the answer until he runs in the 2000 Guineas. [The plan is for him to go straight there.] The likelihood of seeing stunning pre-Classic gallops is very remote. This colt is straightforward. He has done very well over the winter, and he looks a picture. I couldn't be happier with his development. He has strengthened well.
"Is he a Derby colt? His pedigree [he is out of a Dalakhani mare] says there is a chance he could get a mile and a half, but on the other hand, there are not too many Shamardals who excel over that trip. In his favour, he is well-balanced and he has a lot of strength about him. His demeanour is good, and he is relaxed. And he switches off in his races."
With Pinatubo based in Britain, Appleby is spending less time than usual in Dubai, though keeping a strong string in training at Marmoom for the Dubai World Cup carnival. The excitement of a Classic contender is hard to contain, even in the biggest of training establishments.