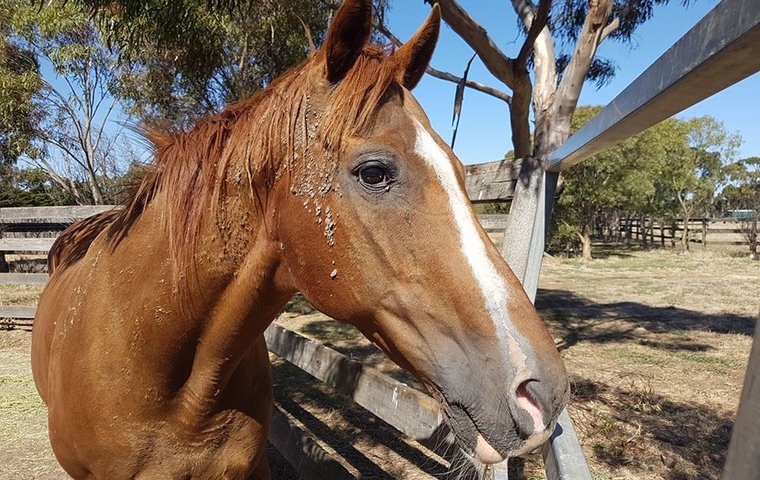 Digger's Rest, 35km north west of Melbourne, Victoria, Australia. Two unlikely friends in adjoining paddocks at historic Stockwell Stud, enjoying their retirements a long way from the spotlight they both enjoyed on the racetracks of the world a couple of decades ago.

A long way - 16,903km in fact - from Royal Ascot where, on June 16, 1992, the two horses first met. One as a much hyped, even worshipped short-priced favourite on the back of stellar 2-year-old form ... eight wins from his first ten starts.
The other, at 25-1, one of the outsiders of the field that lined up for the running of one of Royal Ascot's feature events, the G1 St James's Palace Stakes.
Despite solid lead-up form, the roughie Brief Truce had not been discussed much in the run into the race. All talk had focused on an exciting match between highflyer Rodrigo de Triano and the sensational 1991 Breeders' Cup Juvenile winner Arazi.
Memorable day
Actually sensational is not a strong enough superlative to describe what Arazi did to that high-class field on a memorable day in front of a big crowd at Churchill Downs in November 1991.
So stunning was his performance that even to this day a particularly fast finish is described as 'an Arazi moment'.
Settling last from the outside gate of 14, the small but handsome chestnut made a rapid move through and around the field, taking the lead before the turn and racing away, coasting to the line by a record-breaking five lengths (see YouTube video below).
"Whenever he saw an open spot, he went right through it," jockey Pat Valenzuela said. "It was like playing a video game in an arcade."
Bred in America, Arazi was trained in France by Francois Boutin. Tasting defeat at debut he then embarked on a winning streak of six races, three of those at G1 level at Deauville and Longchamp.
And then the Breeders' Cup.
Operated on for bone chips in his knees before returning to the track, Arazi won a listed race at Saint-Cloud before contesting the Kentucky Derby. During the lead-up the hype grew and grew; extensive media coverage, comparisons to Secretariat ... the little chestnut had a lot to live up to.
Sadly it was not to be, Arazi making a lightning move which he could not quite finish off, fading to a disappointing eighth, connections reporting that he swallowed his tongue. It was from there he headed to Royal Ascot, racing fans forgiving and hopeful of seeing his special brand of magic again.
But again he was below his best, tiring late as Brief Truce engaged in a tough battle with Zaahi, putting his nose out where it counted. It was one of four victories for the son of Irish River, who was never out of the first three in ten starts, also winning at G2 and listed level and finishing in the placings in another four G1s.
He and Arazi were to meet again in the Breeders' Cup Mile, Brief Truce finishing third behind Lure, Arazi 11th in what was to be his final start.
Fast forward 25 years. Arazi meanders along the fence to meet me as I hand out some grass. Brief Truce is dozing but opens one eye to check me out and then pokes his nose through the fence for a pat. Their life now is so low key, so relaxed. Two happy horses.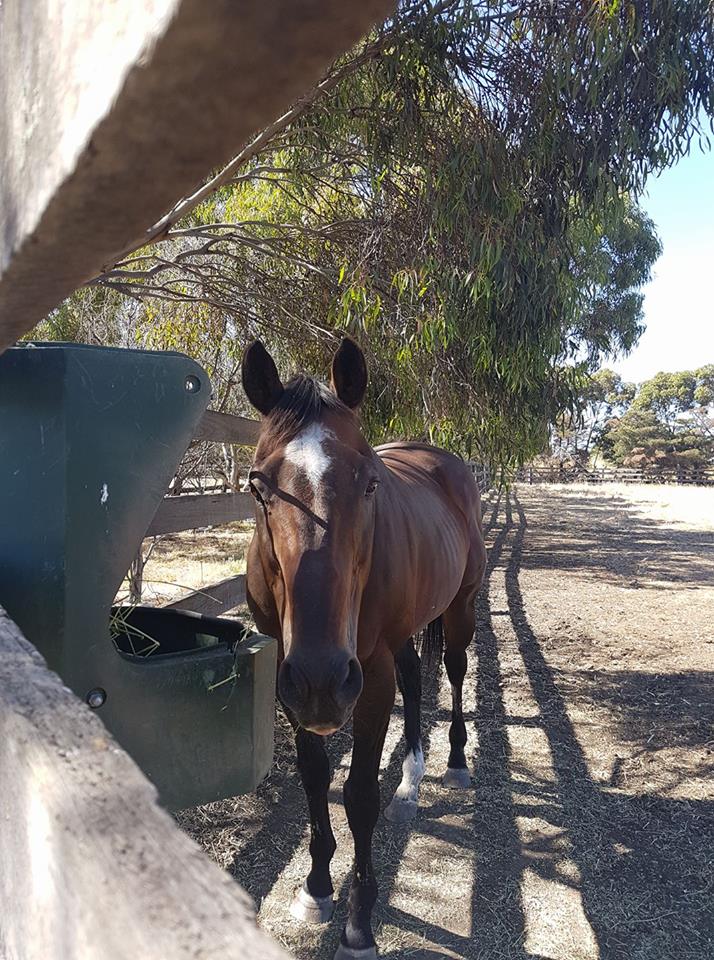 Who met again after their racetrack clashes and before Stockwell. Where? Of all places, Switzerland!
Both kicking off stud careers in a degree of limelight - Brief Truce at Coolmore in Ireland (shuttling to Woodlands in New South Wales) and Arazi at Dalham Hall, Newmarket (later to Three Chimneys Farm, Kentucky and then to Japan) - the pair were considered by an unforgiving commercial market to be disappointing and at different times were shipped off to stand at the stunning Gestüt Söhrenhof in Switzerland.
To where Stockwell Stud's Mike Becker (then working under the banner of Independent Stallions) headed after receiving a phone call from a UK bloodstock agent.
Caulfield Cup winner
"I went to meet Marcel and Sybille Egloff at their beautiful farm at Aarau. They breed quite a few commercial quality yearlings, which they sell primarily in France," he said. "The same agent contacted us when Arazi became available in Japan, and the Egloffs bought him with the plan that we would both use him."
Bookings were slow when Brief Truce first arrived in Victoria. At the time he was 16th on the general sires list, doing well without standing out. But Becker had faith and was especially happy to receive an early phone call from George Hanlon.
That astute trainer had a very nice son of Brief Truce in his stable, the G1 Rosehill Guineas winner Diatribe. He had proven a little disappointing after his big win but was enjoying a good spell and, when Hanlon was one of the first to ring to book in mares, Becker's confidence grew.
"It was before Diatribe had come back to racing so I took it as a tip and backed him to win the Caulfield Cup at 80-1."
Come Caulfield Cup Day [in 2000] and Diatribe was one of the more favoured runners at just 8-1. He won. "It was a nice result," Becker laughed.
And, in the meantime, "a string of winners" had come along for Brief Truce, and a few months later his daughter, True Jewels, won Victoria's biggest juvenile race, the G1 Blue Diamond Stakes.
The phone kept ringing and Brief Truce ended up with his largest ever book of 116 mares that spring.
Boasting good fertility, Brief Truce was, Becker said, a pleasure to work with. "He was a great horse in the barn but didn't like being messed around. Everything had to be in place for him to get in and get his job done!
"He could be confronting, but he was full of bluff. Overall he was a gem. He would still like to be serving, when you put a headcollar on him even now he still gets on the toe!"
Arazi, on the other hand, was quite happy to retire, his fertility and libido declining. But he looks a picture, his coat still gleaming, his eyes still bright.
"He is a quick horse, very light on his feet and will still take a nip at any opportunity!"
And his special treat - a couple of apples a day - is still greatly appreciated.
Devoted fans
It has been 26 years since Arazi's big day out at Churchill Downs, but the memory of it has hardly faded for fans.
Fans who still check up on him - Becker receives a steady stream of letters, emails and phone calls from those who love Arazi. He is kept especially busy around Breeders' Cup time and in early March, when Arazi celebrates his birthday - with extra apples.
"Even tonight I have had an email from a guy in the U.S. chasing a headcollar, shoe or a lock of hair. The U.S. media get in touch every Breeders' Cup time to check on his welfare, and it amazes me how many people tell us that their interest in racing was spurred by Arazi and his star status."
One such diehard fan is Stewart Power, who sent the card below to acknowledge Arazi's 28th birthday a few months ago.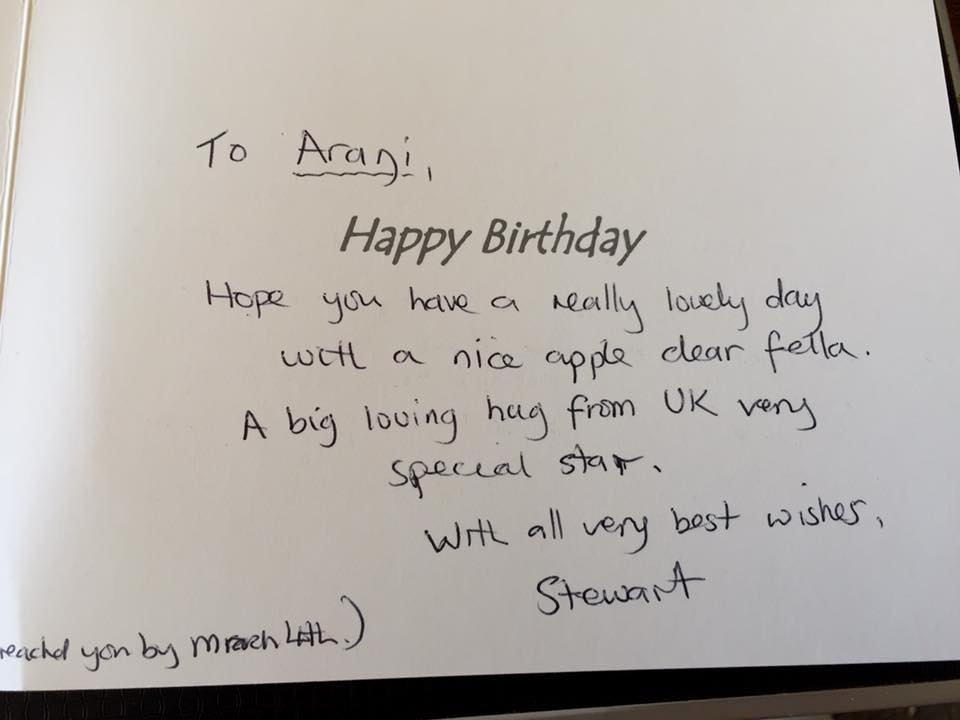 "I first heard of Arazi from my late brother, who was living in Deauville, closely following French racing. He knew that I especially admired the trainer Francois Boutin, and told me of a colt from the stable who looked extra special."
Power tuned in - via a phone call with his brother - for Arazi's fourth start, the Prix Robert Papin. "He was slowly away but, as the race unfolded, it almost seemed that he had just been giving the others a bit of a start out of kindness because he knew he was going to beat them anyway. My brother was describing the race in the usual way then paused and just said, 'Stew... it's easy.' It's funny, but I could immediately picture Arazi going clear and I just fell in love with him."
So attached did Power come to Arazi that he remembers feeling "extremely apprehensive" before the Breeders' Cup Juvenile. "Everything had gone so right for dear Arazi, and I was afraid that some silly little thing might go wrong to stop him showing how exceptional he was. He certainly didn't let that happen, did he?!
"I had never seen such a brilliant performance. I haven't since either, and I don't expect to."
Power, who was delighted to receive from Mike Becker one of Arazi's lead shanks, said, "It is great to see Arazi still enjoying life, so clearly loved. He is a real star, bless him."
Becker has also sent Arazi's last pair of steel shoes to a woman in the UK. "She admitted to having no knowledge of or interest in racing but she wanted something of Arazi to give to her husband for his 40th birthday. She sent a lovely letter saying Arazi was his sporting hero and she was sick of him telling story after story of his wins!"
Then there is the wheelchair-bound fan who has named her aide dog Arazi. "Never have we been associated with a horse so loved by so many," said Becker. "It is a privilege to have him here with us."
Notable offspring
Arazi sired 11 stakes winners during his international stud career, the best of those being the five-time G1-winning Kentucky Derby placegetter Congaree.
He has made his mark as a broodmare sire, with 29 stakes winners, including Dubai World Cup hero Electrocutionist and Melbourne Cup winner Americain.
Brief Truce, meanwhile, has been represented by 24 stakes winners, including the Australian G1 winners Diatribe, Red Oog and True Jewels, while his daughters have produced 33 stakes winners.