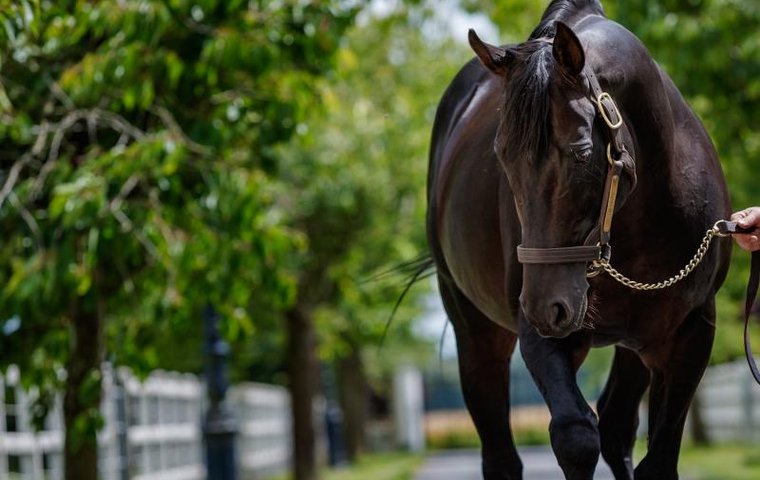 Believe it or not, there was once a time when the champion sire of Britain and Ireland wasn't housed at Coolmore.

Back in 1989, the championship was won by Blushing Groom, then in the twilight of his stud career at Gainesway Farm in Kentucky. Blushing Groom had been Kentucky-based throughout his career but he was never short of representation in Europe, as had been the case in 1989 when his son Nashwan and daughter Snow Bride won the Epsom Derby and Oaks (Snow Bride was awarded the race on the subsequent disqualification of Aliysa).
With the year arguably defined by Nashwan's victories in the 2000 Guineas, Derby, Eclipse and King George, Blushing Groom duly became that year's leading sire, to emulate Northern Dancer and Vaguely Noble as an American-based champion across the pond.
For all that Blushing Groom had yet to come up with a significant sire son by 1989, hopes remained understandably high that one would emerge. After all, there was Nashwan, installed at Nunnery Stud for the 1990 season at a fee of £100,000, and Arc hero Rainbow Quest, then at Banstead Manor Stud, waiting in the wings in Europe. Rahy, Mt Livermore and Runaway Groom, meanwhile, were among those in the U.S.
And those hopes duly materialised, as Rainbow Quest and Rahy in particular each forged highly successful stud careers of their own.
Thirty years on from the year of Nashwan and Snow Bride, however, and the sire line hangs by a thread.
A number of those successful sire sons failed to develop into successful sires of sires themselves. Thus over time, Blushing Groom's influence has dwindled significantly. And were it not for an unlikely representative in Le Havre, who is in the midst of a career-best season, it might well be on the cusp of dying out entirely.
By Red God, Blushing Groom was something of a rarity, being an auction purchase by the Aga Khan. Even so, the Aga knew his family well, having bred his dam, Runaway Bride, and campaigned his brother Bayraan to win a pair of G3s. Blushing Groom, a strong, well-made chestnut bought for 16,500gns as a foal at Newmarket in 1974 through Keith Freeman, would vindicate the decision to return to the well many times over.
Trainer Francois Mathet saddled Blushing Groom to win the 'Quadruple Crown', namely the Prix Robert Papin, Prix Morny, Prix de la Salamandre and Grand Criterium, the latter coming at the expense of the best that Britain supposedly had to offer in J.O. Tobin. At three, he added the Poule d'Essai des Poulains before finding the 1m4f of the Epsom Derby beyond him; nevertheless, he still ran third behind The Minstrel.
Surprising first crop
He ran just once more, when an unlucky second to Flying Water in the Prix Jacques les Marois, and with the menace of contagious equine metritis on the horizon that summer in Europe, was retired with immediate effect to Gainesway Farm in a deal that valued him at $6.26 million.
Surprisingly, Blushing Groom failed to sire a single Group/Graded stakes winner out of a first crop of 2yos sired off a fee of $35,000. Such a start didn't bode well for a horse who had been one of Europe's champion 2-year-olds, but, in a lesson to us all in the pitfalls of writing off a stallion too soon, all that soon changed as a slew of top performers emerged from 1982 onwards to eventually push his fee to a high of $275,000.
They were a varied group that included Runaway Groom, who had each of the American Triple Crown race winners behind him when taking the 1982 Travers Stakes, Kentucky Oaks heroine Blush With Pride, subsequently an outstanding producer, top French colts Groom Dancer and Crystal Glitters, Irish 1,000 Guineas heroine Al Bahathri and the brilliant 2yo Arazi, in addition to Nashwan and Rainbow Quest.
Rainbow Quest was many people's idea of a legitimate heir, especially when he consolidated an outstanding first crop that contained Quest For Fame and Saumarez with the likes of Spectrum, Armiger and Millenary. However, many of his better sons disappointed at stud and his legacy ultimately extends through his daughters. Similar comments also apply to the diminutive Rahy - while two of his best sons, Fantastic Light and Noverre, were disappointing at stud for Darley, he did sire Mariah's Storm, herself dam of Giant's Causeway.
Disappointment of Arazi
Groom Dancer left behind a clutch of average sons while Runaway Groom sired Cherokee Run, a successful stallion in his own right but one who has been unable to leave a son of any significance. Mt Livermore, who stood alongside his sire at Gainesway Farm, sired the likes of Housebuster, Orientate and Subordination, but none have left a lasting mark on the breed.
Arazi, perhaps the most brilliant of all of Blushing Groom's runners, was arguably the most disappointing of all. And although Nashwan had his moments, notably as the sire of Swain and Bago, he failed to make the most of the opportunities afforded to him.
It's doubtful that many would have pinpointed Noverre, Arazi's three-parts brother by Rahy, as a legitimate candidate to enhance the line following his sale to India. The Sussex Stakes winner had received plenty of opportunities during his spell under the Darley banner in Ireland yet, at the time of his export in 2008, he had come up with only two Group winners. However, among his juveniles that year was Le Havre, subsequently winner of the Prix du Jockey Club for Jean-Claude Rouget.
Le Havre was quick off the mark at stud, rewarding the investment of his owner, Gerard Augustin-Normand, by siring the 2014 Poule d'Essai des Pouliches and Prix de Diane winner Avenir Certain in his first crop and fellow dual Classic heroine La Cressonniere in his third. Both were sired out of €5,000 crops and, unsurprisingly, helped prompt incremental fee increases of up to €60,000.
Now with his first €20,000 crop in the midst of their 3-year-old seasons, Le Havre is on a rapidly upward curve. So far, nine stakes winners have emerged out of that crop including Prix Greffulhe winner Roman Candle, Prix Vanteaux heroine Platane and the recent Prix de Psyche winner Villa Marina. Another daughter, Commes, fell only a nose short of becoming his third Prix de Diane heroine in five years.
The one criticism of Le Havre is that he is yet to sire a really good colt - his sole G1-winning male, Suedois, is a gelding. However, there are several smart colts by Le Havre currently in training, notably Roman Candle and Urwald. Perhaps one of them will prove good enough to become their sire's first son to retire to stud.
Meanwhile, with a €40,000 crop of 2-year-olds in the pipeline, not to mention several later €60,000 crops, it's safe to assume that Le Havre will remain at the forefront of the European bloodstock scene for some time to come.
On the other hand, Leroidesanimaux, sire of Sir Michael Stoute's progressive Zaaki, is sadly no longer with us. A brilliant miler in the U.S. for Bobby Frankel, the Brazilian-bred Leroidesanimaux represented the Candy Stripes branch of Blushing Groom, seen most frequently in South America (Candy Stripes is also the damsire of leading sire Candy Ride).
An onus on Animal Kingdom
Leroidesanimaux spent his American stud career under the Stonewalls Stallions banner, split between Kentucky and Florida. Despite never siring crops greater than 72 in his first five seasons, he came up with Kentucky Derby and Dubai World Cup hero Animal Kingdom in his second crop.
Zaaki, recent winner of the Diomed Stakes at Epsom and narrow runner-up in the Summer Mile, is a member of the stallion's first British-bred group sired following his relocation to Lanwades Stud in Newmarket. Stud owner Kirsten Rausing described the move at the time as 'the reintroduction of the Blushing Groom sire line to the UK', and fittingly it was Rausing who bred Zaaki.
Leroidesanimaux died in 2016, and it seems that if his sire line is to extend further, then matters rest with Animal Kingdom.
Effective on dirt, turf and synthetic, he has duly had every chance across both hemispheres, but it has to be said that an early record of four Group/Graded stakes winners within 539 foals of racing age does not inspire confidence in his ability to enhance the Blushing Groom legacy.
Of the others, Breeders' Cup Juvenile Turf winner Pounced (by Rahy) and Gladiatorus, the Dubai Duty Free winner who represents an unlikely source in Silic, himself by Sillery, are faring well enough in Italy. Bago has sired ten stakes winners in Japan, among them G1 scorer Big Week, while Nedawi, by Rainbow Quest, remains a stalwart of the Brazilian scene. However, their success remains parochial.
The Blushing Groom line is in a fragile state. Yet it isn't alone, certainly in Europe, where the proliferation of Sadler's Wells and Danehill in particular have resulted in a constricted gene pool. Take the 1990 season, when Nashwan retired, as an example, when breeders had access to fine horses descending from Hyperion (via Forli, Aureole and Tudor Minstrel), Blandford (via Busted and his sons), Sharpen Up and Djebel (via Ahonoora and Blakeney). Today, nearly all of those lines have faded away.
Without Le Havre and a smattering of other representatives, the same could be said of Blushing Groom. With that, here's hoping that Le Havre can leave behind his own son of note.