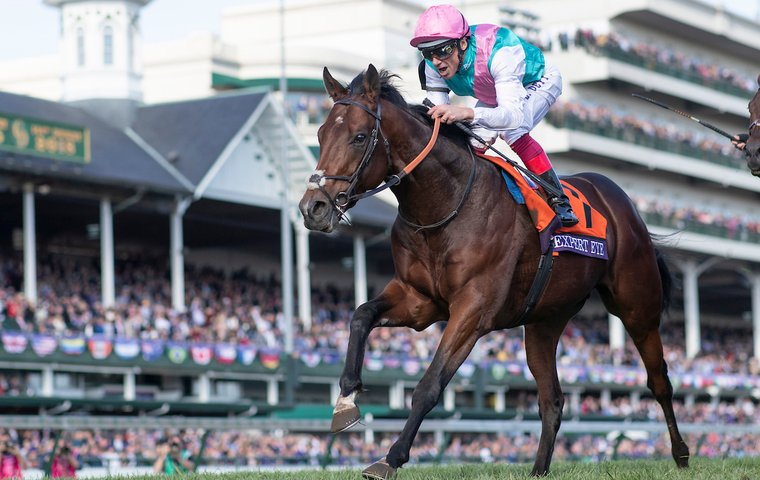 You only need to look at how the Juddmonte Farms roster has evolved over the years to see that the decision to add a new horse to it is never taken lightly.

It is a line up that rarely swells into large numbers. Decisions will have been made with an eye to that horse's appeal across Europe while taking into account the future of the powerful Juddmonte broodmare band. The two work in tandem: plenty of breeders enjoy supporting Juddmonte stallions safe in the knowledge that the horse's book will likely include a group of Prince Khalid Abdullah's mares that is both strong in quality and quantity.
The latest addition, Expert Eye, slots neatly into a roster at Banstead Manor Stud in Newmarket that is led by the great Frankel alongside the ascendant Kingman, respected stalwart Oasis Dream and popular Bated Breath.
Expert Eye retires to stud off a career for Sir Michael Stoute that was capped by a victory in the Breeders' Cup Mile at Churchill Downs. Along the way, there was that dominating display in the Jersey Stakes at Royal Ascot and a facile win in the Vintage Stakes at Goodwood, a performance that would have undoubtedly gained the seal of approval from the commercial side of market, a powerful area of the industry that rewards juvenile performance.
Stoute: 'my best 2yo for quite a while'
Given that the son of Acclamation also possessed ample miling pace, another coveted commercial attribute, it isn't surprising to hear that he is already "heavily oversubscribed" at an opening fee of £20,000.
"He's naturally precocious, very well-balanced, well developed and mature," Stoute has been quoted saying. "You would have to say that he's the best 2yo that I have had for quite a while. He's been pretty natural from the beginning. Before we ran him, we knew that he was pretty smart, as he has always shown speed and been very athletic."
Stoute unleashed Expert Eye at Newbury in June 2017. It was a competitive event typical of the juvenile races hosted by the track and indeed the colt had subsequent Richmond Stakes winner Barraquero behind as he quickened clear to win by a length and a half.
It was his next performance, however, that marked the colt down as potentially top class. Sent to Goodwood for the Vintage Stakes, he won by four and a half lengths over the likes of James Garfield and Seahenge. It was a performance that showcased his cruising speed, an attribute that was again put to good use in the Jersey Stakes at Royal Ascot this summer; with his stalls troubles behind him, Expert Eye fully justified those hopes surrounding his early promise by bursting clear for a wide-margin success.
That victory launched a productive latter half of the season for the colt as he went on to run a strong second in the Sussex Stakes before capturing the City Of York Stakes at York's Ebor Festival.
There had long been the sense by that stage that Expert Eye was a G1 winner in waiting and, although he was beaten on his next assignment, when a troubled third behind Recoletos in the Prix du Moulin, that belief came to fruition at Churchill Downs.
It says something in the confidence behind Expert Eye that he went off favourite for the Breeders' Cup Mile, and that support was fully justified as he swept through under a confident ride from Frankie Dettori to run down Catapult. In the process, he became the first British-trained winner of the race since Barathea in 1994.
"Expert Eye was one of the highest rated foals and yearlings from his year group and continued to be held in high regard throughout his development and racing career," says stud director Simon Mockridge. "The manner of his victory in the Vintage Stakes established him as one of the leading 2yos of 2017. He reinforced that form with a sensational victory at Royal Ascot in the Jersey Stakes before winning the Skybet City Of York Stakes.
Withering late burst
"He was a little unlucky in running when finishing in the first three in both the Sussex Stakes and Prix du Moulin before winning the Breeders' Cup Mile with a scintillating turn of foot.
"He represents a new sire line for the Juddmonte stallion roster and offers breeders the chance of producing high-class 2yos and 3yos at a commercially attractive fee."
Expert Eye ended his career on a high, his reputation never stronger thanks to that withering late burst at Churchill Downs.
That Expert Eye should excel at a mile is reflective of a pedigree full of miling pace. He shares his sire, Acclamation, with leading sire Dark Angel and, as a member of the Try My Best sire line, offers something bit different in an industry that currently relies heavily on Sadler's Wells blood.
The increasingly conspicuous Danzig is present in his background, although he appears in the fourth generation via his grandson Dansili, the sire of his dam, Exemplify. In turn, Exemplify is a half-sister to Special Duty, who was awarded the 1000 Guineas and Poule d'Essai des Pouliches, and is out of a Distant View sister to American champion Sightseek.
This is a powerful Juddmonte family that descends from American champion Chris Evert, whose grandson, Chief's Crown, sired Erhaab and Grand Lodge among others, via her daughter Nijinsky Star. The same family is also responsible for Juddmonte's recent Trigo Stakes winner Flavius and the exciting 2yo Tankerville, both of whom are out of G2 winner Starformer.
There is arguably no better period ahead of the season to showcase a stallion than Tattersalls December Sales week in Newmarket, when many of the major domestic and international breeders are in town. It was then that breeders got the chance to view Expert Eye, as Mockridge explains, and with highly encouraging results.
"Expert Eye impressed breeders during the December sales - this attractive horse has a great temperament and presence, strength with an athletic walk," he says.
"He was incredibly well received and, as a consequence, heavily oversubscribed. He will receive excellent support from owner and commercial breeders alike, which should give him every chance of making a success of his new career, especially as our focus will be to secure as many black-type winners and/or producers as a possible."
He adds: "At this stage, we are likely to support the horse with between 12 and 15 Juddmonte mares, although our own mating plans have yet to be finalised. We intend to play to the strengths of Expert Eye and his sire line - so mares under consideration are those that have won or produced winners at eight furlongs or shorter."
It is worth reiterating that overall the Juddmonte operation has bred the first G1 winners by ten of their stallions. Today's stallion business is particularly competitive and the market has arguably rarely been more unforgiving, making the early support promised to Expert Eye all the more important. He looks set to have every chance and, with that in mind, it will be no surprise if we are talking about the horse in several years' time as an effective conduit of the Acclamation sire line.