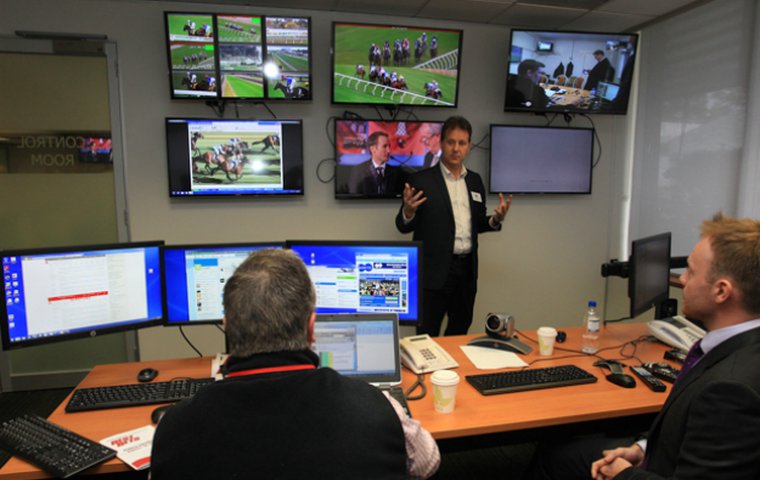 At the height of Melbourne's spring carnival last year, Racing Victoria began using Hawk-Eye technology during races, the same Hawk-Eye that revolutionized grand slam tennis, cricket, and soccer. Brad Waters looks at how the technology works and what it does, and how it has altered the integrity of Victorian racing.

Racing Victoria stewards keep a close eye on "Hawk-Eye" during every meeting, but they never see Alan Alda, or any episode of M*A*S*H for that matter. And that's because racing's version of Hawk-Eye is a system of cameras that feeds raw in-race footage directly to the stewards, enabling them to keep a close eye on every facet of a race, and find anything that might produce better, cleaner racing. By "cleaner racing," stewards mean races run with less interference. However, there is also the intention to produce improved training footage for tactical riding education.
Hawk-Eye entered racing in Victoria in October 2014 during the hectic Melbourne spring. It had been trialed during the quieter winter months. The U.K.-based, Sony-owned Hawk-Eye Innovations has developed ball-tracking devices for tennis and cricket, and produced the goal-line camera technology in use at the 2014 soccer World Cup. Using high-frame rate cameras, and advanced vision processing systems, Hawk-Eye equipment is trusted to make adjudications on sporting moments worth millions in both wagering and prize money.
Victorian racing alone is worth $2.8 billion to the Australian economy, and the technology cost a comparative pittance. Hawk-Eye set Racing Victoria back $300,000 to install and prepare, but punters paid for part of that via unclaimed pari-mutuel dividend money, accounting for approximately one-third of the cost.
The technology has advanced the sport significantly. Where stewards once relied on videotape, Hawk-Eye has enabled them to capture up to 12 different camera angles in either standard or high definition on any part of a race, transferring the signal to a broadcast van outside the racecourse. Stewards then have the ability from the control centre to bring up eight angles of each camera, each in perfect synchronization of the others to show every race or movement unfolding, eight different ways every time.
Hawk-Eye allows stewards to zoom in and out, and to view any part of a jockey or horse's action with remarkable clarity. This is especially useful investigating whip infractions, for instance, for in Australia jockeys are not permitted to raise their arm above shoulder height. Hawk-Eye has also proved useful in monitoring the number of times whips are used throughout a race.
It has had the knock-on effect of speeding up protest hearings in Victoria. It had long been felt that protests were taking too long, but since the introduction of Hawk-Eye, the clarity of vision has prompted stewards to introduce a trial of only seeking evidence from the riders involved in an objection – trainers and managing owners must now seek permission to speak in protest hearings. The success of the trial, which was instigated in January, is yet to be determined, but it wouldn't have been implemented without the new technology.
The Hawk-Eye visual system is a major part of the on-track arsenal available to stewards these days. It can ensure that a race is run fairly and safely. However, in the Racing Victoria control room, it isn't the only technology. Racing Victoria's Integrity department team are also analyzing form and wagering patterns. ie. monitoring betting activity.
Via a signed memorandum of understanding with Racing Victoria, wagering exchange Betfair, along with corporate bookmakers, and any wagering agencies that have signed the agreement, can reveal the identity of punters backing and laying horses. Identity information can be requested by Racing Victoria through a simple phone call, and transmitted straight to stewards on course. It gives the integrity department the ability to be as thorough at a country meeting as it would be at Flemington on Cup Day.
On the track, the Hawk-Eye system is engaging. Because computers are involved, things can go wrong, and the occasional inquiry can be held up as technical support steps in. But overall, the system provides a great deal of clarity for all parties. The bank of screens gives stewards a better chance of observing careless or reckless riding, but it also gives jockeys clearer footage from which to defend themselves against charges.
"We just want to make sure everybody goes home in one piece," says chief steward Terry Bailey on many occasions when inquiring into a rider's accused carelessness. Des O'Keeffe, of the Victorian Jockeys' Association, agrees.
"We are supportive of anything that makes the jobs of jockeys safer," O'Keeffe said. "Hawk-Eye has been one of those things that has helped jockeys ride safely all over Victoria."
Integrity is first and foremost with any chief steward, and Bailey said that Hawk-Eye is one part of Racing Victoria's strategy to maintain punter confidence, along with target testing of horses for race-day treatment, unannounced stable visits, and jockey and stable-staff drug testing. He is always insistent on the integrity department's best procedures being followed, but even that has come under fire in recent months with the lengthy investigations into the cobalt scandal, which hit a few high-profile Melbourne trainers earlier this year.
"We never make apologies for asking questions," Bailey said. "Largely, that's what we're here for. Confidence to bet on our product is all-important."
This has long been the line from Victoria's stewards, well before the cobalt controversy erupted, and the introduction of innovative Hawk-Eye.