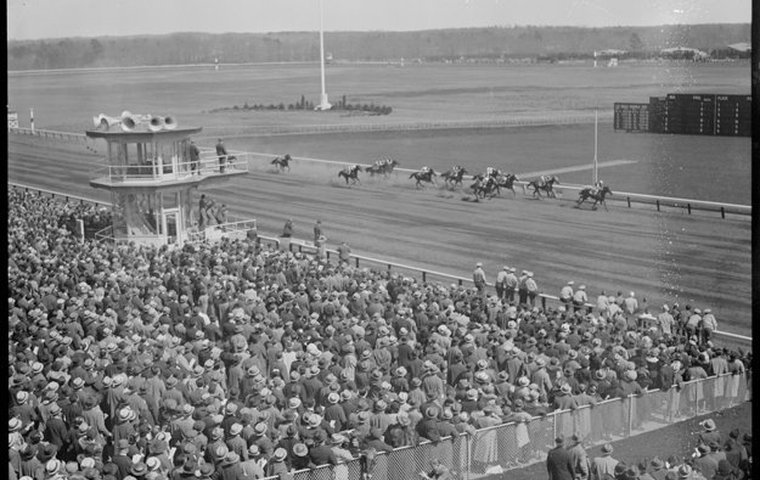 When Suffolk Downs ran its last race with 9,153 fans in attendance on the rain-soaked afternoon of Oct. 4, it was not only the final event to be contested at the 79-year-old East Boston track, it was also the end of Thoroughbred racing in New England. At one time, 17 tracks conducted meetings in five New England states (none in Connecticut). Now, there are none.

Horse racing's decline and the reasons for its drop in popularity throughout the country have been well documented. But nowhere has that decline been greater than in New England where every track has ceased operation. In comparison, look at California where landmark tracks Hollywood Park and Bay Meadows have ceased operation but Santa Anita and Del Mar, both renowned tracks, are still in business.
A little history lesson is in order to illustrate just how popular the sport was in New England and how far it has fallen. For more than four decades since pari-mutuel racing was legalized in the mid-1930s, Thoroughbred racing was the most attended sport in New England. In 1958, just four of its tracks, Suffolk Downs, Rockingham Park, Lincoln Downs, and Narragansett Park, drew 2,680,412, far outdistancing the combined attendance of the Red Sox, Bruins, and Celtics (2,168,412).
A look back at historic moments of three tracks are prime examples of the sport's popularity:
On Labor Day in 1934, Narragansett drew 53,922 patrons, to this day the largest crowd to ever attend any sporting event in Rhode Island. 'Gansett became one of the most successful tracks in the country, reporting a net profit of $2,017,381.54 from its opening on Aug. 1, 1934 until Sept. 30, 1936. In September 1942, 'Gansett hosted a famous match race when Alsab defeated Triple Crown winner Whirlaway by a nose. The race was broadcast on radio from coast to coast.
Huge crowds were the norm at Suffolk Downs. On June 29, 1938, The Boston Evening Globe headlined, "Seabiscuit Faces Admiral as 60,000 Fans Jam Suffolk." Seabiscuit got his start at Suffolk, and through the decades, its Massachusetts Handicap was a key stakes race that drew the nation's top horses, including three Triple Crown Winners (War Admiral, Whirlaway, and Assault). In the 1990s, Hall of Famers Cigar and Skip Away won back-to-back MassCaps. Two famous events took place within a few weeks of each other in 1966 when a man ran in front of the horses at the finish line of the Mayflower Stakes and escaped unhurt, and a few weeks later, The Beatles performed in the infield before 25,000 screaming fans.
Rockingham Park, located in Salem, New Hampshire, was not only a hugely-popular Thoroughbred track, it was also named New Hampshire's top tourist attraction in 1967 when it drew about one million people. In 1965, in conjunction with the New Hampshire Sweepstakes Commission, track founder Lou Smith inaugurated the $250,000 New Hampshire Sweepstakes, then the richest race in the country for 3-year-olds. The race, which was nationally telecast, was won by Roman Brother. "The Rock" always had top quality racing and in 1967, the great Hall of Famer Dr. Fager set two track records there. On Labor Day in 1968, Rockingham set a single day on-track record handle when 38,791 wagered $2,699,721 on the doubleheader card.
The decline in the sport's popularity began in the 1970s with the expansion of casino gambling. First there was Atlantic City opening numerous casinos, followed by Connecticut, Rhode Island and Maine, and card table rooms in New Hampshire. Track officials were saying that all those busses that used to bring patrons to the track were now going to the casinos.
Does horse racing have a future in New England? Three former track executives have different views concerning this issue.
Ed Callahan, who now serves as president and general manager of The Poker Room at Rockingham Park, also served as head of the former racetrack, which ceased live racing in 2010. Rockingham is located on 126 acres near the border with Massachusetts, where a large majority of the poker patrons come from. With casinos coming to Massachusetts in the near future, the competition for the gambling dollar will intensify.
"Racing cannot survive on its own, but it could be revived in conjunction with casino gambling," Callahan said. "If New Hampshire passes a law allowing for expanded gambling here, then Thoroughbred racing would be part of our plans.
"If that happens, we would have to be imaginative by turning the property into a multi-purpose facility such as using the infield for concerts and other activities," he continued. "As for the racing part, we would not have year-round meets but rather conduct quality shorter meetings. New England hasn't seen quality racing for years.
"New Hampshire must see us as a partner. It cannot be a loser in this case. It can only be a winner with jobs being created and revenues expanded. The gaming law just missed passage last year, but every two years we have new elections so you can't predict what will happen."
Dan Bucci was head of the Massachusetts Horsemen's Benevolent & Protective Association before assuming the position of general manager at Suffolk Downs in the 1980s. He was blunt and right to the point when he said, "To be succinct, its not going to happen. I don't think there is a financial model that will support it. The majority of the acreage is not making money.
"First of all, changing consumer tastes indicate today's generation prefers casino gambling over horse racing. Horse and dog players will bet the slots but slots players won't play the horses. Another factor against horse racing making a comeback is there is not enough of a horse population to support a long meet. The breeding industry has been shrinking with thousands fewer foals being born. The last gasp for Suffolk Downs came to an end when they did not get the gaming license last month."
For many decades, Massachusetts hosted a thriving fair circuit where short meetings were conducted from one end of the state to the other at eight different tracks beginning in the spring and concluding in the autumn. Carleton Chandler was an executive at the Marshfield Fair, which conducted highly successful meetings every August. Horse racing ended there in the 1990s.
"The key is: is it financially feasible? I don't know how you can do it economically," Chandler said. "Suffolk Downs had mostly 60-80 year-olds going there and those types of demographics can't support the sport."
"A hundred horse players may go to casinos but the thousands of people who go to casinos won't go to the horse track.
"I'd love to see the horses come back, but the key is: is it economically feasible? Unless there is a big infusion of money, I can't see it happening," he said.
While there have been recent talks to lease the Suffolk Downs property for a shortened meet next year and restarting a 60 date meet at the Brockton Fairgrounds, which last ran Thoroughbred racing in 2001, to all intents and purposes, the sport is dead in New England.
The glorious days of top notch Thoroughbred racing have reached the finish line.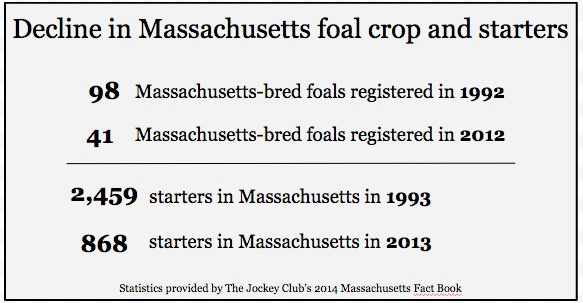 ---
Robert Temple was a sports writer for the "Boston Herald Traveler" during the 1960s and '70s where he covered the racing scene, first as the internal editor of all racing copy and handicaps, and later on site at the New England tracks. He later worked at various race track publicity departments. He is the author of The Pilgrims Would Be Shocked: The History of Thoroughbred Racing in New England and The History of Harness Racing in New England.