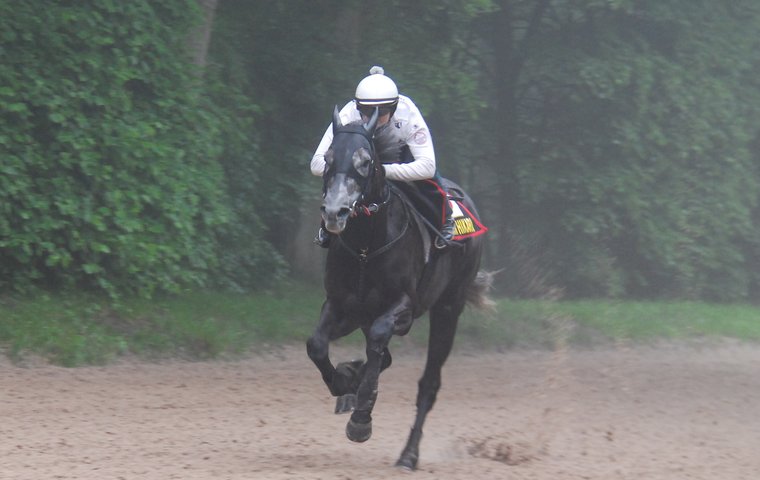 The mighty American mare Tepin takes centre stage on day one of Royal Ascot today, but the horse the world is waiting to see above all others this week runs tomorrow.

Is Prince of Wales's Stakes favourite A Shin Hikari really the monster he has appeared to be in his last two runs? John Gilmore has been watching the Japanese superstar's quiet preparation in the forests near Chantilly.

On all realistic criteria, A Shin Hikari is the best horse in the world right now. Forget California Chrome, forget Winx, forget Nyquist, Exaggerator and Harzand. Forget Tepin. What the son of Deep Impact did last time out stretched the bounds of credibility. His Frankel-like 10-length destruction of a superb field of G1 performers left French racing in shock and had the ratings experts reaching for their slide rules.
The 5-year-old is now rated on 129 - three pounds ahead of California Chrome and Winx - in the latest Longines World's Best Racehorse Rankings, and even higher by Timeform, who have him on 133.
And many believe there's a chance those marks may underrate him.
It's not as if that latest performance - in the G1 Prix d'Ispahan over nine furlongs at Chantilly on May 24 - was a flash in the pan. A Shin Hikari had been pretty awesome in his previous run, his first appearance on an international stage, when winning the $3 million G1 Hong Kong Cup over a mile and a quarter at Sha Tin in December.
That impressive victory - made all, never challenged, won eased down by a length and a half in race-record time - was in stark contrast to A Shin Hikari's previous outing, when he finished down the field in his only try at that point at G1 level, which was probably why he was allowed to start at 25-1 at Sha Tin despite having won eight of his previous 10 races.
Spacious forest gallops at Lamorlaye
With the big targets in Japan not until later in the year, owners Eishindo Company decided to aim the horse at the mile-and-a-quarter Prince of Wales, Royal Ascot's richest race, and he was packed off at the start of May to the stables of Japanese trainer Satoshi Kobayashi at Lamorlaye, next to Chantilly.
Kobayashi has become a regular host for Japan's French raiders, starting with Victoire Pisa, who ran seventh in the 2010 Arc, and including dual Arc runner-up Orfevre (2012-13).
The trainer has worked in France since 2002, firstly with dual Arc-winning trainer John Hammond for three years and then with Richard Gibson for two, both in Chantilly. "My original aim was to gain experience of working in a European stable and, through Yutake Take, I managed to find a job with John Hammond," he said.
He started training at Lamorlaye in 2007 - with one horse from the Yoshida family and three from former bloodstock agent Patrick Barbe. "I have 25 horses in the yard now and had 19 winners last year and five this season up til now," he added.
A Shin Hikari arrived there last month with an entourage that included the owners' racing manager, Masahiro Watanabe, two Japanese work riders and a groom - plus a companion, 5-year-old stablemate A Shin Erwin, a son of Shamardal, who is due to run against Tepin in the Queen Anne Stakes today (and is not considered to be without a chance).
Continuous rainfall a big concern
A Shin Erwin showed his well being when winning a listed race under Cristian Demuro in a blanket finish at Maisons-Laffitte over a mile on heavy ground on May 25.
"Both horses have benefited from the much calmer stable and training conditions on the spacious forest gallops here in Lamorlaye, compared to Japan, where things are a little hectic and congested as the training is much more centralised," said racing manager Watanabe. "This has been of particular benefit to A Shin Hikari, who has a bit of a temperament and has been more relaxed in the calmer conditions in France."
Calmer it may have been, but it was also much, much wetter - which was particularly concerning for Watanabe. "We have been a bit anxious for both horses, but this was made worse by the tremendous amount of rain last month in the region, and the worry it might have caused them to be ill, which thankfully was not the case," he said.
The continuous rainfall was certainly a big worry when A Shin Hikari turned out for his prep in the Ispahan on May 24.

It looked a difficult task anyway. Last year's Arc third and French Derby winner New Bay, G1 Prix Ganay winner Dariyan and dual G2 winner Vadamos were all preferred in the betting market with A Shin Hikari encountering ground much heavier than anything he'd ever set foot on before. The race also included Erupt, winner of the G1 Grand Prix De Paris in 2014, and last year's Breeders' Cup Mile runner-up (behind Tepin), Mondialiste.
But the going didn't appear to be a problem. Yutaka Take, who flew in from Japan for the ride (along with a number of Japanese journalists and photographers) settled the horse, normally a frontrunner, in behind leader Vadamos until the entrance to the straight. Then he tapped the reins and A Shin Hikari cruised clear. Dariyan, 10 lengths behind, was best of the rest, with New Bay only sixth.
Trainer Masonori Sakaguchi, who also flew in from Japan for the race, said afterwards: "I was concerned when Yutaka Take didn't take the lead straight away, but he knew what he was doing and ran the horse a little wider in search of the better ground."
Rating 'errs on the side of caution'
A Shin Hikari was soon cut to 2-1 favourite with British bookmakers for the Prince of Wales. He is as short as 4-6 now, ahead of Breeders' Cup Turf winner Found (7-2) and 2014 Irish Champion Stakes and French Derby winner The Grey Gatsby (9-1).
There was some controversy about the official margin of victory at Chantilly. Some professionals said it less than 10 lengths.
"We estimate the margin of victory to be seven lengths," said Chris Williams, Timeform's Rest of the World Editor. "We have given A Shin Hikari a rating of 133, but even with that rating we have the next four home between nine and 14 pounds below their best, so the margin of victory is irrelevant at the moment.
"It may become more important if the winner goes on to have a phenomenal season and we want to rate the race higher. As he has done it only once at the moment, we have erred on the side of caution with his rating for now, but that's not to say he won't prove very good during the rest of the season."
Trainer Sakaguchi returned to France to watch A Shin Hikari's last piece of pre-Ascot work at Lamorlaye on Saturday and reported: "I was very pleased with his condition, and the horse looked in great shape."
In fact both A Shin Hikari and A Shin Erwin have thrived in France, and, as I watched A Shin Hikari do impressive pieces of work in misty conditions last Monday and again on Saturday, he looked superb.
Connections think stablemate has a chance too
Trainer's son Tomoyasu Sakaguchi, who rode him in his final workout on Saturday, said: "He was magnificent, and he is in much better condition than when he arrived. He has improved."
Every precaution has been taken for both horses, and a veterinarian was in attendance after the fast work to check their condition, with a Japanese-French interpreter on hand.
"The two horses are in very good form and we are hopeful of a good performance from both," said Watanabe. "It was great to see A Shin Hikari win so well at Chantilly and hopefully he can maintain this form at Ascot. But connections were also pleased with A Shin Erwin's performance. He came just as a partner, but now they think he has a chance in the Queen Anne." (The bookmakers, on the other hand, don't. A Shin Erwin is available at 66-1.)
Both horses will return to France after Ascot. A Shin Erwin is due to fly back to Japan on Friday, A Shin Hikari a week later. "If all goes well, A Shin Hikari may come back again next year, if the owner hasn't retired him to stud by then," said Watanabe.
Sakaguchi, who trains 22 horses in Japan, joked: "A Shin Hikari is by far the best and his winnings help feed the other 21."