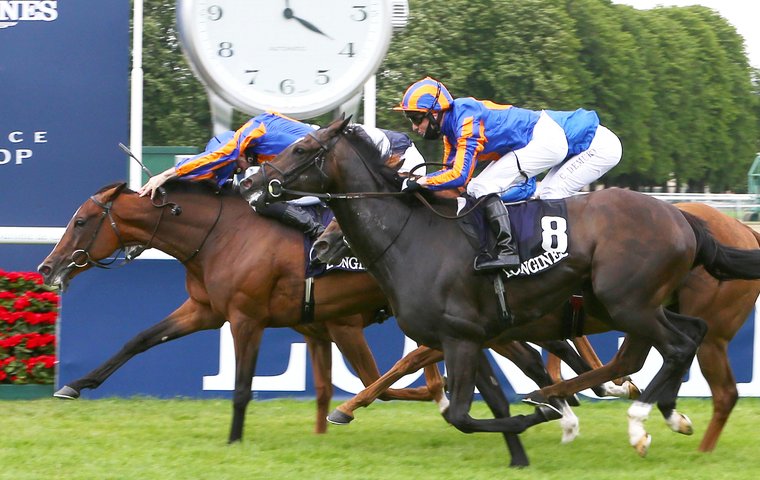 It was always going to happen as long as we are trying to salvage something from this ravaged season, but they're coming thick and fast now, these European Group 1s. Astonishingly thick and fast.

Indeed it was practically a deluge last weekend - a Derby and an Oaks in Britain on Saturday, a Derby and an Oaks in France the next day, and one of the most prestigious ten-furlong Group 1s of the year also shoehorned in on Sunday, plus assorted Group races, often worthy of headlines themselves, for the moment merely making up the numbers.
And this week, the Brits are cramming in the choicest bits of the York Dante Festival into one card today (Thursday) and running it alongside day one of a three-day July meeting at Newmarket.
You'd struggle to make it up.
With the usual mid-year lulls down under and in the Far East, and relative quiet on the North American stage ahead of Saratoga, which starts next Thursday, it's small wonder that the biggest guns are blazing away in the TRC Global Rankings just now.
The Gosden-Dettori combo, world number ones both, dominated Royal Ascot and have been in fabulous fettle for weeks, and they kept up the momentum with a third in the Epsom Oaks (Frankly Darling), Enable's second in the Eclipse Stakes, and a win in the Prix du Jockey Club (French Derby) with Mishriff (ridden on this occasion not by Dettori but the accomplished 46-year-old Spaniard Ioritz Mendizabal, who plucked a rise of nearly 200 places in the jockeys' standings as a result).
Dettori, of course, is out on his own at the top of the rider rankings, but Gosden's position at the helm in the trainers' table is under constant fire from ex-#1 Charlie Appleby, and the Godolphin man kept up the pressure when Ghaiyyath had too much in the tank for the returning Enable at Sandown. It wasn't enough, though. Gosden's fine weekend narrowly trumped Appleby's, and he holds the top spot by a single point.
He may not have it much longer, however.
Back in the game
When the TRC rankings were released to the public for the first time nearly four years ago, the #1 slots in all four categories belonged to Coolmore & Co. And Aidan O'Brien, Ryan Moore, Galileo and Coolmore Partners held sway convincingly for most of the next three years. They've been eclipsed in the past 12 months - O'Brien at various times by Messrs Gosden, Appleby, Brown and Baffert, Moore by Dettori and occasionally Christophe Lemaire, Galileo by Dubawi and Coolmore by Godolphin.
But look at our page here, detailing the highest climbers of the seven days that ended on Sunday. See which trainer gained the most points (ten) in all categories last week? See which sire rose by nine points? And which owner was up by eight? These are extraordinary increases for players so high in their categories, where you have to have a decent week just to stand still.
Yes, Team Coolmore are very much back in the game, with Serpentine winning the Derby and Love the Oaks, Japan a close third behind Ghaiyyath and Enable, and Peaceful an even closer third in the Diane. (These Ballydoyle stablemates are all offspring of Galileo, of course.)
Indeed Galileo's placings in Group races for the week were 11122333445566789. That's eight places from 17 runners, and most of the unplaced ones earned a decent performance figure. This is a tremendous array and vaults the TRC all-time #1 to a position hot on the heels of Dubawi, even though that one himself is responsible for Ghaiyyath.
As a by-product, Galileo is back to world #1 in our turf-only figures. Dubawi's record on dirt keeps him at #1 overall for now, but the writing may be on the wall.
O'Brien, meanwhile, may also be on his way back to the top. Still at #4 for the moment, he is 15 points behind Gosden, but that sort of gap can disappear in a handful of weeks when you have a string in the kind of form his appears to be in just now.
He will have been delighted, however, to concede a little of the limelight to son Donnacha, who is in his first season as a trainer and has already done something Aidan hasn't - saddle the winner of the Prix de Diane. The victory of Fancy Blue, a daughter of Deep Impact, wasn't quite enough to put Donnacha into the TRC rankings hierarchy just yet, but it won't be very long at all before he joins his dad and elder brother Joseph (world #24) up there somewhere.