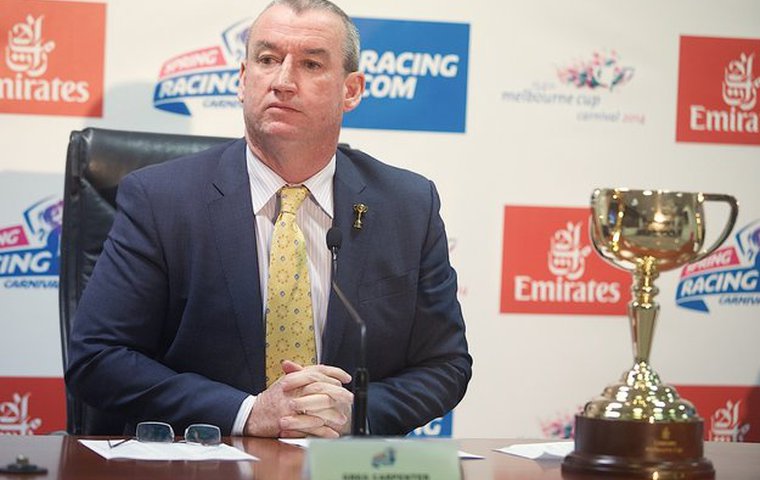 November's Melbourne Cup is the world's richest handicap, but just one of several favourite handicaps on the Australian racing calendar. Brad Waters examines a nation's love affair with the race that truly tests the good horses.



If there is a handicapper's utopia, it is an elusive destination. At one time, it might have been Australia, where the biggest and richest race of the year, the Melbourne Cup, is a handicap. Australia, more than most modern racing nations, has preserved its big handicap contests, but not without difficulty. The ideology that would love to ensure all horses engaged in a handicap cross the finish line together is becoming more and more of a myth thanks to a single evolutionary factor – the average Australian is getting heavier.
Racing has been unable to escape this well publicised science. The weight of the average Australian rose by 4 kilograms between 1995 and 2011, and jockeys' weights have also risen in that time, as well as in the last four decades. It's something that legendary Australian turf writer Max Presnell knows all about, and he has been covering the sport for more than 40 years. Sydney-based Presnell has written about all the modern equines of the Australian turf, including Tulloch, Kingston Town, Gunsynd, Manikato, and Black Caviar, and said he is thankful the hard attitudes that used to exist about jockey weights have changed.
"Being a jockey was a terribly unhealthy business once upon a time," Presnell said. "Nowadays, they work out in the gym, and jockeys are much healthier. But racing had a different structure back then too. Lighter weighted horses would get 44 kilograms or 45 kilograms at one time."
In 2012, the minimum weight for an Australian horse race rose to 54 kilograms (119 pounds), but this has presented the country's ratings-based system with a challenge. In any handicap race on a given day, horses weighted on the minimum could end up carrying any amount of weight more than they should. An example of this occurred in the Sofitel Handicap over 1,700 meters at Flemington on Sept. 13. With 10 runners, the top weight was assigned 60 kilograms, and four horses were allotted the minimum of 54 kilograms. Official handicappers' ratings suggested that none of these four would have carried that minimum weight in a true handicap, with the lowest-rated entrants, horses Royal Mephisto and Livery, actually rated to 46.5 kilograms and 47.5 kilograms, respectively. The result of the Sofitel Handicap was that the top weight, the smart New Zealand runner Who Shot The Barman, carried 60 kilograms to a comfortable victory, while Royal Mephisto and Livery were beaten by 10 and 11 lengths with their comparatively enormous weights. It's an everyday situation in Australian racing, and not a great deal can be done about it.
"Even if a horse got in with that light weight of former days, who could ride it?" Presnell said. "There are young jockeys today saying they can ride at 54 kilograms, like it was a badge of honour. They wouldn't have got a feed 50 years ago, regardless of how good they were. Think of the era of Shane Dye [1980s-1990s], when being a lightweight jockey was a bit of an advantage. Ron Quinton was a 49-kilogram jockey, but he was strong. In those days, you'd get jockeys that would win Melbourne Cups because they were purely lightweight jockeys."
In Australia, the Cup is the yardstick for measuring the enormous shift in handicap weights. In 1890, the legendary New Zealander Carbine, a fabled weight-carrier, won the race under 65.8 kilograms (145 pounds), which is still a record, giving the runner-up a whopping 24 kilograms. In 2005, 115 years later, the unique Makybe Diva won her third Melbourne Cup, the only horse ever to do so, conceding 9 kilograms to the lightest-weighted runner, or 11 kilograms when her mare's allowance is factored in. By 2012, the weights had compressed even further. Just 8.5 kilograms spread the field from top to bottom when Green Moon won his Melbourne Cup that year.
In Cup history, it is amazing to consider that such outstanding European horses as Vinnie Roe and Yeats were unable to hammer the local Australian horses in their years; yet Vintage Crop, Media Puzzle, and Americain, with more modest records, were able to win Australia's greatest race. Dunaden, before his victory in 2011, had arrived at Flemington with only a pair of G3 wins, while runner-up Red Cadeaux had been beaten 20 lengths in the G2 Goodwood Cup. But Racing Victoria's chief handicapper, Greg Carpenter, who is also Australia's representative on the IFHA's World's Best Racehorse Ranking committee, said visitors are often able to capitalise on an opportunity to race in events of a suitable weight format.
"All G1 races in Europe are run as set weights or weight-for-age races, while only the majority of G1 races in Australia are run as set weights or weight-for-age," Carpenter said. "There has always been diversity amongst the top races here, so that a good number are also run under handicap conditions, like the Caulfield and Melbourne cups, and Sydney's Epsom Handicap. Weight-for-age and handicap winners are celebrated equally by racing fans in Australia, but it has always been seen as a measure of greatness for the very best horses to give weight to the best horses of their generation, proving their superiority under those conditions."
Carpenter added that the challenge for internationals interested in pitching a horse to the rich Melbourne Cup is to find a progressive Group horse that has performed successfully, but one that has had limited exposure. "One that has gone around in lower-level Group racing," he said, "but that also has the latent ability to be successful at G1 level."
Perhaps because of the Melbourne Cup, it seems the handicap race is viewed with more merit in Australia than Europe, but Presnell said this difference stems from attitudes toward wagering. He contends that the veil of secrecy once adopted by trainers to hide the ability of their horses from the handicapper and the bookmakers has disappeared, thanks to owners and trainers prioritising the big-money races in Australia. Also, international interest in the Melbourne Cup has made qualifying for the race harder and harder, with the higher-handicapped horses first on the ballot.
"Overseas, racing has been steeped in tradition," Presnell said. "They have their weight-for-age races and their classics, and that's how we were to a degree. But in Australia, we have been more geared towards betting, and handicaps are the best betting races. Back in the day, the betting money was often a bigger concern than prizemoney, and trainers would set a horse for a race with not only the right weight in mind, but also getting him in at the right price."
In a way, the Australian mentality has endured – celebrate the Thoroughbred that could give away an advantage to his opposition and still prevail. The nation has long had the ethos of supporting an underdog, and has always identified with horses that could carry big weights. And Australia has had immense weight carriers. Phar Lap won the 1930 Melbourne Cup with 62.6 kilograms (138 pounds), but was given a crushing 68 kilograms (150 pounds) the following year, finishing well back. In the 1940s, Bernborough was as famous for his grandstand weights as his victories. And then there was Ajax, who won 36 of 46 races between 1937 and 1940, but who started in handicaps only a handful of times. He emerged from his career with a blot on his record for this reason, some from his generation calling him a "meat-pie champion."
In the modern era, there has been Black Caviar, who got home in all 25 of her races, but both Presnell and Carpenter remember her victory in the 2011 Newmarket Handicap at Flemington as one of her greatest. Black Caviar gave 8 kilograms to the runner-up, the G1 Golden Slipper winner Crystal Lily, and conceded weight to a host of other well-credentialed sprinters. But she demolished the field in race-record time, earning the then highest international rating of 132 in the process.
"The beauty of Black Caviar was that she was tested under handicap conditions, even though she had a lot of soft kills," Presnell said. "Once upon a time, horses had to get out of their comfort zone when chasing the prize money, and weight-for-age racing can be just exhibition gallops for great horses."
For this reason, the handicap race remains alive and well in Australia. Along with the Melbourne Cup, the calendar shows off its wares with the rich and traditional Caulfield Cup, Newmarket Handicap, Epsom Handicap, and Metropolitan. In fact, of the top 10 Australian races by prizemoney, almost half are handicaps, so while times are changing in horse racing, it seems Australia will always love its handicaps.