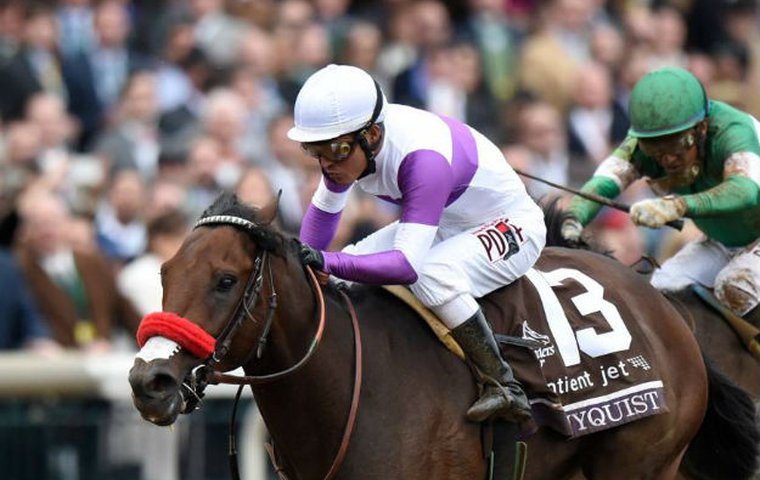 The recently announced winner of the David F. Woods Memorial Award for excellence in journalism, Bob Ehalt casts his expert eye over the runners for Saturday's Run for the Roses. Make sure to catch his report on the great race here from Sunday morning.

It's a fact of life as inevitable as death and taxes. If you study 10 horse races or 10,000 of them in a year, the Kentucky Derby will be the most difficult to handicap.
There are so many variables to ponder that making a selection becomes a huge challenge.
Much like a weatherman's long-range forecast, change can become a daily event as you analyze 20 relatively well-matched contenders and mull diverse factors such as:
The mile-and-a-quarter distance, which is something new for all the starters and turns predicting how a horse will handle that grueling 10-furlong test into a guessing game.

How the race brings together the very best 3-year-olds in training and how there's only a modest differential in talent among most of them. Compounding matters, with a point system that favors success in the most recent preps, the field of 20 has only a few horses that are obvious toss-outs.

In a bulky 20-horse field, the chances of a horse and rider running into a traffic problem are greatly enhanced and the best horse does not always reach the finish line first.

Three-year-olds can blossom in the spring and take huge steps forward from one start to another. Conversely, others can peak in their final prep and regress in the Run for the Roses from that effort.
Adding to all of that confusion surrounding the upcoming 142nd Kentucky Derby are two interlopers: Mother Nature and Rodney Dangerfield.
Clouds and rain storms were a frustrating presence leading up to the first jewel in the Triple Crown as three of the major preps – the Florida Derby, Wood Memorial and Santa Anita Derby – were contested on wet tracks that might have enhanced some horses' performance and provided a legitimate excuse for sub-par efforts from others.
More on that later.
The dominant theme in handicapping Saturday's classic at Churchill Downs centers around how surprisingly under-appreciated Nyquist has been.
----------
Alan Porter: How the Derby contenders shape up on pedigree
----------
To better understand what's happening, think Rodney Dangerfield. Prior to becoming a comedy legend though his role in the Hollywood classic Caddyshack, Dangerfield was best-known for his stand-up routine, in which he would bemoan the fact that "I get no respect".
He built his career with quirky movements and lines like: "I get no respect. My psychiatrist told me I was crazy and I said I want a second opinion. He said, 'Ok, you're ugly, too.'"
These days you can almost imagine trainer Doug O'Neill bobbing his head and pawing at his tie, ala the late comedian, as he talks about the hero of his barn.
In Nyquist, O'Neill has a horse that should be universally hailed as the sport's newest star. After all, he's a perfect 7-for-7 and was voted the champion 2-year-old male of 2015, and the last time an undefeated 2-year-old champion raced in the Kentucky Derby was 1977, when Seattle Slew began his march to the Triple Crown.
Yet, in spite of having such a peerless resume, acclaim has been more difficult to achieve than victories on a racetrack.
Each time Nyquist wins, it does little to reduce the number of detractors. Fault is usually found in either the final time or margin of victory.
----------
The amazing broodmare band bidding for a Derby weekend treble
----------
Take last year's Breeders' Cup Juvenile. Even though Nyquist was unbeaten with a 4-for-4 record, critics pointed to a hard-fought, three-quarters-of-a-length victory in slow time in Santa Anita's FrontRunner Stakes and handicappers looked elsewhere for a betting favorite. They settled on Champagne victor Greenpointcrusader at 7-2 odds as Nyquist was sent off as the 9-2 co-second choice.
Despite a bumpy start and wide trip throughout, owner Paul Reddam's colt responded with a gutsy half-length victory that earned him an Eclipse Award.
More recently, after winning his 3-year-old debut in the San Vicente, lured by the possibility of collecting a $1 million bonus, he headed east for the $1 million Florida Derby to face another undefeated rival in Shadwell Stable's Mohaymen .
At post time, Mohaymen was favored at 4-5, even though he was searching for first Grade 1 victory.
At the finish, though, it was three-time Grade winner Nyquist who won the battle of the unbeatens and posted a decisive 3 ¼-length victory as the 6-5 second choice over Kentucky Derby candidate Majesto while Mohaymen faded to fourth.
Nyquist naysayers still at large
After such an impressive victory over a highly regarded rival, it should not be surprising that Nyquist will be the betting favorite in the Derby. Yet naysayers have hardly gone into hiding.
There's still a large segment of the betting public willing to take a stand against Nyquist in the Derby, believing his perfect record is finally due for some tarnish. It's reflected in the likelihood that Nyquist will be somewhere in the neighborhood of 5-2 odds in a full field of 20 starters at post time. Rewind back to 1977 and the previous undefeated 2-year-old champion in the Derby was sent off as an odds-on 1-2 favorite and only 14 rivals were willing to take on the mighty Seattle Slew.
See, no respect.
And unlike a Dangerfield routine, it's a not a laughing matter to O'Neill.
"I think the beauty of all sports is that you can always find a reason to knock a favorite or knock a team or a horse that's on a current roll," O'Neill said. "That doesn't bother me. It does bother me when you read an article and they're knocking him; it's like they're knocking your family member."
History says discounting horses such as Nyquist could be a big mistake.
Simply being able to be champion at two and extend that dominance into the first Saturday in May says a great deal about a horse's talents.
Keep in mind, as American Pharoah reminded everyone, that the last five Triple Crown winners – a stretch dating back to Citation in 1948 – were all champions at two.
A gift from Santa Claus
In addition, since the inception of the Eclipse Awards in 1971, on 14 occasions a 2-year-old champ has been the favorite in the Run for the Roses. Seven of them won (50 percent), while two were second and two were third, meaning they finished in the money 78 percent of the time.
For Nyquist's backers, there's fervent hope this year's race will mirror 2015, when the 5-2 odds on a once-beaten horse named American Pharoah looked like the steal of the century at the end of the year. Rest assured, if Nyquist does indeed win the Derby, getting $7 for a $2 bet on him will indeed seem like a gift from Santa Claus.
There are, of course, some numbers that don't add up to too well for Nyquist. Winners of the Breeders' Cup Juvenile are just 1-for-31 in the Kentucky Derby and 2-for-93 overall in Triple Crown races.
Yet the most worrisome concern might be that the son of Uncle Mo will run in the Derby off just two preps at three. With a seven-furlong sprint in the San Vicente and the Florida Derby serving as his only races at three and lone starts in the past six months, will that be enough to have him on edge for a peak effort in a demanding mile-and-a-quarter test such as the Kentucky Derby?
Street Sense, who won the 2006 Breeders' Cup Juvenile and was a 2-year-old champ, won the Derby off two starts. Yet last year, the race that worried American Pharoah's connections most was the Kentucky Derby because of concerns that he was not 100 percent fit after just two preps.
How it turned out last year was that, when his fellow 3-year-olds could not beat American Pharoah in the Derby, he moved forward and there was no beating him after that.
That surely could be the scenario again this year. If his rivals want to beat Nyquist, they would be best advised to do it sooner rather than later.
Settling on the horse most likely to do just that is a perplexing task, thanks in part to the aforementioned Mother Nature.
When Nyquist vanquished Mohaymen in the Florida Derby, the race was contested on a wet track labeled as "good". Mohaymen's connections believe their horse could not handle the track and expect a vastly improved performance at Churchill Downs.
A sharp 46.80 workout at the Louisville track on April 20 reflects why trainer Kiaran McLaughlin has been talking in optimistic terms about seeing a different Mohaymen on May 7 .
"Well, we're going to draw a line through the effort," McLaughlin said about the Florida Derby. "He's just a special colt, does everything right and had two minutes that wasn't great this year, that's all."
The Santa Anita Derby, contrary to the song about it never raining in southern California, was contested on a sloppy racetrack and produced a mix bag of results.
Exaggerator looked awesome in winning by 6 ¼ lengths over favored Mo Spirit with the speedy second choice Danzing Candy fading to fourth. While the mud probably played a key role in the margin of victory, it cannot be viewed as the lone reason for his victory.
Exaggerator has been one of the top horses in the division since last summer. Winner of the Delta Downs Jackpot, he lost by only three lengths in the BC Juvenile and was second to Nyquist by a length and a half in the San Vicente. Just how draining his decisive victory will prove to be looms the key question for the son of Curlin.
Prior to the Santa Anita Derby, Danzing Candy had beaten the Bob Baffert-trained Mor Spirit by two lengths in the San Felipe with Exaggerator another three-quarters of a length back in third, and both Danzing Candy and Mor Spirit will no doubt welcome a fast track on Derby Day.
Rain also played havoc with the Wood Memorial as Outwork prevailed by a head over Trojan Nation, a maiden who was dismissed at 81-1 odds, in a mile-and-an-eighth stakes where the final three furlongs completed in a painfully slow 40.61 seconds. Both horses are expected to run in the Derby, and one can only wonder how a dry track – or even a wet track for that matter – at Churchill Downs will impact them.
In the same race, Shagaf finished fifth as the 9-5 favorite. He didn't seem to care for the wet track and had some minor traffic issues in the stretch while losing for the first time in four career starts. Like his Shadwell stablemate Mohaymen, better things are expected from him on a fast track in the Derby.
At least the track was dry for the Blue Grass Stakes at Keeneland and Brody's Cause, who was third in the BC Juvenile, established himself as a serious threat in the Derby by rallying from 11th to triumph by 1 3/4 lengths. The prospect of Outwork, Danzing Candy and Nyquist carving out quick early fractions would surely help his cause in the final furlongs.
My Man Sam, who had to overcome post 14, rallied from 13th in the Blue Grass and with just four career starts could be poised for a peak effort.
The Arkansas Derby knocked the speedy Cupid out of Derby contention, but it gave birth to a new face in Creator, who rallied from 12th to win by 1 ¾ lengths in just his second start after a maiden win.
Runner-up Suddenbreakingnews and Whitmore, who was third, also rallied from the back of the pack in a manner that bodes well for their chances at 10 furlongs.
The Louisiana Derby also produced three candidates in Gun Runner, who won by 4 ½ lengths for his fourth win in five starts for trainer Steve Asmussen, Tom's Ready, the 30-1 shot who grabbed second, and Mo Tom, who fourth after a third straight rough trip.
Reflective of the depth of the field, there's also Destin, who beat stablemate Outwork by a length in the Tampa Bay Derby in quick time, but has not raced since March 12 for trainer Todd Pletcher.
Also, let's not forget Lani, who is attempting to become the first UAE Derby winner to capture the Kentucky Derby, and Oscar Nominated, who is hoping to mimic Animal Kingdom and win the Derby in his first race on dirt.
Beyond all those races and speed figures to sift through, weather could also play a role on Derby Day with rain and a wet track only adding more confusion to the quest for picking a winner.
Yet for all those variables there has been one constant. No matter what Nyquist does or how his record speaks greatness, his doubters have yet to relent.
And on Saturday, in the most important test of his career, they'll happily take one more swing at beating him.
Some horses do indeed get no respect.