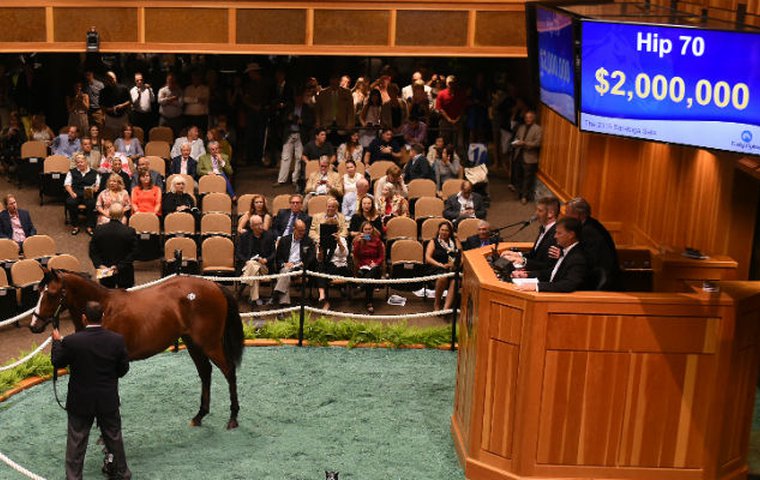 The yearling sales season in North America and Europe burst into life in July with a buoyant renewal of the Fasig-Tipton Kentucky July Sale, and on not one occasion since has there been cause for a drop in mood, with each of the five subsequent major auctions either recording increases or holding stable from 2014.

Significant increases were recorded in early August at the Fasig-Tipton Saratoga Sale before the same venue played host to a strong edition of the New York-bred Yearling sale. A week later in Florida, it was the turn of the Ocala Breeders' Sales Company to stage their August Sale, where the top price of $320,000 easily surpassed last year's ceiling.
In Europe, records have been the theme so far. A sale record was set at the Arqana August Sale in France when John Ferguson paid €2.6 million for a colt by Dubawi. He was one of three yearlings to break the million-euro barrier, alongside an Invincible Spirit colt (€1.4 million) and a filly from the much anticipated first crop of Frankel, who sold for €1.15 million to Charlie Gordon-Watson.
Increases were returned across-the-board at the three-day sale, as they were at the next auction on the European circuit, the DBS Premier Sale. A particularly impressive statistic from that sale was the number of lots to realise £200,000 or more, which rose from one in 2014 to eight this time around.
Fasig-Tipton Kentucky July Sale
With Tapit again out on his own at the head of the North American sires' list, demand for his progeny has understandably been a driving force behind the top end of the American market.
The sole Tapit yearling catalogued to the Fasig-Tipton Kentucky July Sale was always likely to command plenty of attention, and so it proved when she sold for a sale-topping $500,000 to agent Steve Young on behalf of an undisclosed client.
Bred and sold by Gainesway Thoroughbreds, which stands Tapit for $300,000, the filly is the third foal out of 2010 Hilbys Brite Flight Stakes winner French Dip. In turn, French Dip is a Speightstown daughter of G1 winner Mayo On The Side.
Several major pinhooking scores were also recorded during the sale, notably by Tami Bobo, of First Finds, whose Blame colt out of Private Opinion blossomed from a $20,000 foal into a $335,000 yearling. Ellen Charles, of Hillwood Stables, signed the ticket.
Florent Couturier, of Redmon Farm in Kentucky, was another vendor to hit a home run when selling a Scat Daddy colt for $385,000 to Jim Crupi of Crupi's New Castle Farm. The colt, bred by Commonwealth out of Irish 1,000 Guineas third Starbourne, had cost $90,000 as a weanling.
Their sales contributed to a strong edition of the July Yearling Sale, at which the average rose for the fourth consecutive year, on this occasion by 3.6% to $97,585.
| | | | | |
| --- | --- | --- | --- | --- |
| Sold | Gross | Average | Median | Top price |
| 205 (71.2%) | $20,005,000 (+31.5%) | $97,585 (+3.6%) | $77,000 (+10%) | $500,000 |
Fasig-Tipton Saratoga Sale
Thus the Kentucky July Sale acted as an encouraging prelude to Fasig-Tipton's flagship yearling event, the boutique Saratoga Sale on August 10 - 11. With investment from a broad range of domestic buyers alongside international powers such as Sheikh Mohammed, acting as usual through John Ferguson, Al Shaqab Racing and China Horse Club, the 2015 renewal ended with total sales of $46,755,000 for 145 yearlings, up 40.4 percent from 2014 and the highest gross since 2009. The average rose 10.4 percent to $322,448.
Once again, Tapit fever drove the top end of the market; the son of Pulpit accounted for two of the three million-dollar yearlings, including the $2 million sale-topper, as well as five of the top eight yearlings.
The sale-topper, a colt bred in Ireland by Ben Sangster out of the G3-winning Galileo mare Dress Rehearsal and sold through Four Star Sales, realised $2 million to El Capi Racing, a partnership of six South American owners managed by Francisco Convit. Justin Zayat was the underbidder on the colt, a brother to this year's Lingfield Derby Trial third Christophermarlowe.
Tapit was also responsible for a colt out of G1 Spinaway Stakes heroine Appealing Zophie who sold for $1.2 million to a partnership comprising John Malone's Bridlewood Farm, Eclipse Thoroughbred Partners and Robert La Penta.
Al Shaqab Racing was the underbidder on that colt but they didn't go home empty-handed, signing for three lots worth $1.785 million, including another son of Tapit, who cost $700,000. At the close of play, Tapit's sale average stood at an incredible $885,714 for seven sold.
The sale's leading buyer John Ferguson came away with 11 yearlings worth $5.425 million, more than he had spent at this sale since 2011. His haul included the third million-dollar yearling, a Street Cry colt co-bred by Darley with Keene Ridge Farm for whom he went to $1.4 million. Ferguson also struck for four of the five yearlings catalogued by Darley resident Bernardini.
A good week for Fasig-Tipton concluded on August 17, when the New York-bred Yearling Sale closed with improvements in aggregate and average. The New York-bred program has gone from strength to strength in recent years, particularly since the opening of the Resorts World Casino at Aqueduct in 2011, and naturally this sale has been a primary beneficiary. Led by a $350,000 daughter of Tiznow, who sold to McMahon and Hill Bloodstock, 13 yearlings realised $200,000 or more this time around, compared to eight in 2014.
SARATOGA SALE
| | | | | |
| --- | --- | --- | --- | --- |
| Sold | Gross | Average | Median | Top price |
| 145 (84.8%) | $46,755,000 (+40.4%) | $322,448 (+10.4%) | $250,000 (+5.83%) | $2,000,000 |
FASIG-TIPTON NEW YORK-BRED YEARLING SALE
| | | | | |
| --- | --- | --- | --- | --- |
| Sold | Gross | Average | Median | Top price |
| 182 (72.2%) | $14,876,500 (+5.5%) | $81,739 (+1.9%) | $65,000 (n/c) | $350,000 |
OBS August
A daughter of Arch topped a solid renewal of the OBS August Sale when sold for $320,000 to Nial Brennan on behalf of owner Marc Keller.
With 41 fewer horses offered during the select one-day session than last year, gross sales understandably dropped, in this case by 15.6 percent to $6,609,000. However, the average fell by just $167 to $45,896, while the median remained the same at $35,000.
SELECT SESSION
| | | | | |
| --- | --- | --- | --- | --- |
| Sold | Gross | Average | Median | Top price |
| 144 (75%) | $6,609,000 (-15.6%) | $45,896 (0.3%) | $35,000 n/c | $320,000 |
Arqana August Sale
All eyes were on the first crop of Frankel as the first book of Arqana's August Sale opened its three-day run on August 15. However, it was a son of Dubawi who stole the show when selling for a sale record of €2.6 million to John Fergsuon.
Not only did the sale return a record top price, but improvements were recorded in each key areas, notably the average which rose 10.4 percent to €163,292. Overall, 257 yearlings changed hands for a total of €42,961,000, up 9 percent from 2014.
The sale-topping Dubawi colt capped an outstanding two days for his breeder and vendor, Ecurie des Monceaux, which ended the sale as leading vendor for the fourth consecutive time thanks to 27 yearlings that realised a total of €12,157,000 and average of €450,259. Overall, the farm was responsible for each of the sale's three million-euro yearlings, as well as seven of the top ten.
Much of the stud's recent success on the track and in the sale ring emanates from the Zafonic mare Platonic, who was bought in partnership with Skymarc Farm through Suprina from Luca and Sara Cumani's Fittocks Stud for 100,000gns in 2004. Her addition to the Monceaux band has since reaped major rewards as she subsequently bred G3 winner Pacifique as well as Listed winner Prudenzia, herself dam of Irish Oaks heroine Chicquita.
While the sale-topping Dubawi colt is the first foal out of Prudenzia, Platonic herself featured as the dam of a Frankel filly, who was sold by the stud for €1.15 million to Charlie Gordon-Watson.
During an electric second evening of trading, the stud also sold the sale's second dearest Frankel, a colt out of Piping bought for €750,000 by Tony Nerses on behalf of Saleh Al Homaizi and Imad Al Sagar. With those Frankels from Monceaux leading the way, the eagerly anticipated first draft of yearlings by the champion returned an average of €566,667.
Nerses, standing with Richard Hughes, later tried hard to secure Monceaux's other million-euro yearling, an Invincible Spirit colt out of Vedela, but came up short to Bertrand Le Metayer's winning bid of €1.4 million.
The sale also featured the first European crop by Australian champion sire Redoute's Choice. Ten yearlings sold for an average of €366,500, among them a colt bred by Barronstown Stud out of Prix Saint-Alary heroine Vadawina who was knocked down to the sale's leading buyer, John Ferguson, for €950,000.
| | | | | |
| --- | --- | --- | --- | --- |
| Sold | Gross | Average | Median | Top price |
| 257 (77.1%) | €41,966,000 (+8.7%) | €163,292 (+10.4%) | €95,000 (+5.5%) | €2,600,000 |
DBS Premier Sale
More records were broken during the two-day DBS Premier Sale in Doncaster, at which the average rose 15 percent to £42,731. While the number of lots to make £200,000 or more rose from one last year to eight, 31 yearlings made six figures compared to 21 in 2014.
The previous sale record of £280,000 was matched during the early hours of the second session, when a Paco Boy sister to recent Vintage Stakes winner Galileo Gold was sold to Tony Nerses, advisor to Saleh Al Homaizi and Imad Al Sagar. Sold by Houghton Bloodstock, she is only the second foal out of the Galileo mare Galicuix, for whom the filly's breeder, Pantile Stud, paid just 8,000gns in 2013.
Nerses walked away with five lots in all, but by far the busiest buyer was Shadwell Estates, which paid £2,204,000 for 20 lots, led by a £230,000 first-crop son of Born To Sea. He had been pinhooked for 65,000gns by Abbeylands Stud as a foal.
Peter and Ross Doyle were also very active, paying £1,256,000 for 18 lots, while John Ferguson made his presence felt during the second session when coming away with £980,000 worth of yearlings. They included three six-figure yearlings by Dark Angel, in whom Darley have recently purchased a share, led by a £270,000 brother to G2-winning juvenile Birchwood. His sale capped an extraordinary DBS debut for Guy O'Callaghan's Grangemore Stud, which sold four yearlings for a total of £596,000 and average of £149,000.
In what was a very good sale for the O'Callaghan family, Tally-Ho Stud, owned by Tony O'Callaghan, was the leading vendor thanks to total sales of £932,000, while Gay O'Callaghan's Yeomanstown Stud filled second.
| | | | | |
| --- | --- | --- | --- | --- |
| Sold | Gross | Average | Median | Top price |
| 416 (87.2%) | £17,776,000 (+14.3%) | £42,731 (+15%) | £30,000 (+11%) | £280,000 |
Attention now turns to the marathon Keeneland September Sale in Kentucky, which runs from September 14 to 26. Between them, commercial darlings Tapit and War Front are responsible for 88 yearlings while there is a smattering of representation from European sires, among them Galileo and Frankel.
Given the strong opening to this year's sale season, it will be disappointing if demand doesn't push trade beyond last year's figures.