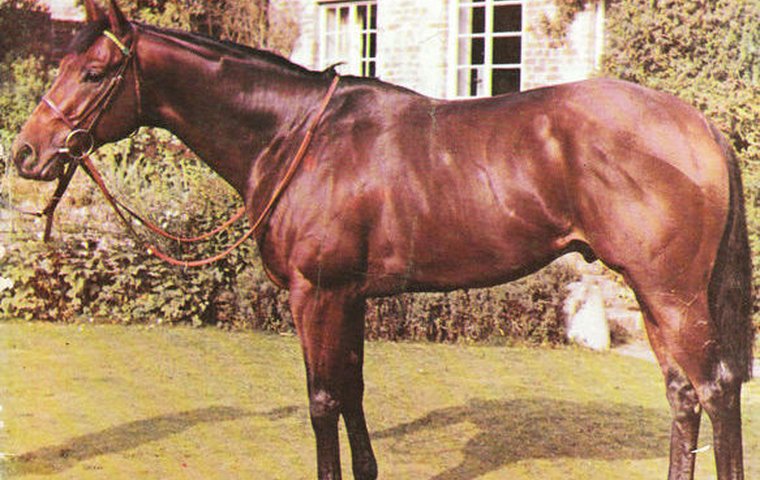 Renowned bloodstock writer Tony Morris with the 17th in his series of articles celebrating 100 horses instrumental in shaping the modern Thoroughbred.

Habitat, b, 1966, Sir Gaylord – Little Hut, by Occupy
Americans had a significant presence in European racing throughout the 20th century, but until the 1960s they were almost exclusively established owner-breeders or patrons of European stables who acquired stock at auctions in England, Ireland or France.
The market for yearlings in the U.S. was higher than in Europe, as was the available prize money. Buying at American sales with a view to racing those purchases in Europe did not seem to make economic sense. Of the pioneers who flouted convention by adopting this apparently foolhardy policy, by far the most successful was multi-millionaire precious metals magnate Charles Engelhard.
Having won the St Leger with Newmarket yearling purchase Indiana (3,500gns) in 1964, he added three more wins in that Classic, two of them with full brothers bought at Keeneland, Ribocco ($35,000) in 1967 and Ribero ($50,000) in 1968. The coup to top them all resulted from the bid of Can$84,000 that secured Nijinsky, whose English Triple Crown triumph of 1970 was completed only a few months before his owner's premature death at the age of 54.
Raymond Guest, another American who raced in Europe, won his first Derby in 1962 with Irish-bred Larkspur, a 12,200gns Ballsbridge yearling. He was approaching the end of a four-year stint as U.S. Ambassador to Ireland when he won the Epsom Classic again in 1968 with the $42,000 Keeneland yearling acquisition Sir Ivor, a second crop son of the Turn-to stallion Sir Gaylord.
Slow to come to hand
Charles Engelhard had also taken a shine to Sir Gaylord, whose racing career had been cruelly cut short by a fractured sesamoid on his off-fore, an injury incurred on the eve of the Kentucky Derby, for which he would have started favourite. He had been unbeaten in four races at three up to that point, having won six of his 14 starts as a juvenile, and many notable breeders showed faith in him as a prospective stallion.
At U.S. auctions in 1967, there were ten yearlings who fetched six-figure sums, and Engelhard bought four of them. Two were at once earmarked for racing in Europe, a $100,000 colt by Ribot (the sire of Ribocco and Ribero) and a $105,000 colt by Sir Gaylord. They were duly delivered to Fulke Johnson Houghton's stable in Oxfordshire, the former registered as Ribofilio, the latter as Habitat.
The pair had contrasting seasons at two in 1968. Ribofilio was green on his Salisbury debut, finishing third over five furlongs, but he then notched an easy win over six in the Chesham Stakes at Royal Ascot. He could not cope with the heavy ground in the Prix Morny at Deauville, but impressive victories in the Champagne Stakes at Doncaster and Dewhurst Stakes at Newmarket, both over seven furlongs, ensured that he would be crowned best of his generation in Britain.
Meanwhile, Habitat had been slow to come to hand, and was being prepared for an autumn debut when he trod on a flint and the plan had to be abandoned. So the 1969 season began with Ribofilio the ante-post favourite for the 2000 Guineas and the Derby, while Habitat remained a total unknown quantity.
Their campaigns turned out differently again. Ribofilio acquired an unfortunate distinction that would remain unique half a century later. He started favourite for all England's colts' Classics, and for the Irish Derby, and he failed to win any of them. Habitat became Europe's champion miler.
Habitat's debut, on the last Saturday in April, disclosed nothing about his merit. He ran green and finished nearer last than first in the Royal Stakes over ten furlongs at Sandown. He tried the same distance again in a minor race over a similar trip at Windsor three weeks later and his inexperience told once more, as he forfeited his lead close home to be beaten a head in a field of 20. But he ran twice more in May, learning quickly and showing strongly progressive form.
At Haydock, he started at odds-on in a mile event for maidens at closing, and he fairly trotted up by five lengths, albeit with a seven-pound concession from runner-up Soldier's Dream, a previous winner. That was good, but eight days later at Newbury he was brilliant, announcing himself as a star in the making.
Speed to spare
The race was the Lockinge Stakes, which would later have Group 1 status and be confined to 4-year-olds and up, but in 1969 it admitted 3-year-olds, and with only a maiden win behind him Habitat could claim a significant allowance from his older rivals – as much as 19 pounds from three of them.
However, all five of the opposition were proven top-class performers, so Habitat's participation was reckoned by many to be unduly optimistic. Bookmakers on the course were initially happy to lay the colt at 20/1, but some seemingly inspired money came for him and he was at half those odds at the off.
Sure, the weight concessions must have helped, but Habitat accomplished his task with the minimum of fuss and with speed to spare. He now had to be recognised as a miler of real consequence.
A stiffer test of Habitat's merit came in the St James's Palace Stakes at Royal Ascot, in which he was opposed by Right Tack, winner of the Newmarket and Curragh versions of the 2000 Guineas. In what turned out to be a controversial contest, Right Tack emerged the winner by half a length, probably on merit, but the pecking order would be revised before season's end.
Habitat collected two notable wins within a week towards the end of August, first overcoming an unfavourable draw and the good filly Mige in the Prix Quincey at Deauville, then beating Lucyrowe (who was receiving eight pounds) and the year-older favourite Jimmy Reppin in the Wills Mile at Goodwood. Half an hour after the latter race, Ribofilio defeated a solitary rival in the March Stakes for only the second win of his disappointing season.
Championship at stake
Habitat's next target was supposed to be the Queen Elizabeth II Stakes at Ascot, and he made it as far as the course, but the ground was deemed too firm for him, so he returned home, leaving Jimmy Reppin to take the prize.
The long-term plan had been for Habitat's season to end in the Prix du Moulin de Longchamp in early October, when some give in the ground could normally be expected, but a spell of dry weather in Paris meant that the race would be run on a fast surface. The risk had to be taken; the European championship was at stake.
As it turned out, the firm ground posed no problems for Habitat, who moved smoothly into the lead around a furlong from home and won in emphatic style to confirm his supremacy in the mile division. Right Tack, who had been his superior in the summer, finished a dull seventh of nine this time.
Charles Engelhard had no interest in standing a stallion, so was ready to listen to offers for Habitat. He heard one promptly, as Tim Rogers, owner of the Airlie complex of Irish studs, had sounded out a select group of breeders with a view to their investing in the colt if he should win the Moulin.
Within a few days a deal was struck. Forty shares were sold for the unprecedented sum of £10,000 apiece, and Habitat was installed at Grangewilliam Stud in Co. Kildare, where his introductory fee would be £2,750.
Auspicious start with first runners
Many in the industry were astonished at such high prices, but they were soon revealed to represent excellent bargains. None of the original investors regretted the investment; shares hardly ever changed hands except as a consequence of death. When one finally went to auction, it realised £94,000 – and the horse was then 20 years old and in failing health. Nominations traded at IR80,000gns in 1986, his last year in service.
Habitat could hardly have made a more auspicious start with his first runners in 1973. A Royal Ascot double with Bitty Girl in the Queen Mary Stakes and Habat in the Norfolk Stakes advertised him splendidly, and the pair continued to display their speed and precocity, the filly adding the Molecomb Stakes and Lowther Stakes, while the colt enhanced his reputation with wins in the Mill Reef Stakes and G1 Middle Park Stakes.
Those results guaranteed keen demand for the yearlings from Habitat's second crop, and the outstanding examples arrived as consecutive lots on the final morning of Tattersalls' Houghton Sales in Newmarket.
A full-brother to Bitty Girl, later named Hot Spark, fetched 72,000gns before a colt out of the Abernant mare A.1 (Steel Heart) realised 71,000gns. The pair, highest-priced of their age-group in England or Ireland that year, were bought by oil tycoon Ravi Tikkoo, and both became juvenile G1 winners, the former in the Flying Childers Stakes, the latter in the Middle Park Stakes.
But those colts were ultimately overshadowed by two fillies from that crop – Rose Bowl, whose victories included the Champion Stakes and two editions of the Queen Elizabeth II Stakes, and Roussalka, who had the Coronation Stakes and two renewals of the Nassau Stakes among her credits.
Habitat's third crop featured a precocious dual G1 scorer in Hittite Glory (Flying Childers Stakes, Middle Park Stakes), but an ultimately far more consequential triple G1 winner in Flying Water, who found Classic glory in the 1000 Guineas and added the Prix Jacques le Marois and Champion Stakes to her record as a 4-year-old.
The first of Habitat's progeny to make a mark in the U.S. was Habitony, who came from his sire's fourth crop. He earned notice at two with Graded wins in the Sunny Slope Stakes and Norfolk Stakes but notched his most significant triumph the following spring when coming from last to win the G1 Santa Anita Derby by three lengths. Unfortunately, his career lasted for only one more race, when third in the Hollywood Derby.
Unusually among Habitat's progeny, Double Form was just useful at two and a high-class handicapper at three, finally blossoming at four as an outstanding sprinter, his victories including a G1 double over five furlongs in the King's Stand Stakes and Prix de l'Abbaye de Longchamp. He ranked best of the fifth crop, ahead of the good miler Homing, winner at three of the Queen Elizabeth II Stakes.
Two fillies stood out among the 29 foals in Habiitat's sixth crop. One was the lightning-fast Sigy, whose wins included the Prix de l'Abbaye de Longchamp as a 2-year-old, with year-older Double Form back in third place. Topsy, out of a runner-up in the Oaks, was most effective between a mile and ten furlongs, winning the Sun Chariot Stakes over the latter distance.
Three from the seventh crop won Pattern events as juveniles, with Smokey Lady – sister to Steel Heart – scoring at elite level in the Phoenix Stakes over five furlongs. Hard Fought was a different sort, best at four and one of the few colts effective at a mile and a quarter, over which trip he won the Prince of Wales's Stakes.
Busiest season
The crop foaled in 1978 were the products of Habitat's busiest season, in which he covered 62 mares. Among the 44 live foals produced the star turn was accomplished sprinter Marwell, who took G1 honours in the Cheveley Park Stakes at two, then collected three more top-level victories at three, in the King's Stand Stakes, the July Cup and the Prix de l'Abbaye de Longchamp.
Two others with the gift of speed were Sonoma and Royal Hobbit, each the winner of the Prix du Gros-Chene, the former as a 3-year-old, the latter when six. Also from this crop was Strigida, Habitat's first European Pattern winner at a mile and a half, a success earned in the Ribblesdale Stakes.
There was only one Pattern scorer, Chalon, in the ninth crop and she did not win above G2 level, though two of her victories came in the Coronation Stakes and Falmouth Stakes, races later upgraded to G1.
Habitat had retired to stud with an annual Timeform rating of 134, and, remarkably, in his tenth crop he got a filly who would be awarded a mark of 136 as a 3-year-old. That was Habibti, not just the best filly of her generation, but the best of either sex, and the best of any generation competing in 1983. Her wins that year included the July Cup, the Nunthorpe Stakes, the Haydock Sprint Cup and the Prix de l'Abbaye de Longchamp. Her form as a 4-year-old did not remotely reach those heights, but there was still a triumph in the King's Stand Stakes to savour.
Breeders' Cup winner
There was just a single G1 winner in each of the next two crops, with the filly Brocade (later dam of Barathea) taking the Prix de la Foret as a 4-year-old and juvenile colt Bassenthwaite becoming his sire's fourth winner of the Middle Park Stakes.
The late-developing Steinlen, much the best of Habitat's foals of 1983, showed smart form as a 4-year-old in France, winning four times including in listed company, but he became a much more formidable athlete after his transfer to the U.S. As a 6-year-old, he reigned as champion grass horse, his campaign featuring G1 successes in the Bernard Baruch Handicap, the Arlington Million Stakes and the Breeders' Cup Mile. He added a further top-level win in the Hollywood Turf Handicap at seven.
The last of Habitat's progeny to win at the elite level was Distant Relative, a colt from his sire's 16th crop. He came into his own in the second half of his 4-year-old campaign, notching wins in the Sussex Stakes and the Prix du Moulin de Longchamp.
By the time of those victories, Habitat had already been dead for over three years. Towards the end of 1986, he developed laminitis, and he was sent to Kentucky for specialist treatment that meant he must miss the 1987 covering season.
Hopes that he would recover sufficiently to resume service in 1988 were dashed soon after his return to Ireland. His condition deteriorated and he had to be put down on 23 June, 1987, within a month of the Derby victory of Reference Point, whose dam, Home On the Range, had been Habitat's Sun Chariot Stakes scorer of 1981.
A poor sire of sires
Habitat was never going to head the British/Irish sires' list, because few of his stock were able to win the middle-distance races that were invariably crucial in determining the champion. But such was the consistency of his stud performance that in the first 12 seasons in which he was represented he always ranked among the top dozen, was four times second, twice third, twice fourth, and once fifth.
For a horse who did not have the best of legs himself – and was inclined to get stock with faults in that department – he did a remarkable job, distributing class and speed, and in many instances precocity, among his progeny.
For a quarter of a century now there has been an obvious stick with which to beat Habitat. He was manifestly a poor sire of sires, no more capable of establishing a male line in Europe than that other outstanding son of Sir Gaylord, Sir Ivor. But Sir Ivor had Sir Tristram in the Southern Hemisphere, whereas Habitat's sons down under generally flattered only to deceive.
It is probably true to say that breeders in Europe had doubts about the sons of Habitat early; Habat, Hot Spark and Steel Heart all flopped for one reason or another. Double Form might have earned good chances, but he died young, and by the time Distant Relative came along it was long odds against his doing anything to retrieve a lost cause.
Habitat's best grandson via one of his sons was Best Pal, who earned over $5 million in the States, but he was a gelded son of Habitony. After his export to Japan, Steel Heart did get a champion sprinter-miler in Nihon Pillow Winner, who met with some success at stud in that neck of the woods, but on the international scene he could do nothing to ensure that Habitat would feature in the top line of 21st century pedigrees.
Major impact
But all that apparent negativity is of no consequence. We were inclined to expect quite early that Habitat would not excel as a sire of sires, but was it not a fact that on the racecourse his fillies tended to be better than his colts?
His only Classic winner was the filly Flying Water. There was no colt to compare with Habibti, nor even to Rose Bowl, who would have been a Classic heroine herself if she had managed to dodge the traffic in her 1000 Guineas.
Habitat retired to stud in the year before the founding of the European Pattern. He soon had a major impact on the statistics derived from that innovation, and he beat Northern Dancer in the race to record 100 Pattern wins by their progeny, winding up with a tally of 109. He still has no more than a dozen horses ahead of him, having covered much smaller books than most of them.
As was to be expected, Habitat soon featured significantly on the table of broodmare sires of European Pattern winners. Responsible for daughters of winners of 164 qualifying races, he still ranks fourth, behind only the obvious Sadler's Wells, Darshaan and Danehill. Considering the different sizes of their books and his, can any of them be called his superior?
I remember Habitat as a racehorse 50 years ago, and I remember Habitat as one of the most influential stallions of the last 50 years. Northern Dancer is everywhere, Mr Prospector almost everywhere; they are to be found in the pedigrees of the worst and most ordinary of Thoroughbreds as well as in some of the best.
Habitat is not so conspicuous, but it is uncanny that a horse who left no sons to perpetuate his name, appears as a common factor in the pedigrees of so many top-class horses. And that has happened while Habibti, so clearly the best of his daughters on the racecourse, became a zero as a broodmare.