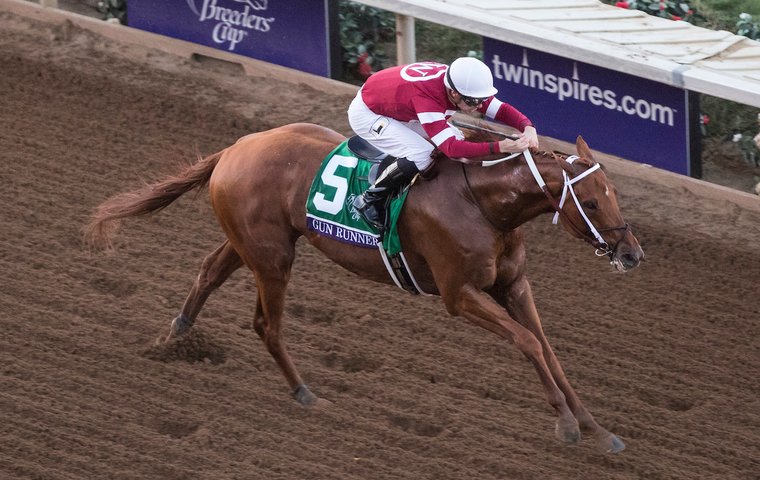 It might be stretching it a fraction to call it a golden era just yet, but there's no doubt that American dirt racing has been soaring close to the summit over the past three or four seasons. Particularly where the colts are concerned.

It probably falls short of those magical Secretariat/Seattle Slew/Affirmed days of the 70s, but let's not underestimate it because of that.
We're talking about the male dirt performers here, so no slight is intended against Zenyatta or Rachel Alexandra or any of the other magnificent fillies that have been campaigned in the meantime - or against turf giant Wise Dan for that matter, but, after a post-Curlin lull, we have enjoyed four superb champions in quickfire, rat-a-rat-rat succession:
California Chrome, American Pharoah, Arrogate, Gun Runner.
So which do you think has been the best? In the poll below, we are inviting you to vote for the one you believe showed the greatest ability on the racetrack, the one who would have prevailed if they'd all shown up in top form over a mile and a quarter. Here is a quick reminder of how each of them should be best remembered. They are listed in chronological order.
California Chrome
Surely no-one will let the memory of his sad failure in the inaugural Pegasus World Cup back in January cloud their view of his mighty career, particularly his magnificent 2016.
He was U.S. Horse of the Year twice, firstly in his Kentucky Derby/Preakness winning 3-year-old season and then last year, when his only defeat in eight races came when Arrogate just outlasted him in the Breeders' Cup Classic at Santa Anita.
Of course that result may well have been different had the Breeders' Cup been run at Del Mar that year instead of this. Arrogate's unspectacular record there is well known, but it was also the scene of what was surely California Chrome's greatest performance - his five-length victory cruise in the Pacific Classic (see theYouTube video below). After that, Victor Espinoza, who also rode American Pharoah, was moved to described Chrome as "the best horse I've ever ridden".
American Pharoah
Unlike the other three, Pharoah never raced beyond the age of three - but what he achieved in that imperious 2015 classic season enraptured American race fans and put the sport back on the front pages (if only for a few fleeting moments).
If all he'd done was to satisfy the nation's 37-year wait for a horse to come and win the Triple Crown, that would have been fabulous enough. But Pharoah did better than that. He capped a season in which he won seven out of eight (and the defeat - to Keen Ice in the Travers - was entirely explicable) by setting a new benchmark - becoming the first winner of the 'Grand Slam' - by adding the Breeders' Cup Classic to the Kentucky Derby, the Preakness and the Belmont. He was virtually unchallenged all year - his total victory margin for those seven wins in 2015 was 36½ lengths.
His win in the Haskell at Monmouth Park that August (see the YouTube video below) may have been by a relatively modest 2¼ lengths, but no performance better illustrated his awesome domination of his contemporaries.
Arrogate
The great mistake would be to use his last three runs - the ones post-Dubai - as evidence to dismiss Arrogate from consideration. Those puzzling, unceremonious defeats do not negate the staggering ability he displayed in the four incredible victories that came before them.
It was not for nothing that Bob Baffert called him "the greatest horse that we've seen since Secretariat" after his astonishing, almost super-equine performance in the Dubai World Cup in March (see the YouTube video below).
If that had been his last race, perhaps we wouldn't have seen the kind of carping that has surfaced recently. Whatever has happened through the rest of 2017, Arrogate's runs in the UAE and in January's Pegasus World Cup will likely earn him the Longines World's Best Racehorse title for the second straight year (click here for the current standings). And that is neither inexplicable nor regrettable.
Gun Runner
If there is one travesty among those Longines ratings linked to above, it is the position in the table where they have deposited Gun Runner. It is one thing to rank him below Arrogate (who beat him in Dubai). It is quite another to have him so far adrift - and only in fourth place - after his stupendous, unbending triumph in the Breeders' Cup Classic (see the YouTube video below).
Gun Runner was a fine 3-year-old, but just below the absolute top, and his standing appeared to be underlined when he was gobbled up by Arrogate at Meydan. Which is why his marvellous record post-Dubai was kind of taken for granted. That was just Gun Runner being a good horse, but not a great one, the thinking went.
Yet Del Mar showed us we were missing the obvious. That performance was eye-opening. Here was a horse who had gone on improving all year. Maybe even a top-form Arrogate wouldn't have been able to get past him on November 4.
Take another look at Gun Runner's record since the 2016 Breeders' Cup: seven races, five G1 wins, one G3 win and that runner-up spot in the UAE. Total winning margin for those six victories: 33¼ lengths.
Which is why he will surely be the 2017 U.S. Horse of the Year.