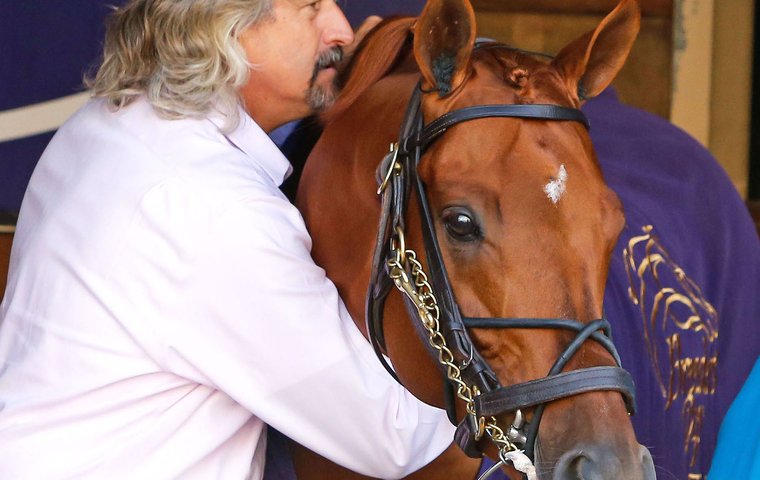 The usual discordant din of gamblers yelling, horses snorting and gates clanging seemed to fade away for a few distilled moments at Del Mar Thoroughbred Club two days before the Breeders' Cup Classic.

In the narrow confines of a paddock saddling stall, the most personal kind of quiet conversation began to unfold between trainer Steve Asmussen and his sleek chestnut charge, Gun Runner. In those precious seconds, when horse and man communicated in ways that might forever be a mystery to most, they existed in a world of their own.
Asmussen reached to straighten the purple cooler emblazoned with gold draped over Gun Runner's muscled shoulders, and the colt leaned into him with a comfortable familiarity, his eyes keen, his demeanor one of contained electricity.
Belying his own imposing physical frame, Asmussen gently embraced the horse's neck and pressed his face into a soft shock of shimmering mane. While other horses, trainers and grooms shuffled around the paddock during the schooling session, Asmussen and Gun Runner quietly steeled themselves for what would be the race of their lives — a race that secured the gold Eclipse Award as America's Horse of the Year.
"It was pretty overwhelming to me, that Thursday of Breeders' Cup week when we schooled him after all the pressure we had put on him because of the way we felt the race would unfold," Asmussen recalled. "But he just accepted it, and he had that look that said 'I've got this'. That was the feeling that I got then; it was possibly premature, but then it proved correct."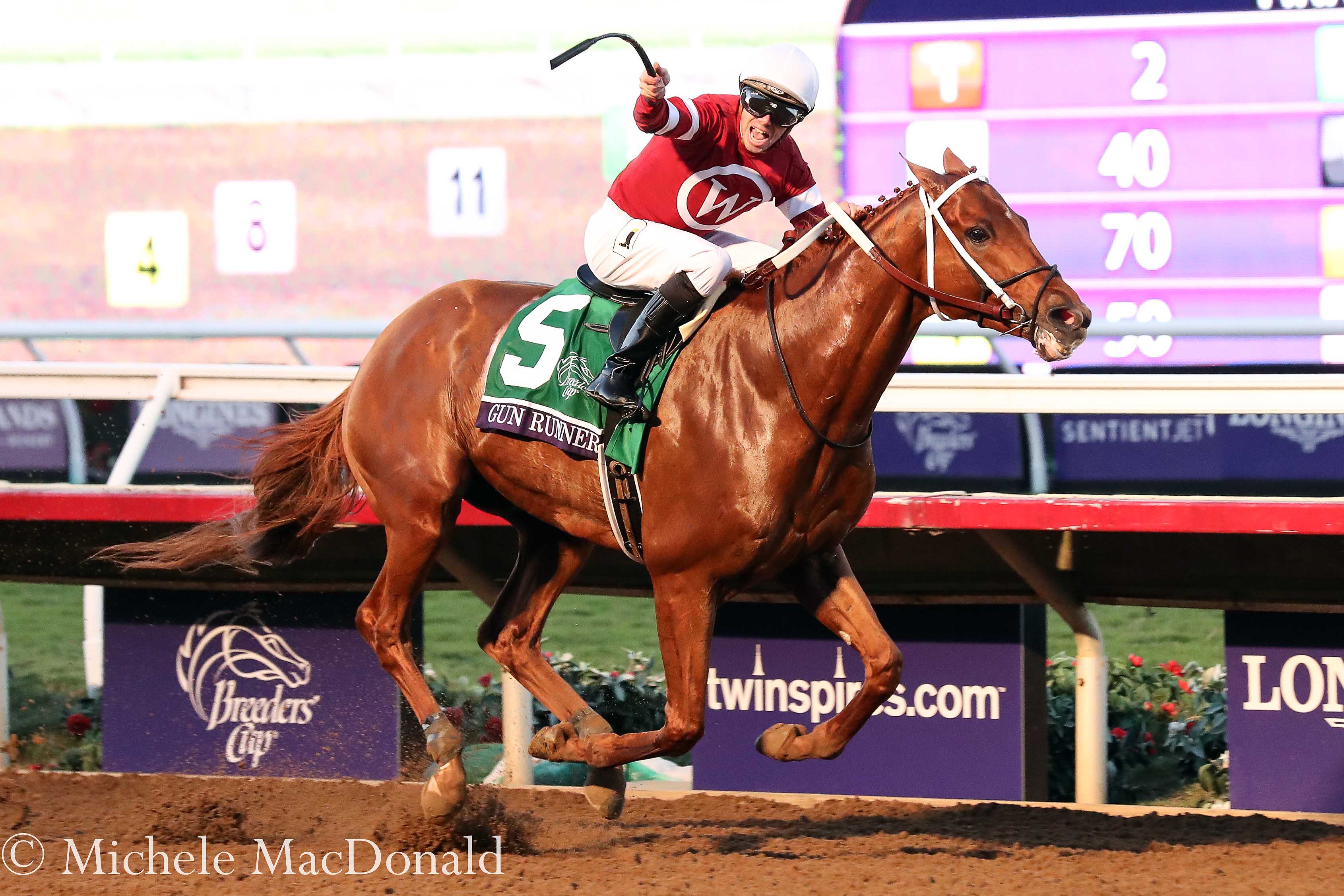 A little more than 48 hours later, Gun Runner shot out of the starting gate, recording the fastest opening quarter-mile by any Classic winner in history with a blistering :22.50 while pressured by Collected. He then displayed exemplary quality to match his speed, calmly turning back all challengers and handily winning the 1¼-mile contest by 2¼ lengths in 2:01.29 over a tiring surface.
"His Breeders' Cup Classic, under the circumstances with the way the track was playing, was probably the strongest race I've ever had with one of my horses," declared Asmussen, the Racing Hall of Fame enshrinee who tightened girths around exceptional record-setters Curlin and Rachel Alexandra. "I couldn't have been prouder."
In seeking words to describe his connection with Gun Runner that a few fortunate bystanders glimpsed during the schooling session — the epitome of the timeless bond between man and horse — Asmussen paused briefly, continuing with a voice lowered to a reverential timbre.
"The best way I can put it is that horses do things for us that we can't do for ourselves. They can lift you up, and I feel extremely blessed to be in their presence," he said.
Looking ahead to Saturday's Pegasus World Cup at Gulfstream Park on January 27, a $16 million event that will mark Gun Runner's final racing performance, Asmussen focused on how much he wants the now 5-year-old to exit the stage in a manner befitting the champion he has become.
"Hopefully, we'll send him off to his next career in good fashion," he said. "I very much want Gun Runner to go out on top, the way he deserves."
Beautiful evolution
A light snow fell on March 8, 2013, the day Gun Runner was foaled at WinStar Farm in Kentucky. He was the first foal for his dam, the Giant's Causeway mare Quiet Giant, and a son of the brilliant undefeated Argentine-bred sire Candy Ride.
Attending the delivery was Chris Baker, who also had observed the birth of Quiet Giant, a half sister to 2005 Horse of the Year Saint Liam who went on to be a talented multiple stakes winner herself with the G2 Molly Pitcher Stakes at Monmouth Park among her accomplishments.
Baker knew this equine family well, as Quiet Giant was bred by his longtime employer, the late Edward P. Evans of Spring Hill Farm in Virginia. He had concurred on the mating to Candy Ride that produced the newborn copper-hued foal and knew the potential in the colt's bones and blood could be, as horsemen say, anything.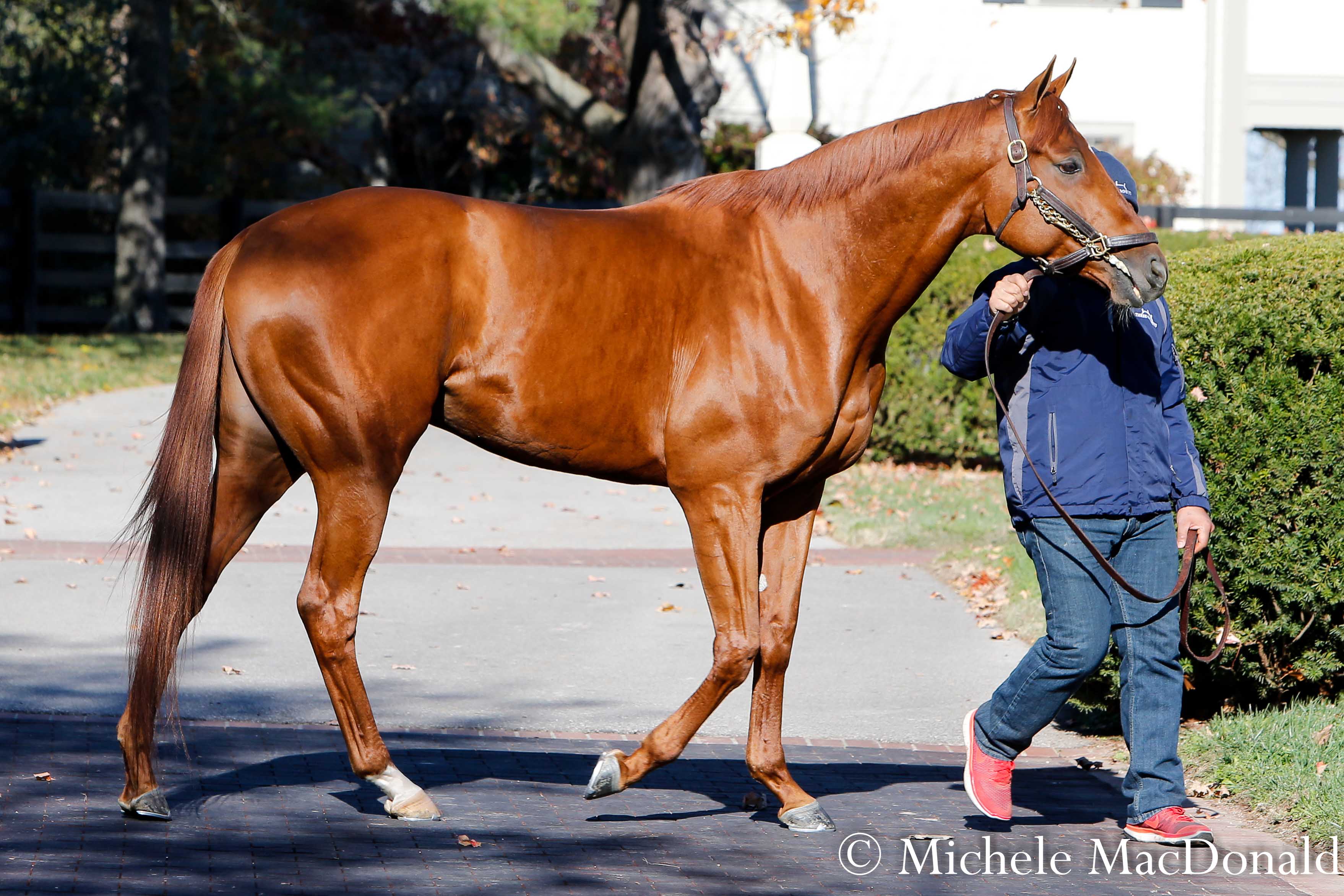 "I took a video when Gun Runner was born, before he stood up," said Baker, who at the time was advising breeder Benjamin Leon of Besilu Stables, who had paid $3 million for Quiet Giant from the Evans bloodstock dispersal, and also working as WinStar general manager. "My recollection is that he was a nice colt with a lot of leg and frame — he was especially nice for a first foal."
From there, Gun Runner's entire life has been, to use the phrase Asmussen employs to describe his racing career, "a beautiful evolution", and Baker has been involved in nearly every step.
Following his move to Three Chimneys Farm, where he was tapped as chief operating officer, Baker helped arrange that farm's investment in Leon's Besilu bloodstock, a deal that included the lanky Candy Ride colt, then a yearling. In time, the colt was dispatched to Bridlewood Farm in Florida for breaking and training.
"He always impressed me as a nice horse, a horse with a lot of sense and athleticism. He had a relatively light frame, but he was very balanced," Baker said. "I wasn't calling him a Grade 1 winner back then, but he always was very high on my short list. He really never did anything wrong. He wasn't the most forward or fastest, but he just kept going along and improving."
Three Chimneys, which about eight months after Gun Runner's birth had undergone an ownership change when the Brazilian-based family of Goncalo Borges Torrealba gained a controlling interest, decided to consign the colt to the 2015 Ocala Breeders' Sales Co.'s April two-year-olds in training sale.
Catalogued as Hip 297 in Niall Brennan Stables' barn, the Candy Ride colt was not pushed as hard as some sale juveniles typically are, and Baker said Three Chimneys withdrew him, believing that the market would not produce the value imagined by the farm.
Dr. David Lambert, a veterinarian with Equine Analysis Systems, recommended the colt to Ron Winchell, who races in partnership with his mother, Joan, as Winchell Thoroughbreds and who had raced Tapit and his 2014 champion daughter Untapable, among many other notable runners.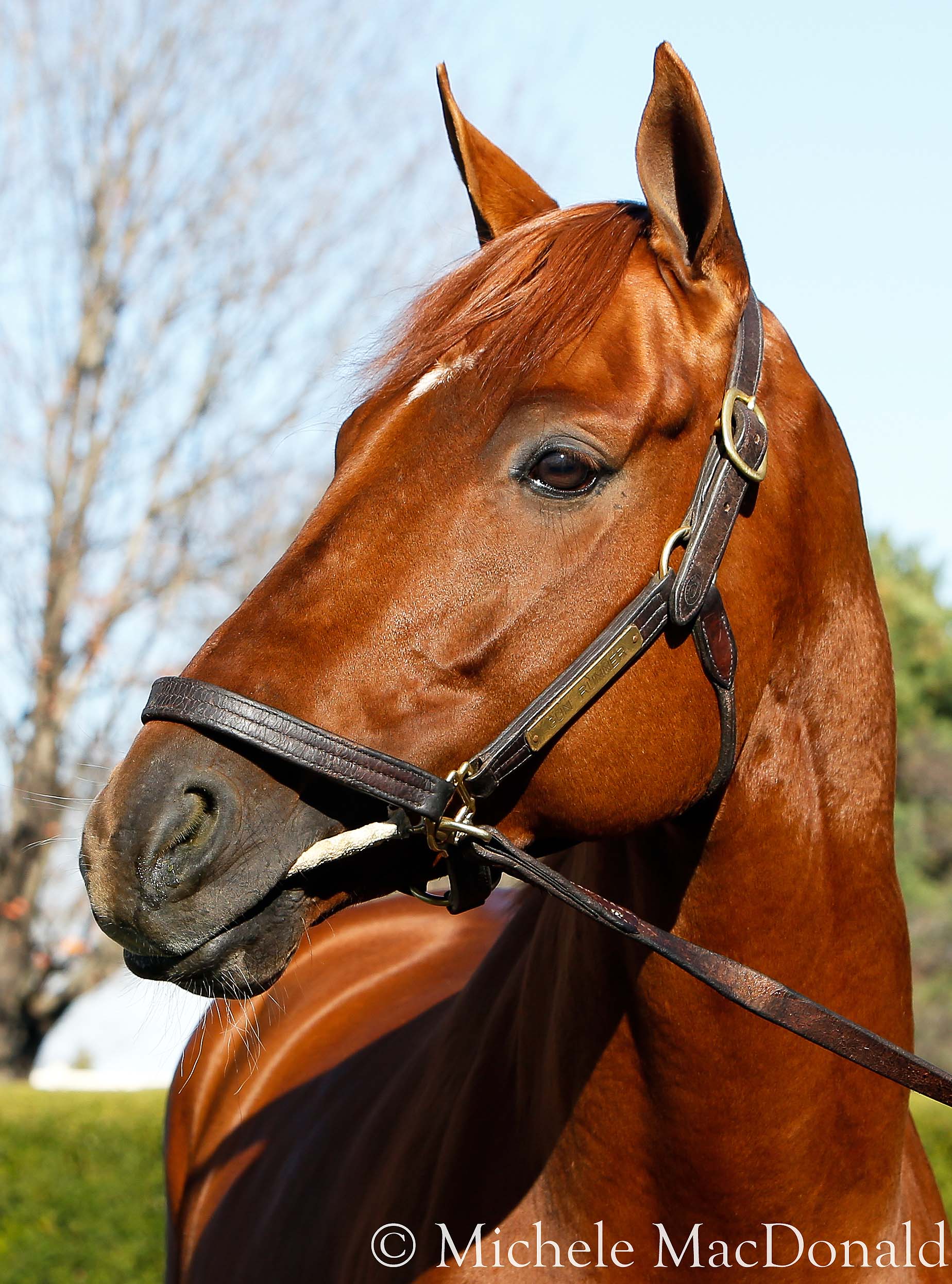 "Since they weren't really pressing on him to put in any fast work at the sale, he had a rather mediocre breeze, but he looked like a nice little 2-year-old. Three Chimneys was looking for a partner, so we bought half of him," recalled David Fiske, Winchell's racing manager.
"Dr. Lambert put together a deal that allowed me to get him," said Asmussen, who regularly trained for Winchell and who saw immediate potential in the colt. "He's always been extremely impressive, from the first day he came into the barn and with everybody who ever got on him. Once he started breezing, everybody basically swore by his talent.
"It was really exciting. Patience was the only hard part," Asmussen continued. "Pedigree-wise and physically, everyone was in agreement that time has made all the family considerably better or more effective. We were loving how talented he was at every step."
Tremendous confidence
Electing to avoid the pressure of Saratoga Race Course juvenile races, Asmussen brought Gun Runner along at an easy pace, with assistant Galen Pruitt overseeing the colt for much of the summer of 2015 at Churchill Downs. With his fluid action and strong will, Gun Runner often made himself the subject of barn banter.
"Word around the barn was that, as he continued to tout himself week after week, 'this horse could be good' or 'this horse could be fast'," Fiske related. "He worked a few more times and we heard, 'this horse could be something.'"
"I think it was the way he moved," added Asmussen's longtime assistant Scott Blasi when asked what seemed special about Gun Runner at that stage. "When you start pairing babies up, he always showed a tremendous amount of talent with whoever he was breezing with."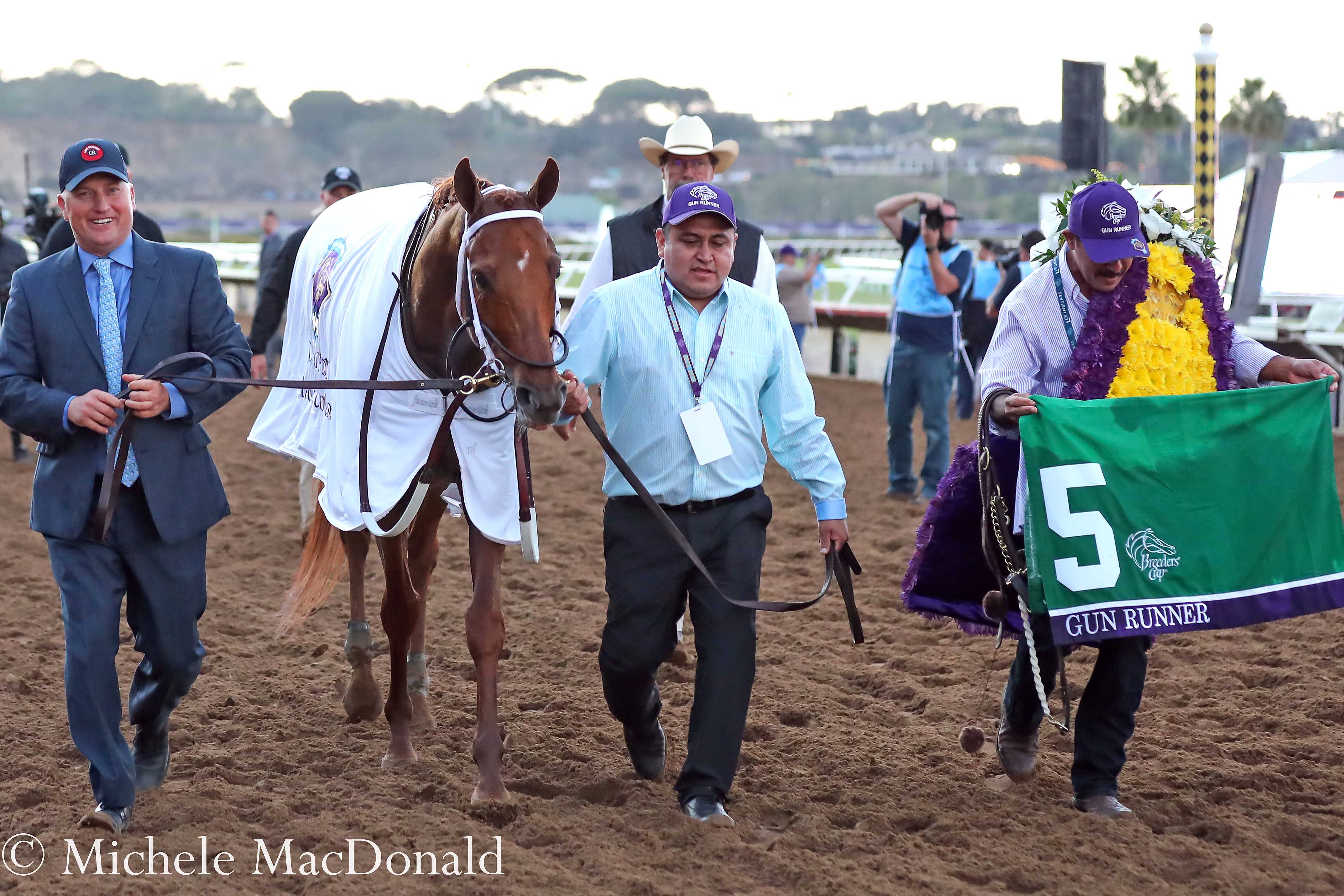 Gun Runner won his first two starts, a one-mile maiden special weight race at Churchill Downs and an 8½-furlong allowance at Keeneland. The chart for the latter states he "took over at will and drew off".
A disappointing fourth in the Kentucky Jockey Club Stakes on a sloppy Churchill track was a setback but not a crisis. "I think we're good at not overreacting to races like that. You've just got to stay the course," Blasi said.
Gun Runner came out blazing for his 3-year-old season, winning the Risen Star Stakes and Louisiana Derby and finishing a good third in the Kentucky Derby. His still willowy physique led Asmussen to skip continuing on the Triple Crown trail, and the colt won the Matt Winn Stakes at Churchill before a string of placings including a third in Arrogate's record-setting Travers Stakes triumph.
After finishing second to older Tamarkuz in the Breeders' Cup Dirt Mile, Gun Runner blasted to a career high with a front-running victory over older elite runners including Hoppertunity, Effinex, Shaman Ghost and Noble Bird in the G1 Clark Handicap. At that juncture, his owners could have sent him to stud, and he would have been an attractive addition to the Three Chimneys roster.
When Torrealba and Winchell decided to keep on racing in 2017, they gave the still maturing Gun Runner the chance to prove exactly how good he could be and, ironically, it was his valiant but still losing effort to Arrogate's Herculean surge in the Dubai World Cup that became a key turning point.
So much fortitude
Blasi clearly recalls the minutes after the Dubai race, when Gun Runner and Arrogate were cooling out near one another at Meydan Racecourse. He suggested to Asmussen, after witnessing how both colts were reacting, that their horse would never be beaten again by Arrogate, and his analysis was prophetic.
"The [post-race] fireworks were about to go off and we were in the test barn and I had to take hold of him," Blasi said in describing how fiery Gun Runner was acting even after the 2000m effort over a track made heavy by unusual desert rainfall that day.
"How he recovered from that race was pretty special — and a sign that there were, perhaps, better things to come."
Gun Runner's indefatigable spirit for racing also rose to the fore after his Dubai loss.
"You can tell a lot about a horse in defeat," Blasi noted. "He doesn't overreact from it, which I think says as much about him as anything. To run that hard in Dubai and to come back and be like, 'Let's do it again' is impressive. It never bothered him. And that's very special."
If anything, Gun Runner thrived on the competition, the challenges, the travel. He grew physically bigger and his effortless-looking, ground-skimming stride seemed to stretch farther.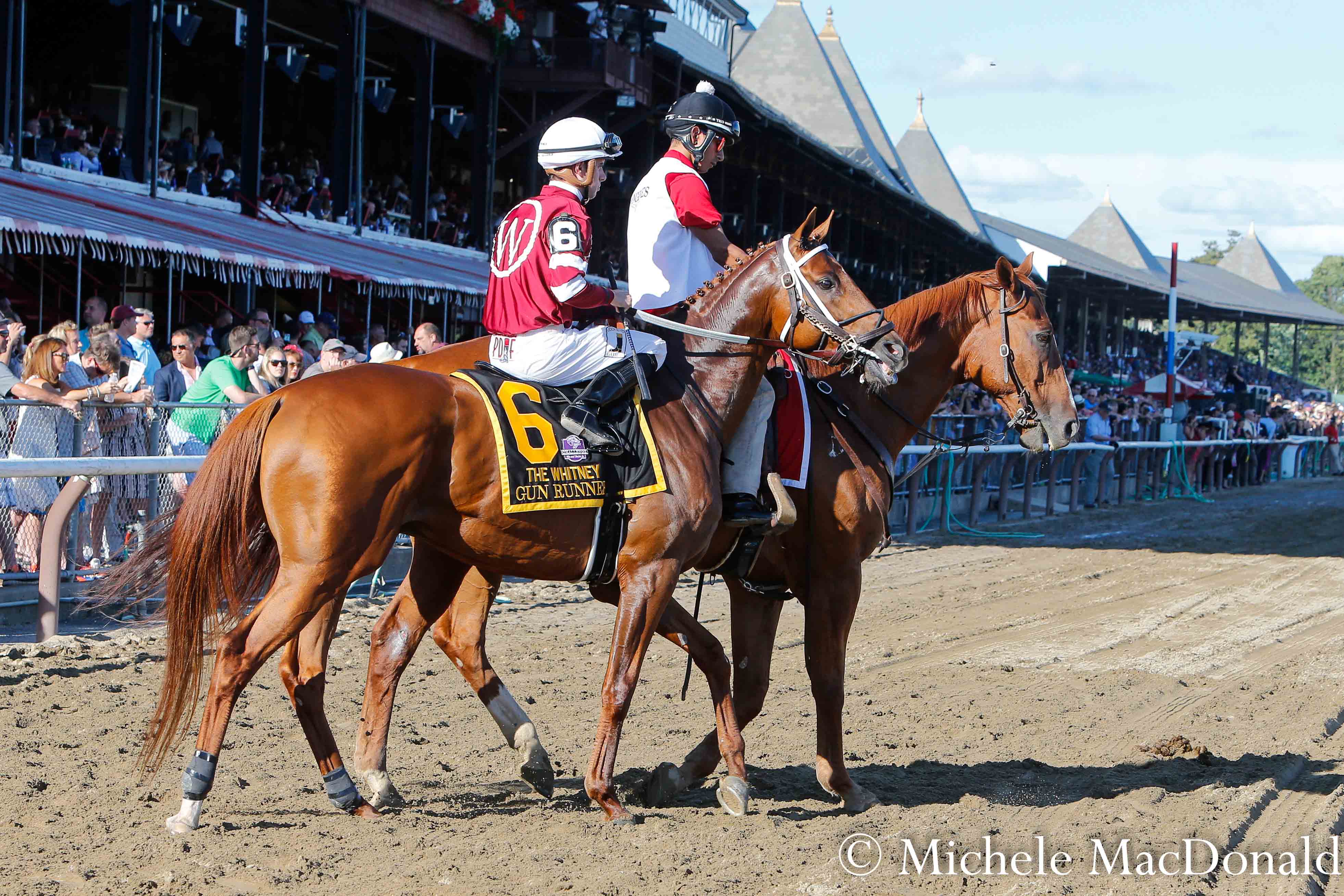 Fiske described the arc of Gun Runner's career as containing only one form cycle, "if you want to call it a cycle, because it's never gone down. He's just gotten better and better and better with time."
After returning to the United States from Dubai, Gun Runner's string of impressive G1 triumphs in the Stephen Foster Handicap at Churchill, the Whitney and Woodward Stakes at Saratoga, and the Breeders' Cup Classic — in which he left Arrogate more than six lengths to his rear in a dead-heat for fifth — revealed what he is made of, leading Asmussen to call him "a throwback."
"He's an old-school horse," the trainer said. "He likes pressure, he likes things to matter, he takes it seriously.
"He is sound of mind and sound of body. He was physically capable of doing it and sound enough to do it, and he has the mind to want to do it," Amussen said.
When it comes to soundness, Gun Runner might have no rival at the top level of American racing.
"I don't know that he has ever seen a bucket of ice," Fiske said. "Scott was telling me that our bookkeeper or the bookkeeper at Three Chimneys called him one day and asked him if he was sending them all the vet charges. He said, 'Sure. Why would you ask?'
"Because there aren't any," Fiske said, delivering the punch line of the conversation. "When he was telling me that story, Scott said Gun Runner had never stood in ice [to calm inflammation-related aches and pains]. There are few horses like that."
"This game needs for that to be reproduced," Asmussen said. "He can just take more than the rest. He's a strong horse. He has so much fortitude. I was amazed at his energy level off the Classic, after he flew back to Kentucky and was being shown [to breeders] at Three Chimneys. He's just a strong horse to take all of that."
Keeping up with Gun Runner requires strong people, too.
"He's not for a novice to grab a hold of, I'll tell you that," said Blasi. "He's playful and nippy, and he's been like that since he was two.
"I don't know how many times I've had Steve tell me, 'I wish he'd act better.' But it's just him. He's kind of like a little kid that you tell no and two minutes later they're doing the same thing. It's just who they are.
"Listen, he's his own man and he does not care what you think," Blasi observed with a laugh. Despite that independent streak, Gun Runner willingly responds to jockey Florent Geroux's signals due to his intelligence and aptitude for his work.
"He's just so smart," Blasi said.
Dreams of a lifetime
Gun Runner's rise to glory has provided several lessons for those who are paying attention. Baker noted that the light frame the colt possessed as an immature youngster was not the body type many buyers pay big money for in the commercial market.
Yet, combined with his superior pedigree, Gun Runner's physique indicated that, with time, he could transform into the ultimate racehorse that he was in 2017.
"It's easy to be attracted to big, heavy, robust types and buy them by the pound, so to speak," Baker said. "But a lighter horse like this has stayed sound and never had a joint injected. It's been an eye-opener as to what we look for in young horses.
"I think we'll be influenced by this, and if he is as successful at stud as we think he will be, we'll be seeing a lot more of it."
Baker praised Asmussen for taking his time in developing Gun Runner, and the trainer in turn said that Three Chimneys and the Winchells were rewarded for maintaining their belief in the colt and continuing to race him rather than retire him to stud after his 3-year-old season.
"I'm very proud of our whole team and of Gun Runner, and mainly Mr. Winchell and Mr. Torrealba for having the confidence in their horse to let him do the talking. They had a tremendous amount of confidence that he could put together the 4-year-old year that he did, and I'm very happy to see them rewarded for that confidence," Asmussen said.
Horses of the Year: the similarity
After growing up in a Texas racing family — with his father and mother, Keith and Marilyn, longtime trainers, and his brother, Cash, a top international jockey and fellow Eclipse Award winner — Asmussen said training champions like Gun Runner is "what I dreamed about my whole life".
When Gun Runner is awarded the Horse of the Year trophy, he will mark Asmussen's third trainee to win the honors after Curlin and Rachel Alexandra, and his feat will be the fourth time over the 11 years spanning 2007 and 2017 that an Asmussen horse has been deemed America's best. Curlin won the award for both 2007 and 2008, while Rachel Alexandra reigned for 2009.
Asked if his trio of Horses of the Year share any similar attributes, Asmussen — who won the Eclipse Award as outstanding trainer for the 2008 and 2009 seasons and who is a finalist again for 2017 — said, "the similarity is the uniqueness of them.
"One identifying quality about them is that they do it for themselves," he said. "They're not pleasing you, they're pleasing themselves. I think getting out of the way of that has been the best thing we've done.
"Not one of them was a people pleaser. They want what they want, when they want it, and they know what they are doing this for. That is the only similarity in them — they know what the work is for," he said.
After voicing his view of this distinct quality, the desire of champions, Asmussen confided that he felt the ripple of chills often associated with extraordinary otherworldliness and "the hair on my arms is standing straight up".
'Such a cool horse'
The days leading up to the Eclipse Awards and the Pegasus are bittersweet for Asmussen and Blasi, knowing they will soon have to say goodbye to Gun Runner, who is to begin stud duty at Three Chimneys about two weeks after the Pegasus at a fee of $70,000.
He is a different animal now compared to the time they first met. Gun Runner was measured during his brief visit to the farm in November and stands a powerful 16.2 hands high, and he has continued to gain weight and muscle since the Breeders' Cup, Fiske said, defying the typical equine response to racing's stress.
"He's just such a cool horse, so cool to be around. You just can't help but like him," Blasi said. "If you don't like him, you don't like horses."
"It's been such a beautiful evolution to get to this point, but not a surprise," Asmussen reflected. "I'm surprised he ever got beat, to tell you the truth."