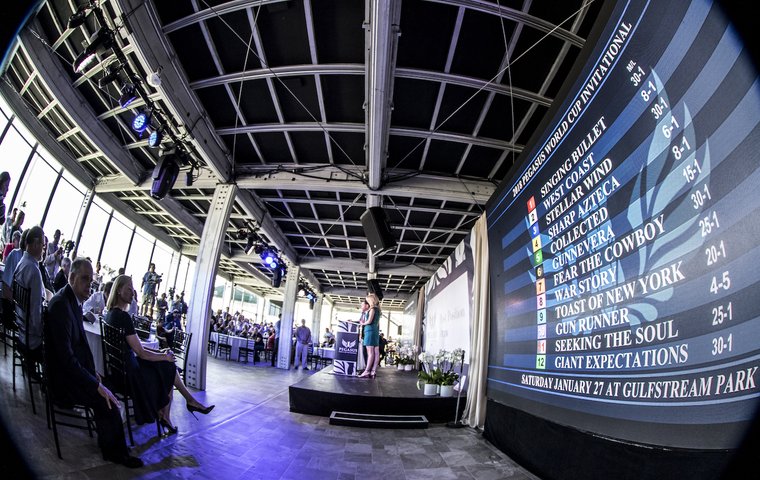 Gun Runner was installed as the 4/5 morning-line favorite in a field of 12 after drawing the No. 10 stall in the starting gate at this morning's post-position draw for the $16 million Pegasus World Cup at Gulfstream Park on Saturday.

"I've always said, you don't know to complain about the post position until after a race is run. It might work out perfectly for him," trainer Steve Asmussen said. "The horse is doing extremely well and in capable hands of [jockey] Florent Geroux. Hopefully we'll have a big day Saturday and send the 2017 Horse of the Year out on top."
Gun Runner will move into second place in the U.S. all-time purse earnings standings behind Arrogate, the winner of the inaugural Pegasus World Cup, with a victory on Saturday. A triumph in the second running of Gulfstream's Thoroughbred spectacular will be worth a record $7 million to the winner and would push the son of Gun Runner's career earnings to $15,988,500, ahead of California Chrome's $14,752,650.
"Just to be in his presence, to be around him, to have the privilege to train him as well as run him – it's a dream come true," Asmussen said. "Everybody's well aware of my background. I grew up in a racing family and that's what I dreamed of being a part of, and I've realized how blessed I am to be in this position."
The son Candy Ride has won six of his last seven starts by a combined 33¼ lengths while totally dominating world-class competition. His only loss last year came in a second-place finish in the Dubai World Cup in March, finishing 2¼ lengths behind Arrogate and five lengths ahead of third-place finisher Neolithic, who finished third in the 2017 Pegasus World Cup.
The Asmussen trainee came back from Dubai better than ever, reeling off overpowering G1 triumphs in the Stephen Foster at Churchill, the Whitney and Woodward at Saratoga, and the Breeders' Cup Classic. In his 2¼-length victory in the Classic, Gun Runner was followed, in order, by Collected, West Coast, War Story and Gunnevera (who finished in a dead-heat with Arrogate for fifth) – all four of whom are slated to take another shot at him on Saturday.
"We're obviously extremely excited about the year that Gun Runner had last year and we're looking forward to our run in the Pegasus," Asmussen said. "The horse has spoiled us with his consistency; how willing he is in a work is very exciting for us. We realize we've got one more run with him …. it's a little bittersweet."
In his quest to go out a winner Saturday, Gun Runner will be challenged by two horses trained by Bob Baffert, who saddled Arrogate for a 4¾-length romp in the inaugural Pegasus. The Hall of Fame trainer will be represented by Speedway Stable's Collected and Gary and Mary West's West Coast, who finished second and third behind Gun Runner in the Breeders' Cup Classic. Collected and West Coast were rated at 8/1 in the morning after drawing posts 5 and 2 respectively, behind Gun Runner and Sharp Azteca.
Tough to beat
Collected, who upset stablemate Arrogate by a half-length in the Pacific Classic at Del Mar in August, was upset by Pegasus entrant Giant Expectations while finishing third in the San Antonio at Santa Anita in his most recent start Dec. 26.
Jockey Mike Smith, who rode Arrogate to victory in last year's Pegasus, will be aboard Collected. "What's so hard to beat Gun Runner is he's not a one-dimensional horse," Smith said. "You know, he's not a horse that needs a lead. He's a horse that if they go quick enough, we've all seen him lag, second, third, fourth, and still run just as well as when he's had a comfortable lead.
"So he's going to tough to beat. I got to fire my A-plus race, a few things that'll go our way, which can happen in horse racing."
West Coast brought a five-race winning streak into the Classic, in which he raced evenly after encountering early traffic. The 4-year-old son of Flatter is likely to be honored with an Eclipse Award as the 3-year-old champion of 2017 on the strength of his 3¼-length triumph in the Travers at Saratoga and 7¼-length romp in the Pennsylvania Derby at Parx.
Hall of Fame jockey Javier Castellano has the mount aboard West Coast.
Sharp Azteca, who is rated second in the morning line at 6/1 after being assigned post 4, figures to contribute a high level of brilliance to the Pegasus, in which he will try to carry his impressive speed over nine furlongs for the first time.
Falling the right way
Representing stakeholders Loooch Racing Stables and Ashley Quartarolo, the 5-year-old son of Freud, a one-turn mile specialist who is coming off a stunning 3½-length victory in the G1 Cigar Mile at Aqueduct, has had success around two turns, winning the mile-and-a-sixteenth G3 Monmouth Cup by 7½ lengths in July.
"Everything is falling the right way. The way he's training, the way he's doing everything, I can't believe I'm sitting on a good horse like that," said trainer Jorge Navarro. "This is a huge step. It's the best race in the world. Let's not forget we're running against Gun Runner, but there's no doubt my horse belongs in there."
Navarro named Irad Ortiz Jr. to ride the earner of $1.7 million for the first time on Saturday.
The Navarro-trained War Story, who finished fifth in the inaugural Pegasus, is set to return for Pegasus Race Participants, LLC. The 6-year-old gelding, who finished fourth behind Gun Runner in the Breeders' Cup Classic, captured the G2 Brooklyn Handicap last year. Jose Ortiz has the mount. War Story has post 8.
Navarro said of the posts his runners drew: "I love them. I couldn't ask for more. I can't believe the numbers I got."
Easy to train
Eclipse Award champion Stellar Wind is set to become the first filly or mare to run in the Pegasus while making her first start for trainer Chad Brown and likely the last start of her brilliant career. Purchased by M. V. Magnier for $6 million at the Keeneland November Sale, the 6-year-old daughter of Curlin, the 3-year-old filly champion of 2015, has won six G1 stakes for fillies and mares. She has drawn post 3.
"She's all class. She's been real easy to be around and to train. She just goes out there and does her thing. She's a very straightforward horse," Brown said. "The most disappointing thing is only having her for one start because I can see how classy she is, a true champion. We'll try to make the best of that one start."
Joel Rosario has been named to ride Stellar Wind, who will race for stakeholder Coolmore Partnership.
Gunnevera will bring a record of excellence at Gulfstream Park into the Pegasus for stakeholder GalloStables. The 4-year-old son of Dialed In, who finished in a dead-heat for fifth with Arrogate in the Breeders' Cup Classic, captured last year's G2 Fountain of Youth at Gulfstream and won the Tangelo Stakes before shipping north to Saratoga for a runner-up finish behind West Coast in the Travers.
Luis Saez is slated to ride Gunnevera for the first time Saturday.
Trainer Antonio Sano said of Gunnevera's post draw (6): "I like the inside, so 6 is very good. The speed is good for us. Gun Runner outside; Sharp Azteca inside; West Coast inside; Collected inside. It all depends on the jockeys."
Ready to go
Charles E. Fipke's Seeking The Soul, who has won only three of his first 15 races, has been peaking in his two most recent starts for the Pegasus. The Dallas Stewart-trained 5-ytear-old son of Perfect Soul broke the track record for a mile and a sixteeth when winning an Oct. 21 allowance at Keeneland before earning G1 credentials with a triumph at the Pegasus distance of in the Clark Handicap at Churchill Downs Nov. 24.
"He's just been very sharp. He's very happy about his job. He's eating well. He's healthy. He looks great. He's all dappled out," trainer Dallas Stewart said. "I think he's going to be ready to go."
Hall of Fame jockey John Velazquez, who was aboard in the Clark, has the mount again. Seeking The Soul is drawn 11.
British raider Toast Of New York (post 9) returned to training from a three-year stint at stud in Qatar for a chance to run in the Pegasus. The 7-year-old son of Thewayyouare, who ventured to U.S. in 2014 and finished second in the Pacific Classic over Del Mar's synthetic track behind Shared Belief before being nosed out by Bayern in the Breeders' Cup Classic on dirt at Santa Anita, tuned up for Saturday's race with a victory under allowance conditions over Lingfield Park's synthetic surface in England Dec. 6.
Frankie Dettori, who was aboard for the tune-up, has the return mount aboard the Jamie Osborne-trained veteran, who will race for stakeholders Reeves Thoroughbred Racing, R.A. Hill Stable and Eric Young.
Trainer Jamie Osborne said: "We're happy. I had a long chat with Frankie last night – he's the one who has to do the steering – and he felt that being out there between 6-10 he would be happy enough, so 9 is fine."
Giant Expectations established himself as a Pegasus World Cup contender when he pulled off a front-running upset over Collected in the San Antonio. The Peter Eurton-trained 5-year-old son of Frost Giant, who will be ridden by Gary Stevens, will represent stakeholder Pegasus Race Participants, LLC. He has the outside post,12.
Fear The Cowboy (post 7) enters the Pegasus with a record of excellence over Gulfstream Park's main track that includes stakes triumphs in the G3 Harlan's Holiday in his most recent start and the G3 Skip Away in March.
The Efren Loza Jr.-trained son of Cowboy Cal, who will be ridden by Tyler Gaffalione, will represent stakeholders Stronach Stables and Ron and Jerry Frankel.
Loza said: "We have a really good position. With the style of the horse, I think that is one of the best positions for that race. Our horse is in really good form. We are going to make our own. It all depends on the pace. Tyler will have a decision. He can go close to the pace or he can go a little bit easier in the first part of the race and we will try to be running the last half-mile."
Singing Bullet, a G2 stakes-placed son of Hard Spun, rounds out the 12-horse field for stakeholder Pegasus Race Partners LLC. The 4-year-old colt, who is trained by Dale Romans, will be ridden by Robby Albarado, who guided him to victory in a Churchill allowance two starts back. He has post 1.
Romans said: "The one hole is fine for us. It's a very tough race but we have a horse that's doing good, he's a big strong colt that's going in the right direction. You have to throw out his last race when he stumbled so bad out of the gate. When you have a horse that's doing good, going the right way, anything can happen."
"I want to study the race a little bit and I'll sit down with Robby when he gets to town and we'll talk about it and try to figure out how to pull an upset. We've done it a couple of times in this game, maybe we can do one more."
"You want to be a part of this. I want to keep my streak alive. I like to tell everybody I've run in every Pegasus World Cup they've had. That's why we're here – big events, big races. To be one of the best you've got to play with the best."