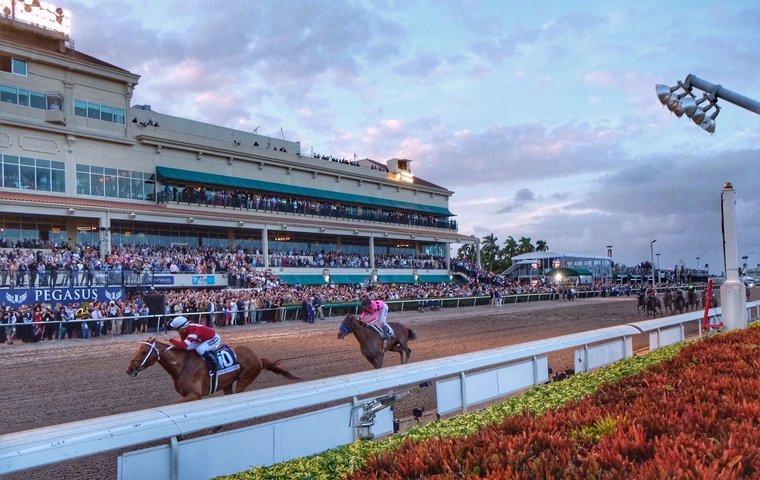 Gulfstream Park registered an all-sources handle of $41,983,881 yesterday on its second Pegasus World Cup Day, highlighted when Horse of the Year Gun Runner won the $16 million Pegasus World Cup Invitational by 2½ lengths over West Coast.

The $41.983 million handle – a four percent increase over last year's previous Pegasus record handle of $40,217 – is the largest handle in Gulfstream's 79-year history, excluding Breeders' Cup days. The day of world-class Thoroughbred racing and entertainment was attended by 16,400.
"The crowd, the entertainment, the fans and of course, our human and equine athletes made this an electric day from early morning into the evening," said Gulfstream's General Manager Bill Badgett. "The Stronach Group continues to revolutionize the experience of attending a Thoroughbred race. We want to thank the wonderful fans and horsemen throughout the world. We feel the Pegasus World Cup Invitational will continue to grow, attract and engage even more of the world's best horses."
Gulfstream Park's Rainbow 6 was not won during Pegasus World Cup Day, which will result in a lucrative mandatory payout today. The carryover jackpot could reach $10 million or more.
Today's carryover will be close to $4 million. Multiple tickets with six winners yesterday returned $11,550.02.
The carryover jackpot is only paid out when there is a single unique ticket sold with all six winners. On days when there is no unique ticket, 70 percent of that day's pool goes back to those bettors holding tickets with the most winners, while 30 percent is carried over to the jackpot pool
First-race post time for today's 12-race card is set for midday.
The last time the Rainbow 6 was hit was December 7, when a lucky ticketholder cashed out for $98,309.32.