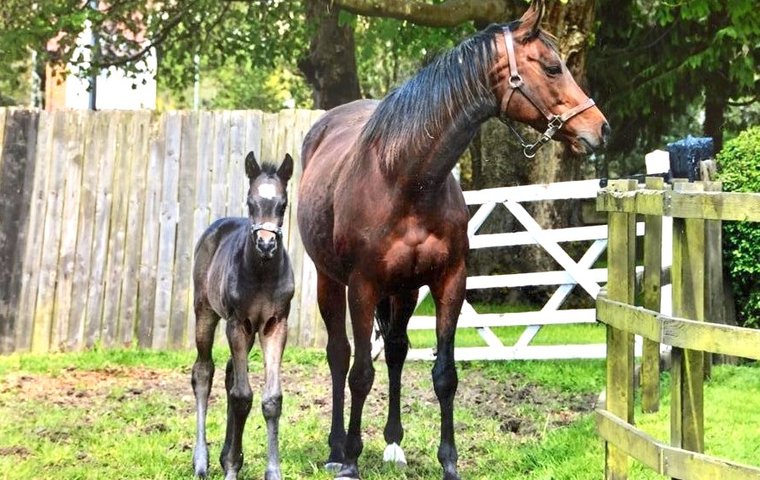 He had a tricky start to life when he mother died shortly after foaling him, and he had to be nurtured by a foster mare in his early days. But that doesn't seem to have done him any harm - for this is Mohaather, impressive winner of last Wednesday's G1 Sussex Stakes at the Qatar Goodwood Festival.

The colt overcame a difficult passage in running to land one of the most presitigious mile contests in Britain, laying claim to be Europe's champion miler, continuing the impressive run of success for world #3 owner Hamdan Al Maktoum and #20 jockey JIm Crowley, and delivering a first top-flight winner in 14 years for his relieved trainer, Marcus Tregoning. See video below.
The result was also emotional for breeder Gaie Johnson Houghton, who has nurtured Mohaather's family for over 30 years at Woodway in Oxfordshire, home to the training establishment run formerly by her husband Fulke and, today, daughter Eve.
Johnson Houghton's treasured Thoroughbred family dates back to foundation broodmare Sirnelta, who was acquired by Fulke – then the mare's trainer – when she was sent to the sales by her former owner.
Sirnelta was an instant success at stud, producing G1 Cheveley Park Stakes winner Dead Certain at the first attempt. The success has continued ever since.
Mohaather becomes the second G1 winner from the family in the last three years, following Accidental Agent in the Queen Anne Stakes at Royal Ascot in 2018.
Accidental Agent's dam, Roodle, is a half-sister to Mohaather. Their dam, Roodeye, died shortly after foaling Wednesday's Sussex Stakes winner. As a result, Mohaather was nurtured by a foster mare in his early days and there will be no further siblings.
However, Johnson Houghton currently has five yearling fillies from the family in the field at Woodway, including a daughter of Sheikh Hamdan's own stallion Muharrar out of Roodle. The filly, who is eligible for the full £20,000 Great British Bonus, will be offered on behalf of Johnson Houghton by Hillwood Stud at Tattersalls October Yearling Sale in the autumn.
Johnson Houghton told GBRI: "She would be the nicest yearling we've had for a bit."
Johnson Houghton is also full of praise for Roodle's colt foal by Showcasing. The Whitsbury Manor Stud resident stallion has already proved an outstanding match for the family's mares: not only is he the sire of Mohaather, but also the Sussex Stakes winner's full-brother, Prize Exhibit, who won two G2s and two G3s in America.
"I'm thrilled with him. He looks just marvellous. He appears to have a lovely temperament and is marked very similarly to his older brother, but much stronger and more mature looking." The colt will be prepared for the yearling sales in 2021.
Johnson Houghton said of Mohaather's Sussex Stakes victory, "I feel exhausted and overwhelmed after his win. It has always felt wonderful that I've got this amazing family, but it's even more wonderful now that I've bred two Group 1 winners. While it is really devastating that I've lost the mare, it makes the win even more special."
Click here to watch a short GBRI film on Gail Johnson Houghton and the family of Mohaather